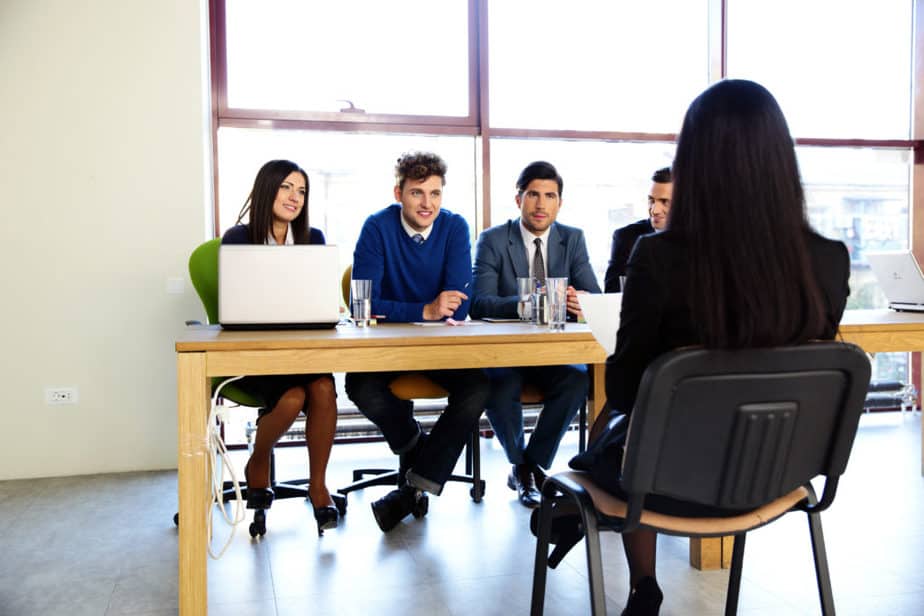 Interviews are one of the major challenges for the job-seekers, to prove their qualifications to the company. Also, it is equally an important procedure for the company to check the skills and capabilities of a candidate before letting them step into the office as an employee. Which Type of Hiring/Placement Interview is the Most Common? Various types of interviews happen in the corporate sectors but some of the common types are; Phone interviews, One-on-One interviews, Group interviews, and Panel interviews. Let's understand each of them: –
Telephonic or Phone interviews are generally the first step of the hiring process. Here, the interviewer asks some questions and experience, from the candidate or can even invite them to the office if they want to do a One-on-One/Group interview. It hardly takes 15 to 20 minutes; hence it is preferred by remote job companies.
In Group interviews, multiple candidates are questioned by the interviewer, one by one. This saves time, and a quick selection can be made. The selected candidate is then invited to One-on-One or Panel interviews for the further hiring process.
One-on-One interviews simply include an interviewer and a candidate. This can take longer hours than the phone and group interview, but it is precise enough to select the right candidate for the job.
But in today's date, a Panel Interview is the most common yet difficult type of interview. It is usually preferred by big MNCs and Government Sectors like IAS, IFS, etc. In this type of interview, a single candidate is questioned by the team of the interviewers, sitting on a desk. 
Panel Interview Procedure
The procedure in Panel Interview includes multiple interviewers, who are experienced in the industry and willing to test the candidate's qualification. They present different challenges and problems in front of the candidate, hoping to see those appropriate qualities which are required for the profession.
Each of them is on the table with different priorities, for instance; One of them focuses on Problem-Solving skills, and the other may focus more on the personality of the candidate. Hence, a candidate is tested in different criteria, to get a worthy employee. A person, who is sitting on a chair and being fired with different questions, can fumble or may get nervous which can make his interview even tougher.
To surpass such challenging interview, a candidate must have: –
Good Communication Skills
A candidate should deliver her answers precisely to the interviewers. The to-the-point approach is the best to keep the pace in the interview. Also, a good candidate always listens attentively and responds to each one of the interviewers. If you are clear with your words then you may not fumble during the interview.
Mannerism is the key to appreciation. Being straightforward is good, but answering the queries politely leaves a great impression on the interviewers. Honestly admitting your flaws may let them give you another chance. While responding, make sure to maintain eye contact with the interviewer else you will seem unconfident or unsure with your words. Not to mention, never lie or add extra beyond your limit!
Where isn't the demand for quick solvers? A swift mind is everyone's necessity. The company wants to see if the candidate can take the challenges and solve even newly occurring problems. Hence, the interviewers present different challenges in front of the candidate to test their accuracy and reasoning. While giving the solution, the candidate must state the appropriate reason for that.
Relevant Knowledge of the company and the job position
Before applying for the job, the candidate should get a brief idea of the company. This also eases the interaction between them and the interviewers. Also, a worthy candidate must know the details of the job position they are applying for. Even, quite a few times, interviewers ask reasons from their candidates for choosing the particular position or the particular company. 
Prepare some questions beforehand
Facing all questions simultaneously can make anyone nervous and exhausted. To ease your nervousness and enhance your communication, you should prepare some questions before going for a Panel interview. In the next point, we are going to discuss them in detail.
Questions Which Are Frequently Asked in Every Interview: –
Q. Tell me about yourself.
A. Always start with your name and the position that you applied for. Then state your skills and experiences. Do add your education, interests, and achievement for a good introduction. Tell them about your work experiences and internships that you have done. Here is a sample as an example: –
Greetings! My name is Yoshita Singh and I have applied to be a Java Developer. I have graduated with a Bachelor in Computer Applications from Jamia Hamdard and have been passionate about programming and software development which is why I am rooting for this job. 
Java, MySQL, NetBeans, C++ Programming are my interests as well as my only skills. I have 2 years of experience in Java development and have done one internship as a Backend Developer. I secured 3rd position in Hackathon 2019 and achieved a silver batch in Java language. I can speak English and Hindi.
You can mention your project works also if you are a professional or switching to another job site.
Q. Why should we hire you?
Ans. It is a similar question to the above one yet asked in most of the interviews. You can start with your interests and present your skill sets. If possible then mention the reason that you think that the company should hire you. This shows your confidence too.
Eg- "I chose this field because my interests lie in coding and programming. I had built different programs for school and college projects which also encouraged me to learn more about the language. I think that I possess the skills and experience that are appropriate for the profession." Or "If you give me this opportunity, then I shall give my best output to the respective company".
You may include the topics of your interests. This can give the interviewer a good idea of your role in the job. For instance; if you are a content writer, then you can add the topics that you would like to write. You can start with- "If I get the opportunity then I would like to write for lifestyle, fashion, historic events, fitness, and sports categories"
Q. What are your greatest strengths?
A. This question, of course, asked you to understand and test the strong points that you will refer to in your answer. List those points on which you are very confident but, better not to bash about them in front of the interviewers. 
Eg- "I am confident in my problem-solving skills. I think that I am capable of taking quick decisions that would remain fair in any situation. I have been the leader of a team during my internship hence, I believe in my communication and leadership skills."
Q. What are your weaknesses?
A. Here, you will mention your weak points that you honestly need to work on. Acceptance and the promise of improvement is the positive approach during the interaction. Like, in this example-
"…I consider that I am not good at social interactions and I completely agree that it is required to meet the standards of the company which will help it flourish. I try to exceed my limitations at every social gathering by participating in those events. I will keep on working myself until I can build the larger and better connections"
So, these are some questions that are asked by the interviewer to get a brief of the candidate.
Q. What are your reactions to the criticism?
A. Through this question, the interviewer tries to know your feedback on errors and criticisms that an employee may get at some point of time in the working environment. Such questions require neutral answers with proper justification.
Example- "I understand that nobody is perfect so, at some point in time, one can commit some mistakes. It is very important to learn from them. Criticisms can make us aware of the errors and help us to work on them. Hence, I will accept my mistakes, if pointed out, and shall improve them"
Conclusion
We discussed the most common interview type, understood its procedure and questions which are frequently asked in the Panel interview. All you need to do is to be confident in your skills and believe in yourself. Try to remain positive throughout the interview. 
FAQs
Q. I have less experience in the field that I am interested in. Can I apply for a job interview?
A. Yes, you can apply for the interview. If you have sharp skills and are confident enough to face the challenging questions then you may pass the interview. If you have none of them, then I suggest you prepare more before applying for the job.
Q. How should I dress for an Interview?
A. A candidate's dress code must be formal. Pair of shirts and trousers will also do fine for panel interviews.
Q. How to schedule an interview if I miss or couldn't attend it on time?
A.  Call back to the company and request to schedule your interview by stating a proper reason for that. In case of the panel or one-on-one interview, you can ask them to arrange a virtual meeting either on Zoom, Google meets, or Skype. 
Which Type of Hiring/Placement Interview is the Most Common?