Introduction
Gucci is a well-known Italian fashion house that specialises in haute couture timepieces and jewellery. The vitality of its artistic style and attention to detail are the pinnacle of craftsmanship. The adjective gucci is commonly used to mean chic, stylish, good, fine, or excellent. Guccio Gucci founded the brand in Florence, Italy, in 1921. The company began as a manufacturer of luxury travel accessories and riding equipment for the wealthy Italian upper class. The company initially specialised in the production of leather goods, but also high-end knitwear, silk products, shoes, and handbags.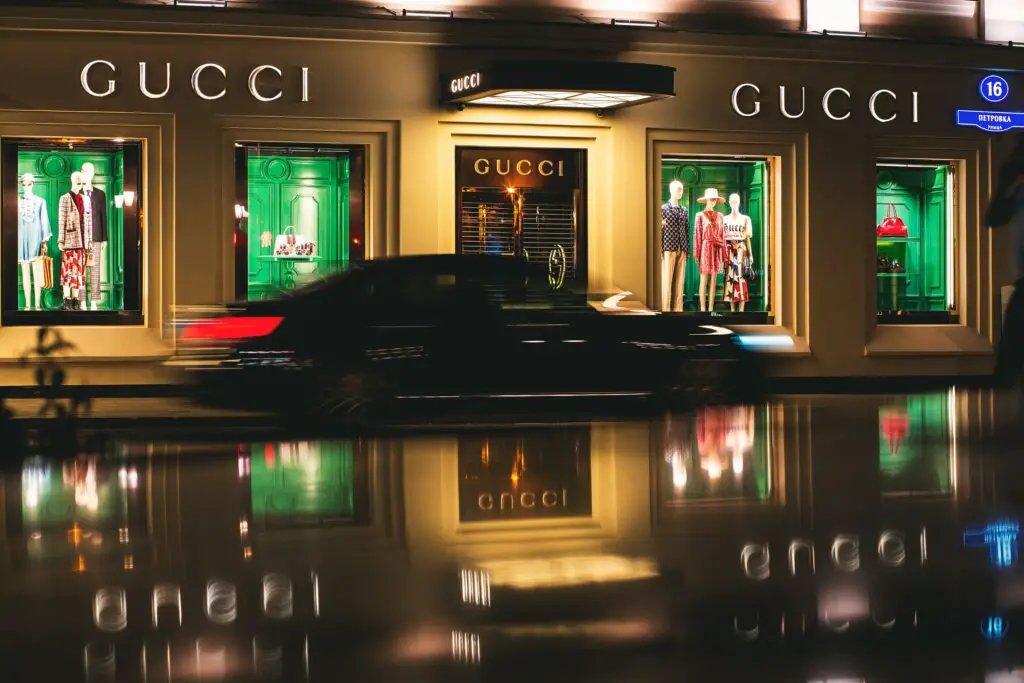 When Was Gucci Founded?
One of the most well-known names in the world is the high-end label Gucci. On shirts and wallets across the world, its logo—two linked Gs—can be seen.
Founder of Gucci
Guccio Gucci founded the company in Florence in 1921, and it became well-known for its high-quality, Tuscan-made travel bags.
Today the brand uses the two Gs is a clear allusion to Guccio Gucci's initials.
In Florence, Italy, in 1881, Gabriello Gucci, a native of Tuscany, and Elena Santini, a struggling leatherworker from San Miniato and Lastra a Signa, welcomed their son Guccio Gucci. When he was 17, he left his home country and travelled to London and there, he was inspired by the wealth of the guests who carried the expensive luggage, and it was there that he first learned the differences between high-quality and low-quality bags and how they affect a design.
The Beginning of Gucci
Gucci went back to Italy after the First World War. He founded "La Casa Gucci" (House of Gucci) in 1921 in Via Della Vigna Nuova 7, where he began selling leather luggage and bags in traditional designs made of premium materials sourced from Tuscany. Guccio was fully aware of the materials that would be used in his creations and how they would be blended to increase consumer appeal. His leather bag line was exquisite, and the company soon became well-known.
The haute bourgeoisie and Florentine nobility quickly learned about this intrinsic aptitude and began looking for its output. Due to his notoriety for accomplishment, he was able to secure funding to establish his own workshop behind his store and start producing his goods there.
Early jolts
Benito Mussolini, an authoritarian leader of Italy in 1935, made it impossible to get leather. Guccio's entire company was built on leather at the time, but he had a solution: he began using silk in place of leather in most Gucci's items.
The popularity of his brand expanded gradually throughout the 1930s. Customers from all over the world rushed to his store for items like the already well-known Gucci trunks, bags, gloves, shoes, and belts at the time.
Expansion post Gucci's demise 
Guccio Gucci, who built his brand from humble beginnings in a modest home and store, died in 1953. Aldo, Vasco, and Rodolfo Gucci continued to work hard after their father's death to build their company, which soon became known among Hollywood celebrities. Vasco ran the business in Florence, and Rodolfo handled the company's relations with Italy and the development of a store in Milan. Aldo moved to New York, where he opened the company's first store outside Italy.
Aldo, Vasco, and Rodolfo's main goal in expanding the label was to do so in both the U.S. and Milan in the 1950s, after starting in Rome. And indeed, they did. As a tribute to Guccio Gucci, who had worked as an elevator boy where it all began, the first Gucci boutique opened in 1953 at the Savoy Plaza Hotel in New York City. However, the founder died suddenly a few days after this release.
The last successor 
After his father Rodolfo Gucci passed away in 1983, his son Maurizio took over management, but he struggled to build on Gucci's successes. The brand encountered various issues during this time due to family conflicts, allegations of tax evasion, assassinations, and sales to foreign investors. 
Management lineage
American designer Tom Ford – Tom Ford was essential to the brand's resurgence to work as a ready-to-wear designer, American fashion designer Tom Ford was hired in 1990. Four years later, he was promoted to Creative Director. Ford is acknowledged with playing a key role in helping to rebuild Gucci's reputation during that time.
Frida Giannini – From 2006 till the end of 2014, Giannini oversaw both the men's and women's ready-to-wear design. When Giannini left, there was a lot of speculation about who would take Giannini's place, and the idea that Gucci had become stale or out of date started to take hold.
Alessandro Michele – Later, the brand's audience was surprised to learn that Alessandro Michele will take over as creative director in 2015. Michael's unique style attracted many young, aspiring clients, as well as many fashion insiders. Gucci's strong performance has persisted since it was revealed in early 2017 that Michele had led the brand to record sales and see an 11% increase in profits.
Current ownership
Currently, Gucci is owned by Kering, a French luxury corporation. Along with Gucci, Francois Pinault and Kering are the owners of the labels Yves Saint Laurent, Balenciaga, and Alexander McQueen.
Guinness world record
According to the sources of 1974, Gucci Model 2000 watch broke the record for selling more than one million units in two years. According to Guinness World Records, Gucci manufactures the world's most expensive jeans. The Gucci Genius Jeans are $3,134.
Conclusion
Since its founding, Gucci has been quite active with marketing initiatives that include TV advertisements, print ads, and more recently, a heavy concentration on digital marketing. Even though Gucci has been around for a while, it has solid relationships with Hollywood stars and social media influencers and collaborates closely with them to reach new audiences and reclaim its identity as a fresh, contemporary brand. Gucci now dresses modern style icons like Rihanna, Blake Lively, Brad Pitt, Rachel McAdams, Harry Styles, and Salma Hayek, who are well-liked by millennials. The brand's strategy for dealing with celebrities has altered.
Despite many ups and downs, Gucci remains one of the most influential companies in the world. Gucci is the ideal brand for individuals who do not want to go out of style because it innovates with beautiful launches with every new collection.
When Was Gucci Founded? – Gucci History