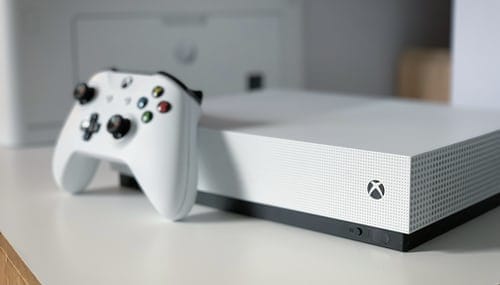 Did you love playing video games in your college? Do you still make time in your 9 to 5 job for video games? Then, why not try to earn from it? No, don't worry we are not telling you to quit your job and stream video games. But here to build a pathway between your profession and gaming. Let's know What is Gamestop?
In this fast-paced world, getting a job is getting more difficult day by day. To whichever industry you want to fit in, it always takes more than enough. No matter how prepared you are, how much knowledge you acquire, but without a few tactics, the pathway to secure a job is hectic. We are going to talk about GameStop and how to get a job in the company.
With a wide engagement of electronics in daily life, the electronic market thrives all seasons. Be it personal essentials, home needs, or extravagant entertainment gadgets. All of these have been a lifestyle. So, getting into electronics seems like a win-win, right? A job which has sales all seasons, all year. 
What is GameStop?
GAMESTOP is an American electronic retail company. Also, it's one of the largest video game retailers worldwide. They sell video games, consoles, consumer electronics, and gaming merchandise as well. The founders of GameStop are James McCurry and Gary M. Kusin, and currently, the CEO is Matt Furlong. Operating from Grapevine, Texas, the company owns 4,816 stores and 3,192 in the US alone. The company isn't only limited to retail stores, GameStop publishes Game Informer, a video game magazine. In addition to 417 stores in Australia, they run Zing Marketplace; an e-commerce retro gaming & pop culture emporium which facilitates consumer-to-consumer sales.
GameStop offers numerous job openings in different fields the company operates. And each job profile demands a certain set of skills, and a certain approach to apply for, and a definite preparation for the interview.
The BASIC MINDSET for a JOB
No wonder when applying to GameStop you have ample knowledge in video games because if you get hired your world will revolve around it.
 That's why, if anxiety is kicking in, and you have zero expectation or worse, no idea how it'll turn out. Remember the mantra, "Play the Game, Know the game, and Love the game". Explore what you are getting into, having a personal experience with the products the company sells is an advantage. Also, if customers ask for personal opinions it is helpful. A common way to impress the interviewers is to do thorough research on the company and its goal. In addition to that, knowing the responsibilities and expectations for the post you have applied for, will help you give more answers while cross-questioning. Highlighting the commitment to dedication & hard-working aspect when interviewed can be a game-changer. 
The competition is high for every job opening since GameStop gets more than 100 applicants in one vacancy. The hiring policies have strict rules wherein you need to follow protocols and stand to be a perfect candidate. Though having numerous job profiles, the chances of new store vacancies and corporate jobs are higher. The company's hiring process is known to conduct informal rounds of interviews to get a representation of intensive knowledge of gaming systems, software, and accessories.
 Qualifications for the jobs depend upon the job profile you are applying for. Here is a set of the major domains of the work field in GameStop.
Corporate – Require at least a diploma or bachelor's degree in finance or management. 2 to 4 years of experience in retail is a plus. 
Retail Staff – Must be 18+, should have a high school diploma or GED. Additional experience in retail or management and in-depth knowledge in video games is preferred. 
Retail management – Should have present state-required age proof documents and at least be 18. High school diploma or GED required. With good physical strength, and expected hard labor for 12 hours a day. 
Distribution and refurbishment – Require bachelor's degree in business, management, or any concerned field. 3 to 5 years of experience at supervisor or manager level in distribution, warehouse, or manufacturing.
To talk in numbers the salary of each position varies, however the average annual salary in GameStop is $124,984. Going by the department in GameStop, average salaries go to $113,049 in marketing, $89,258 in finance, $123,765 in engineering, and $130,677 in customer support. The salary may vary depending on the location.
The few openings GameStop have at the moment are;
Keyholder in $16 per hour
Game advisor in $14 per hour
District manager in $26 per hour
Retail sale associate in $19 per hour
 There are more job openings that you can search on the GameStop careers website. Note that job openings are subject to change and always keep fluctuating.
KEEP YOUR MIND IN THE GAME
 When getting a technical job in a reputed company, there are few tips you want to consider. 
Try for recommendations – First thing to consider is, do you know any people in the company? Any connection to the field or associating job profile. GameStop operates nationwide hence, counting to 35,000 employees both full-time and part-time included. Thus, there is a chance you may have a connection to at least one of them. Take advantage if they can purposely recommend, and pass your resume to the manager. 
Build connections – Yes, we know you can't just build connections in days or weeks. This is time taking, but if you are aiming to get into GameStop start early. Visit local stores, buy their products, and be friends with them. Show your interest in games, and the company with good communication skills.
Impress with your application – The online application process won't get you the job in a go, but that's a start. Do it the best way possible. Be ready for the phone interviews. Up your skills as per the requirement of the job, you are applying for. 
Smash the interview, prepare well – When you sit in front of an interviewer, not only your behavior speaks but the way you answer & talk as well. It's one chance to crack the job. Be prepared for the questions on the company, in the field you applied, your expectations for the job, your ideas to grow. 
Let's now dig into the application process.
APPLICATION PROCESS: 
The applications are to be submitted online through their GameStop career site, which has all the details of the job. You just need to open and browse through the desired job profile you want to apply for. Upload required documents and when selected they will contact you. And further qualifying the interview rounds, you will get the job.
 Now we'll dig into how to ace the interview.
GOING IN for an Interview
The crucial thing is to be prepared for all sets of questions. Do your research, read a couple of files about how the company has been working in the past few years. How have they encountered ups and downs? How does it stand now? These are some questions continuously asked in GameStop: 
Why GameStop? Why not join any of our main competitors?
Give them what they're asking for. Show them how much you know their company. Talk about strong branding the company lay upon, the range of products they offer, the quality, and locations. The reach of the company nationwide also holds a major role. Tell them your personal shopping experience with them if you had any. 
What makes you a good employee?
Portray your best skills! Tell them about any projects you've been involved in within sales. A company always wants to sell more. Convince them you are capable of handling customers; you can sell goods more efficiently than any other. Represent the link of understanding of their products and customers they serve.
Why do you think you are fit for this job?
Speak for your agenda of being in this field. The passion you have for video games, marketing & sales. You can have plus points if you have worked with any other companies. Tell them your ideas of making it huge.
Describe the idea of a typical day as our employee.
Show the main objective is participation. Tell them you won't just sit in a corner, you'll share ideas, talk to people, you'll be busy at work but with fun. Show that you have a vision of waking up and loving your job every single day. You can reach customers and help them with satisfactory purchases, give them more information on products they are looking for or may want. 
What motivates you to work in this field?
This is about your zeal, how much you've been invested in the field? Why this field isn't tiring for you? What are the key features of the job which make you enthusiastic about it? You need to represent that you can thrive here because you want it.  
We have included the type of answers for reference purposes only.
Disclaimer: These answers are meant to invoke the idea of an ideal answer. And not as one representing the firm.
Answer with sheer confidence, know what you are speaking for. Try NOT to give vague answers, most likely the preferred answers are simple, clear, and straightforward. This way you can impress your interviewer. Other than these, you may face some technical questions if you are going for technical job titles. 
CONCLUSION
To get a job in GameStop isn't easy, but not impossible. You just need to focus on a few points while getting into it. The element to focus on to get into GameStop is to emphasize the knowledge of gaming, sales, and marketing. If you got a combination of these, man you got everything to qualify for GameStop. The amount of competition might be overwhelming, however, remember you must start somewhere. Don't worry, relax and best of luck! 
FREQUENTLY ASKED QUESTIONS (FAQs)
1. Is it easy to get hired at GameStop?
No job is easy. And getting into a nationwide retail company is demanding. Few job profiles get more attention hence, more competition. Yet, you can stand out in numerous ways. Though it's a good opportunity for all video game lovers out there.  By following a few tips, you can shine in your interview.
2. What advantages do jobs at GameStop hold?
 Jobs at GameStop have exciting perks and benefits. You can get additional employee discounts as well. The environment is casual & friendly which is easier to settle in. It's fun, the jobs at GameStop. The shifts are usually 9 to 9 in a day, which may or may not provide much flexibility. Also, GameStop covers numerous domains of their employees like medical coverage and offers access to many plans.
3. Is working with GameStop flexible?
The hours can be flexible according to the title of the job. Taking off days are pretty reasonable; they can grant you leave if there are people to fill in. Well, this doesn't mean you will always shift hours, the working found to be pretty flexible. But we won't recommend expecting much. 
4. Why has GameStop been in the spotlight recently?
In current news we got to know in 2021, the company GameStop is going through a crisis. They are struggling in making profits, for which the income is decreasing, there are no new ideas to execute. They haven't done enough to adapt their business to new online gaming. It's not the best time to join the firm, yet if you have any revolutionary techniques then the company can be saved. 
What is Gamestop?- A Clear Guide