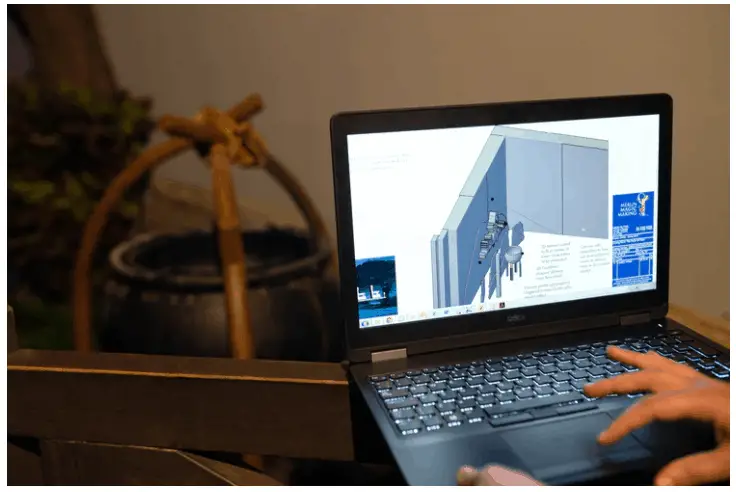 CAD Software is leading in use by professionals as it enables transformation, visualization, and analysis of virtual 3D models into real-life models. It covers those aspects of design which is not possible with other software. Some software has in-built supports or plug-ins that facilitate the more comfortable designing of objects. CAD has different software types under it with additional features that are selected as per various industry standards. All these types of CAD software used extensively by leading companies are discussed here in this article. 
Introduction
Computer-Aided Design Software or CAD is used to create, analyze, modify, or stimulate for optimizing design. Architects, engineers, and designers use it to create or modify designs in 2D or 3D that was impossible to be exhibited on paper. It transforms designs into codes that are understandable by the computer, resulting in viewing a designed object from various perspectives.
Different companies use different CAD software versions to carry out desired results for the company's standards. CAD offers expandable features that can be used by companies working in various fields. This software facilitates conversion from design to construction process. Because of low-cost development and less time consumption, this software is gaining traction. Some of such software that is used in various industries shall be discussed here in detail.
Types of CAD Software
With the advent of designing various structures, various CAD versions are available in the tech world used by multiple companies to carry out different operations. Some of these are –
FreeCAD
It is an open-source 3D parametric modeling tool that enables a user to create objects with significance in real life. It has a basis on a powerful geometry kernel named OpenCasCade. It is also a Building Information Modelling or BIM software that uses Finite Element Method or FEM. It is mainly mechanical engineering oriented but also offers assistance to architects and other fields of engineering. Because it is open-source, it can extend its functionality to work with Python programming. Apart from this, its parametric form enables easier editing of models that makes it best for beginners to use. Although it is not for professional use, it provides a good platform for building skills in design. Hence, it is suitable for small companies that are on the verge of exploring various business opportunities.
Fig 1: 3D modeling of a house using FreeCAD
Courtesy: CESDb
SolidWorks
Is a type of CAD software used extensively by mechanical engineers, industrial engineers manufacturing engineers, product developers, designers, and drafters. It utilizes a system of Non-uniform rational basis spline or NURBS that is commonly implemented in graphic designing for the representation of curves and surfaces, unlike other software that imitates curves by using gently inclined surfaces. It also has additional features like 3D solid modeling, design simulation of products, checking manufacturing defects, cost estimation, data management for products, and many more. It has applications in industries like aviation, product manufacturers, medical, oil and gas, and consumer products. It is professional-level software, so a license has to be purchased to use it.
Fig 2: Motion Manager Animation Tools for Communication using SolidWorks
Courtesy: Javelin Technologies
Revit
It is a software for Building Information Modeling or BIM that is widely used in the civil engineering field to construct or design buildings and is produced by Autodesk. Structural engineers and architects use it for project management and building analysis as it offers sophisticated tools. Not only that, it enables to convert drawings to a stereolithography file or STL, which plays an important role in 3D printing. It has features such as 3D visualization, Mechanical/Electrical/Plumbing or MEP modeling and detailing, modeling steel structures, prefabrication of building components, etc. It is produced by Autodesk company that provides a free version for a period of 30 days, after which a license is required. Students can acquire this software free of cost.
Fig 3: BIM Modeling using Revit
Courtesy: ArchDaily
AutoCAD
It is one such software that is widely used in all fields of design and engineering. It belongs to the Autodesk Company and is extensively used by professionals having experience in algorithm-based programming models. Also, 3D models can easily be converted to STL files using AutoCAD, but it is generally not preferred as there as some limitations like complexity in designing for moving elements. Apart from this, it has features like creating layouts for houses, creating line diagrams for laying telephone lines, etc. It offers features like 2D drawing and drafting, 3D mesh and surface modeling, comprehensive workflows, and dynamic blocks. It is an essential software and considered a basic and advanced tool for professionals. The student version of this is available for free, but a professional has to buy a license to work on it.
Fig 4: Design using AutoCAD
Courtesy: Interaction Design Foundation
Fusion 3600
It is a CAD, CAM, and CAE software that is cloud-based and is developed by Autodesk. It facilitates easy top-down assembly from different elements as a single product. It is a useful tool for design works, parametric design, industry-based precision, and many more. It comes with advanced features and is the right solution for startups that are tight on their budget. It has features like mesh modeling, solid modeling, freeform, various platforms, easy access to users, a user-friendly interface, and budget-friendly. It is free for students and people belonging to academics. It is mostly preferred over SolidWorks because of its flexibility in modifying designs and inspecting elements individually.
Fig 5: Subdivision Modeling using Fusion 3600
Courtesy: Engineering.com
CATIA
This software enables monitoring of a structure in a real-life view and is developed by a French company named Dassault Systèmes. It is mostly used by architects, engineers, designers, and construction professionals. It helps to do innovation in the design of products and leverages existing tools through various product development stages. It is preferred by Original Equipment Manufacturers or OEM's for surface design and modeling. It is popular in industries like aviation, aerospace, automotive, and shipbuilding. It is beneficial for designers as it facilitates a 3D environment for creating and sharing product designs online and make decisions on product modeling without much hassle. It is slightly expensive as it has more to offer, especially in 3D printing. Other features include digital prototyping, precision in detailing for manipulation in shape, better visuals, and so on.
Fig 6: Excavator model design using CATIA
Courtesy: Dassault Systèmes
Rhino
It is the most adaptable 3D modeler and a mercantile 3D computer graphics, and it was developed by Robert McNeel & Associates. SolidWorks also uses NURB to handle models, curves, mesh, surfaces, and solids. Architects and engineers widely use it to build prototypes, industrial designs, and graphic and automotive design. It enables the construction of complex 3D models as it offers various designing options. However, skills are required to learn this software, and it requires practice to implement the advanced features in designs. It is also not the most accurate software due to flaws in gaining user intent, and its price varies on different websites. It is available for free for 90 days, after which plug-ins and other supports stop working unless a license is purchased.
Fig 7: Rhino Workstations
Courtesy: BOXX Technologies
Creo
It is leading in the market to produce sophisticated product designs, generative designs, and top-down designs, as in Fusion 3600. Different companies, including Coca-Cola, popularly use it. It has features like Parametric surfacing, 3D modeling, plastic designing of various elements, freestyle surface generation, thermal and structural viewing perspective, etc. This software also allows performing the dimensioning calculations while continuing the process of modeling. It is mostly used by mechanical engineers, product developers, manufacturers, designers, tools, and industry-based designers. It is used in industries like food, beverages, product development, product manufacturing, plastics designing, and automotive. A trial version of 30 days is available for use, after which a license needs to be purchased.
Fig 7: Shaped outpost using Creo Parametric
Courtesy: Integral Innovation Experts
MicroStation
It is CAD software that is used for 2D and 3D modeling. It is developed by Bentley systems that are also the developer of the software StaadPro. It produces 2D and 3D graphics vector objects and contains features like BIM. The transportation industry frequently utilizes it for city and state Department of Telecommunications or DOT projects. Apart from this, it offers features like parametric modeling, analysis, and visualization of models, workflows regarding BIM, animations production, etc. It is used by interior designers, architectures, transportation engineers, designers, and drafters at the professional level. This software is mostly used in wastewater engineering, architecture and planning, construction works, electrical works, oil and gas, and manufacturing processes.
Fig 8: MicroStation V8 XM overview
Courtesy: AEC Magazine
Inventor
This software competes with SolidWorks to become a 3D modeling software for the design, production, and brilliant engineering works with precision. It allows 2D and 3D data to merge in an environment that creates a visual form of the product. It has two latest versions, i.e., Autodesk Inventor LT 2021 and Autodesk Inventor Professional 2021. It offers features like parametric modeling and solid modeling for 3D objects, simulation and visualization for products, and product data management. It is also widely used by product developers, mechanical engineer, industrial engineer, drafter, and designer. Its application is in industries like consumer production, equipment of oil and gas, and medical devices. This software allows freeform modeling and multiple CAD translation capabilities in DWG drawings.
Fig 9: Autodesk Inventor for assembly drawings
Courtesy: The CAD Setter Out
BlocksCAD
It is a free, open-source CAD that is based on the web. It is mostly used for educational purposes as it provides the view of elements in colorful Lego bricks. It can be developed using OpenSCAD, which is a more professional CAD software. The drawings made in this software can be exported using OpenSCAD or STL. It is mostly suitable for beginners who want to have a good grasp of building modeling.
Fig 10: Robotic figures built with BlocksCAD
Courtesy; BlocksCAD
TinkerCAD
It is a free online tool with a collection of software tools to develop models from an array of inbuilt basic shapes. It is based on the building blocks concept and has a massive library of various forms from which the users can select and build as per their wish. Third printing services have access to this software, so the ultimate design or drawing can be printed through these services. It is a basic introduction to AutoCAD, which is leading in 3D design and engineering software. It is effortless to use and is best for beginners. However, it has some limitations in shapes and is not suitable for experienced users of 3D modeling.
Fig 11: Mobile cover being designed using TinkerCAD
Courtesy: Online 3D Printing Service – Materialise
OpenSCAD
It is free software for constructing 3D solid objects. It is a modeler that is script-based and consists of descriptive language. It is best for experienced users seeking to work on more significant and advanced projects in 3D modeling. When a model is built using this software, the model parts can be previewed, but it cannot be altered using a mouse as it lacks some advanced features like in the case of Fusion 3600. Along with design models, this software generates code, and hence it is best suitable for programmers. With this, simple shapes can be modified as it is defined parametrically. It is not the best working area for beginners and is recommended for good at both 3D modeling and coding.
Fig 12: Documentation using OpenSCAD
Courtesy: OpenSCAD
Siemens NX
This is also known as Unigraphics and is a high generation, advanced CAD, CAM, or CAE software. It is used for design, simulation, and 3D modeling. It offers other features like advanced geometry, convergent modeling, generative engineering, parametric modeling, and plotting. Mechanical engineers, manufacturing engineers, and manufacturers use this software to better design and perceive various elements involved in modeling. This software has been owned by Siemens PLM Software since 2007. Industries using this software are the automotive industry, aerospace, consumer products, and medical field. It is suitable for small to medium-sized companies; hence, the prices may depend upon its features.
Fig 13: Aeroplane design using Siemens NX
Courtesy: MechanicalBase
Conclusion
This software is extensively used by engineers, architects, designers, and product developers to bring out a perspective view and a tool for converting their imagination to reality. This software is industry-oriented and is widely used in different companies starting from design to printing 3D objects. Computer-Aided Design software has enabled new techniques in different engineering fields like 3D printing of concrete, real-life object visualization and simulation, analysis of outcomes in building design for various forces, and many more. Revolution in the modern world has only been possible through the advent of such software. Hence, it can be predicted that the future tech world is going to be revolutionary.
Also Read: A Detailed Guide For The Software Development Life Cycle
Types of CAD Software that Companies Use