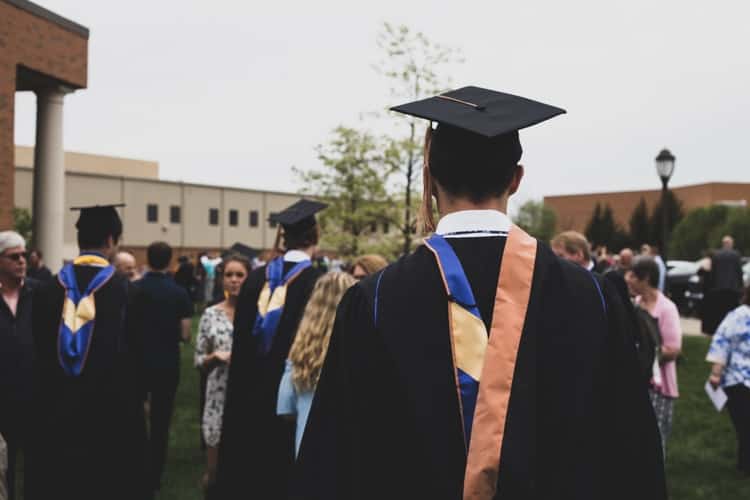 Securing a Bachelor's degree in the early 2000s used to mean you were technically one step ahead of job seekers without a Bachelor's degree when it comes to job hunting. However, in December 2019, CNBC reported that college grads earn 80% more. This means that more people have taken acquiring a Bachelor's degree significantly since the 2000s. 
This makes job requirements much more competitive; one Bachelor's degree is good but not enough as there is an increased number of job seekers in the market with the same degree. To secure your most preferred or dream job in the current state of the economy, you need to acquire more than one Bachelor's degree.

Typically, securing a white-collar job means you must have other sets of skills other than your Bachelor's degree, which is usually not enough these days. Securing your dream job has virtually become impossible in today's economy, from the job descriptions down to the qualifications, experience, and other factors. So many job applicants don't even bother to go through with a job application as soon as they read through the job's requirements because most job requirements these days are very demanding. As an applicant, you need to compete, at least for you to be considered worthy of any position. 
According to the current college graduation statistics in the United States, about a 1.98million students graduate with a Bachelor's degree annually; that is a whopping number of graduates given how nonchalant most Americans are towards a college education. It should also be noted that those figures are specifically for graduates with Bachelor's degrees as there are over 820,000 graduates with Master's degrees and well over 1million with an associate degree. Meanwhile, the United States' unemployment rate is currently at 6.7%. This leaves fresh graduates and job seekers with very little chance of securing a job as the labor market is stuffed with too many of the same kind. A second Bachelor's degree is a gem in today's economy because it gives a much-needed edge over most job seekers and breaks the barrier between tough competitors. 
According to reports in the United States, seven out of ten candidates have the same qualifications for a particular job opening. The remaining three do have another degree, but the degrees are diverse from the open position to be filled. This article will point out why acquiring another Bachelor's degree is vital for your career and it's advantages. Apart from the market is stuffed with candidates with the same Bachelor's degree as we have mentioned earlier, we will discuss nine salient points on why you should obtain another Bachelor's degree.
Self-improvement: As an individual motivated to achieve desired goals, self-improvement is always the watchword. What better way to improve on your career than a second degree. Obtaining a second degree enhances your knowledge; It polishes your previous knowledge and adds a new one on a much bigger scale. It is noteworthy to take into account how good your first Bachelor's degree was, but if you choose to obtain another on it should be an improvement on your previous degree. This is bound to improve your self-esteem as an individual. It has also been reported that people with two degrees feel much more comfortable contributing their opinions to most discussions as they have double perspectives.
Helps build a network of professionals: In today's economy, the ability to build and maintain a healthy professional relationship is of optimal importance for every organization's success. With the help of an extra degree, an individual can interact with professionals from other fields without being lost in the conversation because your second degree gives you that edge that most people lack. Professionals from other fields are drawn to you because you understand an aspect of their business, which makes communication way easier and contributes massively to your organization's success.
Picture a career path and understand which Bachelor's degrees you intend to merge: Acquiring two Bachelor's degrees is an exemplary achievement but it is important to have a plan on which degrees you intend to make a career out of. For instance, it is totally absurd to have a degree in medicine and merge it with mechanical engineering. These two fields are both science-oriented but are also totally different in application. Moreover, it takes about 5-6 years to study medicine in the United States, another 4 years to be specialized in a particular doctoring field. Don't even get me started on how long it takes to acquire a degree in mechanical engineering. A degree that you could merge with medicine that takes less time to acquire and fits perfectly will be psychology. It is obviously more closely related to medicine than mechanical engineering, and it helps in interaction with your patients, which helps you understand each patient's difficulties more, and observations can be more accurate thanks to your psychological knowledge. Patients are also drawn to you because of this knowledge.
Improves standard of living financially: Being financially stable is one of the reasons why people pursue a career. Imagine what having two degrees would bring to you financially, as in the case of being a medical doctor and a psychologist. More patients bring more finance, and finance definitely improves your standard of living. In the United States, people without a degree earn about an average of $500 weekly, while people with a college degree earn well over an average of $720 weekly.
Not happy with your initial choice of career path: Some people tend to have a change of career because they aren't happy or comfortable enough with their initial choice. Perhaps securing a job with the degree has proven difficult, or the degree is not enough to land their dream job. Taking another degree is a good choice in order to improve your resume so as to have a much better chance at securing a job. An individual could want to deviate entirely from their initial career path; a second Bachelor's degree is the way forward. 
Urgent need to improve on the previous degree: In this case, you are not just satisfied with the outcome of your previous degree. You feel the need to make things right by acquiring another one so as to have a better chance at securing a much better job. Most people in the United States never take their education seriously not until they start to realize they are falling behind, which is usually too late to mend. CNBC reported that only 51% of Americans see education as very important. Grads who unfortunately fall under this category tend to struggle to finish with the degree then acquire another degree in order to right their wrongs.
Requirements for Grad (Master's degree) school did not meet: For some people, the plan was to acquire their Bachelor's degree then move on to grad school. For one reason or the other, this wasn't possible. Perhaps their academic performance was below average, or their choice, of course, isn't acceptable, so they'll need to take another Bachelor's degree in order to be accepted. In the United States' top universities, the requirements to be able to attend grad school can be quite demanding if you want to attend the best ones. Some students fail to attain the requirements, but this can also be a blessing in disguise. It is unfortunate the requirements could not be met, but it is an opportunity to obtain another Bachelor's degree.
Fitting in with ease: Some people worry about how they're going to fit in for another degree. This should never be a problem because you have the experience of while you were obtaining your first degree. In fact, this should be an advantage to you because you are already familiar with a University's terms and conditions.
Making the right choices: During the process of gaining admission for your first degree, people tend to make mistakes with choice of study, selecting a school, comfortable learning environment, and the likes. All of these factors are to be taken into account while processing your admission into another University for your second Bachelor's. You don't want to make the same mistake twice so as to make things easier for you. It is advisable to acquire your second Bachelor's degree in a different University. This is to add a bit more experience to your resume, plus another University might have much better facilities than your initial university. 
Setting the pace for the future: It is a well-known fact that the world's population keeps increasing rapidly. Every single part of the world's economy hurts from over-population, and the labor market is definitely not left out. It is important to have the foresight that a second Bachelor's degree will be a basic requirement for a job application in the nearest future. The more people continue to multiply on the earth's surface, the more there is a need for them to go to school to get educated to get a good job. As there are already unemployed people in the labor market searching for a job, a second Bachelor's degree will give you a much-needed head start in the future. 


A Master's degree or second Bachelor's degree: For most people, this is a challenge that they find themselves stuck in between; the inability to choose between a master's degree program and a second Bachelor's degree. It is undoubtedly not an easy choice to make as it should be pondered upon very carefully. Most people opt for a Master's degree because it improves your resume and makes it much more sophisticated. A huge amount of respect is given to anyone with a Master's degree as they've become an expert in that field of study. It can be argued that a graduate with a second Bachelor's degree deserves the same amount of respect. Technically, a Master's degree is an improvement on your Bachelor's degree; it definitely expands your knowledge on your previous course of study on a huge scale, but that is all it is does, really.
A master's degree is an in-depth knowledge of your Bachelor's degree, but this is usually not the case for a second Bachelor's degree. When choosing a second Bachelor's degree, one needs to be aware of which line of study to pick that'll complement your previous degree. It is not in-depth knowledge of your initial degree, but a knowledge that complements it. 
Additionally, it is smarter to pick a second Bachelor's degree because job requirements might demand it and a wider scope of knowledge. For instance, 9 out of 10 organizations in search of a new "communications officer" would pick the candidate with a first degree in communications and a second degree in digital marketing over a candidate with a degree in communications and a master's degree in journalism. It should be noted that the latter's resume is exceptional, but the former has a better shot at nabbing the job because his/her scope of knowledge and skills is wider. While pointing out the necessity for a second degree, it should also be noted why Americans don't value education, as we have mentioned in this article. These factors are the main reasons discouraging young and middle-aged Americans from obtaining another Bachelor's degree.
Cost of Education: This is a plague in the United States that has rendered a hefty percentage of the population decapacitated. According to CNBC, during the 1978-1979 academic session in the United States, it costs about $17,500 to attend a private University and $8,250 per year in a public University. These fees are virtually equal to today's value of the USD. Meanwhile, it costs almost $49,000 and $21,370 to study in a private and public university in today's world, respectively. Educating your kids to a college-level has become financially unbearable; one can only imagine how expensive trying to obtain a second degree would be. The student's loan was supposed to come in and help, but it makes things worse at the end of every year. The cost of education in the United States has forced so many people to drop out of school.
Time-consuming: Many people would much rather consider hunting for a job with the only degree they've struggled to acquire than spend another 4-5 years acquiring another Bachelor's degree. For a public University candidate they would have to go through the same spiked cost of education, the stress of the student loan. These factors aren't encouraging Americans enough for them to value education.
Fear of failure: For most people that did not exactly do well during their first Bachelor's degree, the fear of failing again keeps them away from giving it another shot. This should be seen as a reminder to come out on top rather than a discouraging factor. The psychological effect University life has on students is underrated; only the strong come out victorious.
Source of motivation: Every successful human being or project is driven by a source of motivation. Obtaining one Bachelor's degree while sinking in student loan debt is hard enough, which begs the question of why anyone without a stable financial source would want to obtain a second Bachelor's degree? Students need to be encouraged to obtain a second Bachelor's degree as it will definitely pay off. The United States government needs to set up an administration that'll oversee such motivations such as a scholarship to obtain another degree depending on your first degree's CGPA.
Rate of unemployment: The unemployment rate is regarded as the percentage of unemployed workers in the labor market. It is a vital pointer that shows how developed or underdeveloped an economy is. The current unemployment rate in the United States has remained unchanged from December 2020 at 6.7%. In relation to this article, It should be noted that whether a candidate acquires a second Bachelor's degree or not, the state of the unemployment rate in the United States has to be improved radically. Imagine going through all the troubles of acquiring a second Bachelor's degree, but the unemployment rate is still unfavorable. At the end of the day, whether you acquire a second Bachelor's degree or not, the availability of job openings is all that matters. Although, the fact remains that acquiring a second Bachelor's degree gives you a much better chance of securing the job, and there lots of benefits attached to it, as we've already discussed in this article.
Acquiring a second degree might prove difficult and tiring, but it will definitely pay off. The United States is plagued with unemployment, which makes job hunting very competitive. The competition has become fierce, and most jobs require way more than it pays. There are no other choices really if you're not the kind to settle for less because with a second Bachelor's degree, you have a much better shot at landing a job. It really does not matter how difficult it is to acquire another degree, there is always going to be more advantages than disadvantages.
Also read Postsecondary nondegree award – Career Opportunities
Second Bachelor's Degree: Do you need it?