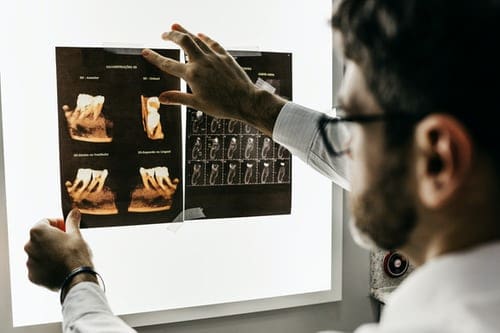 What is a Radiographer?
Radiographers, also known as radiologic technologists, diagnostic radiographers, and medical radiation technologists, are healthcare professionals responsible for performing X-rays, CT scans, MRIs, and other imaging of the inside of the human body. They use medical imaging equipment to assist in the diagnosis of illnesses or medical conditions. They work with doctors who are known as radiologists. A radiologist decides the type of imaging scan appropriate for you based on your symptoms and then interprets them. This is important for the doctor to make the diagnosis and then select the most effective treatment.
Most radiographers work in hospitals, but some work in private healthcare centers or outpatient clinics. Radiographers typically require at least an associate's degree from a college or hospital-based program and a state registered licensing or national certification to begin working. They also have to continue taking training and advanced education courses to stay registered.
Due to this job's nature, radiographers may be required to work irregular and extended shifts and may need to clock in for work late at night or even on weekends. A radiographer's job is both physically and mentally draining since they often need to work in very risky situations with little to no room for error.
Radiographer Job Description, Duties, and Responsibilities
Radiographers work closely with radiologists to diagnose the patients' illnesses, regardless of whether they work in hospitals or an outpatient clinic. A radiographer's responsibilities may vary depending upon the healthcare facility they are employed in, but there are certain key tasks that all radiographers execute that are consistent across the board. These tasks are listed below:
Performing Specialized Radiography
Radiographers have the know-how to operate any medical imaging equipment, but they typically work on one specific diagnostic imaging area. For instance, they may focus on performing MRIs and offer their expertise in that area of medical imaging only.
Radiographers are also required to conduct diagnostic imaging with the use of portable diagnostic equipment for patients who would not be able to move to the radiology unit.
Interacting with Patients
Radiographers are not only responsible for performing imaging for diagnoses, but they also have to prepare the patients for the procedure. Radiographers have to guide the patients throughout the procedure, including how it works, what the procedure entails, and addressing the patients' queries and concerns regarding the procedure. They are also responsible for compiling the patients' medical records and evaluating their medical history, and providing them with the protective clothing required for the procedure. They also have to take care of other factors like the patient's position and the area that needs to be scanned to get the clearest image possible.
Radiographers must perform regular follow-ups on patients post-treatment. They are required to track their patients' recovery and assess if there are any signs of radiation.
Performing Radiation Treatments
Radiographers are trained with comprehensive knowledge and expertise in the field of radiology. This is why they often have to work with oncologists to perform radiation therapy on patients with cancer.
Sometimes during surgeries, especially those that tend to be invasive, the surgeon may need medical imaging to be performed to achieve a clearer view of the patient's anatomy. In these situations, radiographers are required to perform medical imaging for the surgeon.
Maintenance and Upkeep of the Equipment
Since the radiographer has the specialization and expertise in medical imaging equipment, it is ultimately their job to ensure the equipment is in proper working condition. They must carry out regular inspections of the diagnostic equipment to make sure they operate smoothly. In case there is an issue that arises, radiographers must report that immediately to their healthcare facility. They also have the responsibility to prepare the equipment before any procedures and take care of the equipment's positioning to get the most accurate image possible.
Radiographers must ensure that the health and safety guidelines are complied with. This is important to minimize the risk of exposure to radiation.
Radiographer Skills and Qualifications
Although different healthcare facilities may have different requirements for a radiographer's role, there are some core skills and qualifications necessary for all radiographers.
Educational Requirements for Radiography
Radiographers can choose from a wide range of courses that offer the foundational knowledge and skills employers seek candidates. According to the American Society of Radiologic Technologists, radiographers require at least a two-year Associates's degree in a program related to radiological technology. Radiographers can also choose to pursue their education at a four-year university program to earn their Bachelor's degree in the field of study. Some course topics radiographers typically study include physics, biology, anatomy, radiation safety, and imaging technology.
Certification for Radiographers
After completing their initial study in a relevant university program, radiographers obtain certification to validate their competency and aptitude in the field. The American Registry of Radiological Technologists, or ARRT, is a prestigious certification organization and the largest nation. They offer a wide range of examinations for various accreditation, which includes the basic radiology certification. The typical exam consists of 200 questions, and candidates must score at least a 75 or above to pass the exam. Candidates only have three opportunities to pass the exam, in case you need to retake the exam after three tries, special permission from the board would be required. Radiographers must also fulfill the state requisites to obtain a license, which typically involves appearing for a licensing exam and passing it.
Radiological Technologist Specializations
Radiographers may choose to specialize in specific field areas, like specific types of imaging or technology. Specializing in their area of interest will increase the number and quality of opportunities available. Mammography is a medical imaging technique where radiographers specialize in performing imaging of a woman's breast to check for tumors and cancer. Magnetic Resonance Imaging or MRI specialists create images with the use of magnetic fields. In contrast, nuclear medicine technologists use imaging technology and radiopharmaceuticals- radioactive agents introduced within the human body- to imaging the internal organs.
Some of the key skills required for radiographers are:
Communication skills– Radiographers have to interact with patients frequently. They require strong communication and interpersonal skills to clearly explain procedures to the patients and answer any queries they have. Patients tend to turn to radiographers if they feel uneasy about their procedure. Radiographers must be able to communicate well with the patients to calm their fears. Radiographers also work with other doctors and healthcare professionals, and they must be able to communicate effectively to prevent any misunderstanding.
Attention to detail– Radiographers must have keen attention to detail to ensure they deliver precisely the required amounts of radiation during diagnosis and therapy. They have to be observant to assess the functioning of the equipment and ensure the procedures go smoothly. 
IT skills– Radiographers must operate computerized equipment, including MRIs and ultrasound machines, which is why they must have the relevant IT skills to ensure smooth functioning.
Teamwork Ability- Radiographers are required to work with other medical professionals like oncologists and radiologists to develop effective treatment plans, so they must have the ability to work well in a team.
Critical thinking– No two patients are the same, and every medical condition presents itself differently. A radiographer should use their critical thinking skills to evaluate each patient's medical condition individually and assess the best course of action that caters to the patient.
Patience and a calm demeanor– Radiographers are often required to work in high-stakes situations, so they must maintain a calm demeanor to ensure the diagnosis is accurate. They must remain composed and patient to correctly set up the equipment correctly and position the patient to achieve the clearest image possible
Radiographer Salary and Outlook
According to the U.S. Bureau of Labor Statistics (BLS), radiographers' median annual salary is $63,930. Radiographers in the bottom ten percent usually earn less than $48,600, but radiographers in the top ten percent earn more than $97,460. According to the BLS, employment opportunities for radiographers will rise by 12 percent between 2016 and 2026. This is a faster increase in the average growth rate than any other profession.
We compiled this guide with all the relevant information you would need to build a radiographer's career. This guide provides a detailed radiographer job description, which can help prospective radiographers understand the duties and responsibilities that this job entails. The guide also provides information on the qualifications and skills, as well as certifications required by radiographers. Hence, individuals interested in building a career in this field can prepare themselves for success in this field.
Also read How to write a Thank You Email After an Interview?
Radiographer Job Description