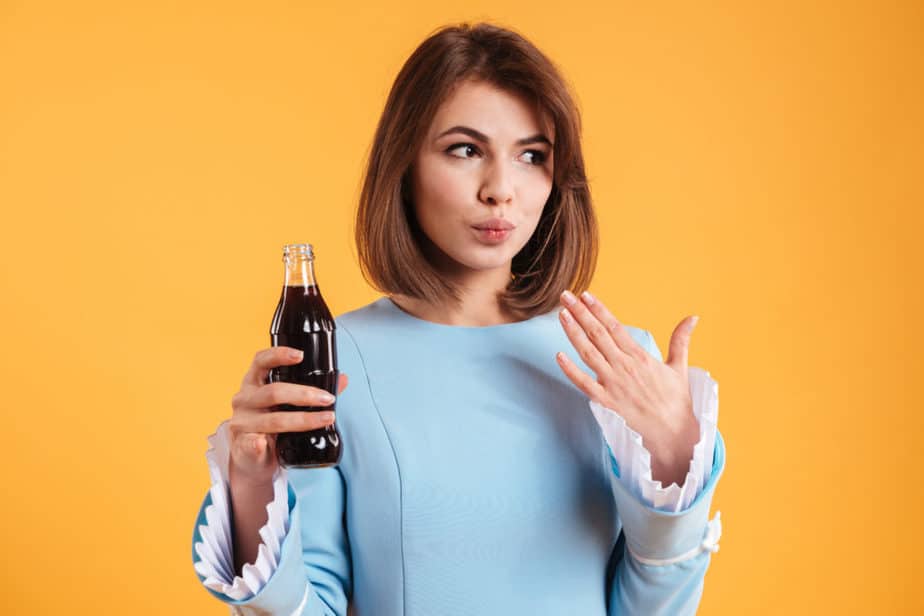 We can hardly spend three days without a beverage regardless of the occasion, season, or perhaps the pandemic that is currently occurring. And surprisingly, although plenty of industries have faced a downfall in their economy due to the Covid-19 pandemic, yet the beverages companies are still prevalent because of the undeniable necessity. Today, we'll let you know the Largest Beverage Companies.
Did you ever wonder what the revenue of the world's largest beverage company could be? What's the world's largest beverage company in the first place? Are these companies still prevalent? Today we put an end to most of your questions with our research. 
Plenty of surveys conclude with a lot of various theses which means the rank of the largest beverage companies varies from survey to survey as well. We filtered all of them and remarked on the foremost sought out and latest list of top 15 beverage companies across the planet by their popularity and their sales.
Top 15 beverage companies
Kweichow Moutai Co., Ltd.
The Coca-Cola Co.
Anheuser-Busch InBev
PepsiCo Inc. 
Starbucks Corp.
Diageo PLC
Heineken N.V. 
Pernod Ricard SA
Nongfu Spring Co., Ltd.
Asahi Group Holdings
Keurig Dr. Pepper
Monster Beverage Corp.
Constellation Brands Inc.
Brown-Forman Corporation
Molson Coors Brewing co.
You might probably be wondering why some of the beverages like Gatorade, Sprite, Red Bull, etc didn't make an appearance, that's because these are some of the largest beverage brands, not beverage companies.
The impact of the pandemic on the beverage industry
It doesn't necessarily come by as an enormous surprise that the pandemic has harmed the economy and therefore the society's revenue, in general, has become low, almost every sector of the economy has undergone an understandable amount of loss.
Except for some of the industries like the clothing industry, the food processing industry, and the ones that produce stuff for our everyday usage. And evidently, the beverage industry didn't undergo a large loss either because it's a basic requirement in our everyday life. 
It might look like a piece of cake to run a beverage company but it's not easy in any way, this industry specifically goes through a lot of competition and transformation, it is pretty much necessary for them to take care of the consistency in the quality or the consumers might lose interest and before you were even aware of it the downfall would start. 
In addition to all of these, the times are changing drastically and so are the people, most people are getting health conscious, so a lot of the now-famous, as well as the just emerging companies, set their eyes on the healthy side of making beverages.
 On the other hand, the consumption of alcoholic beverages has also increased over time and as the surveys say the struggle to stay up with the expectations is real. 
What are the must remember things
The beverage industry is additionally trying to expand its reach within the digital services, mainly because in the next 7 or 8 years the majority of the active population is going to be Gen-Z or generation Z which is the people born in and in between the years 1997 to 2012, this generation of individuals is known to spend their time mostly indoors.  
After you put together a generation of people who love to spend their time indoors and a global pandemic because of a deadly virus, the online shopping economy has skyrocketed, which ultimately resulted in every sector expanding their reach digitally and the beverage industry is no excuse.
It has been shown by an anonymous survey that the eCommerce for food and beverages have significantly risen to a whopping 18.7 billion US dollars in just a year 2020, it was 13.03 billion US dollars in 2019.
 Despite the lockdown and the global pandemic situation occurring the industry doesn't face any huge turndowns, but the demand and also the constant consistency for them to fulfill the expectation of the consumers has never left the storyline.
However the increase in concern for the health issues because of the amount of sugar content in soft drinks and also the health concerns that come into the light because of the alcohol consumption may become a block to their growth, but the zero sugar or sugar-free, low calories, non-alcoholic drinks still can prevail and create an ample amount of market growth.
Now, this might come by as a humongous figure but the turnover of the whole beverage industry was estimated to be 1.54 trillion US dollars in the year 2018 and is anticipated to be 1.85 trillion US dollars by the year 2024, it's even hard to imagine the number of zeroes it takes to finish the turnover figure, with that in mind we bring up to you a little more detailed insights about the top 15 beverage companies.
Kweichow Moutai Co., Ltd. :
The very first on the list of largest beverage companies across the world by market value is the Chinese originated Kweichow Moutai Company with a market capitalization of around 441.55 billion US dollars.
 The Company's main products portfolio consists of Kweichow Moutai liquors and many other liquor series, including Laimao liquors, Moutai Ying Bin Chiew, and Moutai Prince liquors. The company was purely domestic at the start but spread its range and is distributing the products in the overseas markets.
Many wonder why the Moutai is extremely expensive and it is because they have an image of scarcity and rarity keeping it out of reach for the common, it is partially owned by a state in china and Baijiu. 
This means clear liquor is created in Moutai with a flagship spirit that bears the town's name and many say that it has an acquired taste to it. However, it needs more time to be accumulated in the west as it is a complex beverage and does require a lot of time to adjust to the unfamiliar palette of places, people, and their preferences.
The Coca-Cola Co.
The Coca-Cola Company is known to report a market value of 233.61 billion US dollars as of July 2021. The company is headquartered in Atlanta, Georgia. It operates in over 200 countries across the world Latin America, The Middle East, Eurasia, North America, the Asia-Pacific, and Africa. In 2019, Coca-Cola's global sales reached $31.7 billion in the year 2020 alone.
It legitimately means that you have been living under a rock if you have never heard of this company before. It is one of the most known and largest beverage companies in the world, owns and sells over 500 brands of beverages under its name.
 Although it is known for its soft drink brands like Coke, Sprite, Fanta. Etc. due to covid, the company saw a decline in the net revenue by 9 percent but it did recover in the third quarter of the pandemic.
Anheuser-Busch InBev:
Anheuser-Busch Inbev is an alcoholic beverage company with a market value of around 240.36 billion US dollars as of July 08, 2021, resulting in it being one of the top companies in beverages. It is the world's largest brewing company whose total volume revenue increased by 13.3 percent in just the last year.
 The company became a subsidiary of Anheuser-Busch InBev in the year 2008. The headquarters are in St. Louis, Missouri. It was originally based in Leuven, Belgium. Brands like Budweiser, Corona, and Stella Artois are owned by AB Inbev and have delivered healthy revenue outside their domestic markets in the US, Mexico, and Belgium, respectively. 
It wouldn't be hard to convince that the company has around 170,000 employees, operates in 260 different breweries, and has marked its presence in 50 countries across the world, in 2019 alone the company's sales reached 54.6 Billion US dollars. 
Although the pandemic did decrease its economy it quickly caught up to the never-ending need for beverages, huge amount of jokes and memes also emerged based around one of the company's very famous brands Corona® because of the Covid-19 breakout. Here is a fun fact for you, in the year 2020 alone the company produced 530 million hectoliters of beer.
PepsiCo Inc. :
The fourth on the list is Pepsi Company. Everyone would be quite sure that they have heard the name before, its market as of the latest report is around 204.68 billion US dollars.
 It is one of the world's very popular soft drink companies that manufacture products in categories like smoothies, carbonated drinks, and bottled water. It is based in the United States, headquartered in Purchase, Harrison, New york. It was reported that Pepsi's total sales reached up to 65 billion in the year 2019. 
The pandemic did not have any noticeable impact on the company, mainly because of its resilience in the snacks and food business globally. The pandemic moderately had an impact on its global beverage sales. 
It holds some of the most popular brands such as Lipton, Miranda, Brisk, Gatorade, Pepsi, Tropicana, Sierra Mist, Aquafina. Etc. The company has around 267,000 employees.
Starbucks Corp. :
Not a single day goes by for a lot of people without coffee or a Starbucks coffee, the company has revolutionized the coffee market since its debut leading the corporation to sixth place on the list, its market value as of the latest report stands at 115.32 billion US dollars. 
The revenue of the company increased by 5% compared to last year's revenue. The very first Starbucks cafe was opened in 1971 at Pike Place Market in the city of Seattle, Washington DC. It is also headquartered in Seattle. 
The temporary closure of the stores because of the pandemic has impacted its sales in the last year but they soon planned out and expanded their pick-up stores and aimed at expanding their stores all over the world mainly in the United States and China through their global coffee alliance Nestle.
 The company's revenue stood at 26.5 billion US dollars in the year 2019. It's also known for its massive workforce by employing more than 300,000 people.
Diageo PLC :
A lot of us might already be familiar with the brand Johnnie Walker which is a brand under Diageo PLC. Its market capitalization stands at 110 billion US dollars as of June 2021. The company is known to be mainly engaged in the marketing, production, and distribution of wines, spirits, and beers.
 Diageo's alcohol products portfolio includes beer, scotch, whiskey, wine, gin, tequila, RTD alcoholic beverages, Indian-made foreign liquor, and vodka. The British multinational alcoholic beverage Brewing company is headquartered in London, England.
The sales of the company were reportedly at 13.85 billion US dollars in the previous year. It was said that scotch contributed 25 percent of the sales followed by beer which contributed 16 percent. The company sells more than 200 brands in 180 different countries all around the world.
 Some of the most known brands under the company are Johnnie Walker, Baileys, Guinness, Moet & Chandon, Hennessy, and Veuve Clicquot. The company employs over 28,400 people.
Heineken N.V. :
Is originally based in Dutch with a market value of 61.3 billion US dollars and Heineken's global brand, Heineken reported strong volume growth of 8.3% in 2019.
The company has its headquarters situated in the Netherlands. 
Heineken is primarily a beer and cider brewing and marketing company, the company has been there for more than 150 years and is well known for its alcoholic beverages all across western and European nations. 
It was established in 1864 and owns 160 breweries in over 70 different countries across the globe, company's some popular beer brands include Sol, Tecate, Desperados, Amstel, Tiger, Affligem, Etc. The company employs more than 85,800 people and is very much known for its beer brands.
Pernod Ricard SA :
Pernod Ricard is a French company that has a market value of 56.64 billion US dollars. It was founded in 1975, was Originally a link-up of two French anise liquor-based companies, Pernod which was founded in 1805, and Ricard which was founded in 1932. 
The company is headquartered in Paris, France. The company owns one of the oldest and prestigious brand portfolios in the beverage industry. The sales reached 10.7 billion US dollars in the year 2019. 
The Company mainly produces alcoholic beverages And is the owner of some of the popular alcoholic brands such as Jameson, Kahlúa, Malibu, Ricard, Havana Club, Martell, Cognac, The Glenlivet, G.H. Mumm, and Perrier-Jouët, Etc. and provides employment to around 19,000 people.
Nongfu Spring Co., Ltd. :
This is another Chinese company with a market value of over 47.97 billion dollars and produces bottled water from 10 natural water sources across china. The company has its headquarters in Xihu District, Hangzhou, Zhejiang province, China.
 The Company was known to be launched in 1996, they developed a wide range of beverage products in the coming years, some of which are Scream, Oriental leaf, and farmer's orchard. As suggested by the research data from Nielsen, Nongfu Springs natural water became one of the most bought bottled water in 2012.
The revenue for the company last year stood at 3.5 billion US dollars. It has a workforce of over 19,700 people. Although the company started with just drinking water, in the coming years it has expanded its products to fruit drinks, milk tea beverages, sugar-free tea beverages, vitamin water, Etc. 
Asahi Group Holdings :
Asahi group holding is a company that holds a market value of 19.9 billion US dollars, gains most of its revenue mainly through its alcoholic beverages, and has four segments namely Alcoholic beverages, soft drinks, food, and overseas. It is a Japanese company headquartered in Sumida, Tokyo. In 2019 the company had over 4.32 billion sales. 
Asahi is known to have transformed the modern beer in japan, with its renowned product called Asahi Super Dry, the beer wasn't dominated by natural flavors and created more demand for the brand among the consumer which drastically turned around the companies sales and revenue in a matter of years. The company employs more than 29,850 people as of June 2021.
Keurig Dr. Pepper :
This is another familiar company which you might have come across like Pepsi and Coca Cola, it has a market value of 52.35 billion US dollars. It's a multinational company mainly based in the United States and headquartered in Plano, Texas. 
The company was formerly known as Cadbury Schweppes Americas Beverages as a part of Cadbury Schweppes, in May 2008 it detached and was known as Dr. Pepper Snapple Group and the rest of the Cadbury Schweppes became Cadbury.
In the year 2018 on July 9th, Keurig Green Mountain acquired Dr. Pepper Snapple Group, since the following day it was known as Keurig Dr. Pepper, as suggested by the latest report its revenue stands at 11.62 billion US dollars and has around 21,000 employees.
Monster Beverage Corp. :
If you are a college or a university student you most probably would have stumbled across this beverage company which has a market value of 46.5 billion US dollars, since its launch it has been providing and producing a wide range of energy drinks and had been having a constant rise in their revenue and profits, as of 2019 their revenue was 5.8 billion US dollars. 
The company has more than 100 brands in its portfolio which include renowned brands like Wild Horse Winery, Franciscan Estates, Meiomi, Kim Crawford, Clos du Bois, Etc. It has around 8,700 employees and is headquartered in California, United States.
Constellation Brands Inc.:
The company is originally based in America and produces beer, wine, and spirits. When compared by sales it is one of the largest beverage companies in North America. The company's market value is guessed to be over 44.52 billion US dollars. With sales of over 6.7 billion US dollars. 
The company owns over 80 brands in many different countries and some of the renowned brands under it are Corona Extra, Modelo Especial, Kim Crawford, Meiomi, The Prisoner, SVEDKA Vodka, Etc.
 It also employs over 9,000 people. They are known to provide the best-in-class experience for their consumers. It is headquartered in Victor village of New York, United States.
Brown-Forman Corporation
Brown-Forman Corporation is one of the largest owned companies in America in the beverage manufacturing sector. Mostly known for its wine and spirits business and has been there for over 150 years now. 
Has more than 25 brands in its portfolio and produces some of the world's most renowned brands like Jack Daniel's. It had sales go over 2.53 billion US dollars in the past year and is headquartered in Louisville, Kentucky, United States. Has employed nearly 4,600 people.
 Molson Coors Brewing co. :
Molson Coors Brewing Company mainly produces alcoholic beverages, has a market capitalization of 13.7 billion US dollars, it's headquartered in Chicago, Illinois, United States. Has had sales up to 5.34 billion US dollars.
 The company is a merger of Adolph Coors Company and Molson. Has over 80 brands in its hold some of which are Blue Moon, Carling, Coors Banquet, Coors Light, George Killian's Irish Red, Granville Island Brewing, Hamm's, Hop Valley, Leinenkugel's, Miller High Life, Miller Lite, Milwaukee's Best. Etc.
The pandemic has had a pretty bad impact on the company but it has kept up with the pressures and has increased its revenue by 2.7 percent in the last year. It also has a tremendous workforce of 17,700 people.
Conclusion
The pandemic has had a fair amount of impact on the beverage industry and that led them to come up with other easier and accessible ideas for their consumers to keep up with the need and competition and to satisfy their consumers. After all, it is worth looking at how the beverage industry works and operates on the inside and the outside.
Frequently asked questions
What is the global beverage market size?
In 2020 alone the global market size of alcoholic beverages alone has amounted to over a whopping 1.40 trillion US dollars. However, the pandemic played its fair part in reducing the revenue by 200 billion dollars compared to the previous year. Non-alcoholic beverages have achieved a revenue of over 180 billion dollars as of the latest survey which was last conducted in 2016.
What is the largest beverage company on the planet?
Though there might be companies with more market value, when it comes to sales Anheuser-Busch InBev is the leading beverage company in the world in 2021, with sales above 46 billion U.S. dollars.
 The alcoholic beverage producing company Anheuser-Busch InBev has slightly higher sales over the second-highest sales company which is Nestle SA whose sales were reportedly almost 43 million US dollars lesser than Anheuser-Busch InBev.
What are the beverage industry trends in 2021?
One of the biggest and most talked-about trends in the beverage industry is the sustainability of the product inducing every single component of it like the packaging, manufacturing, Etc.
 Almost all of the industries have been trying their best to use single-use plastic or cut off the usage of plastic as much as possible. The rise of luxury or premium and aesthetic-looking alcoholic beverages has also been a trend for quite a few years now.
Which is the largest food and drinks company in the world?
Nestle is the largest food and beverage producing company at the moment with a turnover of more than 131.7 billion US dollars, it is known to have the top-notch coffee powder line across the world and originated in Swiss.
Largest Beverage Companies- Top 15 Beverage Companies