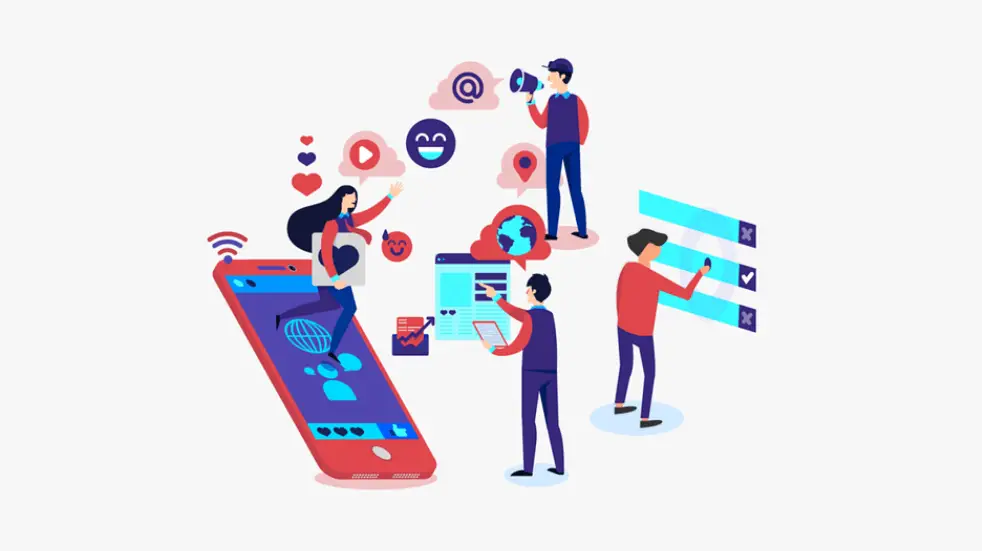 How to Become A Social Media Expert? Know your platforms – There are Top 4 platforms worldwide (Facebook, Instagram, Twitter, Youtube)
Social media is used by most businesses. It changed the way we communicate and interact with each other. The consumer is very much more focused now on instant gratification than anything else. Call it what to want to be a social media expert is to be a social media marketer. In any area or business, becoming an expert or professional is always a quest that starts with a fiery passion. It is the most critical quality, perhaps. Since to stay committed and focused, which is very necessary for mastering your art, you need that enthusiasm. If you'd like to become a social media marketing professional or an expert in social media marketing, the same is true. First, the target group, their actions, their perceptions, their desires, their social traditions, and cultural values, demographics, and geography must be considered. Social Media Marketers ought to monitor and improvise their communication techniques, creatives, and tone to fulfill the targets.
The step is simple get an academic qualification whether online or at a prestigious campus. You can get a diploma, Bachelor's Degree or higher advanced certificate. Google AdWords also offer short courses to obtain certificates in the social media field. People have to know how these networks of social media function. Afterwards, the work can begin. 
Know your platforms – There are Top 4 platforms worldwide
Here are a summary and a brief history of the top and most popular social media platforms.
Facebook – Facebook is a platform for social networking that makes it easier for you to communicate and share online among friends and family. Facebook was originally developed for university students and founded by Mark Zuckerberg in 2004 while he was enrolled at Harvard University. Until 2006, someone with a valid email address and account also over the age of 13 may join Facebook. Nowadays the   Networking tool, with more than 1 billion users worldwide, is the world's largest social network. There are also several other ways of communicating online, such as by email, instant messaging, and so on, after all. The opportunity to communicate and interact with the people they care about almost at the same moment is what makes Facebook exceptional. For several, it has become an expected part of being online to have a Facebook account, just like getting an email address or signing up for something online. because Facebook is so successful, the incorporation of Facebook has worked on all websites. This meant that you can use a single Facebook account to log in to numerous web-based services.
Instagram – Instagram has experienced rapid development throughout its last five years, with a million users in December 2010 towards around a billion by 2020. Instagram is a social networking channel that, via its mobile app, emphasizes photo and video exchanging. In order to interact with detailed likes, comments, and shares, you can take, edit, and compile videos, photos, and other visual elements for your followers. It is one of the greatest Business tools known to business owners.


Twitter – Twitter has become a framework for 'microblogging' that helps you to send and receive messages called short messages or Tweets. Twitter posts can be up to 140 characters in length and can provide links to websites and services that are important. People on Twitter follow other users. All will display their tweets in their tweet' timeline 'if you follow anyone. One may opt to follow individuals and groups with educational and behavioral goals close to you. also the same values, morals, or interests. For scholars as well as students, lawmakers, politicians, and the general public, Twitter has become extremely prevalent. So several people, that have struggled to grasp what Twitter is and how they can use it, make their time waste, but for most, it is becoming the place of interaction or preferable channel for social media.
YouTube – If you have viewed video footage online, there really is a strong possibility that it was a video from YouTube. For starters, everyone or almost all of the website's tutorial videos are basically YouTube clips. YouTube would be a free website for video sharing which makes it much easier to view videos online. One can also make one's own videos and post them to share with others. Currently one of the most popular websites on the internet, YouTube was initially created in 2005, with visitors viewing about 6 billion hours of content per month. Probably the most used social media platform worldwide YouTube should not be ignored amongst the chosen social media platforms to use for the social media marketing strategy. YouTube makes all its money from ads a social media expert should know how to create, run, and analyze these ads. 
Additional/Other platforms 
Note that these below discussed platforms are not so popular than the top 4 but they still are used by a lot of people and can be utilized for marketing. 
WhatsApp messaging application or WhatsApp business – This is a free internet-based communication tool or messaging application people can use for free. It was created by the company Facebook and is also owned by them. With only a Wi-Fi connection, WhatsApp is a secure, multiplatform messenger app that helps you to make video and voice calls, share instant messages, and more. WhatsApp is highly common among friends and family who live in various countries and want to keep in contact with over two billion online users. The worldwide success of WhatsApp is primarily due to its simplicity, cross-platform connectivity, and simple intuitive applications. In most parts of the world, WhatsApp is the predominantly messaging application.  WhatsApp has also created an application for businesses to use known as WhatsApp Business. This application can send automated messages and interact with customers personally. The WhatsApp page of the business can also be customized. WhatsApp is very easy to use and all marketers should take advantage of it when building customer relationships. 


Tumblr – Tumblr allows anyone to post something easily. Upload message, images, quotations, links, music, and videos via the app, mobile, computer, email, or anywhere you happen to be It's a hybrid between a blog and a social networking platform (including such Twitter and Facebook). In comparison to longer journal-type posts seen in more popular blogs, it is often referred to as microblog as consumers tend to share brief bursts of text and quick snaps.
Tik Tok – It is a video-sharing website and TikTok may be the fastest-growing social media software in the world. It seems to be, in experience, one of the most complicated things in the world.  While its consumers are 24 and younger, celebrities are also getting into trend and jumping on the bandwagon. Purely to entertain- TikTok is a video streaming and sharing app operated by a Chinese company. Users will spice up 15-second videos with filters, audio, animation, special effects, and more to film, edit, and post or upload them for followers and to gain likes. Users will also follow, like, and vote on anything they see, much like their fellow social media apps. On the iOS and Android operating systems, TikTok can be used. To make it clear and easy, TikTok is there or created to make fun and have fun on social me
Reddit – Reddit is a wholesome community of subreddits or communities. It all depends on what your interest is. On the platform, people can vote on content and the content with the most votes gets ranked higher or featured more. Also, the user gets rewarded with karmas for every vote. Reddit becomes split over almost one million groups known as subreddits each covering a different subject. A subreddit's name starts with /r/, which is a part of a URL used for and by Reddit. The more karmas, the more credible the user's account or profile, and the more a user can post and join communities because it takes a specific number to post content on Reddit and to interact with other users of the site. For marketers, this site can be used to create exposure to a product or service. 
Snapchat – Snapchat is indeed a very popular messaging app that allows users to share photos and videos that are intended to vanish after they are watched known as snaps hence the name of the application called snapchat.    As the essential purpose is to snap photographs or clips, install filters, optics, or other effects, and share them with friends, it is marketed as a new type of camera in real time. Everything you require is your personal name, your email address, and your date of birth to sign up.   People should import their contacts or check for people to meet in order to add mates. By taking a shot of their Snapcode or also known as a special QR code exclusive to each person, you can even instantly add anyone. Matters does get a bit complicated after that. Images, not text, normally begin a conversation on Snapchat,
What does a social media expert do?
In order to increase brand recognition, boost marketing strategies and increase revenue, Social Media Experts are responsible for preparing, executing and tracking the social media strategy of the organization. A social media professional may be a freelance or contracted employee who manages and extends the social media network or presence of a business. A social media professional's main role involves keeping the accounts and details of clients as relevant as appropriate. The marketing specialist would assist organizations and individuals by suggesting a combination of web, email and social media-based strategies to improve positive online visibility and make the most of their web or internet based marketing tactics. The marketing social media specialist should be able to come up with interesting posts to engage the audience and carry in traffic. The social media account pages of any customer do not stay stale. It really is the responsibility of the expert to guarantee that the website changes and is modified. These social media managers take care of many other jobs, such as maximizing traffic to the website/page of the client using online ads, targeted social media/email promotions, influencer marketing, and affiliate programs.
Tips and tricks or best practices for social media users
Choose a strategy and online tools that enable you to build visual content that you can use for cinematic art to support the main social media content. With so much content out there it is important to create graphics that draw attention and inspire your followers to take action

.
Many individuals view social media as a naturally derived game, but as a paid marketing channel, you should use it more and more often. On LinkedIn, Facebook, Twitter, and other social media sites, it has been checked to pay to advertise. They all have their benefits and constraints, but if you were to give individuals who use social media one tip, it would be this, never be afraid to pay for exposure or interactions on social media. Sometimes it is a very successful and beneficial investment with fruitful Return on investments.


Video conversion and repurposing. Making videos of content and posting it on various social media platforms or channels will not only repurpose content but also make it more appealing. It is vital to Make sure that video is part of the content strategy if you are using social ads on Facebook, particularly for regional or Business – to – business marketing.  Video adverts gain full interaction on Facebook, as well as using Facebook's own digital marketing tools, it is simple to create a video or moving image slideshow.


Integrating social media platforms, Managing social media accounts can take a considerable amount of time until social media marketing begins to gain momentum. But that's only exacerbated whether you're handling clients' social media. It implies that saving time wherever possible is important. Using a tool with a single social inbox is one of the greatest time-savers ever. Integrating content and social media platforms means keeping content consistent with the same tone, look, and feel. Social media integration is accomplished by leveraging social media tactics and platforms. Social media incorporation is a marketing effort that enables an organization to expand its current marketing and branding campaigns by leveraging social networks. Integration of social media helps foster brand recognition and enhances the reach of your marketing campaigns by providing ways for the organization's clients to connect or exchange information among the social or website network and social media on different social networks.


Utilizing social media ads and targeting- Though all businesses can keep publishing organic content on the sites where their customers are around online, targeted advertising that moves individuals from social platforms to your website or landing page are the way to capitalize on these platforms. Also therefore don't forget about investing any ad dollars on moving the content visitors like the blog entries or podcast episodes as well. In particular, Facebook apparently loves advertisements that provide their users with meaning.


Overall the best practice for social media is to have a plan or strategy. A social media marketing strategy A marketing strategy more specifically a social media strategy is an overview of everything on social media that the business plan to do and expect to gain. Everything just directs the actions and lets the business know whether they're failing or excelling. Hence, the more precise the plan is the more successful it is going to turn out. The social media plan should be actionable. A social media strategy determines how social media can be used by your company to achieve its engagement goals and the supporting platform and resources it will use to do so. It's a straightforward declaration of intent at a basic level, outlining the priorities and concrete targets for using social media, and the target results you want to achieve. In light of the overall business and social strategy, it does this so that social media is not in a solo but collaborating with other networks in tandem.
Facebook, Twitter, Instagram, WhatsApp, LinkedIn, YouTube, Snapchat, and so forth ads are living and breathing with a social media marketing specialist. A large definition is social media nowadays, and Social Media Marketing (SMM) is at its maximization and optimization. Experts in Social Media Marketing would have to grasp not one not even two, but all social media platforms' crannies and edges. All the instruments that these social media sites have to give should be able to exploit them.
also read: How I Started My Own Social Media Agency
How to Become A Social Media Expert? | Complete Guide