Magazines are printed publications that come periodically, usually every week or every month and have a regular schedule. The Main purpose of magazines is to spread information intended for both; general and specific audiences. Let us see about the benefits of magazines in this article.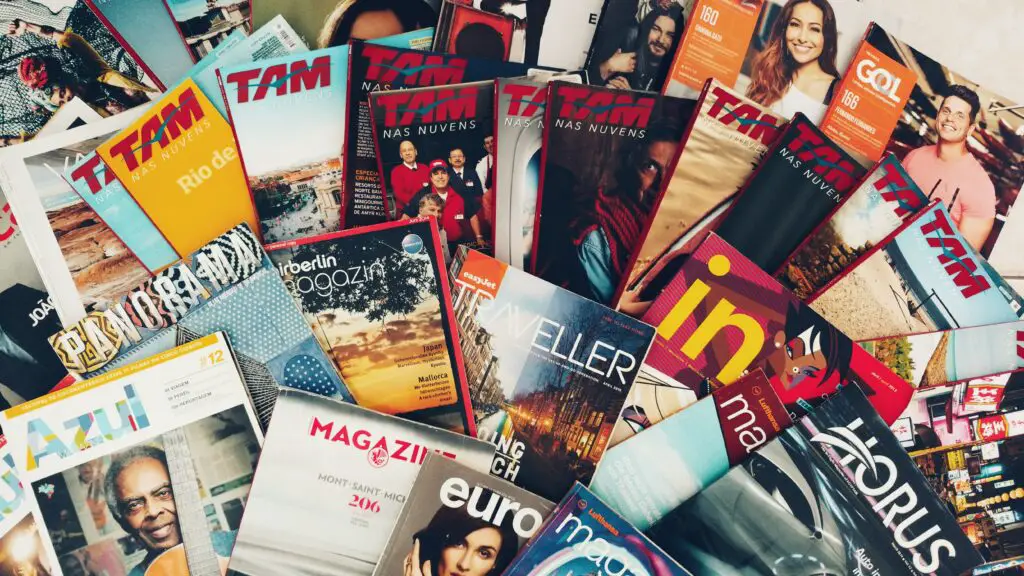 Magazines
The history of magazines is a close interplay between society and technical innovations. The arrival of magazines began in the early 17th century in Germany, France, and the Netherlands. During the early 18th century, there was an increase in literacy. Women enjoyed reading more. In the early 20th century, there were developments in magazines with the introduction of news, business, and picture magazines. The first American magazines were published in 1741; there were few magazines in America because few could read and afford them. Few women could read; hence, the primary audience were men.
3 Different Types of Magazines:
General Interest Magazines:
These aim at the educated and non-specialized audience. The primary purpose of these magazines is to provide information to a broader audience without background knowledge or a specific level of education; it covers wide coverage of current interests.
Trade Magazines:
These are also called trade journals or professional journals directed at professionals in a particular field. These informative and collaborative sources mainly aim at a specific industry meant for target advertising to attain a profit. The goal of these magazines is to inform industry members of any updates; it also requires specialized language depending on their target profession.
Special Interests Magazine:
These magazines are widely available to the public eye and focus on various publications for various topics such as food, lifestyle, health, sports, etc. Unlike General interest magazines, these are more specific to a particular audience and focus solely on one target-specific topic, such as cooking, driving, designing etc.
Difference between newspaper and magazine:
Newspapers do not have a specific target audience and do not focus only on one subject, whereas Magazines concentrate on one subject depending on which target audience it is attracting.
Newspapers are made of thin paper compared to magazines and don't require much effort with designing as their layout is straightforward, while Magazine uses unique creativity of designs and layout, thus making them more expensive.
Magazines are small that of a booklet, whereas newspapers are big and foldable.
Magazines have a distinctive style, it depends on the maker how they prefer their layout, and thus they have more freedom, whereas newspapers have a rigid style with catchy headlines.
Newspapers do not have a longer shelf life than magazines, as they are read-only once content.
Magazines have a limited audience, whereas newspaper has a vast audience as it contains many subjects and different target audience are attracted to it.
The Benefits of Magazines:
Magazines help you reach out to the target audience, which is the group of potential consumers to whom you wish to sell your product.
Advertising in magazines helps you spread awareness about the product, increasing your brand power.
Magazines provide you to reach out to your audience more effectively has as it is more engaging because of their unique features; Hence there are more opportunities in magazines.
They have unique characteristics and creativity, which helps the brand be noticed more.
Magazines also gain the audience's trust, increasing the reader's confidence and thus having a long-term appeal.
Magazines expand visibility and thus grab the attention of the readers faster.
Magazines have low costs and investments compared to other platforms; hence, they have a broad audience.
Magazines have a longer shelf life which further decreases the amount of wastage and thus increases their durability.
Magazines provide more measurability to the producer as they can compare their stats to distinguish the likes and dislikes of their audience.
Benefits For Using Magazines Advertising for Business:
Magazine advertising helps increase product awareness and has a specific target audience.
They also increase brand recognition and the product's reliability, attracting more attention.
We can use social media and many other platforms to increase website traffic.
Magazines also require low investments compared to any other advertising platforms.
Magazines have a longer life span as they can be stored easily in a very tiny space.
It also increases reader engagement through its unique structure and features such as graphics, design, etc.
Magazines have pass-on relationships; they share and pass it on to their friends and family, thus increasing brand awareness.
We can use social media and many other platforms to increase website traffic.
Magazine advertising provides more recognition to the product, thus increasing its equity.
How To Sell Magazine?
Magazine requires less marketing effort as it is directed to the target market and has a great potential for profits.  
The seller sells their magazines by approaching consumers directly at their doors, known as door-to-door service.  Even though this method can be time-consuming, it is more flexible and effective because of its interaction.
Events can be described as a strategy used by the producer to organize an in-person meeting to engage with their consumers directly and to present their product to the audience. 
You can also use websites such as a blog to sell your magazine and social media to spread awareness and bring more traffic to your website.
Ecommerce is yet again an effective way of selling as it is low cost, more flexible, faster, and affordable for the customers
How To Make a Magazine?
Explore your surroundings for inspiration to find a topic and come up with a concept; then choose a title related to your idea.
Incorporating your topic, design your cover photo and make your cover headline.
Do your research thoroughly to come up with the content. Make sure that your content is easily understandable and reliable.
Design and incorporate your visuals and theme for the magazine.
Design your articles' masthead that will include all the details regarding the names of the designer, owners, editorials, etc.
Design your back cover for the magazine
Finalize your print layout. Make sure your quality of paper is suitable for a magazine.
How To Increase Reader Engagement?
Quality of Paper:
One thing that distinguishes magazines from newspapers is their good thick paper; thus, ensuring the good quality paper is necessary to showcase its uniqueness.
Pictures:
Use high-quality pictures and unique, creative, and breathtaking pictures to increase visibility among the readers.
Content:
Ensuring that your content is original and covers your topic in a simple yet captivating way.
Interaction:
Use recognizable brand elements to increase interaction between the audience and the magazines.
Awareness:
Use social media platforms to increase search traffic.
Audience:
Selecting your target audience depending on your brand to build relationships and understanding with your consumers.
Captions:
Captions are necessary as it helps the consumers to understand better. It contains prime information regarding the images, thus increasing readability.
Bullet Points:
It makes the required information stand out and makes it easier for the readers to grasp.
Analyze Your Engagement:
Analyzing your stats to review your engagement is a must so that you can improve your strategy for upcoming publications.
Conclusion
Magazines are a substantial source that provides consumers with vast information. Magazine advertising helps increase brand awareness and recognition. It targets a specific audience and has a broad readership. Magazines are the most effective method of brand advertising in business.