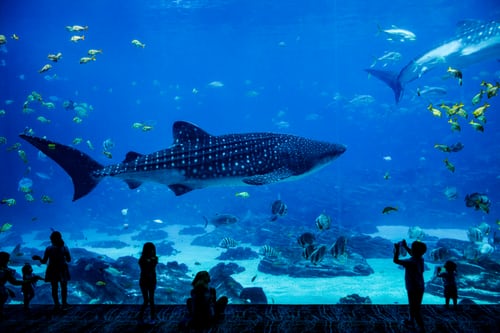 An Aquarist as the name implies are employed in the zoos, theme park and marine research institute with the sole responsibility of cleaning and maintaining an aquarium. An aquarist essentially takes the responsibility of conserving wildlife and aquatic life by implementing educative programs that advocate for marine and wildlife conservation. They also help in maintaining water quality, pressure, and temperature, feeding aquatic creatures, cleaning large aquarium tanks, and as well helps in servicing and maintaining aquarium pipes to ensure optimal conditions for every underwater creature. We will discuss Aquarist Cover Letter here.
There are many handfuls of opportunities open for every aquarist to land into its desired dream job. Still, such an aquarist position requires you to craft out a catchy aquarist cover letter that could help you get out of the competition and get the hiring manager's attention. A cover letter for every aquarist is a moment of introduction to the prospective hiring manager. It must be fashioned so that relevant, thoughtful details in the area of work history, strengths, and skills required for the aforementioned Job description and application are emphasized. It is demanded of every aquarist who is either seeking an entry-level position or have been up the edge with lots of expository experiences in the aquarist career path to expose their undoubted relevant achievements, Awards boldly, and outstanding relevant skills in their well-detailed cover letter to bring professionalism into the hiring manager visual display and this helps to give one's cover letter an edge over others and therefore make you stand out and ready for a Job interview. 
The need for thorough and exceptional attention to be given during aquarist cover letter preparation cannot be overemphasized, and that properly states the obvious reason why relevant emphasis needs to be laid on skill, experience, achievements, and awards; This has been the only proven way to cut down the chances of having a discarded, no interview or no reply cover letter. 
Aquarist Cover Letter
In other to be ahead of the competition, The Aquarist needs to put the following skills into consideration while preparing the aquarist cover letter: 
Attention To Detail: Attention to detail is one of the key skills requirements every aquarist must possess. The ability to take down inventories and ensure the aquatic animals' needs are met daily is highly demanded from every aquarist.


Communication Skill: Due to the technicality involved in working with various departments In the marine institute; Any Aquarist who wants to excel in the area of expertise must have communication skills. It is one of the desired skills required from an aquarist first before any other skill. 


Physical Fitness Skill: Due to the pulling, dragging, lift, stretch and crouch activities involved and exerted in the Job description, physical fitness is required from an aquarist. 


Organization Skill: High display of organizational skill is needed from an aquarist. Activities such as scheduling feedings for the marine animals and organizing exhibitions require a high level of organization skills and necessary for every aquarist to possess. 


Marine Animal Care: Every aquarist must have well-rounded knowledge concerning marine animal care and its ecosystems. They must understand marine animal's anatomy, behavioral patterns, and habitats in other to detect when there is a change in their behavior and, therefore, help appropriately intending and caring for them for their optimum productivity. 


Basic Life Support Systems: Aquarists must have an understanding of marine life support systems and must be comfortable using marine equipment like SCUBA, UV sterilizers, and Canister filters efficiently. 
Before applying for any aquarist job applications/opportunity, it is of great need that one understand the job description for every aquarist, in other to give oneself the privilege of further coverage. 
Below is the list of aquarist expected job description:
A Sample of Aquarist Job Description for Aquarist Cover Letter
Aquarist helps monitor and regulate all aquatic life such as aquatic mammals, fishes, and aquatic invertebrates. 
They help clean large water tanks, refill water tanks and ascertain water pH levels necessary for aquatic life survival. 
They ensure that water Temperature is conducive for the survival of the aquatic animals by testing and comparing different water samples for acid and bases analysis. 
Aquarist caters to feeding all aquatic animals and helps to spot out and fix any irregular feeding behavior noticed. 
To ensure constant and efficient management of marine life, Aquarists help create different aquarium exhibitions. 
They also help report any irregularities and abnormalities noticed in the aquarium to the respective supervisor and ensure that problems are properly taken care of. 
They help in carrying out a constant routine check of every life support. 
Aquarist helps in detecting dead aquatic animals and ensures that no introduced diseases are transmitted among aquatic animals and, if any; Ensures treatment is given effectively. 
Example of Aquarist Cover Letter:
"Dear Isaacoed Jamie,
Upon seeing your job advert in guardian Newspaper for an Aquarist position with Wonderland Aquarium. I was fascinated to submit my attached resume for your consideration. Over the last few years, I have been looking for an opportunity like this. I strongly believe that I meet and exceed all the criteria needed for the aforementioned job description as listed in the advertisement. 
Marine life has always fascinated me, and that was why I choose it as a career path. I have experience working as an Aquarist In an earthworks aquarium; During my time there, I was in charge of cleaning the aquarium tanks, feeding the marine animals, and checking the aquarium water pH and temperature levels. I am also very keen on spotting out changes and abnormalities in the behavioral pattern of aquatic animals. Thus; this, helps in boosting the productivity of aquatic animals. 
I am also savvy in organizing aquarium exhibitions and am good at working with people and creating outstanding presentations for visitors for any marine life exhibitions. I am an exceptional team player and can efficiently work with or without supervision. I would be glad if my request has been granted and will not hesitate to spread Wonderland aquarium's noble reputation to all parts of the globe.
Thank you for your time, and I look forward to furthering my engagement on how I can contribute to Wonderland Aquarium. Please, Feel free to call (999)-999-9999 to have a meeting concerning my qualifications. 
Sincerely, 
Your Name…
Your Address…
Your Phone Number…
Signature…"
Also read Professional Tips for Writing a Cover Letter
Aquarist Cover Letter [Samples & Examples]