Doctors that practice emergency medicine are experts in stabilizing, diagnosing, and treating patients who have suffered an unexpected accident or disease. Let's learn about 'What Are The Salaries For Emergency Medicine Physicians?'.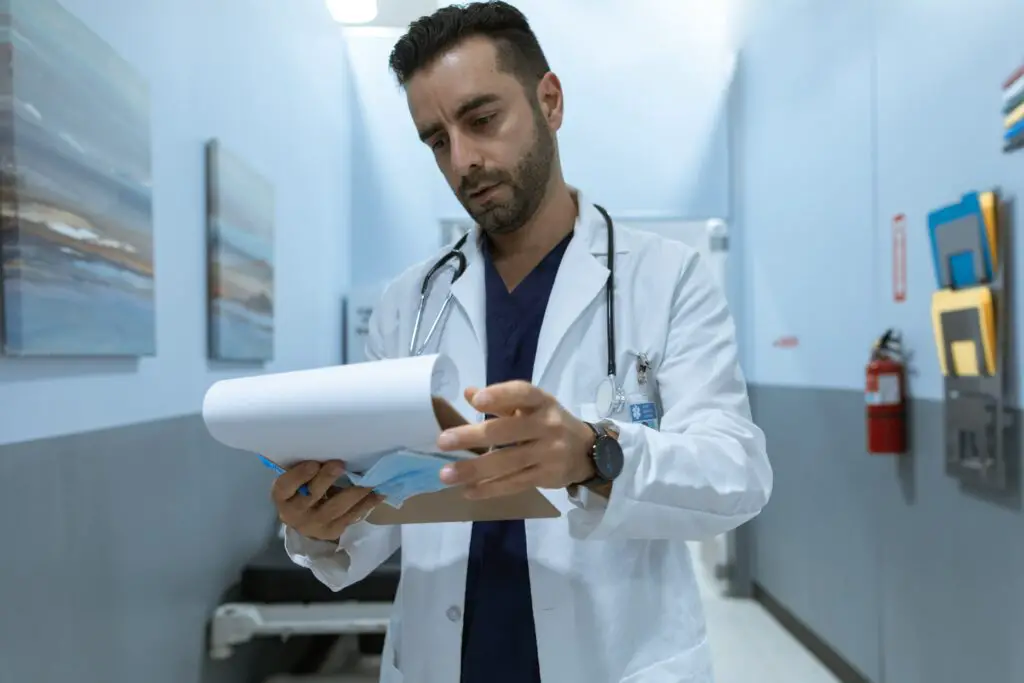 What Are The Salaries For Emergency Medicine Physicians?
All of them have received training in general acute care, but some have also received further education in a specialization like pediatric emergency care, toxicology, catastrophe medicine, or hyperbaric medicine. 
They collaborate with other medical practitioners to swiftly identify a patient's condition and choose an appropriate course of treatment, which may entail surgery, intervention, resuscitation, or transfer to another medical division.
What are the Salaries For Emergency Medicine Physicians?
In the US, emergency medicine doctors typically earn between $185,795 and $346,872 per year, depending on their level of experience, location, skills, and other criteria.
1. Level Of Experience
Salary increases are typically correlated with your amount of experience. In general, you can anticipate making more money as an emergency care physician as you get more experience. 
Below is how the level of experience influences the salary expectation:
Entry-level (less than one year): $126,686
Early career (1 to 4 years): $191,685
Mid-career (5 to 10 years) $232,021
Experienced (11 to 20 years) $300,080
Late career (20+ years) $425,589
2. Location 
Your geographic location can also affect how much money you can earn working as an emergency medicine doctor. Working in a major city is typically associated with a greater wage along with a higher standard of living.
The average compensation for an emergency medicine physician in each large city is listed below. 
Atlanta, Georgia: $310,725
St. Louis, Missouri: $309,371
Indianapolis, Indiana: $304,910
Seattle, Washington: $297,365
Salt Lake City, Utah: $295,658
Job Responsibilities of an Emergency Medicine Physician
Generally speaking, emergency medicine doctors are responsible for a wide range of tasks, such as:
Prescribing medicines and providing treatments following the requirements of the patients, such as intravenous therapy or procedures like applying splints to fractures or giving vaccines. 
Providing pre-hospital care in rural areas by traveling with ambulance crews or flying with helicopter rescue teams.
Performing diagnostic procedures such as urinalysis, electrocardiograms, pulmonary function tests, and EKGs. 
Treating severe illnesses and traumas such as heart attacks, burns, heartbreaks, and infections. 
Consulting with other doctors regarding complex cases or patients who require specialist care.
Conducting health screenings to identify risk factors for disease or prevent illness, such as physical exams and vaccinations. 
Occasionally performing surgery to address ailments like hernias or severe brain injuries. 
Doing laboratory tests, such as complete blood count to look for anemia or infections, cultures to find fungi or bacteria, and urinalysis to look for drugs or other chemicals in the urine
Delivering quality nursing care to the patients in the operating room or emergency room
Job Requirements of Emergency Medicine Physicians
The following qualifications are commonly required by emergency medicine doctors:
1. Education
Emergency medicine doctors are required to complete a four-year medical degree. In medical school, the first two years are spent learning in the classroom, while the latter two years are spent on clinical rotations.
Medical students spend quality time in a range of medical specialties throughout their clinical rotations, including emergency medicine. Students gain knowledge of several disciplines throughout this time and choose which one they wish to follow.
2. Training and Experience
Emergency medicine doctors are required to undergo a residency program after graduating from medical school. Emergency medicine residency programs usually last 3 years and offer practical training.
Emergency medicine specialists will be supervised by more experienced medical professionals while they are in residency. In addition to managing the emergency room, they would also learn how to treat patients and diagnose them.
Physicians who practice emergency medicine usually complete a fellowship after their residency. Fellowships offer extra training in a particular field of emergency medicine and often span one to two years. 
Fellowships might concentrate on a particular patient population, like pediatrics or victims of trauma, or they can offer more general training.
3. Certifications & Licenses
The U.S. Medical Licensing Examination is required of all physicians, including those applying for work as emergency medicine physicians (USMLE). Basic Principles and Concepts, the first section of the USMLE, is normally taken within the first year of medical school. 
After medical school, the second component—the Clinical Skills and Knowledge—is taken. The Comprehensive Osteopathic Medical Licensing Examination is another requirement for those aspiring to become emergency medicine doctors.
Skills Needed By Emergency Medicine Physicians
To succeed, emergency medicine doctors require the following abilities:
Critical Thinking
Making quick decisions using the information at hand requires the use of critical thinking. Physicians who practice emergency medicine must be able to decide on patient care quickly and with little information.
Communication Skills
Another crucial ability for emergency medicine doctors to possess is communication since they frequently have to explain diagnoses and medical procedures to patients and their family members. 
To guarantee that patients receive the treatment they require, they also need to be able to interact with other medical specialists, such as paramedics and nurses. 
Time Management
Emergency medicine doctors can successfully manage their calendars and prioritize their tasks with the help of time management skills. 
Knowing when to take a break, how to manage their time during a shift, and how to deal with unforeseen delays are a few examples of this.
Empathy
The capacity for empathy is the capacity to comprehend and experience another person's feelings. 
Empathy is a crucial trait to possess when providing medical care to patients as an emergency medicine physician. In an emergency, you can use empathy to make patients feel more at ease and relaxed.
Conclusion
Physicians who specialize in emergency medicine (EMPs) treat patients who have recently suffered serious diseases or injuries. Additionally, they might help with the organization of other services like follow-up care or hospital admission.
Over the past few decades, emergency medicine—a relatively new area of medicine—has experienced remarkable growth. It's currently one of the most sought-after specialties among residents and medical students.
They are among the highest-paid medical specializations due to how difficult the profession is to pursue.
FAQs
What is the Work Environment of an Emergency Medicine Physician?
Doctors in emergency medicine practice in a range of locations, such as trauma centers, urgent care facilities, and hospital emergency rooms. 
Additionally, they might be employed in pre-hospital environments, such as in ambulances or helicopters.
What is the work schedule of an emergency medicine physician?
Physicians who specialize in emergency medicine frequently put in more than 60 hours per week. They might be accessible seven days a week, around the clock.
Physicians who practice emergency medicine must have the ability to act quickly and remain composed in stressful situations because they work in high-stress settings. Additionally, they must be able to withstand the emotional strain that comes with caring for seriously ill or injured patients.
What Are The Salaries For Emergency Medicine Physicians?