If a person is enthusiastic about Designing, Advancing, Developing, and testing Aircraft, Spacecraft, Satellites, and missiles, then they could be the one who can sprint toward becoming an Aerospace Engineer. The Salaries in this field fluctuate based on the basis of an individual's experience, the type of Company they work for, the Location aspect, and in what field of Aerospace engineering they got absorbed in. Let us see about the salary for Aerospace Engineer.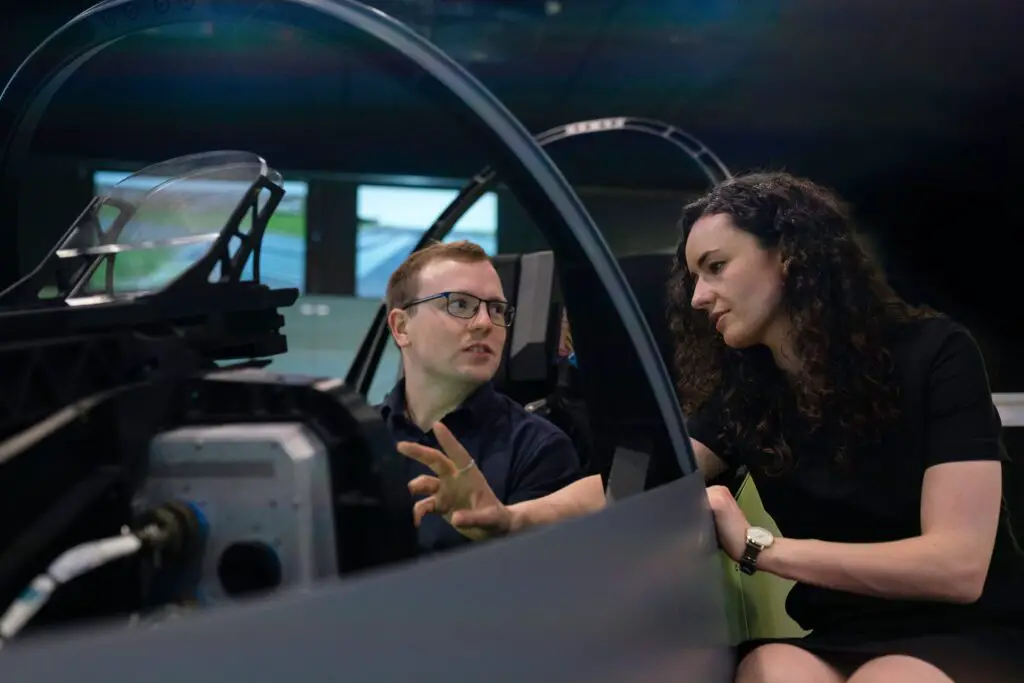 Salary expectations of Aerospace Engineers:-
When someone focuses on becoming an Aerospace Engineer, they could expect a hefty Salary. According to the Bureau of Labor Statistics, the average salary for Aerospace Engineers in the United States ranges around $116,500, which can exceed up to $165,000 for more experienced individuals and for those who are operating with the top-tier companies.
In short, the Salary in this field is directly proportional to an individual's command over experience and the size of the firm they work for. Education, Location, and performance are some other factors that can decide the Salary dimension.
Who are Aerospace Engineers?
An Aerospace Engineer is the one who's responsible for conducting 4 major stages in the successful operational functionalities of spacecraft, aircraft, Satellites, and Missiles respectively. These 4 phases are( Designing, Advancing, developing, and Testing), they should have a full-fledged plan along with them, including the exceptional skill set required for enhancing the systems and technologies that make tasks possible.
Steps to become an Aerospace Engineer:- 
1. Educational point of view:- A person who ignites a spark, to become an Aerospace Engineer, should have a relevant Bachelor's degree in Aerospace Engineering or in a relatable field such as mechanical and aeronautical engineering.
2. Opt for an Internship:- After graduating, one should try his hands at obtaining an Internship that could assist him/her in gaining a vast experience in this field.
3. Score well in the Fundamentals of Engineering exam:- This step is crucial, an individual should pass the FE exam to become a certified Professional Engineer(PE)
4. Operate as an Engineer:- Now comes the testing phase, before becoming a licensed PE you should have to work under the radar of a professional engineer, to attain an experience in this field. 
5. Clear the principles and Practice of Engineering exams(PE):- After conquering all these steps, you have to clear a PE exam to acquire the title of an authorized Professional Engineer, this exam can be given after having a surplus of work experience.
6. Sustain your License in the future:- Renewal of the license is a mandated process, that should be Rejuvenated regularly to pace up with the rapid developments going in the Aerospace field.
7. Absorb Certifications to Improve the CV:- Some certifications provided by reputed organizations such as the American Institute of Aeronautics and Astronautics(AIAA), National Aeronautics and Space Administration(NASA) and Federal Aviation Administration are considered as an add.
5 Highly paid Aerospace Engineer Jobs to keep in mind:-
When it comes to becoming an Aerospace Engineer, we've discussed what are their work based on, the Skill set , and the education required to attain their specific goal. But these things are not sufficient to support the livelihood, there is another influential element hidden behind it and that is Salary. Further ahead, we will discuss some of the financially sounded Aerospace Engineer Jobs around the globe:-
1. Propulsions System Engineer:-
These are the ones, responsible for designing and evaluating all sorts of engine modules including turbines, blade assemblies, and gas generators. Designing and conducting tests on propulsion systems for missiles, rockets, and aircraft are in their hands.
a.) Salary expectations:- Salary ranges from $75000, which can escalate up to $138,000.
b.)Degree required to be eligible:- Bachelor's degree in Aerospace engineering and 5 years of working experience as a propulsion engineer are mandatory.
c.) Who hires them?:- NASA and Lockheed Martin Corp are well-reputed companies that recruit these kinds of Aerospace Engineers.
2. Aerodynamics Engineer:-
These are responsible for proper functioning Aerodynamic traits of aircraft and Missiles.
a.)Salary Expectations:- Aerodynamics Engineer Can expect a salary of $70,000 as the lowest, which can graph up to $158,000.
b.)Degree required for eligibility:- Bachelor's in Aerospace Engineering or other technical fields is required to be eligible for Aerodynamics Engineering.
c.)who hires them?:- Airlines and Space agencies are the ones who opt for these Engineers. Boeing and Lockheed Martin are one of them.
3. Spacecraft Systems Engineer:-
As the name suggests, they are responsible for handling all the processing, from (designing to testing ) of the spacecraft and its systems.
a.) Salary Expectations:- A Spacecraft Systems Engineer can expect a salary of $68000 when they are in their initial stage, which could rise to $165,000 after gaining some working experience.
b.)Degree requirement:- Bachelor's degree in Aerospace Engineering is a must fulfill, While a Master's degree in the same would be a bonus to acquire this job.
c.)Who hires them:- They usually work for Aerospace manufacturers and Research Institutions, but some often opt to perform the tasks for private Space companies.
4. Flight Test Engineer:-
They work on aircraft and spacecraft to ensure safety, mainly they are focus on checking whether an Aircraft mechanism works properly or not.
a.)Salary Expectations:- They can assume a Salary  range from $68,000(Lowest) to $170,000(Highest).
b.)Degree Required:- A Bachelor's degree in Aerospace Engineering is a must, while a Bachelor's Degree in Aeronautical Engineering is profitable too.
c.)Who hires them:- Reputable Organizations such as U.S Government, NASA, Boeing, and Airbus, usually aim for them.
5. Thermodynamics Engineer:-
With the mixture of thermodynamics skills and knowledge, they are tend to design and develop thermodynamic systems for Aircraft, Spacecraft and Missiles.
a.) Salary paid:- Average Salary for Thermodynamics Engineer ranges around $76,000 at the beginning, that goes up till $165,000 with gaining experience.
b.) Degree requirement:- Bachelor's in Aerospace Engineering is preferable, while some employers go for already experienced individuals  in the field.
c.)Who hires them:- Thermodynamics Engineer usually work for manufacturers, Research and Development Companies and Government agencies.
What does Aerospace Engineers Do?
An Aerospace Engineer is responsible to conduct 4 major activities that includes Designing, Advancing, Developing and Testing the Aircraft, Spacecraft, Satellites and Missiles. Basically they are the one's behind a successful technical outrunning of Flight and defense Systems, Without an Aerospace Engineer it's impossible to omit the errors detected in any of these, as they are the hands behind its development and operating aspect.
Conclusion 
This Article has provided us an overview about what Aerospace Engineers usually do, what salaries they generate in their initial stages and when they attain experience as well and the 5 most Salary catching Aerospace Engineer Jobs that one can eye for.
At last An Aerospace Engineer is the heart for all space, flight and defense system and in future they are not going to extinct, in-fact these are the most trending jobs around the world that gives you an experience to enjoy, Skills to Sharpen and decent Salaries to Sustain yourself in this world.
Frequently asked questions
What is the average Salary of an Aerospace Engineer?
An Average salary of Aerospace Engineer is around $116,500.
What is the Highest amount of Salary one can expect from this Aerospace field?
The Highest amount of Salary that one could expect is $165,000, but this is could exceed as well depending on an individual's experience and for what company they work for.
How does experience affect the Salaries?
As an individual experience increases their Salary also increases, this applies to all the working field and in Aerospace Engineering  as well, for example if you are in initial stages your Salary would range around of $60,000 ,but as you gain more experience you can find sudden rise in your Salary that can go up to $165,000 a year.
Salary For Aerospace Engineer