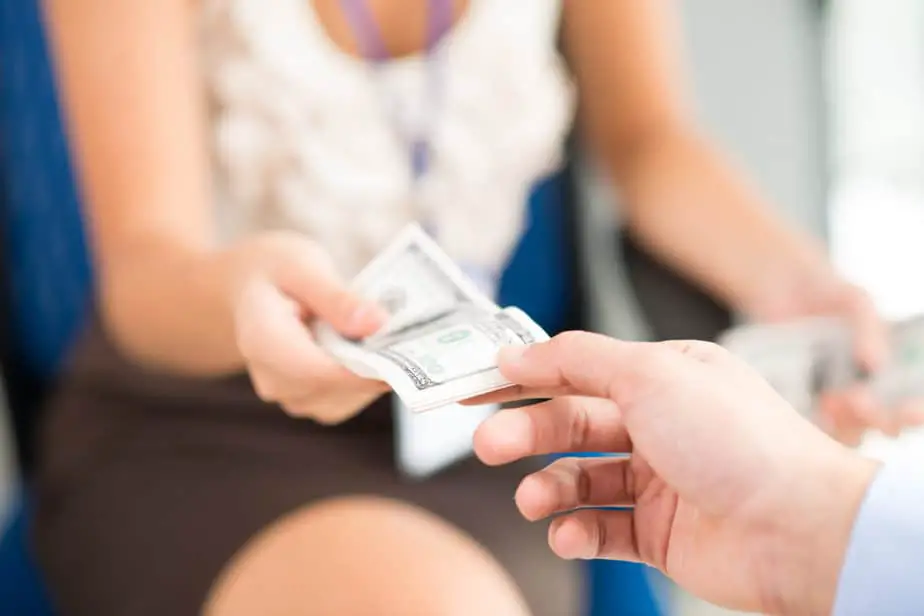 Ernst and Young known as EY is a multinational company that provides professional services like tax advisory, digital strategy, assurance, strategic consulting, legal, and financial advisory. It is counted among the top four firms Deloitte, KPMG, and PricewaterhouseCoopers (PwC) in providing professional services. It presently has branches of over 700 offices in more than 150 countries with 312,250 employees around the world. For the past 21 years, EY has been ranked on Fortune magazine's list of 100 best companies to work. As of 2019, EY was the 7th largest privately owned organization in the United States. The article talks about the salary, hiring process, values, culture, demographics, benefits, etc of working at EY. Here we will see the Salary at Ernst & Young.
Salary at Ernst & Young
The average salary of an employee at EY is $95,482 annually, $45.67 hourly. The top 10% earn about $141,000 annually and the bottom 10% earn less than $64,000 annually. Among its competitors, EY stands at the top for paying its employees the highest salary. New York, NY is the highest paying location. The department in which you work also impacts the salary that you earn. The highest salary is earned by the advisory manager of $123,641 and the lowest salary is earned by an administrative assistant about $32,058. The following list gives us the range of salary to each job title as well as the average salary earned.
| | | |
| --- | --- | --- |
| Job title | Average annual salary | Range of salaries |
| Advisory project manager | $124k  | $112k-$136k |
| Application software developer | $117k | $101k to $133k |
| Management analyst | $114k | $95k to $134k |
| Senior advisory | $108k | $95k to $122k |
| Computer systems analyst | $107k | $91k to $124k |
| Assurance manager | $105k | $92k to $119k |
| Actuary  | $104k | $84k to $127k |
| Finance specialist | $99k | $81k to $120k |
| Statistician  | $97k | $81k to $117k |
| Database Administrator | $96k | $82k to $111k |
| Risk management specialist | $85k | $69k to $105k |
| Consultant  | $84k | $70k to $99k |
| Account auditor | $82k | $69k to $95k |
| Performance improvement coordinator | $81k | $72k to $89k |
| Executive assistant | $78k | $67k to $90k |
| Senior assistance | $73k | $66k to $81k |
| Tax accountant | $60k | $55k to $64k |
| Audit internship | $59k | $52k to $66k |
| Staff auditor | $58k | $54k to $60k |
| Staff accountant | $56k | $50k to $61k |
As salary differs as per departments lets take a look at how much each pays-
| | | |
| --- | --- | --- |
| Department  | Average annual salary | Hourly pay |
| Research and development | $111,029 | $53 |
| IT | $108,303 | $52 |
| Engineering  | $103,174 | $50 |
| Plant/ Manufacturing  | $98,728 | $47 |
| Customer service  | $92,512 | $44 |
| Finance  | $91,101 | $44 |
| Marketing  | $83,615 | $40 |
| Accounting  | $76,707 | $37 |
| Marketing  | $61,356 | $29 |
Let us also take a look at how much salary differs concerning the city in which you are employed-
| | | |
| --- | --- | --- |
| Location  | Average annual salary | Hourly pay |
| New York, NY | $105,633 | $51 |
| Washington, DC  | $105,367 | $51 |
| Hoboken, NJ | $104,294 | $50 |
| Stamford, CT | $100,994 | $49 |
| McLean, VA | $98,610 | $47 |
| Seattle, WA | $98,499 | $47 |
| Wilmington, DE | $98,023 | $47 |
| Boston, MA | $97,617 | $47 |
| Los Angeles, CA | $97,001 | $47 |
| Baltimore, MD | $96,978 | $47 |
| Philadelphia, PA | $93,597 | $45 |
| Chicago, IL | $90,684 | $44 |
| Denver, CO | $89,299 | $43 |
| Houston, TX | $89,264 | $43 |
| Portland, OR | $88,748 | $43 |
| Charlotte, NC | $87,702 | $42 |
| Cleveland, OH | $87,090 | $42 |
| Minneapolis, MN | $86,466 | $42 |
| Detroit, MI  | $86,265 | $41 |
| Phoenix, AZ | $85,168 | $41 |
The above lists give us a clear idea of how salary differs according to the department, location, and experience. Let us then understand the hiring process at EY.
Hiring process
The hiring process is slightly different for students and experienced individuals. There are facilities for students/ entry-level professionals to attend virtual information sessions or events to know about what it is to be a part of EY, you can get them when you explore the career section on the website. After these virtual events, one will be able to explore the career opportunities with the necessary knowledge. 
Using the EY student job board you can apply proper filters, of country, city, type of job, etc to find your accessible job. Before applying for any job post, make sure you have an interest in that post as it will help you in answering the reason for choosing that job during the interview. 
EY will analyze the application and will further proceed for the initial interview round based on the academic background, extracurricular activities, and work experience.
If you qualify for the initial interview, you will be invited to participate in a pre-recorded video interview (PRVI). This round will help the accessors how to fit you are for the role, your interests, your potential, etc
The top candidates qualifying for the role are then called in for a live video interview with professionals. 
The results are announced within a few weeks after the process. The recruiting staff will always be in touch with you throughout the process.
The hiring process for experienced individuals is a bit different. Under the career options select 'find jobs' experienced professionals on the official website. 
The display of jobs before you are the set given for you to search for your desired job. Using the search bar you can search for a particular location or job title.
Check-in for all the requirements, and eligibility so that while analyzing all other applications, your application will look most apt for the role. You can even apply for multiple roles by posting different applications under each job vacancy.
After applying online, a team of recruiters will go through it and will contact you for the next steps. You will be further interviewed through a phone call
You might also have a written assessment. Some job roles will require writing samples or answering coding questions. 
The hiring process takes about 3-4 weeks to complete. It might include 2 phone call interviews and 2-3 in-person interviews depending on the role that you apply for.
Interview process
This process takes about one month to complete. Candidates call the interview with a moderate level of difficulty. The atmosphere was favorable. Multiple interview rounds help the recruiter understand the depth of knowledge that you have along with your personality. Questions like- Tell us about your opinion on a global political/economic trend, what value can you offer to this role? describe your top three strengths, where do you see yourself in the next five years? Why did you choose EY? IT audit questions, technical/software-related questions, etc were asked. Some encountered group interviews and problem-solving exercises during the interview. It is advised to keep your interview attire as a formal business suit, business casuals will also work. Many of the candidates signed up for their first interview through the recruiter/ campus placement/employee referral. 
Qualification
Most of the employees here are having a bachelor's degree, a few hold master's degrees, a few have additional certificates. They have a degree in either of these- accounting, business, finance, computer science, economics, management, computer information systems, marketing, political science, etc. Most of the employees have completed their education from New York University or the University of Texas at Austin or Texas A&M University or Ohio State University or other famous universities.
Departments at EY
Understanding each department will give us an insight into the types of jobs available under each of them.
Research and development- this department has the responsibility of the future growth of the company. The renewing of the existing products as per the updates in the market and developing new services/products are all done by the R&D department. Here you will be offered jobs that will require you to lead the research, planning, supervision, and implementation of new products/ services.
IT- to handle a large organization, a big team of employees is required in the installation and maintenance of the computer network systems, data storage/retrieval, computer support, hardware within the company. 
Engineering- it is a department with widespread responsibilities. It is responsible for the design, codes, drawing, quality, and quantity of the materials, components, construction, maintenance of main power plants, etc. 
Plant/Manufacturing- this department is responsible for implementing and operation of the production system for producing the product. Activities such as production planning, distribution, production control, installation, and quality control are done by the manufacturing department.
Customer service- they directly deal with customers. They help the customer's issues and resolve them in a timely and efficient manner. They are the medium between the customers and the company. They use many modes to communicate with the customers- social media, phone calls, emails, etc.
Finance- this department is responsible for managing funds within the organization, collecting funds for the firm, and planning for the expenditure of funds on various aspects required for the company.
Marketing- for a business to run smoothly, the marketing department also known as the face of the organization is responsible for coordinating and producing all materials representing the business. It helps in reaching the most needful customers. 
Accounting- the departments handle the accounts, paying bills, billing customers and clients, tracking expenditures and assets, managing payroll, and keeping a record of critical tax documents.
Administrative- this involves the areas of human resources for strategic planning, legal affairs, recruiting proper employees, calls for tenders, security, and facilities.
We had a glance over the hiring process, interview process, different departments, and the minimum qualification required for any job role. Now the article highlights EY, what their values/missions are, work culture, demographics, and benefits of being an employee at EY.
Values and mission at EY
EY stands for its statement, "At EY, we are committed to building a better working world — with increased trust and confidence in business, sustainable growth, development of talent in all its forms, and greater collaboration. We want to build a better working world through our actions and by engaging with like-minded organizations and individuals. This is our purpose — and why we exist as an organization."
Culture at EY
EY promotes diversity and inclusion. They believe in supporting, appreciating, and rewarding the employees as they grow successfully in using their skills, knowledge, and experience in dealing with social challenges. EY encourages the use of new technologies, thus innovation is warmly welcomed. They consider your viewpoint during the decision-making process, your uniqueness, embracing beneficial changes, etc. The work culture helps the employees to stand out as they promote each person's experience and ideas to take roots. The benefits that EY offers focus on physical, emotional, financial, and social well-being. It believes in listening and personalizing career development. Nowadays the demand for types of careers in the market is changing, EY makes sure that the employees get the full freedom to imagine thus get the most out of their career. Apart from all of these the Alumni connections help us to know their experience at EY, the career paths they chose, and most importantly why they continued at EY.
Demographics at EY
EY stands by its values, we can say that by looking at the overall workforce, the diversity calculates to be 9.7/10. There are 53.1% of the male workforce, 39.4% female workforce. More than 50% are Whites while another part is occupied by Asian, Hispanic/ Latino, and Black/ African American. Many are found to be speaking Spanish, Mandarin, Chinese, French, and Japanese, while few people speak German, Portuguese, Russian, Korean, Cantonese, Hindi, Italian, Arabic, Greek, Urdu, Polish, Dutch, Vietnamese, Hebrew, and Gujarati.
Benefits of working at EY
Retirement plan
Loan assistance
Childcare
Signing bonus, performance bonus, yearly bonus, weekly bonus
Wellness program
Employee discount
Flexibility at work- work from home options available at some companies, flexible schedules
On-site gym, gym membership
Tuition reimbursements 
Insurance – dental insurance, vision insurance, disability insurance, life insurance, prescription drug insurance, overall health insurance
Food provided
Employee mentoring and assistance programs
Paid time-off, parental leave, paid jury duty
Loan repayment program
FAQs
How long are the working hours at EY?
It is 45 hours but it may extend to 50-65 hours during a busy season.
Does EY pay weekly or biweekly?
EY pays biweekly
Does the job require a lot of traveling?
Often you are required to travel and go on field trips depending on the role you are offered but it is of great experience.
Does EY give you laptops?
EY does provide HP Elitebook laptops to its employees.
With an employee rating of 4.3/5, EY is quite employee-friendly. 83% of employees are happy while 17% of people are unsatisfied. Long hours of work and minimum raise per year are the major reason for people being unhappy. Employees denote it as a company that recognizes you for your efforts, supportive, good leadership, productive, growth-promoting company. 
What is the Salary at Ernst & Young?