Let's face the truth straight on this one; if most of us were approached with three career options and one of them included being a garbage man, most of us would have chosen any of the other two options rather than settle for being a garbage man. Becoming a garbage man won't fancy most in the least. Picking up garbage house to house, building to building that too in New York City, a city with some of the highest population density in the U.S, can feel like a punishment. Without a garbage man working early mornings, extra hours, and occasional night shifts, any city would become a disaster within weeks. They serve one of the most crucial responsibilities of keeping the whole municipality clean while working under the New York City department of sanitation (DSNY). And for carrying out this responsibility, New York City garbage men make, all in all, a decent amount of sum annually. Here we will see about Salaries for Garbage Man in New York
A garbage man salaries in New York depends on factors like experience and technical knowledge that dictate how much they should make. Average salaries for a garbage man or refuse collector in New York City is $53,294 per year. Garbage men with less than two years of experience make close to $28,880, those with more than two years of experience earn $37,840, and those with half a decade of experience and more make more than $50,000 annually. The salaries they earn also come with certain benefits and a pension plan.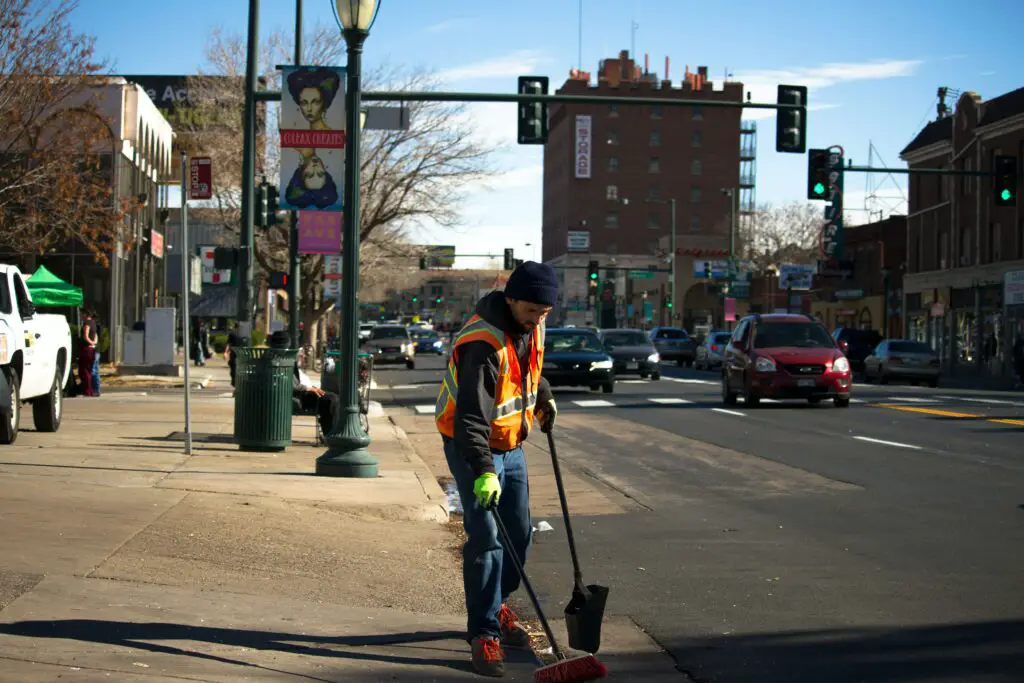 Working as a garbage man in NYC
Working as a garbage man is decent for some. For some, it's a crucial necessity, some do it because it's the one thing they know they are good at, and some work because regardless of the undesiring nature of the profession, it pays handsomely. 
The sanitation workers follow a schedule where they wake up between 4 am to 4:30 am and are supposed to report to the New York City department of sanitation (DSNY). The usual schedule of most garbage collectors is 8 hours starting in the morning from six to 2 pm.
After their arrival, they meet up and gather in different garages where they are filled in about their responsibilities for the day by their supervisors. The briefing includes the different routes they will have to travel and stops they are to make for garbage pickups. DSNY runs about 7,400 truck routes every week across the city and each run across various garbage pickup locations is managed and strictly timed. 
Once the daily briefing ends, the trucks along with the garbage men are dispatched one after the other to different routes across the city. The first scheduled pickup is between 6 to 6:30 am with the rest of the process continuing as the day goes by. 
While the responsibility of some is to pick up the garbage and load them into trucks, others are assigned sanitation, cleaning duties, and recycling work at different locations in the city. Since the city is divided into 59 districts that separate the five boroughs in various cleaning, recycling, and garbage collection zones, the whole process is very systematically monitored.
The minimum age requirement before applying is 21 years and consists of no cap on the maximum age limit. This means that the longer one is healthy and stays healthy, the longer they can go on working into their late 60s. 
Plenty of senior and experienced sanitation workers and garbage collectors have been in service under DSNY for over 25 years. Among them, some complement a good, healthy lifestyle for their longevity and recommend others to follow a similar lifestyle if they are looking to make a career working under DSNY.
How much salaries do garbage man working in New York City make ?
Websites like payscale.com and salary.com estimated the annual garbage man salary in NYC to be $53,294. This indicates that the New York City Department of Sanitation employs many experienced refuse collectors and sanitation workers most of whom at the very least have given ten years in service to DSNY making sure that the city they love stays clean, sanitized, and beautiful as it should be. 
Another reason why there are many garbage men with over 15 years of experience working under DSNY is the pension scheme. Any sanitation worker or garbage man with over 20 years of working experience becomes eligible for a pension. However, this condition applies specifically to those who joined DSNY before 2012. Those who joined after 2012 become eligible for the pension scheme after 22 years of service.
In NYC, refuse collectors get paid quite well compared to other cities. The average salary for a garbage man in the State of New York is approximately $47,000 per year. This figure is significantly higher than the average salary for a garbage man in most other states, which is typically between $30,000 and $40,000 per year. 
For comparison, here is a breakdown of annual salaries for garbage men working in Miami, Chicago, Dallas, Boston, and Los Angeles (in ascending order):  
MI – $43,127
DAL – $ 44,013
CHI – $46,998
BOS – $49,914
LA – $50,103
From the above brief data, one thing sums up clearly that in comparison, the garbage men from New York City are better paid and better looked after. 
Benefits of being a garbage man in NYC
Although the job of a garbage man may not be glamorous, there are quite a few benefits and perks that come with the territory as evident from the short data presented above. However, cities like San Francisco pay their refuse collectors about three grand more than the annual average for refuse collectors in NYC. But this shouldn't be seen as a negative point because the satisfaction level of most sanitation workers and refuse collectors in NYC is overall very positive and gratitude-filled.
Working as a garbage man in New York City means that you have access to some of the best medical benefits in the country. They are eligible for benefits like social security, healthcare, disability coverage, pension, time off from work, etc. these are some key benefits aside from salary that many other cities do not offer. 
Being a garbage man in New York also means you get to work early morning outdoors and enjoy the fresh air. Witnessing your city slowly and steadily wake up and get on with the daily hustle and bustle is something very few get to experience as it unfolds. (Although this might not be ideal during the winter season).
Conclusion
According to the New York Department of Sanitation, the job outlook for garbage men in New York is very good. Aside from the aforementioned factors like salary, pension, and other benefits, a strong sense of camaraderie binds many together; increasing their sense of gratitude for waking up early and coming to work with some of the best co-workers they could ever hope for. These positive thoughts are among a list of reasons why many garbage men love doing what they do and wouldn't trade it easily for any other profession. The department is expecting a high demand for these workers in the coming years, due to an increase in population and businesses in the city. 
Salaries for Garbage Man in New York