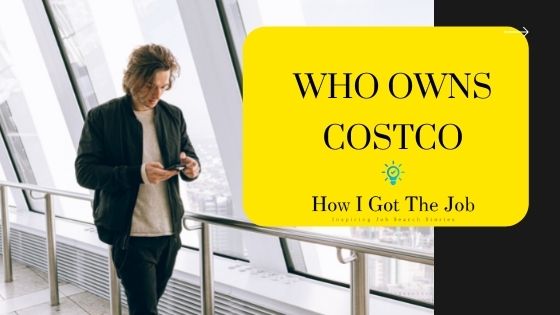 Costco – One-stop to shop everything – be it groceries, organic foods, electrical appliances, household supplies, apparel, medicine. Costco even owns gas stations. It is a whole package. Here, let's see Who Owns Costco?
A large warehouse with a confusing layout of products, that offers lower prices than the retail price for only the membership holders. Costco is famous for its rotisserie chicken. Costco serves in wide-area like Costco Pharmacy, Costco Optical, Costco Travel, Costco Services, Costco Wholesale. It has its headquarters at Issaquah, Washington. Costco also has its line of brands named Kirkland signature.
Costco Timeline
1976 – Costco's origin starts with the Price Club. Sol Price and Robert Price opened a retail warehouse in July 1976, inside an old airplane hangar, at Morena Boulevard in San Diego, California, paving the way for the start of retail warehouse stores.
Initially, it was supplied to small businesses and to businessmen who bought in bulk. James Sinegal was initially a Price club employee, who was also the then executive vice-president of merchandise and marketing strategies. Price Club made its business by charging an annual membership fee to the customers for purchasing bulk products at discounted prices. This enabled higher sales.
1983 – James Sinegal and Jeffrey H. Brotman, started their retail warehouse store named Costco in Seattle. This was the start of one of many Costco warehouses. This membership-only warehouse made a profit from retail sales and membership fees. Costco allows the sale of a product only above 14% over cost. It opened its second warehouse in Portland and the third one in Spokane.
1993 – Price Club and Costco, merged and became PriceCostco. The membership was also changed so that a Costco member could use their card in a Price club and a Price club member could use it at Costco. The PriceCostco expanded to 206 locations.
1994 – Sol Price and Robert Price left PriceCostco to form PriceSmart, another chain of warehouses in Central America and the Caribbean.
1997 – Costco became Costco Wholesale Corporation and retained all the Price Club stores, rebranding them as Costco.
2014 – Costco became the third largest retail store in the United States.
2019 – Costco opens in Shanghai, China.
Costco is found in more than 804 locations worldwide – the United States (508), Canada (103), Mexico (39), United Kingdom (29), Japan (27), South Korea (16), Taiwan (14), Australia(13), Spain (3), Iceland (1), France (1), China (1), New Zealand (1) and Sweden (1). The New Zealand and Sweden branches are set to open in 2022.
Costco Competitors
When it comes to the retail, wholesale, and warehouse sale market, Costco competes with small businesses and retail chains, and e-commerce platforms. But some of the notable competitors include Sam's Club, BJ's wholesale club, Target, Kroger, Amazon.com, Office Depot, Aldi UK, Lowe's, The Home Depot, Best Buy. Costco's loyal customer base sets it aside.
Costco's Membership Model
Costco derives its revenue from wholesale sales and annual membership fees. You can shop in Costco only if you're a member. Costco offers two kinds of annual membership fees – Gold star and Gold star executive. Both Gold Star and Gold Star Executive is an annual membership
A gold star membership is $60 per year and has the following benefits: 
Free household card
Costco Services
Shopping at Costco Business centers
Shopping at Costco warehouses worldwide
Shopping at Costco Travel
Shopping at Costco.com
Eligible for use at Costco gas stations
It also doesn't involve any membership reward, and it also doesn't allow additional cardholders.
A Gold Star Executive membership is $120 per year and has the following benefits:
Free household card
Discounts on select Costco Services
Membership rewards include a yearly 2 percent reward on qualified Costco purchases.
Shopping at Costco Business Centers
Shopping at Costco warehouses worldwide
Shopping at Costco.com
Eligible for use at Costco gas stations
Eligible for use at Costco Hearing Aid Center
Eligible for use at Costco Optical
Eligible for use at Costco Pharmacy
This membership also doesn't allow additional cardholders
Having a Costco membership is the only way for the public to shop at Costco. Costco's e-commerce site received traction in the Covid times. To shop at Costco, customers should own a Costco visa credit card, which is the only allowed card payment. If the customer doesn't own a credit card, the bill should be settled in cash.
Customers can also get a gift card of a certain amount to purchase at Costco, without getting the membership. In addition to it, Costco has its magazine sent to the executive members, named Costco Connection.
Costco Business Center
Costco business center is the place to shop if you're a small business owner, and it's different from the normal Costco stores. It applies to all the membership holders.
Costco business centers are in Orlando, Florida, Dallas, Texas, Minneapolis, Minnesota, Phoenix, Arizona, Commerce, Hawthorne, Hayward, North Hollywood, Sacramento, San Diego, South San Francisco, Ontario, Westminster, Denver, Colorado, Morrow, Georgia, Bedford Park, Illinois, Hackensack, New Jersey, Las Vegas, Nevada, and Washington. Outside the US, Costco's business center was first opened in Scarborough.
Costco Services
Costco services cater under four categories – home, business, life, and installed products
Costco home services include Auto and home insurance, bottled water delivery, Auto Program, business accessories, mortgage, parts, and discount, RV purchase, Costco travel, and budget truck rental.
Costco business services include facilitating business transactions, phone services, business accessories like checks, forms, bottled water services, business health insurance, business printing, custom logo services, Costco optical.
Costco Life services include life insurance, auto & home insurance, identity protection, business health insurance, dental insurance, Pet insurance, Costco pharmacy, Costco optical.
Costco installed products services include Lennox heating & air conditioning systems, Graber custom window treatments, Shaw carpets & hardwood flooring, Amar custom garage doors, Cabinet refacing, Closet factory custom home organization, Ecowater Water Treatment System, Generac Automatic Standby Generators, Residential Solar systems. 
From 2021, Costco has started selling audiobooks, via Costco Audiobook App, available in both iOS and Android apps.
Costco founder
Costco was founded by James Sinegal and Jeffrey Brotman. James Sinegal born in Pittsburgh, Pennsylvania, graduated with a bachelor of arts degree from San Diego State University. Interestingly, he started his retail career as a FedMart grocery bagger, where he worked up from a grocery bagger to executive vice president. James Sinegal was responsible for merchandising, distribution, and marketing.
After which he worked as vice president for Builders Emporium, and in 1978, he moved to work as an executive vice president for the Price Company. He was the one who introduced the employee benefit style of management, wherein 90% of employees qualify for health insurance.
In 1983, Jim Sinegal and a Seattle retailer named Jeffrey Brotman started Costco. He served as both CEO and President. 
Jim Sinegal was responsible for including a wide variety of products, for the first time in the warehouse club. Jim Sinegal has been a visionary in prioritizing his employee and customer benefits as a result, he built a brand that made a profit as well as gained loyal customers.
In 1993, Jim Sinegal and Price brothers were briefly in partnership under the name, PriceCostco, which broke up in 1994. After that, all of the PriceCostco club's names changed to Costco Wholesale Corporation. He retired as CEO in 2012 and from the Board of directors in 2018.
Jeffrey Hart Brotman, a Seattle attorney, the other co-founder of Costco Wholesale Corporation, is a Political Science degree holder from the University of Washington. Brought together by the love for retail sales, Sinegal and Brotman founded Costco. Brotman served as Chairman till his death.
Both James Sinegal and Jeffrey Brotman did their part for society too. They were involved in Philanthropic activities.
After Jeffrey Brotman's death and the retirement of Jim Sinegal, W.Craig Jelinek has been serving as the CEO of Costco since 2012. Jelinek, similar to Jim Sinegal, started his career at FedMart. After which, in 1984, he joined Costco as a warehouse manager and later became the CEO.
Based on the shares owned, Vanguard Group Inc., BlackRock Inc., State Street Corp., FMR LLC, Bank of America Corp. are the top five shareholders.
Working at Costco
As it is already known, Costco is one of the best places in retail to work. These are some of the following benefits available for the employee – Health and dental insurance, 50% of 401K, paid time off policy after specified years of employment, time and a half' if employees work on Sundays, free four annual membership. 
To work at Costco, apply online for the position based on eligibility. The next step in the process is an interview. Costco conducts a phone interview first, after which it conducts a face-to-face interview, and finally, a group interview, assessing the required skills and qualifications. Costco does background checks and drug tests following the final interview.
The average pay at Costco is $16 per hour, but employees mostly get paid $25 per hour. Costco has excellent employee benefits.
Costco has made its mark in the retail business, and it also does its part for society.
Who Owns Costco?- Full History