Electric utility workers and linemen have the most important role in society. They are the ones that keep the electrical system working to provide homes and businesses with electricity.  The major responsibility of a lineman and electric utility is installing, repairing electrical power systems, and maintaining them. Let us know 'How to Become a Lineman?'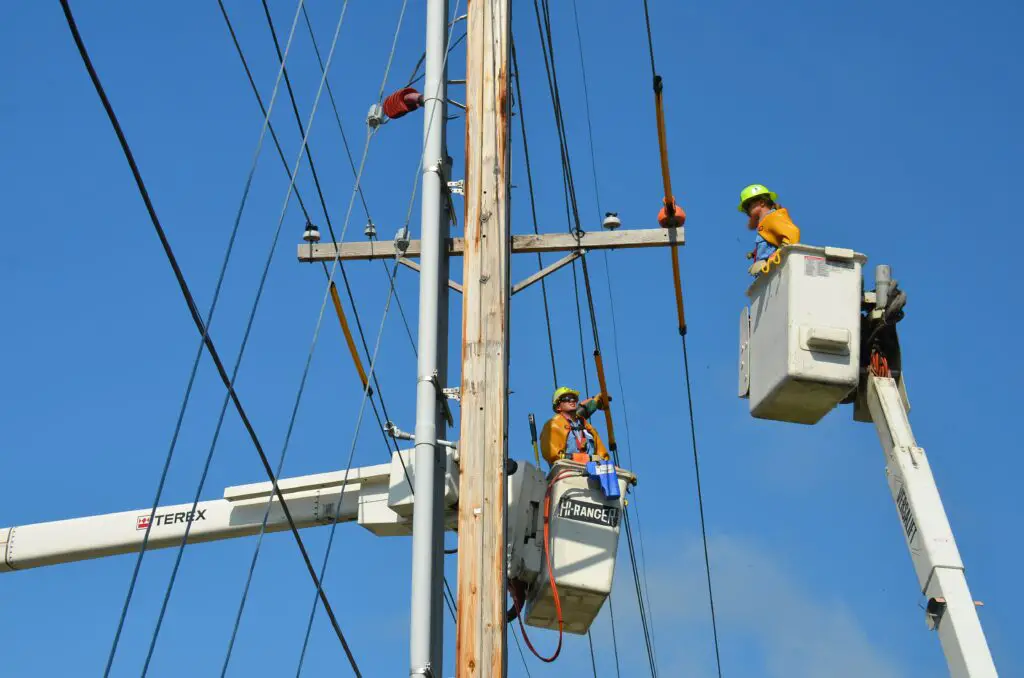 How to Become a Lineman?
To become a lineman, one needs to obtain a high school certificate, driving license/permission, attend pre-apprenticeship (trade school), participate in an aptitude test (measuring critical thinking), start an apprenticeship program, earn a degree, and skills (which are hard and soft skills).
Brief Concept on Lineman:
A lineman is a technician that handles the installation, maintenance, and repairs of electrical power systems and other auxiliary instruments. The sole responsibility of a lineman is to make sure the whole system (power plants) within the home and other business environments are working adequately well.  
The skills and knowledge about electrical systems make a lineman adequate to handle and diagnose the challenges in terms of power shortage and damaged circuits. It is expected of a lineman to work effectively on power lines, streetlights, underground cables, and vaults.
The Role of a Lineman:
The following are the sole responsibility of a lineman;
Installation of electrical cables
Repair of damaged power system
Management of projects such as planning, and supervising
Safety precaution
Tools:
Hand Tools To maintain power lines, linemen use hand equipment such as wrenches, screwdrivers, pliers, wire stripping tools, and bolt cutters to work. Every lineman's tools are insulated with nonconductive materials like rubber, plastic, or nylon to prevent electric shock.
Grounding Equipment
Clamps, cables, clusters, and ferrules are the grounding tools that linemen usually use to ensure their safety when maintaining electricity lines.
Climbing Gear
Every experience lineman uses the climbing belt to safely climb poles and maintain electricity lines.
Rugged headgear
Since they frequently operate from great heights, linemen are protected against falls by wearing hard helmets. The act makes them safe against any sudden accidents
Gloves
Linemen usually wear gloves to prevent electrocution while they are working.
The bucket truck
To access power wires stretched on poles, linemen usually work for utility, energy, and telecommunications firms and can operate bucket trucks.
The Skills needed as a Lineman:
For every intended lineman, there is a need to know the danger and the nature of the work. A good experience lineman knows that there are thousands of volts of live electricity going through it. As a lineman, there is the equipment used during windy conditions, rain, and snow. The following are the necessary skills a lineman should have;
Knowledge and ability to work on maintenance and repair of equipment
Tree trimming knowledge
Knowledge of construction and high buildings
Ability to understand basic safety precautions on electricity outage
Knowledge of security measures
Ability to work on high altitude
Ability to climb electrical poles
Basic knowledge of geometry and algebra
The Requirement to become a Blacksmith:
Obtain High School Diploma
The first step to becoming a lineman is to earn a high school certificate or GED to work as a line worker. If a lineman doesn't have a GED, he or she can enroll in programs to prepare for the exam. The act of passing all of the subject tests makes him or her obtain a degree to be able to apply as a lineman.
Obtain a Driving Permit
While engaging in an apprenticeship program, there is a need to obtain a driving license which will allow an intending lineman to get the number of hours of work required in his/her state.
Attend a Technical School
A technical school is an optional step for lineworkers to acquire the knowledge and abilities they need to succeed as a lineman. In a technical school, there are skills needed to be successful in the field. They are climbing, cable splicing, reading and interpreting voltage, equipment repair, and line tension analysis.
Take an Aptitude Test
After receiving a high school diploma or degree, the next step is to take an aptitude exam. It is also on records that Math and reading comprehension questions are found on lineman aptitude exams. They are used to ascertain every lineman's capacity for analytical thought. The most intended line man who obtains a high score during an aptitude has full access to an interview for the job of line man in his or her state.  
Start an apprenticeship program
After being admitted to an apprenticeship program, an intending line man can also start working as a paid apprentice for journeyman lineworkers who has knowledge and skills. It is on record that in most states, a lineworker apprenticeship requires 7,000 hours of practical experience and classroom instruction to become a certified line man.
There are skills earned during an apprenticeship program. These skills are pole building, maintenance, safety, line assembly, wire insulation, hot stick work, and installation. The use of a fiberglass hot stick enables any line man to stay safe from high-distribution voltages. This tool is one of the best pieces of equipment to use whenever there is high voltage in a given line.
Obtain a Journeyman Lineman License.
Any intending line man can qualify to become a journeyman lineworker once they have accrued the necessary number of hours of experience during an apprenticeship program. Linemen can use the skills he or she learned during their apprenticeship to get a license and start working independently to repair, replace, and maintain power infrastructure in states.
Conclusion: 
To be a successful lineman, one needs to have physical strength, comfort at height, analytical skills, mathematic skills, the ability to trim a tree, the ability to manage projects, possess detail orientation about pending issues, and able to manage time during the working period.
Frequently Asked Questions:
What is the first Step to Becoming a Lineman?
High school certificate
What are the Skills Needed as a Lineman?
Reading skills, physical strength, critical thinking, time management, maintenance of equipment, and mathematical skills
What are the Certificates Needed to be a Lineman?
OSHA certificate and Commercial Driving License