A warehouse is a commercial building that is generally used for many purposes including storage of products, packaging goods, manufacturing items, etc. A warehouse also typically is renowned for the serving facility of importing and exporting various types of items. Therefore, for all such reasons, a warehouse can also be called a storage building. Let us learn here 'Warehouse Job Titles'.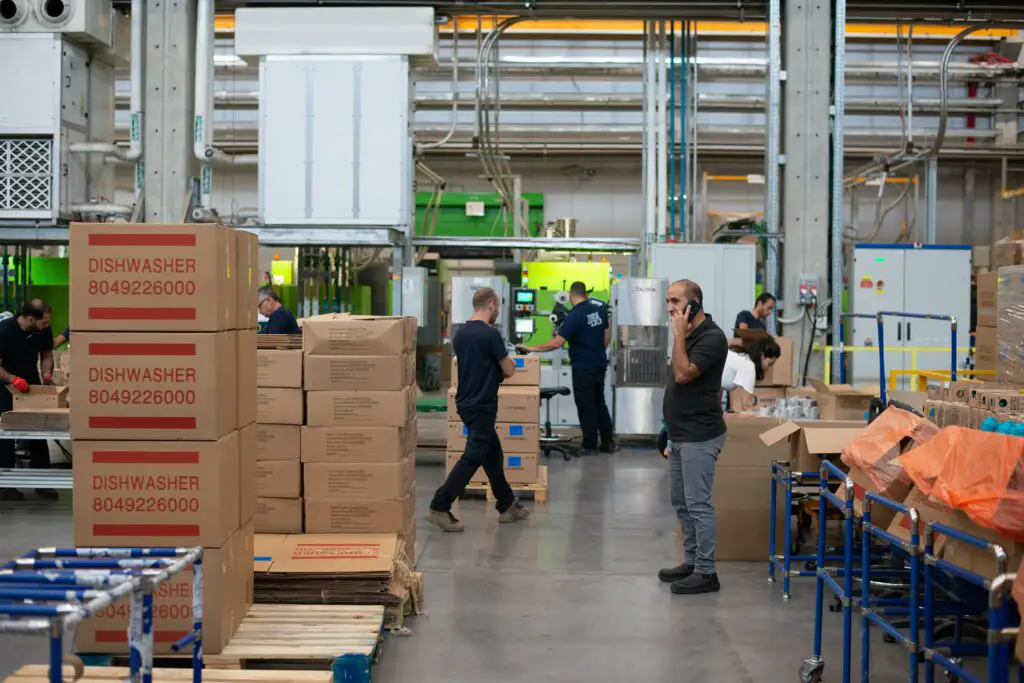 Warehouse Job Titles
Plenty of job opportunities are made available at warehouses. Every job opportunity comes with its concomitant job responsibilities and perks. Moreover, there is a wide and diverse spectrum of warehouse job titles. Some of these job titles are mentioned below as follows:
Warehouse manager
Warehouse Operator
Production manager
Logistics manager
Quality Assurance Manager
Clerk
Loader and Unloader
Stocker
Warehouse Packers
Shipping Specialist
Warehouse Manager
A Warehouse Manager's job is not an easy task and it comes with an assortment of responsibilities. A Warehouse Manager is obligated to supervise and coordinate the functioning of the warehouse and also the goods that are being transported to and transported from the warehouse. A Warehouse Manager also has to supervise the storage of goods, monitor businesses, check the quality, and ensure excellent maintenance of the transportation facility. Furthermore, a Warehouse Manager needs to ensure the overall safety of the building, workers, clients, goods, products, etc.
Warehouse Operator
A Warehouse Operator is primarily responsible for the smooth functioning of all warehouse operations. These operations might include working on various projects and finishing certain assigned tasks. A Warehouse Operator has to ensure the proper functioning of receiving goods, storing goods, and inspecting goods. They also have to ensure the preciseness and accuracy of work. In addition, a Warehouse Operator carries out security and safety check-ins as per the safety guidelines and standard protocols from time to time.  
Production Manager
On average, a myriad range of goods is produced and manufactured at a warehouse on a daily basis. To safeguard the proper production of these items, the job role of the Production Manager is allocated. A warehouse can have more than one Production Manager depending on the need of the situation. The duties that a Production Manager has to perform include Planning and scheduling production activities, managing production rate, and production efficacy, monitoring the effectiveness of the production process, supervising workers, managing inventory, etc. 
Logistics Manager
A Logistic Manager serves various important functions at a warehouse. A Logistic manager needs to plan as well as organize transport routes, manage negotiation processes with vendors and customers, monitor areas/regions of import and export, ensure cost-effectiveness, supervise the logistics department, etc. A Logistic Manager can earn up to $70,000 a year or even higher. However, the salary range differs accordingly as the salary range is contingent on various essential factors like the type of industry, type of warehouse, location of the warehouse, etc. 
Quality Assurance Manager
Every industry has some quality and safety protocols that must be followed to retain the effectiveness, safety, and quality of any derivative or good. A Quality Assurance Manager at any warehouse not only maintains or checks the quality of products but also the safety standards of the warehouse. Moreover, they also ensure that all the employees at a warehouse follow safety precautions and maintain proper sanitation and hygiene conditions while working.
Clerk
A  Warehouse Clerk is a job role where a person is responsible for overseeing and managing the accurate records of warehouse operations. A warehouse Clerk's daily activities may include receiving and processing incoming stock and materials, packaging and shipping orders, and keeping track of inventory levels. They may also be responsible for operating equipment such as forklifts and coordinating the movements of goods within the warehouse. 
Loader/Unloader
Sometimes, the goods are transported from a warehouse or to a warehouse via transport. To lift these goods from one mode of transport or to another mode of transport, every warehouse needs Loader/Unloader. These people are responsible for managing to lift bulky items, transporting items from one transport to another, ensuring the safety of goods, etc. Moreover, they are trained to load or unload bulky items, working with complex and heavy equipment, etc. on a large scale.
Stocker
A Warehouse Stocker is typically responsible for performing a myriad range of tasks including unloading stuff, maintaining inventory levels, stocking major items from time to time, organizing items on shelves, customizing the organizing tasks, conducting regular inventory checks, preparing lists of items required, re-stocking from time to time, etc. To become a Stocker at a warehouse, a person needs to have good mathematical skills, communicative skills, problem-solving strategies, physical strength, an eye for detail, preciseness, etc.
Warehouse Packers
A Warehouse Packer is a professional responsible for ensuring and performing excellent packaging of products and goods. They also ensure safety and shipment procedures. A Warehouse Packer generally inspects goods for defects or damages, picks and packs items as per the orders, labels the products, prepares for shipment, etc.  They play an important role in the shipment process and production of goods on time as well.
Shipping Specialist
 A Warehouse Shipping Specialist is a professional who is responsible for overseeing the shipping operations within a warehouse. They are accountable for excellent management of product movement from the warehouse to the destination required. They ensure that the products are shipped safely and on time or not. They not only coordinate and schedule shipment procedures with vendors and customers but also track orders and arrange them for transportation.   
Conclusion:
In conclusion, there is a wide variety of job titles available at a warehouse. A warehouse might have a stocker, warehouse manager, warehouse operator, shipping specialist, loader/unloader, warehouse packer, warehouse clerk, warehouse logistics manager, warehouse quality assurance manager, production manager, etc. These job role holders play a crucial role in managing warehouse functions and working effectively and efficiently. 
Frequently asked questions
Question 1: How many departments are there in a warehouse?
Answer 1: In a warehouse, there are typically six major departments. These departments are enumerated below as follows:
Receiving department
Put-away department
Storage department
Packing department
Shipping department
Picking department
Question 2: What is the salary range of a Warehouse Manager in the USA?
Answer 2: The average annual salary range of a Warehouse manager in the USA might vary as the salary range is contingent on various factors like the type of warehouse, type of industry, location of the warehouse, etc. However, at present, the average salary for a Warehouse Manager is $80,000 per year. 
Question 3: What are the primary functions of a warehouse?
Answer 3: The primary functions of a Warehouse are enumerated below as follows:
Storage of goods
Management of goods
Transportation (Import and export of various items)
Safeguarding of goods
Completing projects and contact-based tasks
Ensuring safety and sanitation
Other important functions
Warehouse Job Titles – With Description