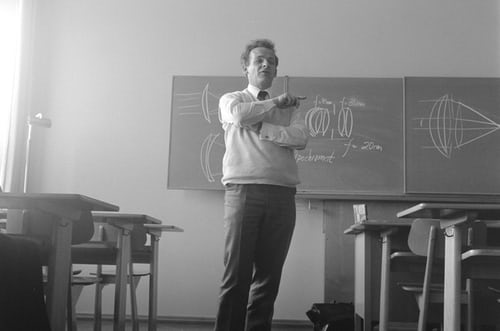 Civilizations have prospered because of anyone who has the passion and ability to make people understand, have in themselves the art of teaching and educating the society, for a better world ahead of us. Becoming a teacher requires a person to have a bachelor's degree at the very least. Most important decisions all depend on the subject and grade to be taught- your teaching career path. We will discuss Teacher Job Description here. Let's have a look at the various education levels for US learners before studying at a University:
| | |
| --- | --- |
| Teaching Level | Age Group or Grade Level |
| Early Childhood Education (ECE) | Ages 0-8 |
| Preschool / Pre-Kindergarten | Ages 3-5 |
| Elementary | Ages 4-11, Grades K-5 |
| Middle School | Ages 11-14, Grades 6-8 |
| High School | Ages 14-18, Grades 9-12 |
| Special Education | All Ages & Grades |
The first three teaching levels are for younger students. They need to be taught the basics, which will help them form their own opinions in higher grades. Here, a teacher should be able to teach various subjects to students. Subjects such as history, geography, and physics will be introduced in middle schools and high schools, which will require teachers to have specialized knowledge in such areas. These grades from ages 11 to 18 will help children find out what they like and don't like, guiding them to decide between pursuing a career they like, a profession they find interesting to dedicate their lives to. With special education, teaching is imparted to students with learning disabilities and developmental disorders. This means the want for empathy and patience in a teacher becomes imperative for students' proper development.
How Long Does It Take to Become A Teacher?
The time period changes as per your choice of the grade you decide to teach. 4 years of bachelor's degree is the minimum requirement, followed by a master's degree. Lower grades may not need much experience or more than a basic level of training. Still, older students will need more experienced and specialized teachers, resulting in more time in training and educating themselves to impart practical and factual knowledge.
Teacher Job Description
Becoming a teacher requires a person to have a bachelor's degree at the very least. For elementary teachers, a major in elementary education is usually the case. For higher grade teachers, the subjects they want to teach should be majored in. With a change in the level of the grade you are teaching, the compensation also varies. To pick a major, you should have already decided on what subject or education level you want to teach. With that in mind, it becomes easier for you to choose a major and make the most out of your teaching career.
To become a science teacher– a bachelor's degree in science education with a major in a special science branch is usually preferable.
To become a math teacher– a bachelor's degree in education with a mathematic concentration is preferable.
To become an English teacher– a bachelor's degree in English is desirable.
A person must always be willing to learn to be a student. Though we have decided on what to study and what to specialize in, it is a teacher's responsibility to always renew their mind with new developments in the industry and new ways to use these different adaptations, such as the growth of the use of technology in learning. To maintain licenses and certificates' validity, the exams have to be retaken to learn novel methods specific to specialized subjects. This also helps in renewing skills. Some states have the policy of 'continuing education' in an application for teachers and other professionals. This policy implies retaking the exam after an interval of some years (after graduation) for the reasons mentioned above.
How Do I Get A Teaching Certificate?
Below are the general steps which will get you a teaching certificate in most states:
Obtain a bachelor's degree, major in the subject you want to teach.
Complete a state or district-approved teacher preparation program.
Pass the required exams in the school district/ state.
Submit a state teaching license application. 
Experience in Teaching
When in training, before you get a teaching license to become a full-fledged teacher, there are a certain number of hours that the potential teacher has to spend in a supervised environment. This is done so that you know what you have to do when you go to a classroom. Such experience may come during your studies or after graduation, depending on your studying location. So, if you had any nervousness about being a good teacher and presenting yourself in a good way during your first class, it can be done away with supervised lectures.
Duties of A Teacher
In Elementary Schools – When we talk about an elementary school teacher's duties, the characteristics that rise on having such a responsibility is to be able to create a welcoming environment in the classroom, to be able to keep updating the parents about the developments in their child's growth. Empathy, patience, and the ability to control a classroom are also important features to have. Grading and evaluating children's performance will also be a part of the duties, making sure that with such a good profile, the position of principal or vice-principal is within reach. Having a master's degree in teaching will help to further your career in teaching to heights.


In High Schools – A high school teacher's duties change and keep changing with changes in teaching level as they go higher. High school teachers have to specialize in subjects they teach, keeping up with the students' developments in their subjects and also being able to keep parents informed about it. In many schools, students are divided into different divisions of the same grade according to their ability, which means teachers must be able to adjust their way of teaching with the changes in the ability of the student to learn.
When dealing with special students who have learning disabilities and such, the teacher must work with other special educators and change the course of teaching in a way that's most comfortable with the students. Keeping a record of the students' progress is also important.
To sum up, duties of teachers include:
Development of children;
Setting the base of education to assist further studies;
Evaluation of students' assignments and such;
Managing and controlling the classroom;
Teaching and adopting new teaching habits with technology;
Though this forms a shortlist of duties, there are always other responsibilities that come with being a teacher just as the location, grade and school change.
Teachers and Technology
This pandemic due to Covid-19 has taught us many lessons, but one of the important ones is how important it is to adjust and learn new technology, change the way we teach, and make students grasp what is taught. This adaptability is a much-needed characteristic in teachers as changes in this world of fast-developing technology are certain.
Some reasons why teachers should be adaptable to change:
To be able to teach students in a way that's new and efficient.
To be able to administer data without hassle.
Coming up with methods of teaching that enable the students to have a proper understanding of topics taught.
Polls, quizzes, and such can be conducted with ease.
It helps in curbing the use of paper.
Salary- How much does a teacher earn? | Teacher Job Description
A teacher's earnings depend upon a lot of factors- what grade they teach, which school they work at, what position they hold, how qualified they are, among other lots of things. According to bls.gov, a high school teacher's median wage, with data from May 2019, was $61,660. The median wage is the wage at which half the workers earned more than that amount and half earned less. The highest 10% earned more than $99,600 while the lower 10% earned less than $40,500. Traditionally, a teacher would work for 10 months in a year and the other 2 months as a summer break. There might be some teachers who teach during summer break as summer school programs for which they are paid extra by the school. Teachers with a year-round schedule which is the rule in some districts, usually would work for 9 weeks in a row and have a break of 3 weeks before the new school year begins.
High School Teachers
Median annual wages, May 2019
High School Teachers
$61,660
Preschool, Elementary, Middle, Secondary, and Special Education Teachers
$58,050
Total, All Occupations
$39,810
Note: All Occupations include all occupations in the U.S. Economy.
Source: U.S. Bureau of Labor Statistics, Occupational Employment Statistics
Highest Paying State for the Occupation of Teaching
Courtesy of bls.gov.
Here's a table that illustrates the same.
| | | | | | |
| --- | --- | --- | --- | --- | --- |
| State | Employment  | Employment per thousand jobs | Location quotient  | Hourly mean wage | Annual mean wage  |
| New York | 92,560 | 9.72 | 1.00 | * | $82,830 |
| California | 164,910 | 9.49 | 0.97 | * | $82,560 |
| Massachusetts | 31,430 | 8.68 | 0.89 | * | $82,450 |
| District of Columbia | 3,710 | 5.13 | 0.53 | * | $79,390 |
| Connecticut | 15,930 | 9.57 | 0.98 | * | $78,070 |
*Wages for some occupations that do not generally work year-round, full time, are reported hourly wages or annual salaries depending on how they are typically paid.
Courtesy of bls.gov.
How Do I Find A Job as A Teacher?
There are 3 different ways for an aspiring teacher to find a job.
From General Job Boards: This is the easiest way to find jobs. LinkedIn, Glassdoor, and Google jobs are the best General job boards to find internships and jobs. These reputed sites will furnish the job seeker with responsibilities and contact person's email ID, which connects both parties.


Niche Job Boards: Niche job boards are like trade magazines that provide job insights and industry tips only for the industry's people. These boards will be of importance only for a specific industry. This not only helps the search to be efficient but also keeps people in the loop of what positions are in demand and what is outdated. Teachers.com and academickeys.com are some good niche job boards helping people in the teaching industry.


From Specific Sites of Schools and Districts: Though it might take a lot of time to go searching for the specific sites of schools and colleges you want to be a part of as a teacher, this is the best option as you are directly connecting with the person-in-charge of hiring. To make it simple, going through the district site to know schools in the area assists in making a list of schools. These websites will have a listing of job vacancies and a form to add your cover letter, resume, and contact details.
These 3 ways are common. You can also ask some of your connections to help you find a job, which sometimes does the trick. Making connections is one vital aspect of making a successful person in any career. Now that we know how to become a teacher, the places where we can apply for work, the responsibilities and the salaries offered by different states that are regulated by internal (personal) and external (Government and such) factors, we would be able to make an informed decision about our teaching career path and develop it in a way most beneficial.
"The best teachers are those who show you look where to look but don't tell you what to see." Rightly said by Alexandra Trenfor, these words are guidelines to becoming a great teacher every aspiring educator strives to be. Hopefully, this guide has been able to help you decide on your career and make the best decision for yourself. I hope this helps you inspire the next generation, reaching your potential in the best way possible for everyone involved. Teachers make or break civilizations.
Thanks for reading!
Also read Chef De Partie Job Description, Duties & Salary
Teacher Job Description, Salary, and Duties