A paralegal works as an assistant to a lawyer at a firm. Most paralegals are tasked with filling out legal documentation, conducting research, and keeping track of the paperwork in any case they are assisting. Let us know about that the Paralegal Job Description, Salary, Duties.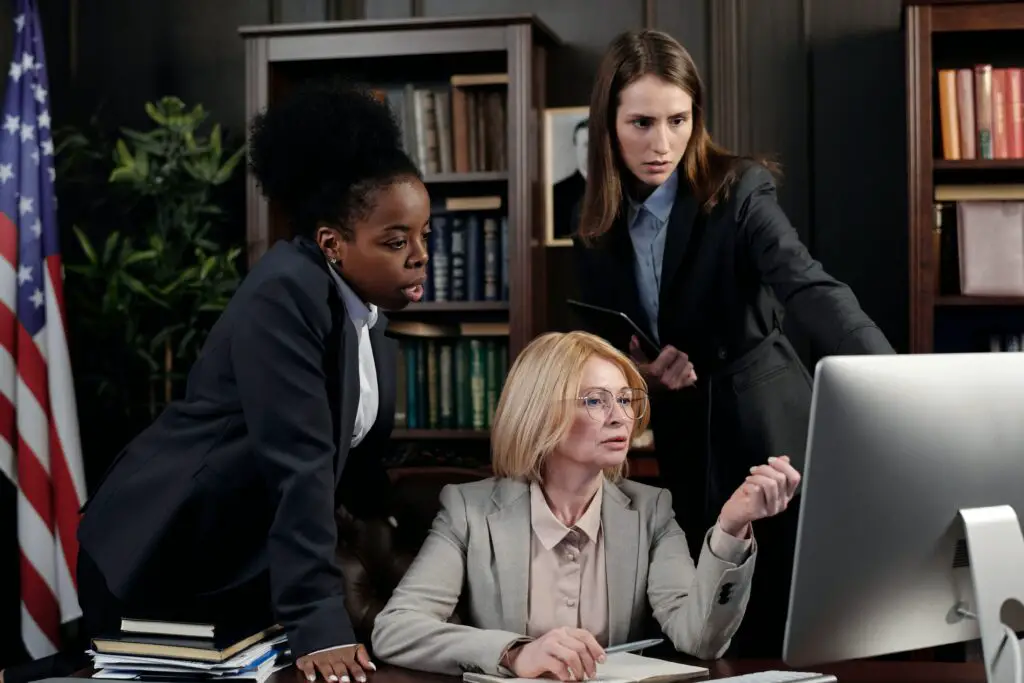 Paralegal Job Description
People get confused between a lawyer and a paralegal. While most firms require paralegals to conduct the same tasks as attorneys, they are performed under certain limitations. Paralegals cannot proceed on their own. They must perform under the supervision of an attorney. If you are enthusiastic about the law but going through the lengthy and tedious process of a law degree is not what you envision, this is your call.
To become a paralegal, one must follow these steps
Step 1: Study!
To become a Paralegal, you are to get a degree or a certificate from a recognized university or college. These schools must be ABA-approved. It is to be noted that most states may not employ a paralegal but it is somewhat of a necessity at a law firm. 
Step 2: Choose your field
It is helpful if you are determined to choose a field in which you can specialize in. This helps you to narrow down which path you would be comfortable with in terms of career goals. Trust that the world of law is vast. The specialization you choose will guide you to various paths. Some disciplines include- real estate, litigation, labor law, etc. 
Step 3: Appear for exams for paralegal certification
You must have an ABA-approved paralegal certification. After your degree from an ABA-recognized school, you must sit for the PACE exams to get the required certifications. You can appear in these examinations from test agencies such as NALA and NFPA. Make sure you read through the rules and regulations thoroughly before appearing in these examinations. 
Step 4: Work experience is necessary
This gives leverage to your degree. The more experienced you are, the more sought after you will be. Assisting at a law firm or working as an intern should help you with this. Apart from your work experience, stack up on other skills that will improve your chances of getting a job.
Step 5: Start applying
Make sure you have all the state regulations and requirements taken care of before you start applying. This should ensure an easy transition.
How much does a paralegal get paid?
The amount you get paid as a paralegal in a year depends on many factors. An average paralegal in an entry position in the US makes about $4annuallyear. In contrast, a senior paralegal earns approximately $80k per year. The pay scale highly depends on the firm as well. A firm like Latham and Watkins is sure to pay higher than a freelance job. The salary also varies from expertise to expertise. A paralegal manager gets paid higher than a typical legal secretary. The former earns about $100k while the latter $48k per year on average. It is highly advised that interested parties do their due research before embarking on this journey.
What are the duties performed by paralegals?
Most of the work done by paralegals is often similar to lawyers. Some of the duties and responsibilities of a paralegal are as follows-
A paralegal is provided with the task of briefing the team of lawyers with case details. This is one of the most important responsibilities assigned to a paralegal. 
A paralegal does all the case filings and other court proceedings like wills, contracts, draft petitions, memorandums, legal motions, etc.
As a legal assistant, a paralegal must perform the research needed in the case. 
They are tasked with maintaining a proper filing system for easy access. 
They ought to be the go-to client contact. 
A paralegal must maintain a proper calendar to keep a check on all impending deadlines.
A paralegal must be well-versed in the fine lines of a legal contract.
They are obliged to review and research legal paperwork before presenting it in front of the lawyers.
Like attorneys, paralegals may be sometimes tasked with interviewing clients as long as they are supervised.
Paralegals are required to keep clear communication between the lawyer and the client. They do that by managing the client's court appearances, keeping the attorney's calendar in check, and managing all the phone calls.
The legal assistant must keep themselves up-to-date with the latest trends in the e-business module apart from the traditional module.
The paralegal must be well-versed in all the legal terminologies and proceedings for the smooth running of the case. 
The paralegal must be good in micro-management. They are required to handle more than one case at a time. Time management and proper planning are expected of a good paralegal.
Conclusion
In conclusion, a paralegal job description is they acts as a legal assistant at a law firm. They are to provide whatever help is required by an attorney during an open-case scenario. As a paralegal, one must make sure one has the proper degree and certificates. A paralegal must specialize in a certain field, and get the required certificates by appearing in necessary exams.  They are to gather as much experience as possible through internships and volunteer work at law firms or other places which they can learn from.
Finally, the interested party should start applying at your desired firm. The pay scale mainly depends on many factors such as your experience level, state, the field you specialize in, firm, and many more factors. As a paralegal, you must be very versatile in your skill set. A paralegal's tasks would vary from managing clients to interrogating them and everything in between. Moreover, you would have to coordinate meetings and give daily briefings about the cases assigned to you, to the designated lawyers.
As a legal assistant remember that all tasks you perform will be assigned to you by an attorney. You will be working under their guidance. Thus, if you wish to serve and have a passion for law, you are welcome to work as a paralegal.
Paralegal Job Description, Salary, Duties