Firefighters are responsible for controlling and extinguishing fires as well as responding to situations involving the safety of people, property, or the environment. A firefighter's duty is not limited to what we see on television. It's a physically and psychologically demanding job that demands continual attention, devotion, and training to ensure that a firefighter is ready to respond to an emergency scenario. Let us know more detail about 'On Call Firefighter'.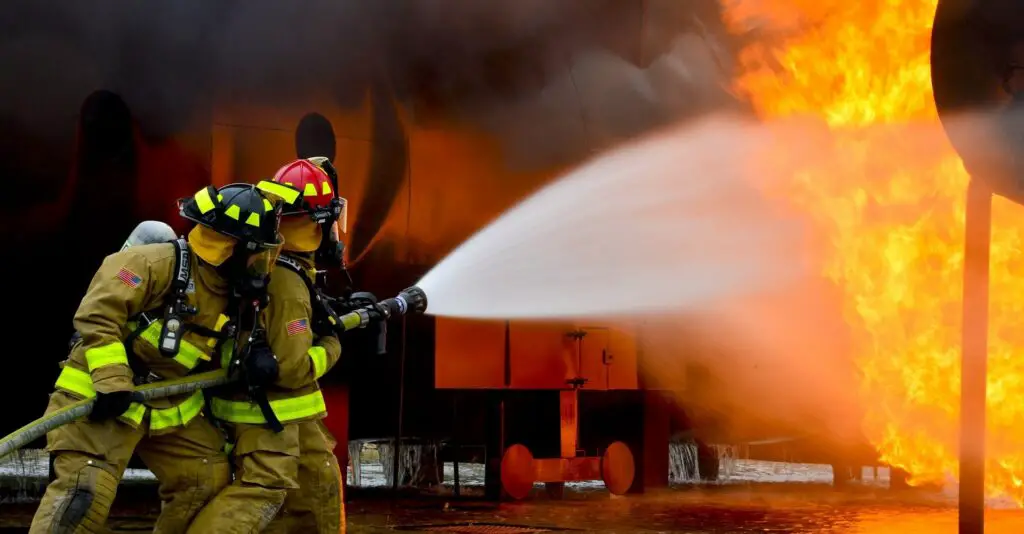 On Call Firefighter: Job Description, Salary And Duties
Firefighter job description:
On a daily basis, firefighters face exceedingly dangerous situations and work lengthy, unpredictable shifts. They are on call 24 hours a day, 7 days a week, and must act quickly to extinguish or control fires, as well as other emergency circumstances. Some firemen must have an EMT certification in addition to a high school diploma or equivalent. Every fireman goes through extensive training on a regular basis. The standards for certification differ by state and employment. Firefighters work together with their communities to raise fire safety awareness. They are also in charge of promoting fire safety in commercial and public buildings through drills and much other training.
Working as a firefighter entails serving as the department's or team's immediate front-line representative. It is critical to understand how to maintain a balanced mindset, particularly while dealing with difficult situations. A firefighter must be able to maintain both calm and concentrate at the same time. In times of fire crises, firefighters are regarded as problem solvers and lifesavers, which is why it is critical that they have substantial knowledge and expertise in this field.
Firefighter salary:
According to salary.com, As of May 27, 2021, the average FireFighter pay in the United States is $48,010, with a usual range of $36,008 to $60,013. Salary ranges rely on a variety of things, including schooling, certifications, supplementary talents, and the number of years you've worked in your field. Salary.com lets you decide your exact salary objective by providing more online, real-time salary data than any other website. Because of the position's popularity, the US Bureau of Labor Statistics (BLS) predicts that firefighter positions will be extremely competitive in the next years, making them more difficult to get than other career prospects. From 2019 to 2029, employment is expected to rise by 6%. (www.bls.gov). Volunteer roles that become permanent paid roles are anticipated to fuel this expansion, which should result in around 20,300 additional firefighting posts. The average yearly pay for firemen in May 2019 was $50,850, according to the Bureau of Labor Statistics. A career as a firefighter is potentially hazardous. According to the U. S. Fire Administration, the United States has one of the highest per-capita rates of fire mortality among developed nations, with around 100 firefighters dying on the job every year (www.usfa.dhs.gov). Still, the challenge and pleasure of working in potentially dangerous situations, the comparatively low educational requirements, pride in providing a valuable public service, and a pension that is normally guaranteed after 25 years on the job are all factors that attract people to firefighting jobs. According to the Bureau of Labor Statistics, around 89 percent of firemen worked for local government fire departments in 2019. Others worked for the state, federal government, or a private firefighting firm. Those with the best physical fitness and mechanical aptitude exam scores should have the best work prospects.
Duties of an on call firefighter:
A fireman's responsibilities include everything from lifesaving to maintaining the cleanliness of firefighting equipment. At any moment, a fireman must be prepared to perform job tasks such as rescuing people or animals from burning or collapsing structures, fighting fires, and providing emergency medical help. A firefighter's duties are frequently physically demanding, therefore it's critical that they stay in shape.
Firefighters also aid police officers at accident and crime sites by offering general aid. Firefighters who help in the containment and extinguishment of forest fires may parachute into places where vehicles are unable to access and assist in the creation and maintenance of fire lines. The following are some more typical tasks:
Using high-tech firefighting and rescue equipment and maintaining it in good working order
Carrying hoses, scaling ladders, attaching hoses up to hydrants, and smashing through walls are all physically hard chores.
Through discussions and presentations, raising public awareness and promoting community safety.
Those who are at risk as a result of a fire are being protected.
Keeping the property's integrity burning
Inspections of buildings to check that current fire safety requirements are satisfied
Drilling and practicing
being well-versed in emergency first-aid techniques
Become a firefighter or other emergency vehicle driver.
Use water hoses, fire extinguishers, and water pumps to put out flames.
Locate and save people trapped in burning buildings or other emergency circumstances.
People who are sick or injured should be treated.
Prepare written reports in the event of an emergency.
Equipment should be cleaned and maintained.
Drills and physical fitness training should be done.
When they are not reacting to crises, firefighters are also responsible for maintaining their work skills and equipment. They must participate in practice exercises and regular training in areas such as fire prevention and control, as well as life and property protection. When firefighters are not actively involved in firefighting at a hazardous site, they must fulfill these and other obligations while at the station.
Firefighters are also required to know how to save lives, property, and the environment, and to train and practice for such circumstances on a regular basis. While waiting for emergency calls, a fireman's recurrent chores include cleaning the fire engine, hoses, and all other fire fighting equipment.
Firefighters go through specialized training programs to prepare for their jobs. The majority of this training is done on the job through drills and on-the-job training, but they may also require EMT training and certification. A fireman's responsibilities include more than just battling fires; they must also manage the danger to people and property, save lives, and transport heavy equipment.
Firefighters typically work long and irregular shifts. Most people work a 24-hour shift and then get 48 or 72 hours off. a few jobs 10/14 (10 hours working and 14 hours off). Some firefighters labor for long periods of time without taking a break, depending on the scenario.
Applicants must be at least 18 years old and must go through the regular national selection procedure (NFS) as well as Personal Qualities and Attributes (PQS) to ensure that they are qualified for the position. Following that, the candidate must pass a physical examination while dressed in full firefighting gear. The candidate will next be interviewed and encouraged to participate in a medical examination and drug test. Additionally, the applicant's eyes and hearing must be in good working order.
A firefighter should have the following skills:
Communication and collaboration skills are important.
Practical knowledge on how to operate and use tools
Ability to make decisions
Physical stamina and a high degree of fitness are required.
The ability to react rapidly while remaining calm
Self-discipline on a high level
Ability to adhere to rules and regulations
During rescue efforts, the initiative is required.
Writing event reports with precision
Education Qualification:
For firemen, a high school diploma and training in emergency medical services are frequently necessary. Firefighters must complete written and physical exams, interview rounds, attend a fire academy, and be certified as an emergency medical technician (EMT).
Applicants for firefighter positions must be at least 18 years old and have a valid driver's license. To be recruited, they must also pass a medical checkup and a drug test. Firefighters may be subjected to random drug testing and must perform regular physical fitness evaluations after being employed.
A high school diploma or equivalent is required for entry-level firefighter training. However, some further coursework beyond high school is normally required to get the emergency medical technician (EMT) certification, such as education in assessing patients' health, coping with trauma, and clearing clogged airways. The criteria for EMTs differ by city and state.
Entry-level firefighters attend fire academies run by the fire department or the state for a few months of training. Recruits learn firefighting and fire-prevention tactics, as well as local building standards and emergency medical procedures, in the classroom and on the job. They also learn how to put out flames using common tools like axes, chainsaws, fire extinguishers, and ladders. Firefighters must normally serve a probationary term after graduating from a fire academy.
Apprenticeship programs lasting up to four years are available for anyone interested in becoming wildland firefighters. Under the direction of experienced firefighters, these programs combine classroom education with on-the-job training.
Some firefighters attend federal training sessions offered by the National Fire Academy in addition to engaging in training programs run by local or state fire departments and organizations. Anti-arson tactics, disaster planning, hazardous materials control, and public fire safety and education are all included in these training sessions.
Despite the large number of volunteer firemen who are qualified for career firefighter positions, firefighters will have a favorable job outlook. Those leaving the occupation will leave positions available.
Physically fit candidates with postsecondary firefighting education and paramedic training should have the best chance of landing a job.
On Call Firefighter: Job Description, Salary And Duties