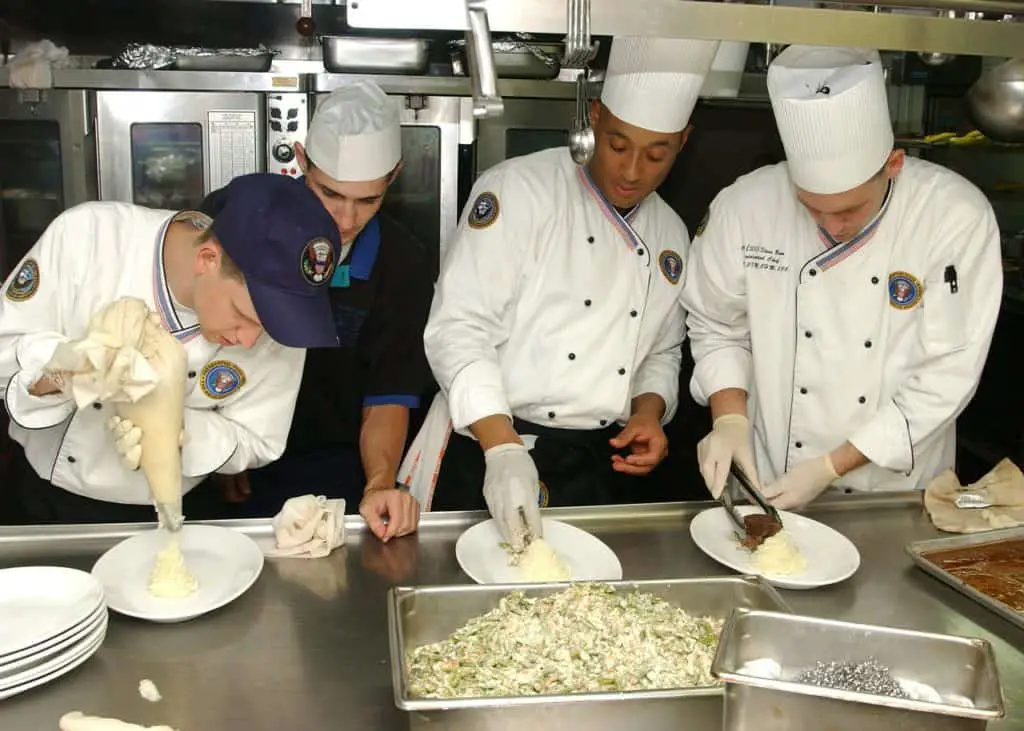 Harriet Van Horne had said, "Cooking is like love. It should be entered into with abandon or not at all" learning how to cook is a life skill but cooking with complete fineness and awe is an art. Not every hand can master that. It requires skill, passion, and innovation. It's all about getting the right flavor, smoothness, hardness, and it goes on. It is good cooking if people's mouth starts watering looking at it. The cooking revolution has come a long way, from cooking to survive to cook to win a title; it's had its journey. We will discuss Line Cook Job Description here.
Let's answer the basic question of who is a line cook? A line cook is someone who is in charge of preparing food and plating all kinds of dishes according to the specifications of the restaurant's menu. They are also known as prep cooks who are given a specific space to work. Their work usually includes preparing food and maintaining sanitary standards. Fun fact is a line cook is also known as Chef de partie in French. In simple words, he is assigned a particular part of the production. A line cook can have several assistants or cooks working under him. The line cooks have their hierarchy according to the requirements of the establishments. 
Titles in Line Cooks
There are a series of titles given to line cooks according to their responsibilities. Let us understand them more briefly: 
Sauté chef: The highest position in statistics is the sauté chef. Their responsibilities include sautéing items and their sauce. 
Fish chef: His responsibilities include fish dishes and their sauces. Usually, this is a combined position that is offered.
Roast chef: Their responsibilities include roasting and braising different kinds of meat and their sauces. 
Grill chef: Responsibilities include grilling meats. This line of cooking is usually combined with roasting. 
Fry chef: Their responsibilities are in fried items. This line of cooking as well may be combined with roasting. 
Entrée preparer: Responsibilities of this line of cooking mainly deals with hot appetizers such as plates of pasta and starches 
Soup chef: As the name suggests, this cooking line deals with different flavors and different kinds of soups.  
Vegetable chef: Responsibilities revolve only around vegetables and their cutting. 
Roundsman: They are also known as swing cooks. They fill in for the empty gaps of any station. 
Pantry chef: Their responsibilities include cold storage foods. Their work involves salads, appetizers or starters, and so on. 
Butcher: Responsibilities are not just meats, poultry, and cutting but also breeding. 
Pastry chef: Responsibilities can be in a completely different kitchen and team. Their products mainly include pastries, cake, loaves of bread, and so on. 
These different titles and categories will combine or be more discrete according to the restaurant's size, place, and financial wellness. The above mentioned are the major line of cook jobs designated according to their skills and speed of working. 
Line Cook Job Description
While applying for this job, one must keep in mind whether they can fulfill these responsibilities or not. The responsibilities of a line cook job are as follows. 
The most basic responsibilities are to ensure that the kitchen and the preparation setup are ready and completely stocked. This may sound easy and simple, but everything else might go upside down if this basic need is not met.
Small cutting should be done beforehand. When the basic cutting is done, it gets much easier and faster to cook the main dish with less pressure. 
It's important always to let your superiors know what one is doing and when to guide and assist and give instructions according to planned things. 
One of the most important responsibilities is making sure the food is prepared and the process of preparation meets all the health and safety standards. 
Hygiene is a top priority; hence it is necessary to clean the prep areas and remove all kinds of leftovers, and the place is well kept. 
To stock the kitchen and the preparation setup, it is important to make sure that the inventory is supplied and kept in stock. 
Making use of all sources such as the kitchen staff and cooking according to menu requirements is also a responsibility that one has to carry and all the time and justifying the work of responsibility that has been given. 
Another important responsibility is cooking according to the standards and specified recipes. It is a process of mastering culinary according to the requirements. 
It is essential to keep in mind portion control and minimize wastage as much as possible, so the cost is in the forecasted range. 
It's also crucial to ensure the quality and freshness of ingredients and products and should be monitored carefully. 
It always gives an upper hand and better experience with work when one does the additional tasks usually advised by the superiors. This helps us prepare for future things and makes our present work much smoother and easier with the new techniques and processes learned for the higher tasks.
These are just some basic small responsibilities that a line cook has to work for. As the ranks get higher and their workspace gets better, their responsibilities also increase, and they have a higher standard of the mark. The responsibility of a line cook job needs to be done with a lot of passion and hard work. It requires 100% of the person's abilities. It's an art that is passed on from generation to generation. The work of line cook may sound very simple and easy, but one must remember that it's no child's play. When the work is not done properly by a line cook, this affects not only the people working in the kitchen but also the food, which can lead to many problems for the organization. 
Basic requirements of a line cook:
High school diploma or equivalent qualifications
A certificate in the field of culinary arts or related fields
Requirement of 4 years of experience in a similar role 
Excellent communication and organizational skills 
Skills of multitasking 
Team skills and being able to work efficiently in it 
Accuracy and speed in executing tasks 
Being able to follow directions and instructions carefully 
Also, being aware of the industry's best practices 
These are some of the basic requirements of a line cook as it requires a great deal of professionalism. Line cook acts as the backbone of the kitchen. The work of a line cook can be stressful and a lot physically draining. During such times it's important to plan and look at ways people can work more efficiently. 
Now that we are aware of the responsibilities or duties and the basic requirements, let us now understand the salary of a line cook job. 
Salary of a line cook job: 
The salary of a line cook is hourly and experience-based. More experience, better pay. A basic line cook will earn 13$ per hour and, on higher experience, will earn up to 17$ per hour. The thing of importance is that most line cooks in the United States of America are satisfied with their pay and can live stable financial life. Apart from this, line cooks are also provided with many other benefits that they can make use of. Some of the benefits being employment discounts which they can make use of their food and living.
They have also given an employment assistance program from which not just them but also their family can benefit. One of the most important that need to be noted is that the line cook's job provides flexible hours and schedules, which helps them relax and let off steam. Line cooks are provided with health insurance which gives them a financial upper hand if something goes wrong. They are given that stability during those rough times. Line cooks are also provided with the extra benefit of paid time off. These bring about a balance in their personal and work life, which plays a crucial role in their well-being. The job of a line cook requires a lot of precision and good eyesight.
Hence their jobs provide them with vision insurance as well. The cost concerning ophthalmology can be very costly, something that not all line cooks will afford. Therefore their job even provides them with vision insurance. A line cook's job requires a lot of physical work, and sometimes it can be strenuous and painful. Prolong nature of this work can cause many problems; hence, their job provides them with disability insurance. The work of line cook is that of progression and moving forward in the hierarchy; hence they are provided with referral programs that can help them in numerous ways in their lives. Finally, they are also provided with dental insurance and gym membership. 
When someone planning to apply for this job reads it, they will realize that their work is well organized and very fruitful and beneficial. Though some people might not be happy with the salary, once they go through the other benefits, it provides them a sense of relief and satisfaction in their work. Line cook job is that not just provides secure living but also a pleased and content one. Of course, when people understand the work of a line cook, there will be many applications, and hence the completion is pretty high. One can stand as the winner by assuring the organization that they will work responsibly and meet all the requirements. 
Famous Line Cooks and Their Quotes 
This paragraph is to get all aspiring line cooks motivated and leap into their dream jobs. Some of these quotes are by famous line cooks who have worked in top restaurants. 
When the legendary Barbara Tropp said, and I quote, "fire in the belly of a cook is essential. If one doesn't have it, then their cooking tastes old," she meant that whatever kind of cook or chef is one must have the innate drive to push forward learn and execute and strive for perfection. Cooking is not merely a job, but it is a calling for excellence. This is something every cook needs to keep in mind all their life. 


Thomas Keller, an accomplished chef and owner of a restaurant, said, and quote, "For me, it's the satisfaction of cooking every day; turning a carrot, cutting salmon or fabricating a tenderloin, the mechanical jobs that I do daily, year after year. Maintain the very passion for every day. That's what cooking is all about." When he said this, he meant that chefs and cooks need to find comfort in their everyday routine. Yes, it can be monotonous and lengthy, but the satisfaction that one gets during the thunderstorm and organized chaos of the kitchen. 


The famous now retired chef Marc Meneau once said, and I quote, "Restaurant profit is found in the peel of the onion, not the onion and in the lobster shell, not the lobster itself." When he said this, he meant that it's the disciplinary work and duties of the cooks that decide the life and the success of the restaurant. The organization can work efficiently and meet its goals if every cook working there is well aware of their responsibilities. Or else the entire burden will fall on one single person who can be very problematic and dangerous. There has to be sharing of the responsibility for the restaurant of the organization to work conveniently.
These are some quotes by famous people that I thought will bring motivation, belief, and courage to move forward. There are many more on the list, and it will never end because as the generation moves forward, so does the culinary industry. It's a progressive and never-ending sector.
To conclude, a line cook's job is very fruitful, engaging, and satisfactory and a place for all aspirants to give a shot and move ahead in life. It's a job that is out of the box and innovative in its way.
Also read Line Cook Job Description, Duties, Salary, And More
Line Cook Job Description – Salary, Duties