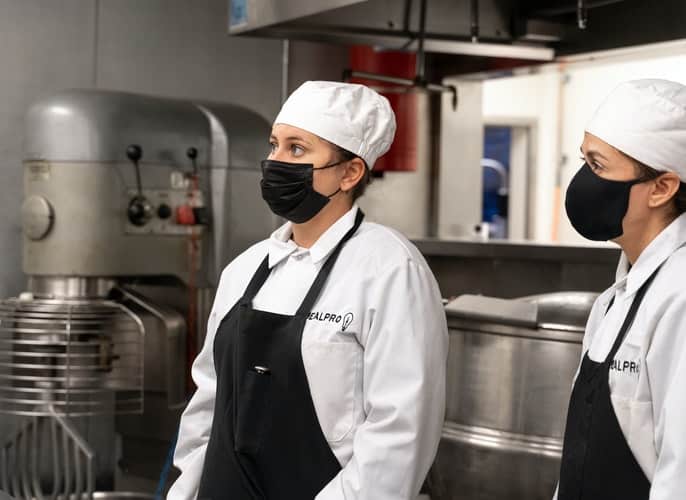 Kitchen Porters assist the chefs or cooks with basic food preparations, cleaning, and maintaining the kitchen. Kitchen Porter Job Description implies that they wash dirty utensils, dishes, and other cooking vessels and ensure that the kitchen is kept clean and orderly. So that it is easier for the chef or cook to work properly. They are employed by hotels, hospitals, restaurants, cafeterias, offices, cruise ships, and other companies that prepare food for public consumption. 
A kitchen porter is expected to look after the kitchen's cleanliness. Still, he/she may also have to keep the kitchen, the utensils, and the floor sanitized because the food served to a customer should always be done in a neat and clean atmosphere. And eventually, a kitchen porter helps the company, restaurant, hotel to adhere to health and safety standards and serve the customers faster. 
A kitchen cannot function properly without a kitchen porter, but they often don't receive the respect they should for their hard work. There aren't any firm requirements for a kitchen porter job, but experience in the kitchen is highly valued. Kitchen porters have a higher chance of being promoted from a porter to that of kitchen assistance because the turnaround in the cooking industry is high. And the easiest way to climb the ladder of success in the cooking industry can be through dedication to food and a willingness to learn. And being a kitchen porter can be the perfect job for those interested in food and cooking, thus being dedicated to the job. 
Like every other job, this job also has some advantages and disadvantages. And some of the disadvantages of working as a kitchen porter would be that he/she needs to work in:
Hot-working conditions.
May get little to almost no recognition for work.
Work during holidays.
They will have to remain on their feet for a prolonged period of time.
Risk of hurting oneself while working in the kitchen.
Responsibilities | Kitchen Porter Job Description
The responsibilities and the duties of a kitchen porter may differ from restaurant to restaurant, hotel to hotel, and company to company, but there are some basic responsibilities that a kitchen porter needs to fulfill, and they are as follows:
Ability to stand for a prolonged period.
Keep the kitchen neat and clean.
Wash all the cutlery, dishes, utensils, and all other vessels in the kitchen
Keep the kitchen floor clean and sanitized.
Help the chef prepare routine food preparations like chopping vegetables, peeling vegetables, so forth, and so on.
Throw the garbage away.
Clean up spills to avoid hindrance while working.
Sweep and mop floors at the beginning and the ending of the shifts.
Make sure to keep all the kitchen work surfaces clean and sanitized, like the counters, sinks, stoves, and kitchen walls.
Arrange equipment and ingredient order and delivery.
Keep the food supply and storage area organized.
Help the chef or the cook in necessary food preparations.
Following the instructions of the superior because kitchens can be chaotic.
Material Collection, meaning a kitchen porter arranges all the materials needed by the chef or the kitchen supervisor.
Ensuring a safe cooking environment.
Requirements:
Regardless of the work, we do and the industry we work in there is a certain set of skills and qualifications required for one person to qualify for the job. And some of the requirements for a kitchen porter are:
Good communications skills.
Physical Fitness.
Stress Management.
Ability to work quickly and effectively.
Ability to follow instructions.
Ability to complete all the given tasks on time.
Have good organization skills.
Ability to work in a busy and chaotic environment.
Patience and cool-headedness.
Fast learner who has an interest in kitchen work and cooking.
A high school degree or a degree equivalent to it (though not always necessary).
Flexibility in terms of shift patterns.
The ability to adhere to safety rules and regulations.
Team spirit and teamwork skills.
Strong organizational skills.
A kitchen porter is a person who needs to be a pro in handling a kitchen even without the supervisor or chef's guidance. A kitchen porter usually works for forty hours a week, meaning approximately 5-6 hours a day. A kitchen porter is also most like to work on Sundays, public holidays, weekends, and even in the evenings. They are not usually given the time slot preference; instead may have to work depending upon the need.
Salary:
The average salary of a kitchen porter who is a beginner in the U.K would be £13,000 per annum, and for an experienced kitchen porter, the salary may go up to £18,000 per annum, meaning £1,083 and £1,500 per month respectively. Whereas in the United States, a kitchen porter's average salary is $25,838 per annum or $13.25 per hour. But the salary of an inexperienced or new kitchen porter is $19,000 per annum ($1,583 per month), and the salary for an experienced kitchen porter is $32,175 per annum ($2,681 per month).
And the best cities to work in as a kitchen porter are: 
Jersey City, NJ.
New York City, NY.
Philadelphia, PA.
Allentown, PA.
New Haven, CT.
Gainsville, FA.
Chicago, IL and,
Escondido, CA.
Thus, in short, a kitchen porter is a person who helps the chef or cooks to maintain the kitchen and make sure that all the duties are performed well and on time, along with keeping an on the cleanliness of the kitchen and its surroundings. Kitchen porters have various tasks such as cleaning the kitchen and maintaining safety standards in the kitchen, managing all the kitchen and storage supplies, and washing all the utensils, crockery, and all other kitchen equipment. A kitchen porter is expected to be swift in his movements and follows punctuality while working, and is capable of working with a team in a chaotic kitchen without any guidance. And the minimum salary of a kitchen porter varies from £13,000 to £18,000 per annum in the U.K., whereas $19,000 to $32,000 per annum.
Also read What Іѕ A Porter Job?
Kitchen Porter Job Description, Duties, Salary