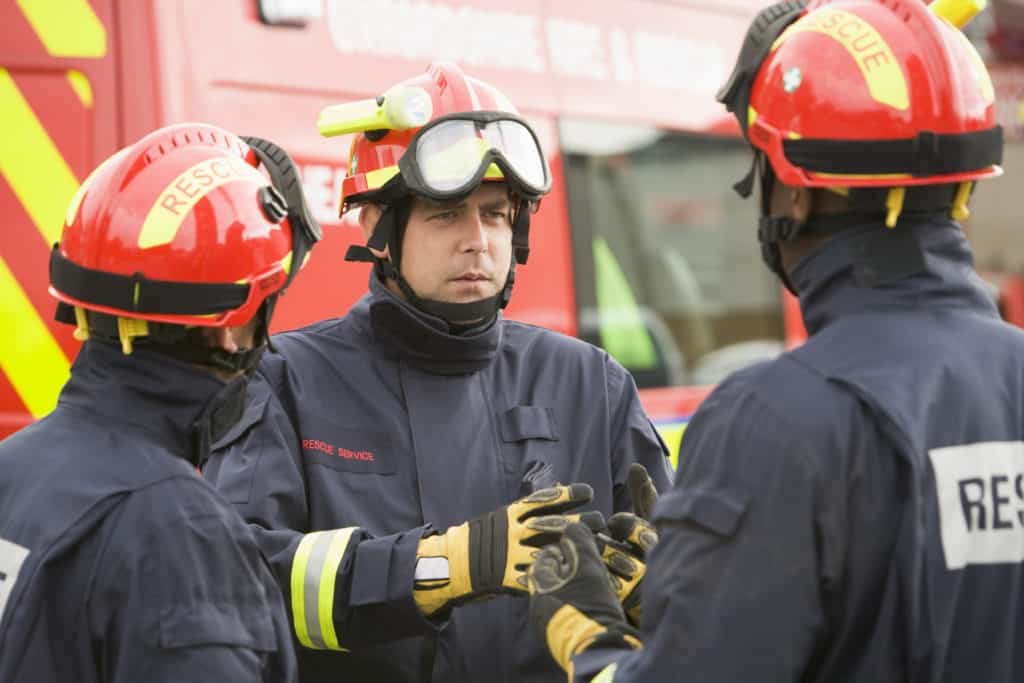 Fire chief refers to a firefighter who acts as the head of a fire fighting department. They manage and operate their firefighting crew. Such a supervisory designation requires adequate years of competent experience, supplementary fire training, and normally undergraduate level educational qualification since it's a position that is reached through successive promotions.
Firefighters have to collaborate with their neighboring locals to improve their awareness of fire safety. They also have to ensure the proper promotion of fire safety standards by organizing exercise drills and associated training in public and industrial grounds. A fire chief rests at the apex supervisory post in a firehouse. This role comes as an add-on to the responsibility of operating fire and rescue. This position mandatorily demands a background in firefighting, medical help knowledge, and management of public safety.
Benefits That the Fire Chiefs Enjoy
Wellness programs
Disability insurance
Health Insurance 
Life insurance
Help in Relocation
Job Description
To work as a Fire Chief signifies one is directly the front-line representative of their department or crew. Therefore, one must possess a perfect balance of nature, particularly for managing real-life scenarios. A Fire Chief should stay calm under pressure and maintain a focus on the necessity. Fire Chiefs, along with their teams, work as problem-solvers and lifesavers in incidents leading to fire accidents. It is exactly why they must have expertise and skill in such a line of work.
Duties of a Fire Chief
To schedule different working models of a firefighter, assign tasks, and ensure that all shifts are appropriately staffed.
Train and test firefighters to handle a variety of responsibilities. This may include firefighting, executing rescue operations, and evaluating safety measures in wide-ranging scenarios.
Maintenance of the fire station includes ensuring cleanliness and equipment repairs, restocking of the firefighting apparatuses, keeping a check on the renewal of safety gears, and placing fresh requests for replacements or purchases.
To make sure that the team is undertaking their responsibilities following the policies and schemes.
Maintenance of comprehensive and specific records of actions undertaken and responses to calls.
Promote confident connections with other Fire Departments and relevant agencies to secure mutual aid responses and promote goodwill among them and the public. 
To attend professional, business, and society meetings, practices, and functions to keep oneself up-to-date with fresh events relevant to fire service and communities.
Salary
The average salary of a Fire Chief in the United States of America is $95,182 per year. The initial career as a Fire Chief with approximately 1 to 4 years of prior experience earns an average annual salary (inclusive of tips, bonuses, and overtime) of $74,152. Whereas the mid-career as a Fire Chief having 5 to 9 years of prior experience draws an average annual salary of $66,516. The master, an experienced Fire Chief with 10 to 19 years of prior experience, earns a total annual salary of $74,581. Employees with experiences beyond this, i.e., 20 years or higher (late-careers), earn an average total compensation of $84,773.
Requirements
The applicants must be at least eighteen years of age.
Most firefighting departments mandate a high school diploma. 
Training in emergency medical help and having worked as a volunteer firefighter provides an advantage. Firefighters need to secure an emergency medical technician (EMT) certification.
For advancing through the levels, additional training, educational qualifications, and certifications are necessary. An undergraduate degree is a must-have to promote past the post of the unit chief. 
The undergraduate degrees should be in Occupational Safety, Public Administration, or other relevant disciplines. 
Fire departments mandate basic EMT certification. A Paramedic certification aids career advancement. Allowed schools throughout the United States of America, such as the National Fire Academy, offer courses for continued training. 
To advance to the post of Fire Chief, the firefighters should consider their executive fire officer certification. This helps them gain insights and relevant experiences in administrative responsibilities. 
Skills
Should showcase leadership qualities that include the ability to take complete command at the scene of a fire. 
Should be Analytical and a Problem-Solver.
Sound and Quick decision-making.
Excellent Verbal communication and a good listener with the ability to negotiate. 
Excellent writing skills to be quick in preparation of reports. 
Excellent in Public Speaking and Management. 
Well-versed in Research Development. 
Effective Stress and Time Management.
How to Become a Fire Chief? 
Step 1: It is Necessary to Start as a Fire Fighter: Fire Chiefs have to begin their journey as firefighters and then persevere their way up to become Fire Chief. They achieve it through displaying excellent performance in work, undergoing constant training and expanding experience plus getting higher-level education (not always). To become an entry-level firefighter, a high school degree or equivalent is necessary plus clearing a written and physical examination. College is not mandatory for an entry-level firefighter position but mandates itself if one plans to advance in the career. Starting as a firefighter helps you to get a clear understanding of the profession at a broad level and prepares you for posts in the field.
Step 2: Be Consistent and Keep Performance up to the Mark: To become a Fire Chief, one should have adequate experience in taking up responsibilities that a firefighter should, and even beyond that. Firefighters are qualified for promotion after they successfully deliver excellent leadership, a readiness to progress and learn, and quality and competence on the job.
Step 3: Keep Expanding your Education, and Qualifications: The Fire Chiefs have to take a lot of administrative tasks, to achieve and handle this efficiently, they must develop excellent leadership abilities. Strong Fire Chiefs train and build a diverse team of loyal and experienced firefighters. Ambitious Fire Chiefs should secure a formal education in subjects such as fire chemistry and dynamics, combustion, security codes, hazardous matter handling, and construction. Post the basic studies one requires continuing to get new certifications and update the existing ones. For graduates, taking up more specific educational disciplines like public administration, finance, and management. The more education one possesses, the more eligible he will be for top-level posts.
Conclusion
Achieving the position of a Fire Chief is not a simple task since it demands high educational qualifications and extensive firefighter expertise, and prior field experience. In addition, it demands devotion, dedication, and constant training to advance among peers to get promoted to the apex. The responsibilities that a Fire Chief has to bear are more complex than those of a Firefighter. They have to supervise others, maintain support, and manage the training. Therefore, a person who can persevere through continuous study and training starting right from the bottom will be the ideal candidate for the post.
Frequently Asked Questions
Do firefighters work for long hours? Firefighters work for varied hours on a 24-hour shift but vary according to the area of operation.
Do I need to be good at writing for a firefighter role? One has to be accurate in writing to draft reports irrespective of the designation.
What kind of physical fitness does firefighting demand? Since firefighters operate in high-stress and dangerous situations, they need to be extremely fit.
How do the salaries of the Fire Chiefs differ? Fire chiefs who possess master's degrees and have several years of field experience can earn large annual payrolls in metropolitan areas as compared to those who work for small cities, or regions.
Fire Chief Job Description, Duties, Salary