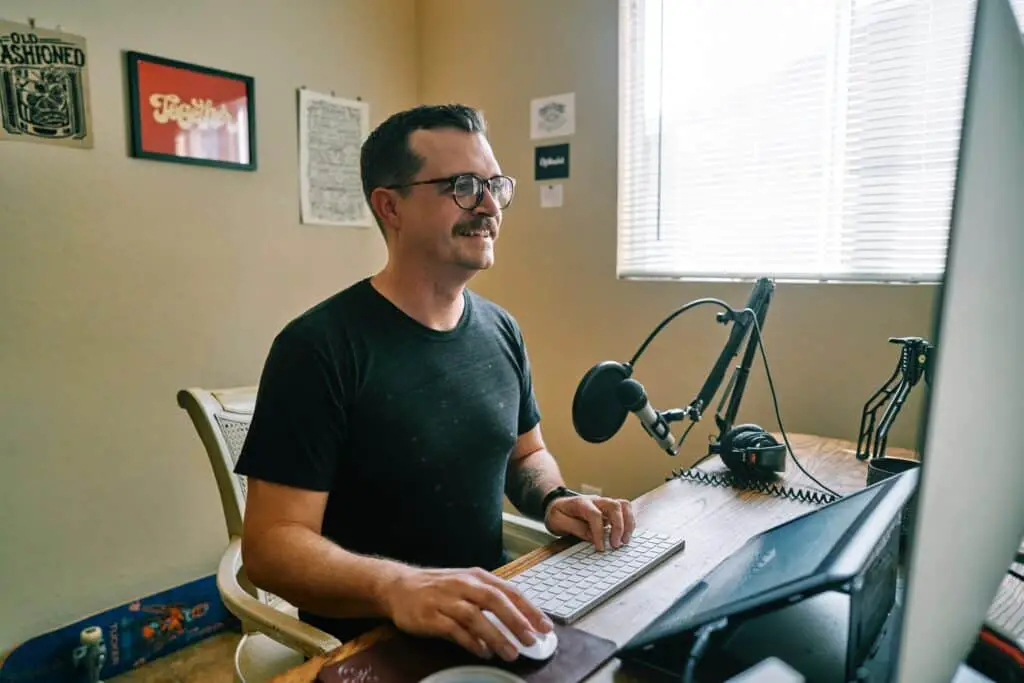 "Content is the reason, Search begins on first place"
News, social media posts, blogs, articles, or anything you search online is a part of content. We will discuss the Content Creator Job Description here. With the rapid growth of the digital world, Content creation has become a necessary part of our life, and because of this, the Content Creator job has become the fastest-growing career option among the youth.
Content Creator Job Description
Need For Content Creator
If you have a business or a social media influencer, the first thing people look at is the Content.  If your content is catchy, appealing, and informative, then you can easily create a good impact on the audience. Content appears as the first impression on the audience, and the first impression is always important, and it needs to be the best. But who does all these efforts? The answer is a Content Creator.
Work Of Content Creator
Basically, the Content creator produces relevant work, either by the company's demand or on their own. They give shape to the company's idea in the form of articles, news, blogs, Instagram, or other social media posts.
Different Task A Content Creator Needs To Perform:
Giving The Idea OF Content: Several times, a creative content writer is asked to generate useful ideas for creating content. This is done for better marketing of a product or a service.


Analysis Of Brand: A content creator is also responsible for the evaluation of the company's brand which includes, the styles, product, or designs. In short, they need to perform the SWOT analysis of the brand.


Copywriting: Copywriting, in very short, is the art of marketing. It's the way of creating selling copies for the company's product. 


Content Editing and Proofreading: This task is generally performed after the content is written. It usually involves checking the written content for grammatical mistakes and rewriting and replacing the words with more apt and catchy words to make polished, well-written content.


SEO: The full form of SEO is search engine optimization.  In simple words, it is the full process of improving one's website and increasing its visibility for search results. Here the work of a content writer is to make the content SEO-friendly by adding relevant keywords or links and taking the help of SEO tools to increase the website's ranking.
Free Apps To Learn About Content Creation
Nowadays, there are plenty of free educational content available on the internet through which one can learn and acquire any skill, One can take the help of these free educational platforms to acquire the basic to advance knowledge of content creation
Udemy: This online platform has several free and paid courses depending on your hobby and interest. Professionals teach all recorded courses. After completing a course, you can also get a certificate in the same through Udemy. You cannot only learn new skills but can also create your own learning videos on the platform. Besides this, one can also get discounts on several courses with the help of certain coupons.


Coursera: This is an exciting free learning platform that offers massive open online courses from prestigious universities. With pre-recorded videos, you can easily gain more knowledge anytime and anywhere. The certificates given after the completion of the course are from leading and accredited institutes.


LinkedIn Learning: You must have known about the professional site LinkedIn, but do you know that this site has its own learning platform where you can scroll up through various courses which are taught by an eminent industry expert that too in 7 different languages.  Accessing the courses on this platform is either free or paying the subscription fees depending upon the chosen course.  


Skillshare: This platform mainly focuses on real-life education; It includes several learning courses that experts teach. This site helps you to gain and get an overlook of real-life knowledge.


Khan Academy: This platform offers in-depth subject-related knowledge. Students, as well as teachers, can access all the study materials available here.
All videos are recorded video lectures are arranged on YouTube. 
Where  To Find Job As A Content Creator?
There are plenty of doors open for an individual to kick start his or her journey as a content creator. The most common area or place where you can find a job as a content creator is either:
In an agency,
As a freelancer or 
Part-time or full-time employment as a content creator.
Is There Any Eligibility Required To Become A Content Creator?
Basically, there aren't any eligibility criteria or specific requirements of age for becoming a content creator, although there are various ways, including paid courses, free videos, and other stuff, which helps one gather knowledge about content creation from beginner to advanced level. 
And if you are willing to make your career as a content creator, you must collect and learn all the knowledge, techniques, and other useful information regarding content creation. All marketing agencies or companies hire a content creator based on his or her knowledge and experience level. 
Salary of Content Creator
The salary of a content creator varies depending upon the work profile; if you work as a freelancer, you get paid after accomplishing the specific project. On average, the basic amount a freelance content creator gets $19.55 per hour. And if you are working as a full fledge content creator, then, on average, the salary lies between $40,000-$50,000
Famous Platforms To Find A Job As A Content Creator:
There are plenty of platforms through which one can find a job as a content creator, some famous job sites to find a part-time or full-time work job as a content creator are mentioned below:
Upwork
LinkedIn
Fiverr
Google for Jobs
Contena
FlexJobs
Freelancer.com 
Guru.com
References:
Also read Hiring a Content Writer? – Here Are Your Must Ask Questions!!
Content Creator Job Description, Tasks, Salary, and More