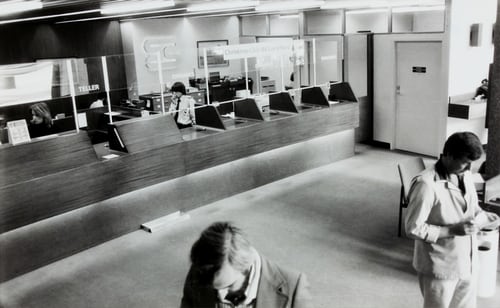 A career at Capital One offers you access to the ideal career growth. From internship to associate level, Capital One offers you the right platform to learn and grow in the banking sector, harness or grow in digital innovation and customer service whilst respecting individuals' diverse opinions, backgrounds and experiences.  In this article, we'll learn about Capital One Careers Path, Capital One Job Opportunities, Salary, Requirements.
Careers at Capital One are open to applicants a minimum of 18 years old and possessing high school diplomas for roles such as collectors, tellers, and customer service coordinators, whilst applicants to internship roles and full-time programs are required to have the respective bachelor degree fit the role they are applying for. 
Capital One Careers And Job Posts:
There are two routes to accessing a career at Capital One;
Campus Careers; for students and fresh college graduates looking to work in the banking sector in a transformative capacity.
Campus careers are available as Internships; 10 weeks internship opportunity for college students under the following departments:

Analytics
Commercial Banking
Design
Finance
Human Resources
Management
Strategy
Technology
Full-Time Programs; 2 years rotational program designed for new college graduates under the following departments:

Analytics
Commercial Banking
Design
Finance
Human Resources
Management
Strategy
Technology

Product
Capital One Developer Academy (CODA)



Advanced Degrees; 10 weeks internship or 1-year full-time program for postgraduate students and graduates under two departments:
Professional Careers; this second route is available for applicants seeking to further their professional careers. Vacancies are available in the following encompassing roles:

Customer Advocates

Business Banking
Commercial Banking
Operations
Sales
Café
Customer Care
Personal Banking

Technology Explorers

Engineering
Cyber
Technology Operations

Product Innovators

Analytics
Data Science
Design

Company Builders

Brand/Marketing
Finance
Legal
People & Workplace
Project/ Process Management
Risk Management & Audit
Strategy
Careers at Capital One are inclusive and non-discriminatory with unique requirements depending on the role you are seeking to fill. 
Capital One Job Application Guide:
All available vacancies at Capital One are advertised on the company website and all applications are made through the website. 
All vacancies are well-detailed, including job descriptions, Capital One expectations, and requirements, including basic qualifications and required qualifications. When applying for a Capital One position, you need to bear in mind that it is a financial institution. Although the institution is committed to diversity and workplace inclusion, it is obligated to ensure clients' funds and data safety. As such, a prior criminal or misdemeanor record may have an impact on your application; applicants are advised to be of good moral standing in society.
Once you initiate an application to Capital One's career, you can either apply with LinkedIn or create a Capital One profile for the application. If you decide to choose the "Apply with LinkedIn" option, kindly ensure your LinkedIn profile is up to date with your qualifications, experiences, and endorsements by industry leaders you may have had the privilege of working with. If you decide to create a Capital One profile, make sure to read all the instructions carefully before you start the application process. 
Interview Structure & Preparation:
The interview process at Capital One varies across the institution and depends on the role applied for. In some cases, Capital One interviews are structured as case interviews that are more difficult than most banks' regular interview patterns. Case interviews are in three stages which are:
In this stage, the business situation framework would be given a business situation scenario and asked a broad question on the created scenario. The task is to answer the question in a simple case framework.
Quantitative question; this stage is focused on mathematical skills
Recommendations; this stage is focused on analytical thinking. You would be asked to recommend the initial business scenario and defend the reason for your recommendation.
Case interviews are most often used for hiring analysts at Capital One and ensuring every applicant gets a fair chance at the job; Capital One also released a video on their Youtube channel on how to prepare for analyst case interviews; https://www.youtube.com/watch?v=4cDT5YZQwOs&feature=youtu.be.
In some roles, you will be exposed to different stages of interviews. A customer service role for instance requires a minimum of 3 interviews:
Recruiter Interview; at this stage, the recruiter is screening to ensure all applicants that proceed to the next stage are fit for the role applied for.
Job Fit; at this stage, you are screened to ensure their educational qualifications and professional experience fit the role's requirements at Capital One.
Behavioral Fit; Capital one has many core values centered on the behavior of the people they hire. At this stage, you are screened to ensure you are a behavioral fit not just for the role applied for but also for the institution and the values they uphold. 
Since the pandemic outbreak, Capital One has offered more work from home positions; this has not reduced the somewhat lengthy and rigorous selection process. You will still go through stages of interviews, progressing from phone interviews to video interviews. Online interviews usually take the following format:
Recorded Interview; Depending on the role applied for, you may be sent a mail to perform a recorded interview which you will then send back to Capital One for assessment. In some cases, you will receive a phone call from a recruiter as the first stage of the interview; this stage depends on the recruiter's first stage interview choice.
Phone Interview; after the recorded interview, if you answered correctly and your submission is a job fit, you will be contacted by a recruiter who conducts a phone interview. During this interview, the recruiter will make the conversation as casual as possible whilst ensuring you are a job fit to progress to the next stage.
Video Interview: This is a live video interview between you and the recruiter, and you are asked several questions. This stage accesses your situational and behavioral competencies using the STAR (Situation, Task, Action, and Result) approach. If you are successful, you will receive an offer in a few days.
The interview process at Capital One is a rigorous selection process, to aid you in application and to understand the culture in the institution, Capital One has a Youtube channel where they share tips on succeeding in Capital One and on some occasions; interview tips https://www.youtube.com/user/capitalonejobs/videos
Requirements
The educational requirement for a career at Capital One depends on the role being applied for. The roles at Capital One cut across different sectors of the economy and provide an equal opportunity platform for all applicants.
The behavioral requirement at Capital One is strict as the institution promotes an open culture. To work at Capital One, you must possess these key characteristics amongst other characteristics:

It would be best if you were of good moral standing.
Non-discriminatory of race, sex, color, religion, sexual orientation, gender identity, national origin, disability, or other protected status.
Open-minded to ideas other than your own. 
Benefits
Employees' ability to have a healthy work-life balance is one of the core values at Capital One. As an employee of Capital One, in addition to a healthy work-life balance, you are entitled to a series of benefits. Your access to these benefits alongside your eligible dependants depends on your employment status at Capital One. These benefits cut across three broad segments of your life:
Health

Associates are entitled to any of the three available medical plan options, any of the two dental plans, and vision care needs. Capital One also offers associates access to wellness programs, on-site health and fitness centers, and prescription drug coverage. 
Associates enrolled under the Capital One medical plan are also entitled to access to LiveHealth online along with their eligible covered dependant. 
Advanced medical feature of Capital One employee benefits answers questions on any condition or treatments.

Wealth

As an employee of Capital One, you are entitled to partake in the Capital One 401(k) associate savings plan, which helps grow your retirement savings with additional Capital One assistance. 
The wealth benefits at Capital One cover life insurance and disability for both full-time and eligible part-time employees.
Capital One also offers you a series of special programs and promotional discounts that help your financial stability.
You are entitled to financial reimbursement for the eligible degree or non-degree courses taken for personal or career development.
You are entitled to purchase stock through the non-qualified Capital One associate stock purchase plan.
Pay for qualified and dependent health care with pre-tax dollars, an added advantage of this benefit is that Capital One helps contribute to match a portion of your contribution.

Life

You are entitled to parental leave at Capital One; maternity leave, paternity leave, adoption or foster care leave, and birth via a surrogate leave.
You are entitled to any of the two available time offs; non-exempt associate paid time off and the exempt associate vacation time.
Capital One Back-up child care advantage program and Back-Up family care advantage program steps in when there is a lapse in your normal child or family care routines and arrangements
In a situation where you choose surrogacy or adoption, Capital One has Adoption and Surrogacy Reimbursement programs that help associates provide guidance and financial support.
Capital One also prioritizes your mental health through the Employee Assistance Program (EAP), which offers telephone and physical counseling services to associates in need of such services.
Salary Structure At Capital One:
Capital One offers a highly competitive salary structure. Your salary is dependent on the career you have at the institution. Roles like baristas at the Café earn significantly less than an analyst in the same organization. Like every organization, salary structure depends on skillset, job position, and hours of work.
According to PayScale, the average salary at Capital One is $102,000 yearly.
Diversity & Inclusion:
At Capital One, diversity and inclusion are at the core of the institution. You will be a great fit in the organization because the culture does not regard your skin tone, gender identity, background, disability, or any other differences as a basis to put value to your work. 
You are urged to bring your most authentic self to work and thrive in an environment that appreciates innovation and values every community member. As a person prejudices against people's differences, you will find it difficult to work in such an environment as respect for people's opinions and differences is a key human skill required at Capital One.
How Long Does The Application Process Take?
The application process at Capital One can take a few days to a few months before you are contacted after you make an application. However, once you are contacted and successful after all the interview stages, you get your offer within a few days.
Can A Veteran Apply To Work with Capital One?
Yes, Capital One has veterans and military service workforce as an important part of their workforce.
Can I Reapply If I am Not Successful with The First Application?
Yes, you are advised to reapply. However, before you reapply, take time to identify what may have caused you to be unsuccessful the first time and improve on these qualities to ensure you are successful upon re-application.
Can I Apply With A Criminal Record?
You can try, but due to the organization's values, Capital One is a financial institution. A key criterion for a career at Capital One is; You must be of good moral standing.
Capital One Career Opportunity:
Having gone through this document, you should have a good idea if you are interested in a Capital One career and what career role fits your profile. Capital One has great recommendations from employees as one of the best places to work, and if you are yet to consider a career there, you should start considering one now. 
Also read Citi Careers: A Complete Guide
Capital One Careers: Job Application, Salary & Interview Tips