To be a cook, an individual is not only obligated to prepare a wide variety of dishes and quality meals but also for inspecting food by ensuring the safety and sanitation of food products. Establishing a career in the culinary field is a dream for many. Every year, almost 3 million people enroll in a culinary career or equivalent field all over the world. The artistic side of cooking is expanding rapidly as the demand for the food industry has been showing significant growth rates over the past few years. Let's know 'Interview Questions For Cooks with sample answers.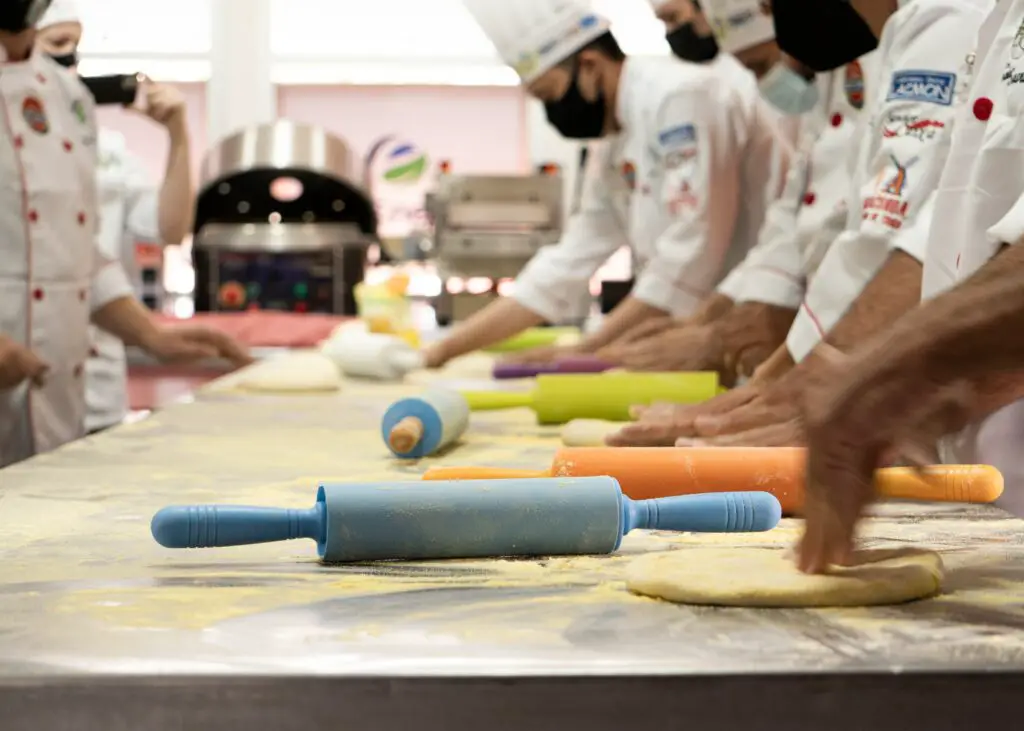 There are plenty of restaurants, food service stations, and chains that require a myriad range of astonishing and zestful cooks. These organizations hire cooks, especially the callow ones based on a variety of factors. These factors may differ based on the organization. Every organization has its standards to access certain things and procedures. While the hiring process seems pretty straightforward, simple, and lucid, the interview process may seem erudite and confounding to many. However, the interview questions are simple and easy to comprehend or respond to.
The interview questions are generally classified into five major categories. These categories are enlisted below as follow:
Situational questions
Behavioral questions
Background-related and basic questions 
Operational questions
Extraneous questions
Situational Questions 
Situational questions are questions that are based on an imaginary or hypothetical situation. Situational questions are generally asked to access numerous qualities of an individual including their response, behavior, and character traits. Situational questions are a test to check a person's problem-solving, cognitive, and analytical skills. These questions not only provide greater insights into an individual's capacity to deal with situations but also help the employer analyze the zest of an individual to overcome challenges.  It is a great tool for drawing a parallel between the solution-focused skills of every individual. 
A few examples of such situational interview questions for cooks are mentioned as follows:
Have you ever made a tremendous mistake at work? If yes, what consequences you had to face, and what you did do to correct them?
Sample answer: Yes, when I was working at restaurant X, I messed up a customer's order. They told the waiter to get a roasted meal while I misheard and made them one with gravy. The customer was furious and complained to the manager. At first, I panicked and thought I was having a bad day but then, I knew I had to rectify and this was my only chance. I apologized to them and asked them to give me just a few minutes. I quickly roasted the chicken that they wanted and served them a more appetizing dish. I had to face backlash from the manager but I knew I had to learn. Ever since then, I always double-check the menu and communicate twice.
If other co-workers are not helping you in preparing meals, what will you do?
If you're asked to prepare a meal but you found that some of the key ingredients are missing, what will you do?
Imagine you're asked to prepare a dish you don't know how to cook. How will you follow up afterward?
Brief me about a time when you had to train new staff. What were its results?
Tell me about a time when your help proved beneficent to a co-worker.
Behavioral Questions 
An employer is usually inclined to ask behavioral questions to learn more about an individual's behavior and workplace ethics. These questions help the interviewer to get some proof of your positive qualities, skills, and strengths that helps an individual to stand out. Sometimes behavioral questions are designed specifically to reveal or check an individual's specific skills and behaviors. Asking behavioral questions is also considered an authentic and effective way to know more about a person's personality and character traits crucial for the job.
A few examples of such behavioral interview questions for cooks are elucidated below as follows:
What steps do you take to retain punctuality for work?
Sample Answer: I always prepare for my day the night before. I have a schedule for everything, the time I wake up, the time when I eat, and everything else. To make sure, I start my day at the same time every day I use an alarm clock. I always leave my apartment an hour early to reach time for work. While at work, I like to stay organized to avoid complexities and keep things simple.
Which is the highly required and appreciated skill that an individual needs to carry out work in the kitchen?
What is your ideal type- to work in a team or work alone? Why?
Are you an efficient cook? Why?
What obstacle did you have to face at your last workplace? What did those obstacles teach you?
Do you prefer working in a fast-paced environment or a slow-paced environment? Why?
Background-related and Basic Questions 
Every employer or interviewer asks some basic questions. These questions are generally asked to get an overview of a person's profession, last job, experience, and key skills. Sometimes background questions are asked to analyze whether the information provided by an individual in their respective resumes or CVs is true or not. Background-related questions might be filler questions at times but also asked to build a rapport with every individual. 
Some examples of background-related and basic questions for an interview are listed below as follows:
What are your key strengths/weaknesses?
Sample answer: I think my biggest key strength is my excellent time management skills. I can work under immense pressure by staying well-organized. I know how to plan things in advance to increase efficacy at work. My weakness is that I lack the ability to lie. I can't lie even when it can be beneficent to me. However, I like to see my weaknesses as my strengths.
Can you brief me about your experience as a cook or head chef?
What key skills have you learned at your last workplace?
Why did you apply for this restaurant (workplace)?
What culinary training have you specialized in?
Can you tell me about your broth knowledge?
What is your most and least favorite thing about working in the food industry sector? And why?
Operational Questions
Operational questions are asked to analyze the operational skills of an individual. Generally, in a culinary-related career, particularly a career as a cook, these questions help the interviewer evaluate a person's cooking skills, preparation skills, management skills, and production and handling skills. Operational questions are important not only to evaluate an individual's creativity and cooking skills but also to analyze their quality of knowledge and commitment to work. 
A few examples of operational questions that are usually asked in an interview for a cook position are listed below as follows:
What are some ways to insure the quality of the food?
Sample answer: If the food is packed or processed, I always check the expiration date before beginning to cook. Also, I make sure the texture, color, and smell are preserved of it. I look for signs of spoilage and rancidity. Moreover, the quality management team ensures safety on a deeper level. 
What are the basic methods to check the safety of your food and food products?
What kitchen gadgets do you have to use to prepare a 5-star meal?
As a chef, what is the most important- cooking technique, cooking skills, or cooking ingredients?
What steps do you take to introduce freshness to a menu?
Can you tell me about grilling and roasting?
What is blanching and why is blanching important?
Explain how substituting ingredients doesn't work always.
Do you have any knowledge about (any current trends in cooking)?
Extraneous Questions
Extraneous questions are questions that comprise questions that are not relevant to the cooking field but are asked not only as filler questions but to find something about the employee that general questions cannot afford to reveal. Extraneous questions are also considered as stupid, non-sensual questions. Sometimes these questions are immensely ridiculed by both the employer and the employee.
A few examples of such questions for an interview are enlisted below as follows:
Imagine you have a million dollars, what will be the first thing you would want to do?
Sample answer: I'd be happy and run to my parents. I'll inform them and make sure that they are getting a larger proportion of the money too. Then, I'll start a business, and side by side, I'd open a restaurant of my own. I'll hire people from all over the world and invest in the restaurant to make it a healthy and affordable brand name.
If every emotion has a color, what color is your passion for cooking?
What was the one best thing about your last job that other employees did not like or enjoy as much as you did? Why?
If you could pause time, what would you want to do?
To whom do you run back or look up, when things go wrong in your life?
Who is your favorite chef? Why?
How to answer some of the basic cook interview questions?
How you answer or respond to questions determines your skills and confidence. The way you respond is very telling of your social, communicative, and operational skills. Therefore, it is extremely essential to make sure that one sounds confident, calm, skilled, and intelligent enough to secure a job position. When applying for a job role of a cook, one must keep in mind that not only their culinary skills tested but also their personality, attitude, aptitudes, and confidence, are tested during the interview process. Thus, an individual should follow the correct set of techniques to nail an interview. A few tips for nailing interview questions are mentioned below as follows:
Use the STAR method for answering questions effectively. 
Stay confident and humble.
Take pauses and have appropriate body language.
Focus on your voice tone.
Take your time to think thoroughly before responding.
Make sure to present all your key skills to the employer.
Frequently asked questions
Question 1: How do I prepare for a cooking interview?
Answer 1: To prepare for a cooking interview, a person should follow the following steps:
Prepare an impressive CV or resume. Apply to the place of your preference.
Get familiar with basic cook questions.
Prepare beforehand the questions after researching.
Don't forget to revise the basics of the culinary and food industry. Get clear with the basics.
Prepare notes for additional reference
Practice using STAR and other effective interview methods.
Prepare your questions in a way that introduces your skills perfectly and efficiently. 
Always ask questions at the end. It helps you engage with the interviewer more.
Be punctual, answer confidently, and stay calm.
Question 2: What is the expected salary range for a cook in the USA?
Answer 2: The expected salary range for a cook in the USA is $30,000 to $80,000. However, the salary may differ from location to location. The salary might go up or down depending on several other factors like qualification, skills, experience, job title/position, etc. For example; an experienced cook might receive an income of $140,000 while a fresher might receive a smaller paycheck ($40k-$50k). Moreover, an individual working at a small food station might earn comparatively less than an individual working in a restaurant or hotel. Thus, the income may vary for every individual.
Question 3: What qualifications do you need to become a cook?
Answer 3: To be a cook, a person needs to be graduated from a culinary school in any culinary-related course, hotel management, and any food industry-related course (A high school diploma is also acceptable in many food industries). Along with proper and thorough knowledge of culinary arts, one needs a quality set of skills. They also need basic skills like the ability to work under pressure, prepare meals for a large group of people, pay attention to details, accept criticism, ability to adjust to last-minute changes, teamwork, leadership skills, etc. An individual must possess adequate knowledge and skills to become a cook.
Question 4: What are the main duties of a cook?
Answer 4: A cook has plenty of duties to perform. Some of these duties are elucidated below as follows:
A cook has to plan menus and meals for the restaurant or food industry. Sometimes, they need to plan ahead of time for a week or a month. 
Prepare and cook food
Ensure the safety of food products and ingredients used to prepare a meal. A cook needs to make sure no expired, spoiled, or contaminated food is used. They also ensure the freshness of food products.
Keep the kitchen, cooking stations, and counters clean. Make sure all the equipment that you use is clean and safe.
Sometimes, cooks weigh and do the rationing, and arrange and organize ingredients in the kitchen.
Conclusion:
To become an efficient cook, an individual needs knowledge about the culinary field and a wide range of skills including cooking, preparing meals, food safety, and security, supervising, leadership skills, etc. Cracking an interview for the cook is not that hard to comprehend and nail. Plenty of situational, behavioral, basic, and operational questions are asked related to the cooking field.
The questions may differ contingent on the industry type an individual is serving or working with. The questions might be operational or functional to test an individual's knowledge and understanding, basic questions to get an overview of their profile, extraneous questions to get a better hold of their communicative skills, situational and behavioral questions to understand more about an individual's ability to handle and prove effective and efficient in work. 
Interview Questions For Cooks – With Sample Answers