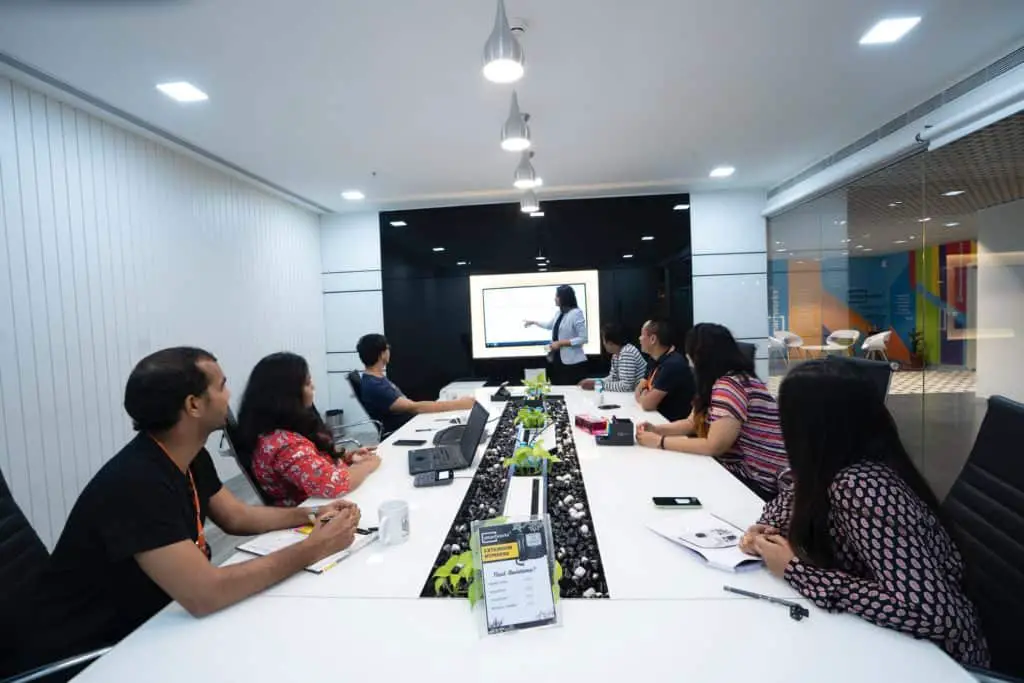 The Chief Marketing Officer is in charge of a company's marketing  & advertising initiatives, including their strategy, development, & implementation. The CMO's major duty is to produce income for the whole business by boosting sales through effective marketing, including market research, cost structure, brand management, marketing relations, advertising, & public affairs. Here we have provided the best CMO Interview Question with answers so that you can clear your interview easily. 
A good job title should include a broad phrase, degree of experience, and any unique criteria. The broad phrase will help your job title stand out in a broader search for similar positions. By describing the level of duty & basic experience necessary, the experience level can assist you in finding the most eligible individuals. Consider adding the specialty in the job role if your role is specialized. 
A CMO's primary goal is to help a company expand and sell more by creating a complete marketing strategy that promotes brand awareness and gives the company a competitive edge. CMOS must be great leaders and adopt the consumer's perspective across the organization to accomplish their objectives & effectively create their businesses' public image.  For your CMO interview, you must learn which type of questions are asked by the recruiter and how to answer those questions.
Responsibilities of a CMO
Directing the creation and arrangement of the creative components that define the company's position in the marketplace.
Every advertising & marketing initiative is planned, implemented, and monitored.
Integrating objectives with the sales & public relations departments.
Expanding and maintaining the internal marketing department.
Studying and evaluating the market and the company's place within it; overseeing or cooperating with sales to develop marketing ideas into sales.
Managing the company's social relations activities or collaborating with interior and exterior public relations groups to develop a unified message.
Salary of a CMO
Total remuneration for a CMO in the United States ranges from roughly $85,000 to approximately $315,000. The compensation of the CMO is influenced by the degree of expertise & job location of the role, as well as the structure of the business. The average salary for a CMO in the U. S. is $170,000. CMOS is paid a yearly salary, as well as individual incentives, profit sharing, & commissions.
CMO Interview Question with Short Sample Answers
Question 1: Please introduce yourself.
Answer: I am a very productive, results-driven CMO with capabilities, traits, and expertise at the cutting edge of marketing within any industry. I can enter your business, execute effective marketing plans fast, & assist you in accomplishing your financial & commercial aims since I am a person who focuses on attaining difficult tasks & can effectively modify to challenging circumstances. 
Question 2: Why are you interested in working for this company?
Answer: To become a successful CMO, I consider you need to serve a company with the senior management staff who will assist you in the job, give you tough goals, and is ready to be creative & unique in its marketing approach. After conducting thorough research on your company before going to the interview, it is apparent that you are motivated, that you employ smart & talented individuals, and that you want to guarantee that the goods & services you provide are of the best possible quality. It's also apparent that I'll have many possibilities to take advantage of right away if I succeed. As a responsible CMO, it is all good news since it implies I can swiftly plan, create, and implement successful advertising & marketing efforts, which will be acknowledged and supported by everybody in my department and the larger business as a whole.
Question 3: What are we doing, in your opinion?
Answer: A candidate for CMO must have a strong understanding of what the firm does and be ready to describe it in easy terms.  Applicants for a CMO position must have done thorough research about your company before the interview & also be comfortable addressing this topic in an interview.
Question 4: How will the applicant consider marketing's strategic impacts?
Answer: No CEO would be attempting to determine whether a possible CMO possesses the necessary technical skills. However, they must be examining how the CMO sees their position & if their strategy is truly thorough in that it collects information about the industry, rivals, and consumers & uses them to influence the whole company. They might not have similar insights regarding the firm in the issue. However, they must be willing to describe how they obtained and applied those ideas during their previous engagement.
Question 5: What marketing strategy would you employ to build confidence between the company & its clients?
Answer: A good applicant understands that clients must trust a company before purchasing its items or using its services. Take note of the precise strategies that the application uses to assist create consumer trust. Although innovation is always welcome, successful tactics must be more than simply dazzling tricks. Rather, these approaches should attempt to establish long-term connections with customers.
Question 6: Describe a technique you'd use to convince the CFO to approve the marketing budget.
Answer: CMO should reach agreements involving key stakeholders to get the funding needed to meet marketing goals. A recruiter can ask the question.  A good candidate for CMO must articulate a compelling approach for reaching a contract on a budget plan.
Question 7: Why are you the perfect person for this job?
Answer: Here is the question of connecting your qualifications, skills, background, & passion to the position. That's why you must be completely acquainted with both the job role and the business culture. Note, though, that it's hard to finish them up with concrete instances, such as how you work well with others. It's conceivable that you don't have the same level of expertise, experience, and credentials as the other applicants. People are drawn to dynamic individuals, have a lot of passion when they speak, and are dedicated to accomplishing them.
Question 8: Explain a typical season in the life of a CMO.
Answer: Interviewers anticipate that a job prospect will go into great depth about their work. Analyze the job you're looking for & how your number of previous jobs connect to it when you reply. You would be more effective at replying to a question about relating your previous experience to the job vacancy. It should seem without mentioning that discussing non-work-related events on firm time is not a great idea.
Question 9: Describe a situation when you disagreed with a colleague & also how you dealt with it.
Answer: Applicants who understand how to resolve conflicts with their coworkers contribute to the strong, caring atmosphere that your firm requires to succeed. Inquiring regarding the candidate's experience solving a disagreement with a colleague might show how communicative they are with members of the team who have diverse viewpoints. Employers may learn two important things about an applicant from their response to such a question: where they see themselves in dispute and how they order their objectives regarding the additional staff involved.
Question 10: Were you someone who liked to work with others?
Answer: Who among us isn't a team player? However, the interviewer is unlikely to be satisfied with a simple yes. Prepare concrete examples of how you've performed as part of a unified team to complete tasks & how you've prioritized the team's achievement over individual achievement. When you brag, this will look like you care more regarding your efficiency and successes than the team members.
Question 11: Why did you quit your previous position as CMO?
Answer: Maintain a good mindset irrespective of why you quit your past jobs. Always maintain a good attitude & concentrate on the favorable reasons for your departure, like your goal to further your profession, your desire to work for a new business that offers more chances, your want a job in a different area, etc. Don't bring up prior work issues or conflicts with personnel that led to your departure. If you maintain a good attitude, your response may be beneficial. If you're pessimistic, your chances of landing the job you're applying for are likely to be reduced.
Question 12: What inspires you to achieve your goals?
Answer: I am inspired to perform an excellent job because of my desire for success. What motivates me is the knowledge that my dedication and effort will lead to greater professional achievement. Another way to do this, I believe, is to match the company's mission & beliefs to my own.
Question 13: What does success mean to you?
Answer: Everyone defines success differently. Make certain you specify the criteria regarding work-life balancing, financial profit, professional advancement, successes, generating important work, etc. That is a great statement if you can properly describe what it implies to you.
Question 14: How do you evaluate your co-workers' motivation levels?
Answer: Selecting the right measurements and evaluating everyone's performance regularly is a smart answer.
Question 15: What qualities do you expect in a new CMO job role?
Answer: I've started developing my skills. I've been CMO for the last few years, but now I'm seeking a job to begin to use those skills. Hopefully, the same benefits that this employment provides. Be as descriptive as possible.
CMO Interview Question (10+ Short Sample Answers)