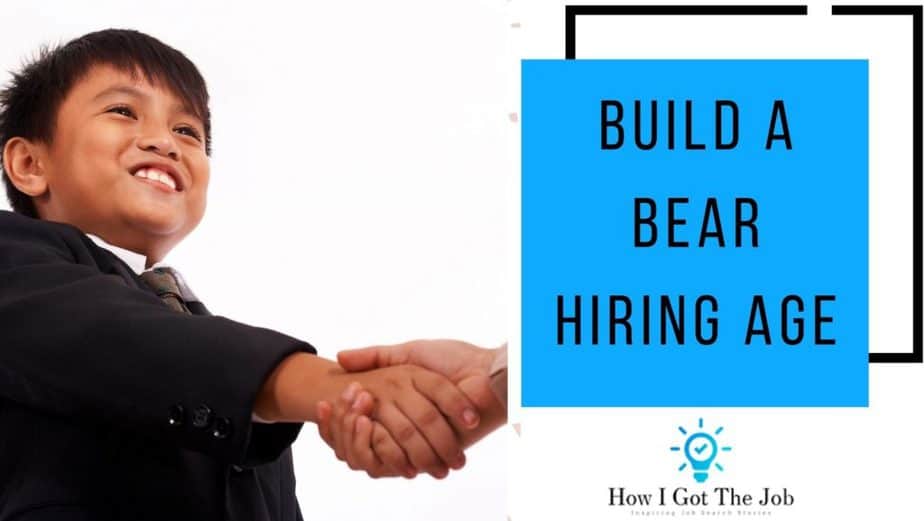 About build a bear:
Build-a-bear Workshop is an American retail chain that sells stuffed toys. Build-a-bear offers a unique experience to its customers who are largely children above the age of 3. They allow children to customize their stuffed toys with design, clothing, characters, scents, and even sounds. They also offer limited edition products at a higher price. Build-a-bear has over 400 stores worldwide with stores in countries like the United States, Canada, the United Kingdom, Denmark, and franchise stores in Australia, Asia, Africa, and many more locations. Today's topic- Build a Bear Hiring Age.
Work environment and job positions:
The Build-a-bear workspace has a very welcoming environment. 91% of employees would recommend working there. With an ethical management process, employees get along really well and they provide excellent customer service. Its positive environment motivates people to mingle and spread cheer as an important part of the customer experience. The majority of the demographic working at Build-a-bear are millennials. Job positions include sales associates, cash register in charge, managers, graphic designers, etc. 
Hiring age and requirements:
The minimum hiring age to work at Build-a-bear is 16 years of age. They look for candidates who are outgoing and can engage in conversation which adds value to the Build-a-bear experience. Employees are encouraged to maintain a conversation with the customers to make the experience more fun and interactive. They must have a positive attitude and must be open to interacting with children of all ages. This exercise makes the children more excited about the process of buying toys. 
They accept employees at entry-level as well as managerial positions. Managers go through a more intensive hiring process as they must possess more than the standard requirements. They must have commendable educational backgrounds and work experience and a well-versed knowledge about the retail industry. Entry-level candidates must have a high school diploma or its equivalent to apply for the job positions. 
Hiring process: 
Build-a-bear usually follows a group interview process. The panel keeps a few very uniquely customized toys on a table and the candidate is required to do an impromptu skit of selling the toys to the best of their ability. This tests your communication skills and how you treat customers. They don't necessarily look for your knowledge of the company, it isn't their top priority.  Candidates can be hired as sales associates or for jobs behind the cash register. Their hiring process is very straightforward. Candidates can apply in stores or online. Candidates are given the option to fill the hiring documents on the spot to avoid any technical misunderstanding. Information like education background and work experience must be added. Added information about any extracurricular activities is most welcome. 
Customer service is their most important aspect of the experience so regardless of what job position you are working at, you are required to engage with customers as much as you can. The hiring panel usually gets back to the candidates in a few days mainly through phone calls. 
Employee Activities: 
After the hiring process is complete, a training process begins where candidates shadow the existing employees and learn the skills required to know. New employees are usually in charge of stuffing the toys so that is the primary skill they must learn along with many others. A bunch of unstuffed toys is kept for customers to choose from and once they have made their choice, the toys are stuffed in the giant stuffing machine. This is where new employees come in. 
The experience of customizing your toy is based on each child and their interests. The first step is called the 'heart ceremony'. This involves choosing a heart to stuff inside the toy. Even though that sounds mundane, the experience is based on the interests of each child and is kept as interactive and fun as possible. The child is encouraged to hold the heart in his/her hands and wish for something before putting it in the toy. Along with putting a heart in the toy, customers can choose scents and sounds too. This keeps the experience fun and engaging for the children and encourages parents to buy the product. 
After stuffing the toy, employees will stitch the toy on the spot. This is usually done while engaging with the customers. After this, you can customize the toy beyond your imagination based on clothing, accessories, or even current trends, for example, Pokemon or Paw Patrol based characters and accessories. The possibilities are endless. For the most part, customers actively take part in the making process. All these skills are taught to the trainees on their first day. Most parents come to this store with their children to be a part of the experience and take videos of it. So, employees must be enthusiastic with every child and give a unique experience to each one of them. 
After customizing the toy, each product is registered in the company system with a unique barcode. Children receive the added value of naming their toy. Also, this allows children to get back their lost toys. Lost toys are sometimes taken to stores and the owner of the toy can be looked upon by the system. 
The age group of customers is usually 3-12 but a lot of teenagers are also a part of the demographic. The company not only sells toys but also promotes a fun experience along with it, which is what attracted more customers of the higher age group. Build-a-bear usually attracts the majority of customers during busy seasons like Christmas, New Year's, Valentine's Day, St.Patrick's day, and many more.
Employee benefits and feedback:
The average salary of Build-a-bear Worksop employees is estimated to be $58 per hour which equates to $120,000 annually. The highest-paid job is Director of Sales who earns $226,000 annually while Sales associates start with an hourly wage of $8 or $9. They earn more and more based on their performance and promotions. 
Employees enjoy benefits like health and wellness that have dental, drug, and vision coverage. They also receive paid training periods, paid holidays, and birthdays too. The hours of work are sometimes flexible based on the crowd of customers. Employees enjoy store discounts, scholarship programs, and corporate perks that offer discounts on their products and services. Employees behind the register enjoy benefits by receiving special recognition if they promote a certain number of gift cards a month. 
Dress code:
The dress code involves simple neutral colors. A white shirt with black or neutral colored bottoms is recommended. A work apron is provided by the company. Piercings are allowed but only ear piercings must be visible. Tattoos must be covered up. The dress code is a little conservative since the employees are required to deal with kids. So, they must look friendly and welcoming without any graphic tattoos or piercings. Piercings must not be the dangly type and must look simple and professional. Hair dye is not entertained if the colors are bold but natural colors are allowed. Comfortable footwear is recommended preferably black, white, or brown. Heels or any other extravagant footwear are not allowed. 
The only uniform provided by the company is an apron, so a simple outfit without any bold statements that complement the uniform is allowed. 
Conclusion:
Build-a-bear is a friendly and welcoming place both for employees, managers, and customers. It is always filled with cheer and good vibes. It goes much beyond just a retail space where retailers and customers interact. With its wide reach in multiple countries, it has made the lives of children so much happier. 
Build a Bear Hiring Age- Employee Activities