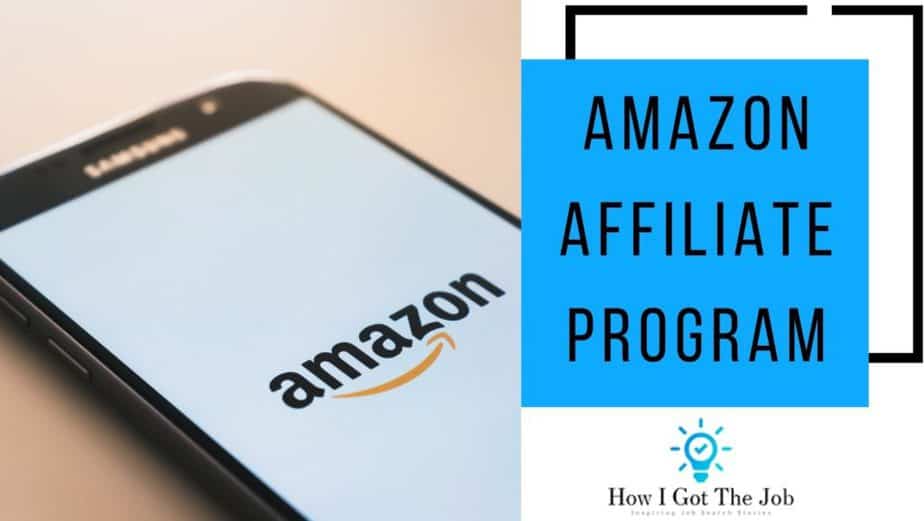 Are you interested in joining the Amazon Affiliate program but don't know how to join?
Perhaps you don't understand how it works and what you need to do to be part of it. For example, the Amazon affiliate program is where you earn referral commissions for promoting products and driving traffic back to the Amazon website. Likewise, joining the program requires a simple process of creating an Amazon affiliate account and creating an affiliate link.
This article discusses what the Amazon affiliate program is all about and how to join.
This guide will help you understand the basics and processes involved in joining the Amazon affiliate program.
 It will also help you set up a new account and so you can start right away.
For that, kindly pay attention to the details below.
Summary of the Amazon Associates or Affiliate Program
First, you'll need to create an Amazon Associates account on Amazon.com (We'll give specific details on how to create an account later in this blog post).
After this, Amazon gives you a unique Associate ID.
Upon signing up, your application would be reviewed. It usually takes 90 days. During this period, Amazon looks out for your site's structure, quality of content, number of posts, traffic, etc. To know if your site meets its requirements and policies. 
When your application is approved, you can begin creating affiliate custom links on Amazon.com.
Then, add the links to content on the website.
When someone clicks the link and purchases a product, you earn referral fees or commission.
What is the Amazon Affiliate Program?
The Amazon affiliate program allows website owners or bloggers to monetize their website traffic by becoming Amazon associates.
As an amazon associate, you can earn commissions by advertising Amazon products using your Amazon associate or affiliate link on your website or blog.
This way, with each purchase on such products, Amazon gives you a certain percentage or commission from the product's price.
Now, the Amazon affiliate program is a part of a gigantic marketing puzzle called Affiliate marketing.
What is Affiliate Marketing?
Affiliate marketing is a form of marketing whereby anyone with good traffic or followers either on a website or social media platform can earn commission from selling other people's products.
You don't have to own or stock up products in a physical store or warehouse as an affiliate marketer.
This is an effective marketing strategy that brings about a win-win situation for both the owner of the products and the affiliate marketers.
Types of Affiliate Marketing
There are three types of affiliate marketing based on payment terms and structure. They are;
Pay-per-sale
This type of affiliate program entails payment for each sale the affiliate or associate marketer makes. 
Put another way, with the pay-per-sale affiliate program, the affiliate marketer is entitled to a commission from a product/service only if the customer buys the product or signs up for a service. 
This could either be a fixed rate or a certain percentage of the sale, more like what Amazon offers.
Pay-per-click
This is an affiliate agreement where the affiliate marketer earns a commission based on how many visitors visit a business' (product/service owner) website site via the affiliate marketer's affiliate link. 
Therefore, the visitors need not purchase before the affiliate marketer earns a commission.
Pay-per-lead
A lead is a potential customer.
Hence this type of affiliate marketing program rewards affiliate marketers based on the number of customers who visit the business wonders'/service provider's site and sign up as leads by filling out personal information (e.g., email address).
This allows the business owner/service provider to do more effective marketing and convert leads into paying customers.
How does Affiliate Marketing work?
Affiliate marketing is a business advertising model that involves three parties;
The product /services owner
The consumer/customer
The affiliate marketer 
Firstly, the product/service owner could be an individual or an organization. 
This party is responsible for creating the product (physical object) or services (consultancy, website hosting, skills, etc.).
To enable the business/brand to gain more reach, make more sales, and profit, the business owner or service provider needs to promote their products.
This is where the affiliate marketer steps in.
Likewise, this could also be an individual or a company. 
You can also call them publishers. 
These have a well-defined target audience to whom they could promote the products and services.
For this to be effective, the product and service need to appeal to the audiences' needs.
Also, it needs to be one that will add value to the audience's life and benefit them tremendously. 
This is the only way the affiliate marketer or publisher can genuinely make the audience take action and buy the products in the form of recommendations. 
When they buy the product/services, the affiliate marketer earns a certain percentage from each purchase.
However, calculating Amazon affiliate commission rates can be quite tricky due to the specific metrics involved. 
Here's the Amazon affiliate calculator that could help you estimate your potential earnings as an affiliate marketer based on your website traffic and conversion rate.
Furthermore, the consumer is the most crucial party in the affiliate marketing program.
Without them, there'll be no profit for the product owners/service providers to share.
Therefore, all affiliate marketing activities need to be centered around the audience. Whatever product or service is on offer appeals to them, solves their problems, and satisfies their needs.
In a nutshell, affiliate marketing involves the producer/service provider with the product or service offering, the affiliate marketer whose duty is to promote these products/services to his audience mainly in the form of recommendations, and the consumer (the most crucial party) who buys the products/services and ensures that the product/service owner has profits to share.
How Does Amazon Affiliate Marketing Program Work?
Although affiliate marketing essentially entails business owners getting other people to promote their product/services and earn commissions, business owners can decide to use any affiliate marketing.
Hence, Amazon uses the pay-per-sale type of affiliate marketing, as explained above.
In other words, theirs is a referral program that pays website owners, bloggers, Youtube content creators, etc., some commission for bringing sales traffic to the Amazon website (Amazon.com) via their particular affiliate or amazon associates links.
Therefore, when a customer buys a product from Amazon through a link on your website, you get a commission of whatever they buy over the next 24 hours.
Their commission is often in percentage, and this percentage differs from product to product. 
So, whatever commission you get depends on the rate accrued to that particular item by Amazon.
For instance, products under the luxury, beauty, and Amazon coins category have a fixed rate of 10.0%.
Likewise, products under the PC, PC components, DVD, and Bluray category have a fixed commission rate of 2.50%.
See the image below
Image credit: Amazon.com
In a nutshell, some product categories attract commission rates as high as 8.00%, while others attract low commission rates, such as 4.00% to 1.00%.
Therefore, if you want to earn higher, you'll need to go for products with higher commission rates.
Amazon Affiliate Program
Amazon is one of the world's largest online stores globally, selling its products and other products in different categories from home supplies to office supplies, eBooks, etc.  
Furthermore, they've tapped into one of the most effective marketing techniques to help them promote products on their website, the Amazon affiliate marketing or Amazon Associates program.
With this, anyone looking to earn some money online can earn referral fees/commissions from promoting and selling products on Amazon.com through the custom product links.
However, you'll have to join the program to enjoy this privilege.
First, let's examine the things you need to join the Amazon Affiliate program.
Things You Need To Join the Amazon Affiliate Program
Medium/Platform
You'll need an established medium or platform to interact with the audience and promote the products/services.
This could be your website, blog, youtube channel, or even an Instagram page.
Audience/Traffic
Another important thing about affiliate marketing is the audience. 
These are the people you'll promote the product/services to so they can buy in, and you can earn some affiliate commission.
Therefore, you'll need to have a good audience base or massive traffic coming to your site.
Without an audience/target customers to market, the products to, your marketing will be ineffective. 
This is why affiliate marketers just starting without traffic have to wait a while to gather good traffic before diving into affiliate marketing.
Niche/Skills
You'll also need to pick a niche. 
This will determine your focus area in the affiliate marketing program.
Precisely, it will determine the product category you'll go for on the Amazon website, Amazon.com.
You'll also need to have some skill set.  
Mainly how to build or create content to promote the Amazon products in the niche you've decided to go for.
This shouldn't be a cause of worry as you can always learn the basics and improve along the way.
Trust/Credibility
You'll also need to have established trust and credibility with your audience. 
They need to know you as an authority in your niche to believe whatever you're telling them about a particular product or service is accurate and beneficial to them.
Diligence/Commitment
Aside from everything else, you'll need the diligence to do the work (researching and finding the best products that meet your audience's needs) and commitment (to create content to promote the Amazon product consistently). 
This will help you drive traffic to your site, convert visitors to leads and leads to paying customers.
This is the only way to truly engage your audience, promote the products, make their buy-in, and earn your affiliate commission.
In a nutshell, you can make money as an Amazon affiliate marketer. 
However, this will only come if you're willing to put in the effort and do the work.
How to Join the Amazon Affiliate Program? 
It is free to join the Amazon associates or affiliate program, and you can participate by signing up and creating an account on the Amazon associates website.
How To Setup An Account?
Before taking any of these steps, ensure that you have a medium or platform (website, mobile app, Youtube channel, Facebook page group, etc.) with an established audience/traffic and quality content.
Step 1: Signing Up
Navigate to the Amazon Associates Portal  
On this portal, click the Signup button, fill in the necessary details, and follow the instructions to proceed to the next stage.
Step 2: Filling in Amazon Account Details
Next, you'll be required to enter your Amazon account associate details, including your contact info; phone number.
Before you fill in this section, you'll be prompted to read some instructions. 
Hence endeavor to read them to mistakes or non-compliance.
Step 3: Filling In Website, Mobile App, or Youtube Address
At this stage, you'll be required to fill in your domain name and address(es) depending on how many websites or Youtube channels you own.
You can add up to 50 website addresses or mobile app links. 
However, make sure that the link you're adding is the same as the one you intend to use to promote the Amazon products.
Step 4: Filling In Your Associates Store ID Details/Descriptions
This step requires that you fill in some details, such as your preferred Amazon Associates store ID.
Tip: This should be the same as your primary website name.
Next, you'll need to give brief details on what your website/mobile app is about.
You'll also be required to select from a list of topics/categories on the Amazon website that best describes your website/mobile app niche.
Step 5: Describing How you Drive traffic
This section gives Amazon an idea of what you do on your website and if your website will be suitable for the Amazon associates program.
Therefore you'll be required to give details of how you;
Drive traffic to your website
Monetize your website or mobile app
Your link building techniques/strategies
Total organic visitors on your website or app per month
Your purpose for signing up for the Amazon Associates program
How you learned about the Amazon Associates program
Step 6: Fill in Your Preferred Payment Method
 Here, you'll be required to select a payment method, either credit card or tax ID, and fill in the necessary information.
However, you can do this immediately or later at a convenient time.
After this stage, your account/profile setup process is completed.
You'll be congratulated, and your Amazon Associates ID will be displayed.
However, this doesn't mean that Amazon has accepted your application, as you'll need to wait for 180 days for your application to be taken.
Meanwhile, you'll be granted 24 hours/daily access to the Associates central (Your Amazon associates home page).
Also, you'll need to create your custom affiliate link, start referring/recommending products, and making qualified sales while you wait for the 180 days for your application to be approved.
 Otherwise, Amazon will withdraw your application.
How to Create your Amazon Affiliate/Associate Link?
After going through the steps mentioned above, you've successfully created your account.
After signing up and filling in the necessary details, you'll be directed to your Associate homepage.
Inside here, you'll see your performance dashboard and other details such as earnings overview, monthly summary, and total clicks.
Once on the personal Amazon Associate page, follow these steps;
There are two ways to get unique links for the products you want to promote on your site.
Step One: Using the Product Link Tool
Navigate to the products linking section at the top. 
This will take you to the product page.
Step Two: Searching for Products/Generating Affiliate Link
This next step involves searching for the product you want to promote on Amazon's product catalog.
First, you can search using generic terms (keywords), e.g., Lingerie.
You could also search using product/brand names.
Amazon also gives you the option of searching for a product using the ASIN (Amazon Standard Identification Number). 
You can find the ASIN of any product in the product details section.
After filling in your search term/keyword/brand name/ASIN, click on the Go button.
This will take you to a product page in your search category with the price for the product.
When you've picked your desired product, you find a Get Link button on the side. This will take you to a page with the Affiliate link in HTML. 
Copy this code and paste it into the site's code section you want to promote this product.
On the other hand, you can create your unique affiliate link with the Amazon Sitestripe tool.
This tool automatically generates a unique affiliate link for each item or product as long as you're logged in to your Amazon associate account.
When you search for a product on the Amazon page, you'll see an Amazon Associate stripe at the top along with options to Get link; Text, Image or Text and Image link.
Clicking on the text options will reveal your unique affiliate short link you can add to your website to promote products.
Now that's it on how you sign up, become part of the Amazon affiliate/Associates program, create affiliate links, and earn referral commissions.
What Next?
Signing up, creating your Affiliate link, and Amazon approving your application is only one part of the whole process of the Amazon affiliate program.
The essential part is promoting the products, driving traffic, and getting qualified sales, as that is the only way you can earn referral commissions from Amazon.
Therefore, here are some tips to help you effectively create promotions and get qualified sales.
Focus on Areas of interests and Specialization(Niche Down)
When diving into affiliate marketing, it pays to have a focus area or niche.
It makes it less overwhelming and more effective. 
More so, it makes it easy to identify your target audience and pull all your marketing efforts in that direction.
When picking a niche;
Choose one in your area of skills/expertise/interests
Go for profitable and less competitive niches
Opt for keywords that you could easily rank for
Also, if you have an already established website, your focus area for Amazon products should be in your website's or Youtube channel niche.
Consistently Create Unique and Relevant Content
Blogging about products on the Amazon website is a profitable way to create content and promote affiliate products. 
For instance, you could write review articles of a round-up figure of some products in the Amazon product catalog.
Of course, you'll have to do keyword research to identify the best keywords to target and build content around them.
You could also create tutorials, tips, or guidelines your audience can use to solve their unique problems by using one of the products you recommend in your tutorials.
Overall, ensure you're consistently searching for relevant keywords to identify your audience needs and building quality content around those needs while promoting the affiliate products.
Search for a product on the Amazon site with Long-tail/Specific Keywords
This is a more effective way to search for products on Amazon.com.
Use product-related keywords when searching for your products on Amazon.
For instance, if you're searching for Men's backpacks, don't search using Backpacks. 
Instead, search using the exact keyphrase; Men's backpacks.
You could also add the price range if that's included in the keyword, e.g., $500 or under $500
This will help filter your results and make your search more effective.
Bonus tip; You could also filter products by "Average customer reviews." This will help you gain more insight into the quality of the product you're reviewing.
Share Your Content On Your Social Media Pages
Sharing your promotional content on social media platforms can give your content more exposure and help you drive more traffic to the site.
Wrapping Up On Amazon Affiliate Program 
Joining the Amazon Affiliate program and earning referral commissions when you have an already established website/platform with some audience is much easier than when you're just starting from scratch.
Nevertheless, in the long run, you'll need to be committed and consistent to create quality content that can help you promote the products and make profits from your Amazon affiliate marketing endeavor.
FAQs;
How Many Website Visitors or Followers Do You Need to Qualify for the Amazon Affiliate Program? 
You need to have 500 organic followers or more on your website or social media platform by Amazon's guidelines. Also, the social media platform (Facebook, Youtube, Instagram, or Mobile App must be a public account).
How Does Amazon Pay Affiliates
Amazon pays referral commissions rate of 1% -10% based on the product category for clicks that lead to qualified sales with 24 hours.
Is It Easy to Join Amazon Affiliate Program? 
Amazon affiliate program is one of the most accessible affiliate programs to join, and it's free. 
However, they have specific guidelines or regulations governing the affiliate program that is faulted could lead to withdrawal or termination of the affiliate program.
What is Amazon Affiliate Program?- And how to Join?