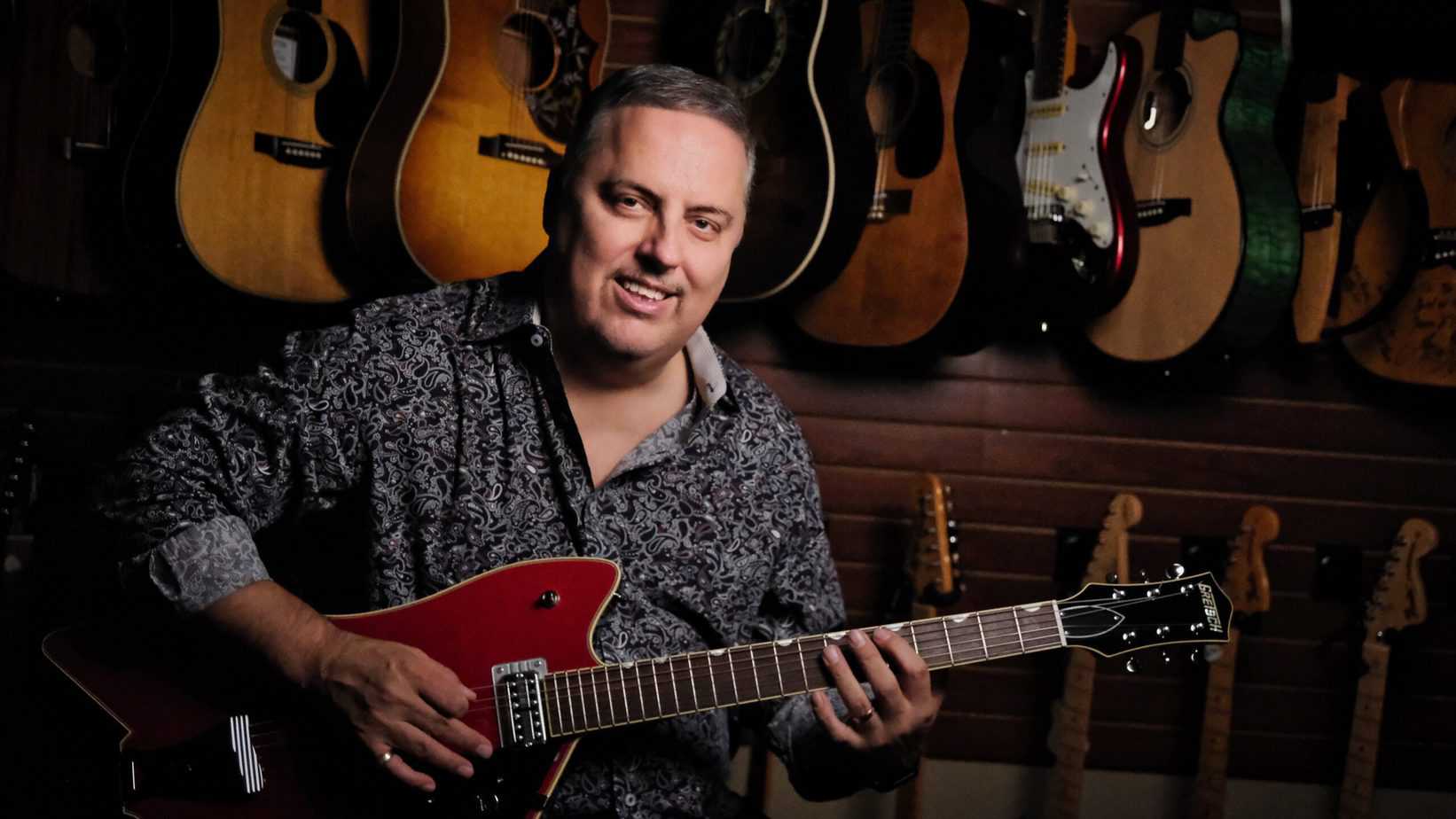 Eric Dahl has worked in Television for 37 years and is currently the Creative Services & Program Director for FOX 17, CW58 & MyTV30 in Nashville, TN. He created and hosts the weekly FOX 17 Rock & Review music interviews launched in 2012.  Eric's hour long weekly iHeartmedia radio show airs on WLAC and began in 2018.  In his spare time, he is a freelance writer for Maverick Country Magazine in the UK and Worship Musician magazine in the states.  He is a contributing editor for the Electric/Acoustic Guitar Blue Books.  Dahl came to National attention after returning B.B. King's stolen 80th Birthday Lucille in 2009.  His book "B.B. King's Lucille and the Loves Before Her" was first published in 2013 and the updated 2nd edition released October of 2020.
How I Became a Television Creative Services Director, Show Host & Author!
As much as some things change, others remain the same.  I first started working in television in the summer of 1984.  The local independent station (a station not affiliated with a Network like FOX, CBS or NBC) had a part-time opening for a Master Control Operator for weekends. At the moment I was a college student attending Southeast Missouri State University in Cape Girardeau, MO and my partner job was mowing lawns on the campus – which I didn't enjoy. The opportunity to actually work in the field of my eventual degree seemed like a dream come true.  Fortunately, the Chief Engineer, Tom McLeroy, thought I was a good kid and hired me on as a weekend MCO (Master Control Operator). I had no idea what an MCO did, but I did know that it didn't involve pushing a mower, mowing the same area every week or sweating heavily outside. The senior MCO's at KBSI trained me how to switch programming, air commercials, play VO cart and add graphics on-air when needed. Training consisted of yelling in your ear, but it did teach you how to run the video, audio and many other important things in a TV station. 
In the 80's that meant that I was switching shows and commercials from two German made film projectors (no one could read the manuals), two Quad machines (2-inch video tape machines from the 60's) and the new format ¾ inch video machines!  After proving myself to management for three months I was promoted to Primetime MCO.  This meant that I attended my college courses from 8am to 2pm then worked at the TV station 3p to 11pm.  Which left me little time to sleep or study, but I was thankful for a full-time job and maintained this schedule for 2 years until I graduated with my Mass Communications Degree. I was also thankful for largest amounts of coffee which I consumed all day long.
After graduating from SEMO, I stayed on at KBSI and became an Assistant Promotion Editor.  At that time, you would take an entire movie or TV show and edit a promo from that video content that was only 30 seconds long and gave viewers the perception that it was worth watching and would tune in.  This was a lot of fun since I was able to write my own scripts, shoot my own video, edit and produce creative spots from scratches.  After doing this in TV for several years I was promoted to Production Manager at FOX 23 KBSI.  In this position I was able to script, shoot and produce commercials for clients in Southeast Missouri, Southern Illinois and Western Kentucky.  I was even allowed to cut the voice over for my own spots which definitely honed my audio skills. After eight years I was promoted to Promotion Manager over FOX 23 and my learning curve really increased.   At that point as I was supervising a Kids Club, promoting all of the shows on the TV station, filling out the daily TV logs with promos to air and buying outside media like radio, cable and billboards to promote the station. 
Over my 17 years at FOX 23 KBSI I went from MCO, to Promotion Asst., to Production Manager, to Promotion Manager and then to Director of Operations. In between all of this I also produced "Live" College football and basketball games for ten years. Live TV is a rush and we had so much fun with the entire staff of FOX 23 working on these games together. I believe we produced and aired 63 games before I left the market.  Also, my General Manager came to me in 1999 and told me if I would be the on-air TV personality for six months, he would let me hire a talent after that.  For three years I was the FOX 23 guy every night reminding viewers of our new shows, movies and weekly "Less Commercials and More Entertainment" programs.  After first I dreaded this add responsibility of being on TV, but on a positive note it forced me to get over my fear of being in front of a camera.  This would experience would pay off many years down the road in my career.
In the summer of 2001 corporate asked me to fly in to Las Vegas, NV to make certain the stations there get all of their coop money back after they lost their Promotion Manager. So, they flew me out for a few weeks, and I was able to retrieve all of their money.  The staff and GM in Las Vegas were just amazing to work with and really made a small-town guy feel at home.  After returning to Southeast Missouri the General Manager in Las Vegas and several of my corporate managers contacted me that I should accept the Promotion Manager position for those stations.  It was exciting to think of being promoted to a much bigger market, but I was also carrying for my Grandma Dahl over in Southern Illinois since my father had passed away in the 80's and Grandpa Dahl passed in 1998. But, after conferring with my Grandmother, and my new wife at the time, we already agreed that I was foolish not take the Las Vegas Promotion Manager assignment.
The original plan for moving to Las Vegas was to only stay there for two or three years and then use that resume material to hop to other markets.  The problem was we really liked it there and eventually moved my grandmother to LV to take care of her as well.  The Las Vegas market upped my TV Promotion game and allowed me to work with TV stars that wanted to visit the town and do some work.  Many people put Las Vegas down but after living there for ten years I can tell you that life off of the Strip with the locals is much different than most tourists see.  I still have a number of close friends that live in Vegas and I try to visit there at least once or twice a year.  I also started playing with bands in LV and we played most of the major casinos on the Strip and in Mesquite.  It was a great experience to do my day job of television during the day and play casinos at night.  I also began playing music at Good Samaritan Lutheran Church on the weekends.  It between all of this I maintained my love and interest in guitars and all things music.  The music stores and pawnshops in Las Vegas began using me as a person to give them the values on instruments when they came in the shop and verify if they were forgeries or not.  I also did this for some of my friends that worked for the Pawn Stars. 
In 2009 one of my favorite pawnshops, EZ Pawn, called me about a strange looking Gibson Lucille that was preparing to be released for sale.  They asked if I wanted to come and see it since I had bought the last Lucille, they had a few years before.  When I got to the shop my buddy Chaz opened up the case and what laid before me was the most amazing Gibson Lucille, I had ever seen but it was totally covered in sweat and grime.  When I flipped the guitar over on the back of the headstock where a Serial Number should be there was only a white stamp that said, "Prototype 1."  At this point I started haggling with Chaz to buy the guitar as I hoped that B.B. King had at least played it for 5 minutes, held it, sold it or gave it to a friend.  Unfortunately, Chaz couldn't give me a deal on the Lucille, so I stepped out to call my wife and make sure I was still allowed to come home if I bought this guitar.  She said yes and the transaction was made. For two and a half months I contacted everyone I knew in the guitar world and contacted the Gibson factory every week. 
My goal was to find out of the King of the Blues B.B. King had over owned or played this guitar.  I wasn't going to sell or trade I just wanted to know.  Finally, a Gibson Artist Rep calls me at the TV station and states "Mr. Dahl we understand you have a Gibson B.B. King Lucille in your position." At which point I told him yes and I have three others at home what is your point. The Gibson rep then tells me that I have B.B. King's stolen 80th Birthday Lucille that Gibson had given him as a present and he would like it back.  This stunned me to say the least. When asked how much money it would cost to get it back, I said nothing that I would just return it. At that point B.B. King's management team called me and asked the same question "How Much" to which I said nothing again. Finally, they asked well what do you want I told BB's team it would be great to get a Lucille to replace if possible, but no money.  At this point B.B. King wanted to meet me in person and would not accept his Lucille back until he had one for me in return. We met at his office off of Sahara in Las Vegas and I sat less than twelve inches from B.B. King. I returned his stolen Lucille and he gave me a new one as a thank you and signed it for me.  Last year the 80th Birthday Lucille I returned sold for $280,000 at auction. Anyway, Mr. King ended up allowing me to write a book about all of his guitars. I started it while still living in Vegas and then finished it Nashville TN.  The title is "B.B. King's Lucille and the Loves Before Her."  The first edition came out in 2013 and the 2nd updated just released on Amazon in October of 2020.
Corporate came to me in 2011 and wanted to see what markets my wife and I would be interested in moving to. I told them Ashville or Nashville. In March of 2011 they flew me into Nashville to meet the GM and News Director. Next thing I new I was flying to Baltimore for corporate News meetings and they drop shipped my car to Nashville while I was traveling. I went from Vegas to Baltimore to Nashville and my car was parked in front of the TV stations.  In Nashville I became the Creative Services & Program Director for FOX 17, CW58 and MyTV30 with a full-blown Newscast.  One of the many great things about Nashville is that we are only a four hour drive away to visit our families up in Southeast Missouri.  While living here in Music City I came up with the idea for a show that would feature music gear and musicians. 
I pitched this to the News Director, and she told me if I wanted it to happen then I would need to do it. In 2012 I began recording the FOX 17 Rock & Review.  The interviews started out covering music gear only, but then they evolved into having on side musicians and eventually to the music stars. A turning point for the show happened in 2017 when we secured Dolly Parton for an interview. Now we have the FOX 17 Rock & Review weekly interviews on TV, a weekly Rock & Review half hour TV show that airs on the weekends and a weekly hour-long radio program on iHeart Nashville called FOX 17 Rock & Review Radio on WLAC. In January of 2021 I will have achieved 37 years with Sinclair Broadcast Group.  I still love what I do and feel very fortunate to work in such a creative field with other creative professionals and see and hear what I do on TV, Radio and in print.
My advice for others following the same path:
Follow your Passion and do what you love
Don't let the Naysayers hold you back from chasing your dream
Strive to grow and be better at what you do everyday
Always over prepare for any interview you do
Get a degree in something you love not something that pays
Always be humble
Always be thankful
Help others in your same field even if they don't help you
Dream Big!
Big Dreams take Big Work and Big Dedication
Also read: How I Came to do the Job of My dreams to be a writer
How I Became a Television Creative Services Director, Show Host & Author