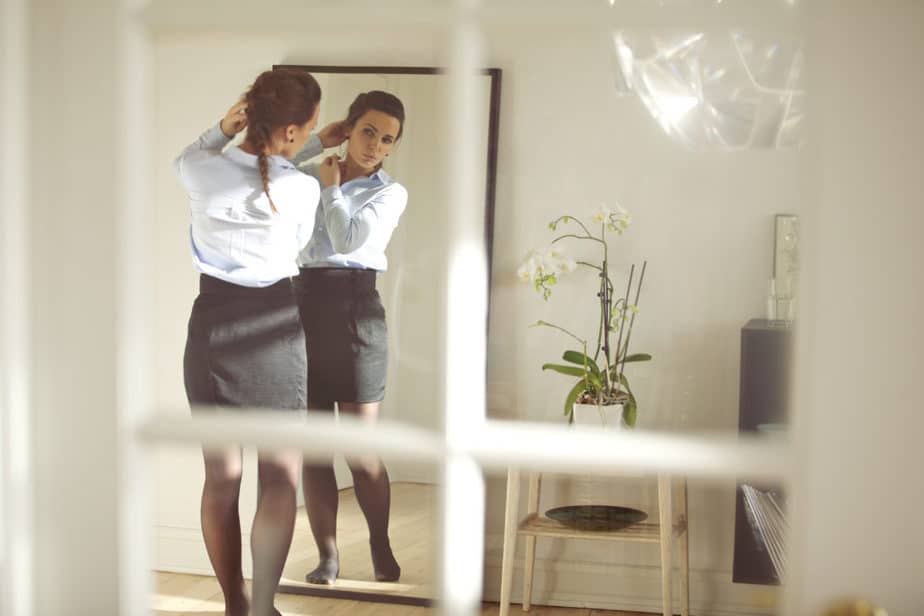 Deciding what to wear for a job interview is often a tedious task. The first impression is the last impression hence one must try to give appropriate time and energy to present oneself. Clothing is as important as the job interview. What to wear to a first job interview?
Whenever we think of appearing in a job interview, formals creep into our minds. Yes, wearing formals, i.e., the basic suit jacket for men, and basic blouse pant/ skirt for women are the strict formal ones but did you know we have made other dress codes as well? The dress code for your first interview should always be based on your hiring company's type. If the hiring company has an informal work atmosphere, you should dress in a business casual manner and vice versa for a company with a very formal work atmosphere.
Business Casual Outfits
There is no proper word meaning for this term but it means wearing formal without being excessively formal. It may vary from one organization to another organization. Jeans and tee shirt is considered as informal attire, whereas suit-jacket is considered as a full-fledged formal attire. Business casual is somewhere between these two.
Wearing a neatly ironed, the light-colored shirt will certainly work out. Adding a tie is optional. If you want, you can also pair it with a sweater. Wearing khaki or light-colored chinos work wonders in a business casual interview. In some workplaces, it is even appropriate to wear dark-colored jeans. Again, it's a warning, if you aren't sure about it, do not wear it! You can then pair the look with some polished dark-colored shoes. 
Business casual for women
Wearing a neatly ironed, light-colored shirt or a blouse will look elegant. It can be paired with a light cardigan or a blazer. You can pair your tops with pencil skirts, pants, or khaki pants till the time they look professional. Along with that, you can choose to wear black or brown flats or low heels. It is advised to keep your jewelry competent and elementary.
Outfits for business formal are a bit limited for the sexes. For men, it is advised to wear buttoned-down shirts, paired with trousers. It is advised to wear a belt as well that matches your shoes. You should also pair it with a blazer.
Business formal for women
Women are advised to wear buttoned-down shirts along with pants or pencil skirts. They should wear a belt matching with their footwear. Professional heels go along with women's formal attire.
What not to wear for a job interview
Avoid wearing extra bright and flashy clothes.
You should wear light perfume. 
Do not carry any extra accessories. Keep your headphones at home. People forget about it and often tend to take them inside the venue.
Try not to get too casual for business casual dresses. The weather might be really warm but you're not expected to discard your professionalism. Make sure you do not wear casual summer dresses or shorts for the interview.
Make sure you have a modern wardrobe and be equipped with the ongoing fashion. Don't just pair your dress with a random shoe or sandal and go. 
Avoid wearing ill-fitted clothes. You should look out and stay away from tightly fitted or loose-fitting clothes. 
You should never wear all black for an interview. It tends to show your 'over- seriousness' which might be perceived as 'less confidence' in oneself. If you do wear black, make sure you pair it with a softer color. For e.g., if you choose to wear a black blazer and trousers, make sure you pair them with a white shirt.
Some Tips Before You Dress…
Always get your clothes dry-cleaned beforehand. They often take time to return the clothes and you may suffer because of that.
Always wear ironed clothes. There should be no creases. Wearing un-ironed clothes lead to a bad impression.
Men should always opt for socks that match their outfits and reach the length of their ankles. They should avoid wearing athletic socks even for business casual interviews.
Women should tie their hair neatly. It is always advised to blow dry your hair before stepping out for any formal meet.
Never wear open shoes. They are a strict no-no for formal interviews. Women can opt for flats, heels, or pumps. Men are advised to wear formal shoes.
Whatever shoe you wear, it should be kept in mind that it should be cleaned and well-polished. No stain or dirt mark should be present.
Make-up for the interview should be very subtle. It should not disgust and distract the interviewer. Bold colors and glitters are a strict no-no.
Make sure your phone is kept on silent during the process of the interview.
A dress rehearsal will add to your confidence level. Ask any of your friends or family member to conduct a mock interview for you.
It is advised to ask someone for help who is pre-equipped with knowledge about these things. Do not try to experiment by yourself for something important like this.
Conclusion
Dressing for an interview may often become stressful because it is considered as important as going for the interview. However, if you follow the given steps, there should absolutely be no problem. If you are the one who is not so comfortable with wearing heavy clothes for the interview, wear the minimum required amount; wear something that you are comfortable with.
Please let us know if you have any other questions or if you have any other information that I have overlooked. Please leave your concerns and questions in the comments section below, and I will answer as soon as possible.
Frequently Asked Questions (FAQs)
Is it important to iron my shirt as well if I choose to wear a blazer on top of that?
Yes, wearing clean and ironed clothes will leave a good impression. Whereas, to the contrary, if you choose to wear un-ironed clothes, it will leave a bad impression on your employer.
Since the skirt is a formal dress, can I wear a mini skirt as well following the latest fashion trends?
No! Never! Don't even think of committing that mistake. Pleated, pencil skirts are the only accepted formal dress code and that too you should keep the length in your mind. Anything above your knee is not acceptable.
I am a man and I love wearing jewelry. Will it be fine if I just walk in with them?
Avoid wearing dazzling jewelry. You may even want to remove them if you are going for a formal interview. Remove all sorts of extras, e.g., bracelets, studs, necklaces, etc.
I am expecting to have an interview via a video call. Is it necessary to pay attention to my bottom?
Yes, job interviews are not the ones where you take everything for granted. You should pay attention to what you wear at the bottom as well. You never know when, during the meeting, you would be requiring to get up to get something. It'll turn really awkward and it might lead to rejection.
What to wear to a first job interview?