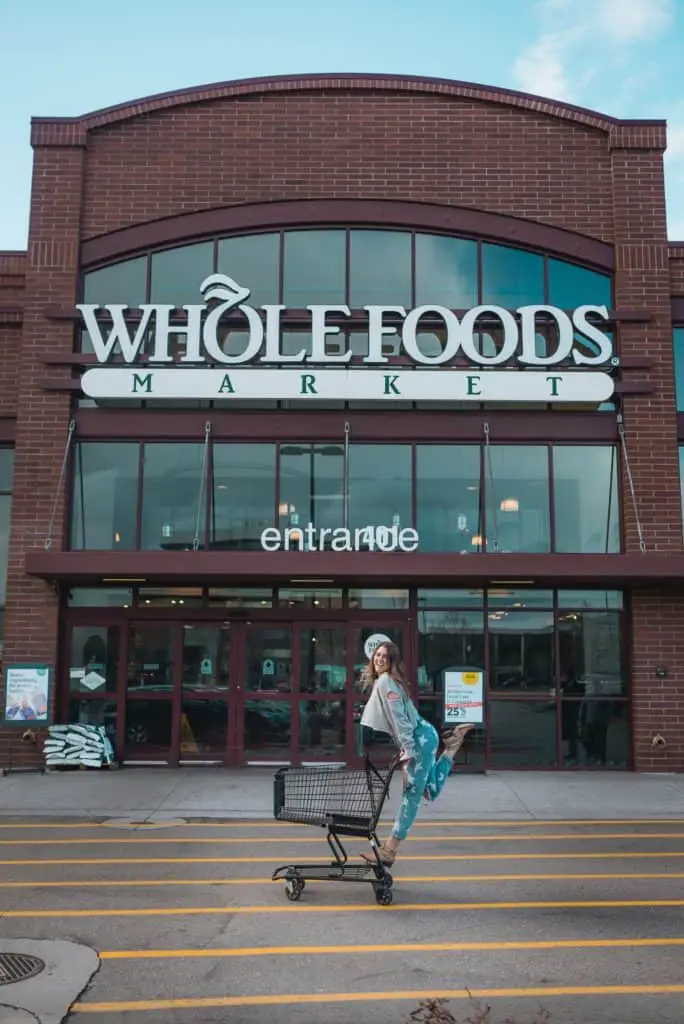 Whole Foods Market is a multinational company founded in 1980 in Austin, Texas, United States. The supermarket company sells products that are free from Artificial Colours, flavors, sweeteners, preservatives, and hydrogenated fats. Here, let's know 'Is Whole Foods A Good Company To Work For?'
Whole Foods delivery living Well begins with eating well. They simply don't sell products that do not meet the health standards.  It explains why the Whole Foods Market chains are popularly known for organic selections.
Whole Foods was ranked number 75 in "Fortune 100 best companies to work for in 2020″.   The same year it had  91,000 employees, and in 2019 it had 500 stores in America, Canada, and the UK.
Is Whole Foods a good company to work for?
According to indeed.com,  employees like working at Whole Foods Market because of their ability to meet personal goals,  they feel that the work environment is conducive,  they also get a lot of support from their teammates, and without personal appreciation, they also feel a sense of belonging working at The Whole Foods Market company.
Also, according to greatplacetowork.com,  32% of former employees at the whole food market still think it is a great place to work. They feel this way because you are made to feel welcome from the minute you join the company, team members treat each other with respect regardless of the position they hold, and finally, they have access to resources and equipment to do their jobs efficiently.
What will be discussed further
Whole Foods benefits 
Four other reasons to work for the whole foods market
Frequently asked questions
Conclusion
Whole Foods benefits 
The company offers 20% discounts for team members and their spouses for all the products that we purchase at Whole Foods Market. Additionally, after six months you have the opportunity to access a 30% discount.
 Holiday package.  
Full-time employees get 28 days of annual leave each year. This includes bank holidays for those who work in the UK.  
Whole Foods Market has a voluntary healthy discount incentive program that helps the interested team members to live a healthier lifestyle. 
Pension plan. 
Whole Foods provides a great Pension plan that gets matched up to 7% of your pension plan by the company. Specifically, in the UK or the pension plan will be matched by Scottish Widows.
Study program 
Whole Foods Market is very supportive of team members' development. The company offers training opportunities during work hours. It additionally offers professional training and studying opportunities that are fully or partially funded. The professional training is done during out-of-work hours. 
This is to help team members grow in their careers. The opportunities are available to all team members, but there will be a case-by-case individual evaluation. 
Paid time off
All team members at Whole Foods are entitled to paid time off, which can be used for sick time, during holidays, or personal time in the future. If you haven't used your paid time off, you can convert them into Pay.
Access to Perkbox after probation
 after team members have completed their probation. Successfully, they get access to a  perk box that offers 200 plus perks.  The box includes discounts on various items like restaurants, cinema tickets, lifestyle, and many more shopping discounts.
Annual Travel season ticket loan
Whole Foods Market supports employees with an annual travel season ticket loan that can be repaid interest-free.
Health insurance
Whole Foods offers health insurance to full-time team members to ensure that they are in a perfect condition to work.
Dental and Vision insurance it's to help keep your eyes Sharp and your teeth healthy.
Mental health coverage 
Team member systems plan that offers several in-person counseling sessions.
 Health immersion programs
The company selects Team members for a health getaway that lasts for about a week.  Whole Foods will pay 100% for your travel costs as well as 50%for your spouse if you want them to join you. The program is to help teammates create and maintain healthy lifestyle changes. The program takes place four times a year.
401 k plan for your retirement
 Discounts on your favorite products from companies such as Apple, as well as home and auto products discounts: The discounts depend on your location. 
Volunteer program
Team members can participate in the whole planet Foundation volunteer program. This is to help teammates to experience a new culture. 
The program takes two to three weeks per year. Employees can apply to travel to Communities where Whole Foods gets its products. From 2007, close to 500 employees Have volunteered in Kenya, Brazil, India, Guatemala, and many other countries. 
Four other reasons to work for Whole Foods Market
Whole Foods believes in community.
Every whole food store is organized into teams that have to set goals and then work towards achieving those goals.
Team members get to share the success and setbacks of the company since they are stakeholders at Whole Foods Market.
Team members are encouraged to take responsibility for their own success. Individuality, creativity, and experimentation are encouraged in every store.  When you fail, it is seen as an opportunity to learn and grow, and you succeed. The whole team celebrates with you. Whole Foods gives team members the freedom to create the ideal work environment that they can thrive in.
 Lastly, Whole Foods believes that it can offer team members a platform to fulfill a higher purpose which is helping to make the world a better place.
Conclusion
As discussed, Whole Foods Market aims to ensure all its team members are taken care of and 100% productive. Keep in mind that the benefits vary from position to position and region or location. To know more about the various career opportunities at Whole Foods as well as their competitive pay, go to the website https://careers.wholefoodsmarket.com/stores/gb/en.
Frequently asked questions
How much does the whole foods delivery cost?
The delivery costs $9.95 to whole foods deliveries countrywide. 
Are Whole Foods prices more expensive online?
No, they are not. Online prices are the same as in-store whole foods prices.
Can I tip for whole foods delivery?
Yes, you can. Keep in mind that it's entirely optional, and the tip will go to your driver. If you feel the need to change your Tip, you will have 24 hrs to do that.
Does Whole Foods Franchise Stores 
Unfortunately, Whole Foods does not include franchise stores. If you want to be a health foods franchise owner, you will have to look for other options.
Is Whole Foods A Good Company To Work For?