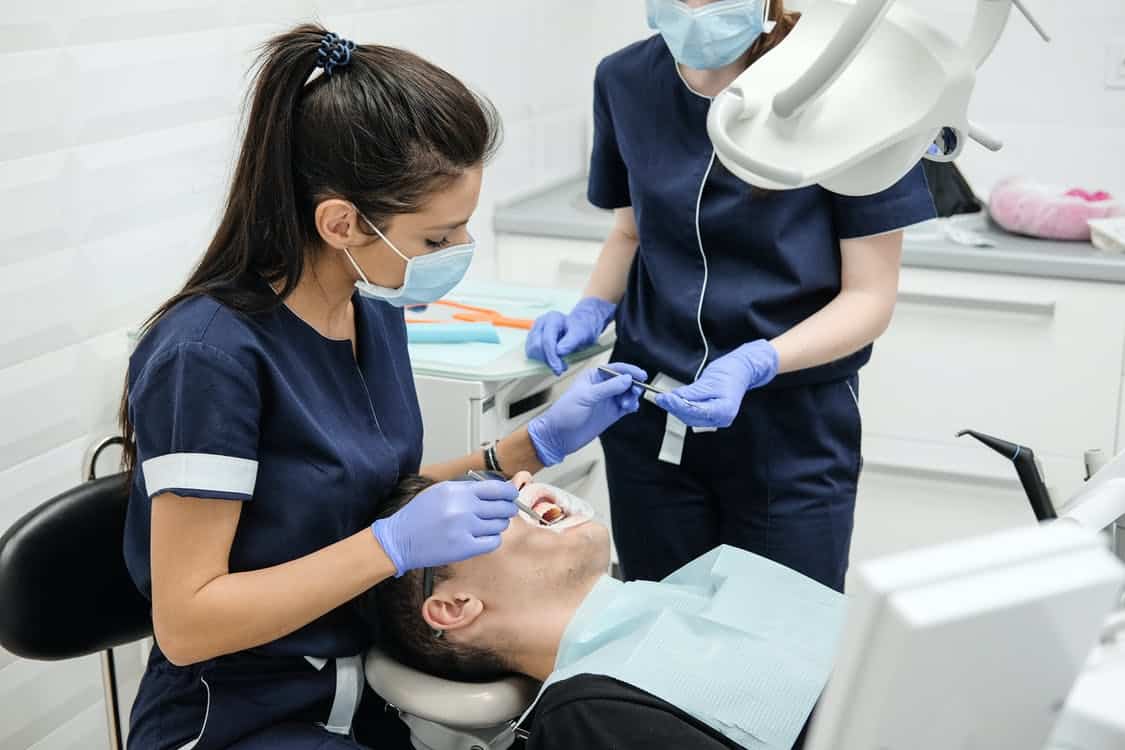 Dental assistant work includes working closely with the senior dentist inside the clinic. If you think that the job of a dental assistant is not a good career option then you may be wrong. There are plenty of opportunities for a dental assistant in a country like the United States of America. Here, let's know 'Is Dental Assistant A Good Career?'
Dental Assistant is a great career choice because such a type of job offers good security, good pay, and a rewarding feeling of helping others. If you are studying dental then you should consider the job of a dental assistant as a career choice too. 
Do not worry about the opportunity for a dental assistant career because employment opportunities are excellent in this field. Once you start gaining experience as a dental assistant then you can become a senior dental doctor too. 
Dental Assistant Job Description 
You know what assistants do for any type of job and a dental assistant's job description would mostly include assisting the senior doctors in the clinic. Dental assistants work along with the senior dentist doctor only to increase the efficiency and quality of oral health care. 
But, this does not mean that a dental assistant must not have skills and knowledge because that would be the first thing that the interviewer would look for. The following are the job description of a dental assistant:
Working on assisting the dentist during a treatment procedure 
Working on developing dental x-rays.
Doing the initial check-up of the patients like noting down the patient's medical history, checking blood pressure and pulse.
Make sure that the patients feel comfortable
Guiding the patients on oral care knowledge and teaching them strategies regarding oral hygiene.
Might require working on computers to maintain management records
Keeping in touch with the suppliers and customers 
Why Should You Choose Dental Assistant As A Career?
Choosing a dental assistant career is a great choice because of its security, superb pay, and other benefits. But, the question that arises is why will you choose this career path? Will it be worth it after choosing this career? 
Well, there are a couple of advantages to this kind of career in the dental industry. Not only will you learn a lot of things, but you will also gain a lot of experience with the work that dentists do. Mentioned below are some of the advantages that you can look at while choosing a dental assistant career.
The job of a dental assistant career is challenging and also a rewarding career. This means the job will demand versatility and willingness to handle responsibility for different types of work.
The job of a dental assistant is a flexible one. Jobs like these are in great demand these days. Students can go for both part-time and as well as full-time jobs.
The working conditions are great for these jobs. The clinics that dentists work in are clean, air-conditioned, pleasant, and people-oriented environments. This makes the working environment interesting and fun.
A dental assistant career can be satisfying not only from the professional point of view but from a personal view as well. An assistant mostly works with people and therefore they have to communicate with them as well which gives them personal satisfaction. It will make you feel that you helped someone. 
There are so many reasons why you can opt for a dental assistant career. But, though it might be a good career you should first clarify your thoughts on it before you choose. Do not make a decision that you will regret later on because that would be a complete waste of time and resources. 
Also, note down the advantages and disadvantages before making the final decision. Try taking counseling which might help you decide whether you should go for a dental assistant career or not. All in all, there should be nothing wrong if you choose a dental assistant career. 
Dental Assistant Earning
Money is the most important thing that you should think about when selecting the right career path. Well, for this career path you should know that the payment is decent and there should be nothing that you should be worried about.
There are a couple of things that will determine how much salary you should get while working as a dental assistant at a dental clinic. However, in the United States of America, the average annual wage of a dental assistant is $39,770. 
The salary primarily depends on the responsibilities that you get when you apply for such kinds of jobs. You should also know that not all clinics will have the same kind of pay but there can be a slight difference. 
If you are applying to dental assistant jobs then make sure you check the pay for each clinic that they are willing to pay. If you think that the pay that the clinics are offering is less then you should look to apply to other clinics.  
Job Security of Dental Assistant Jobs
Job security is also one of the reasons that need to be considered before going for dental assistant jobs. As long there are dentists in the market then there will be enough jobs for assistant jobs as well. 
However, most countries have a lower rate of employment in this field but this does not mean that clinics aren't busy at all. Medical offices are always busy and therefore there is a lot of work that needs to be done every day.
This creates a long-term demand for dental assistant jobs in the market. Interested candidates who wish to apply for these jobs need to make sure that the clinic offers good job security. It will create a sense of satisfaction once you know that the job you have will provide you with job security.
Conclusion 
Dental assistant jobs are jobs that you can consider if you are studying dental courses. Do not worry about the employment rates because these jobs are likely to increase in the upcoming days. Just go with the flow and if you can take help from your college or university for placements. 
Also, try to take counseling from a professional in case you are confused about whether or not you should take dental assistance as a career or not. This will help clear your mind about any kind of doubt that you may have regarding the career choice. 
Frequently Asked Questions
What can I do next after doing dental assistant work for a clinic?
Ans: If you have qualified for a dental assistant job then with the help of further studies you can go for advanced roles. Some of the advanced dental roles that you can go for are as the following:
Dental technician 
General dentist 
What is the meaning of level-2 dental assistant?
Ans: Level-2 dental assistants are candidates who obtain training in intra-oral duties. This also means that they can do what level-1 dental assistants can do.
Which is the highest-paid dentist job?
Ans: One of the highest-paid dentist job posts is Oral and Maxillofacial Surgeon. Their job includes treating injuries, different types of diseases, and many more. The net annual income for this job post is around $400,000 per year. 
Can I become a dentist assistant within 10 weeks?
Ans; Yes, you can become one but you need to have proper knowledge and skills for the job. Clinics will interview you and will check your skills and knowledge.
Is dental assistant a good career?
Ans: Dental assistant jobs are a good career that you can choose because of the job security, new learning, and better pay. There is no doubt that this is a good career option in the field of dental study.   
Is dental assistant job in high demand these days?
Ans: Since the past decade the jobs of dental assistants have grown only 6.1%. However, it is likely to increase in the upcoming years. The number of jobs available for dental assistants would also increase and would be in the average mark for any career choice. 
Is there any risk for a dental assistant job?
Ans: Risks are always there for any kind of job that you look for in the market today.  Similarly, there are some risks in the job of a dental assistant too. There is a risk of developing back injuries because you will get minimum rest. 
Is Dental Assistant A Good Career?