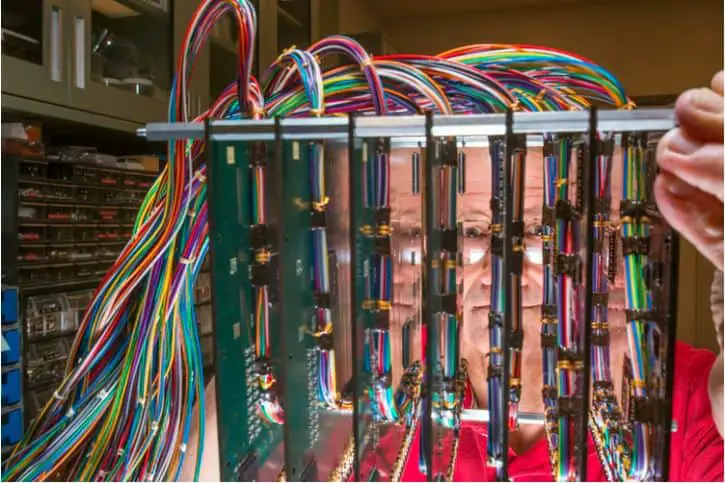 Informational Technology (IT) technicians are typically responsible for all things associated with IT within an organization. They address and resolve all computer software and hardware problems in a company. Becoming an IT technician requires an Associate's Degree or a Bachelor's degree in Computer Science, Information Technology, or a similar study field. Gaining relevant certifications and field experience as an IT technician by participating in internships, entry-level jobs, and volunteer experiences will also advance a career as an IT technician.
What does an IT Technician do?
Information technology (IT) technicians are responsible for providing a plethora of services for their employer. These services include maintaining computer systems, offering technical assistance, troubleshooting hardware problems, and completing regular computers. It technicians will often monitor computer processing systems, networks, and software to identify potential issues and resolve them by updating and upgrading software and hardware as per their need. IT technicians also schedule and run routine maintenance inspections, test computer equipment, and teach their clients how to operate newly installed programs. IT technicians typically serve as the primary point of contact for issues corresponding to computer hardware and software within an organization.
As an IT technician is broad, an IT technician's job description and requirements may vary with each establishment. Different organizations may have distinct demands from IT technicians, and many IT technicians may have specific specializations to cater to these demands. Data is growing increasingly vital for the IT and business industries, so that some jobs may require prior knowledge of database programming and data management.
Key tasks and duties as an IT technician:
Addressing incoming support requests
Devising creative and relevant solutions across hardware and software programs
Communicating with the clients and teaching them how to operate specific hardware and software accurately
Communicating with clients in person, or via phone or email
Installing and configuring new software and routinely performing software updates
Repairing and maintaining computer equipment and hardware
IT Technician requirements
The professional requirements for IT technicians may vary for each organization, but IT technicians typically require a combination of the following:
Education
IT technicians require a Bachelor's Degree or an equivalent in Information Technology, Computer Science, or a related field. These courses offer comprehensive theoretical and practical knowledge of a large array of topics, including programming languages, computer engineering, and data management. This allows students to have a considerable amount of knowledge and experience to tackle problems on the job.
Training
IT technicians may receive some training as a student, including techniques to identify and diagnose problems in computer systems and how to communicate with computer systems through programming languages. Along with this, IT technicians may gain on-the-job training to understand the organization's specific requirements and get acquainted with the unique hardware and software programs used by the organization.
Certification
Certification for IT technicians is not a requirement. Still, various certificates can increase IT technicians' likelihood to be employed and progress their professional experience and expertise.
CompTIA A+ Certification
CompTIA A+ certification is a standard certification for technical support and IT operational roles. It covers software and hardware knowledge, software installation, troubleshooting, and operating systems configuration across computer and mobile devices. The certification constitutes two separate exams, consisting of 90 questions each, to be solved in 90 minutes. The certification remains valid for three years and can be maintained by completing the required training.
CompTIA Network+ Certification
The CompTIA Network+ certification is a certification that is ideal for developing a career in IT infrastructure. The certification validates foundational knowledge and skills, including network security, network operations, troubleshooting, configuring, and maintaining networks. To earn this certification, candidates are required to appear for one exam. This exam contains 90 questions and must be solved in 90 minutes. This certification is also valid for three years and can be maintained by continuing approved education courses.
CompTIA Linux+ Certification
The CompTIA Linux+ certification covers the skills and knowledge required for installing and supporting the Linux operating system. The certification validates the Linux command line's knowledge, maintenance of the operating system, installing and configuring workstations, and networking across devices. To obtain this certification, candidates must appear for a 90-question exam. The exam is 90 minutes long and is valid for three years upon receiving the certificate. Candidates can maintain the certification by continuing approved training programs and education courses.
Microsoft Technology Associate (MTA)
The Microsoft Technology Associate (MTA) is an entry-level certification that validates the fundamental knowledge among students seeking to build a career using Microsoft technologies. There is a range of certifications available for candidates, including Windows Operating System Fundamentals, Software Development Fundamentals, Windows Server Administration Fundamentals, IT Infrastructure, and many more. Candidates can appear for multiple MTA certifications, and each covers the core technical concepts about the topic.
Cisco Certified Entry Networking Technician (CCENT)
Cisco Certified Entry Networking Technician is an ideal certification among students seeking an entry-level networking program covering the foundational knowledge of computer networking. It validates knowledge of installing, operating, and troubleshooting small network systems with minimal security. Cisco also offers a range of more advanced certification intended for more skilled IT professionals.
Key Skills
IT technicians require a set of critical skills that will allow them to efficiently tackle complex obstacles and complete tasks effectively.
Time Management
IT technicians must work on multiple projects simultaneously, so time-management is essentially a key aspect of this profession. IT technicians need to monitor each task they are responsible for and regulate time properly to ensure the completion of tasks in a punctual manner. Sometimes tasks can be assigned to be completed in a short period of time, so IT technicians must plan and schedule tasks appropriately to avoid run-downs by the deadline and minimize downtime.
Critical Thinking
Critical thinking skills are vital for properly diagnosing and repairing computer equipment and software programs. IT technicians are often required to find creative solutions to diagnose and resolve problems quickly and effectively. Implementing critical thinking can eliminate errors in work and increase efficacy.
Project Management
The IT industry requires technical professionals to engage in project-based work, sometimes working with a team of many professionals. This is why project management is a crucial skill for IT technicians. Project management skills such as determining project goals and objectives, organization, and executing an effective team project are important for IT technicians. These can help IT technicians efficiently handle multiple projects simultaneously, from repairs to configurations.
Communication
Effective communication skills are essential for IT technicians since they are often required to explain complex processes in simple, layman terms to their clients. IT technicians need to have strong communication skills to clearly convey the message and prevent misunderstandings, especially when offering support online or by phone.
IT Technician Career Outlook and Work Environment
IT technicians sometimes specialize in a particular operating system or offering unique solutions, which may require them to attend to clients at multiple locations. While IT technicians may spend part of the day working at their assigned workstation, the job requires them to constantly be on the go as they deal with others' computer hardware and system issues. Sometimes IT technicians may need to address clients' problems via phone or the internet, and sometimes they may need to meet their clients in-person to run tests and installations, troubleshoot existing problems and resolve them. Due to this, IT technicians spend a considerable amount of time on the commute.
IT technicians can work in various industries as long as they utilize computers, networks, and other technology. This allows IT technicians relative freedom to decide where they prefer to work. This extends to hospitals, airports, institutes, and more. The job also may be physically strenuous, since IT technicians may have to carry out tasks that require lifting computers and computer parts, bending and reaching parts that are difficult to access, and so on. 
Typically, IT technicians have standard working hours during weekdays. However, they may be required to work late evenings and on weekends occasionally. This is especially likely in establishments where computer systems are most at use during unconventional hours. For this reason, IT technicians must be reachable 24/7 by phone or email.
How to Become an IT Technician
IT technicians need to have the qualifications and skills that are vital to the job. The following steps will ensure that you are prepared with the essential knowledge and skills to land a job as an IT technician.
1. Formal Education
Typically, IT technicians must have formal education in Computer science, Information Technology, or Computer Information Systems. The coursework in these programs grapples with core foundational knowledge and skills, including hardware and software configuration, computer security, programming languages, and technical support. A Bachelor's Degree or an equivalent is ideally required in the aforementioned fields.
2. Practical experience
Practical knowledge in technical support, network and systems management, and troubleshooting hardware and software increases employability and assists on the job. Entry-level jobs like IT helpdesk technician can help expand knowledge and experience to offer support and help polish technical skills.
3. Certifications
Relevant certifications can further help you acquire a job, as certifications typically help verify your foundational knowledge and skills that grapple with troubleshooting and developing creative solutions across different devices and operating systems. These certifications are available at multiple levels and on various topics, which can help you show employers that you are a desirable candidate.
4. Building your Resume
Make your resume stronger with relevant accolades and experience. Emphasize your worthiness by focusing on your technical expertise and highlight specific instances of problem-solving and critical thinking. It is also critical to demonstrate your ability to take the initiative, drawing from your prior professional or formal experience.
5. Gaining experience
Strong communication and people's skills are also equally important aspects that can determine your candidate's desirability. Volunteer experience teaching computer science locally, tutoring students, or offering professional support to nonprofit organizations are particularly valuable if you lack prior job experience. These can highlight your customer service and problem-solving skills. These can also draw attention to your project management skills and increase your earning potential. Getting involved in relevant internships can also help field experience and improve how you address and resolve clients' technical issues.
6. Finding employment that matches your personality and skills
It is essential that you find your job challenging and not boring. Finding a job that matches your personality and is competent to your skill level may be difficult, but it is not impossible. Clearly communicate your expectations of the job with the potential employer.
What to expect from an IT Tech course?
IT Tech schools may be extremely challenging but will provide relevant practical and theoretical coursework to expand your knowledge on a plethora of IT technological systems. Information Technology and other related fields typically offer courses on systems, programming, hardware, and software. Some schools also offer courses on data programming and data management. There are two options for pursuing Information Technology, earning an Associate's degree or earning a Bachelor's degree.
Associate's Degree
An associate's degree typically takes less than two years to complete, so it is ideal for students who are seeking to build their careers as soon as possible. An associate's degree will give you the relevant foundational knowledge and skills to get started as an IT technician and verify your technical support skills. After finishing your core courses, you will typically focus on specific IT technology such as programming, web designing, cybersecurity, and so on.
Bachelor's Degree
A bachelor's degree offers a more comprehensive course design and can take up to four years. The coursework is designed to cover foundational and advanced courses, including business management, business strategy, technology innovation, and so on. This degree is designed to enhance both technical skills as well as emotional intelligence and key skills. IT technicians that hold a bachelor's degree are more likely to increase their salary potential.
IT Technician Salary Information
According to the U.S. Bureau of Labor Statistics (BLS), IT support experts could see employment growth of 8% in the next ten years. Upgrades and optimization of existing systems have a major hand in this growth.
Typically, IT technicians work full-time, but they may be required to work overtime due to their job nature occasionally. When dealing with downtime or handling multiple projects, they may be required to work past the standard working hours. Aspects such as location and the type of industry of work and their level of education, experience, level of expertise, and skills, may determine earnings.
The average salary for IT technicians in the U.S. is $74,000 per annum. Some salaries can start anywhere from $15,000 all the way up to $170,000 per annum.
Related careers
Some alternative careers similar to IT technician are listed below.
Computer Technician
Computer technicians typically offer computer and network support within organizations.
They usually install, maintain, and repair computer and network systems for offices, government and non-government organizations, and third-party businesses. IT technicians must monitor IT infrastructure and ensure it is used to its maximum capabilities.
It is ideal for a computer technician to have relevant knowledge of computer systems and network functions. They must have problem-solving and critical thinking skills that allow them to fix problems with minimal downtime and maximum effectiveness. A computer technician's responsibilities include but are not limited to:
Setting up new computer systems, maintain and troubleshooting them when necessary
Maintaining and repairing computer hardware and peripheral devices
Install LAN/WAN and other networks and manage network systems, ensure the functionality of network systems
Manage security options in computers and networks, ensure the security systems are running smoothly
Testing and implementing new software programs and hardware equipment
Troubleshoot and resolve system failures and bugs
Schedule routine maintenance sessions and ensure all programs are up-to-date
Record-keeping of repairs 
Teach users and clients how to operate programs and computers correctly
Technical support specialist
A technical support specialist assists with technical, hardware, or software issues to businesses and clients. They help resolve issues that deal with slow performance, network and connectivity issues, and the inability to access data. Technical support specialists have the required skills to deal with customer problems over the phone or email, but some jobs may require hardware or software to be modified or repaired. This is why technical support specialists are always on the go.
Technical support specialists have expertise in computer systems, electronic systems, and software programs. They are often required to educate clients and answer questions related to computer systems. They can typically troubleshoot any problems in technical and computer systems. Some of their responsibilities include:
Walking clients through the process of installing and operating specific software
Troubleshoot software problems and resolve them
Troubleshoot hardware problems and provide solutions to resolve them
Monitoring computer systems and ensuring they are up-to-date
Assisting employees and customers with hardware changes
Recording-data of technical support and repairs for customers
Referring difficult cases to senior analysts
Desktop support specialist
Desktop support specialists are typically hired within an organization to oversee computer hardware and software systems. Their skills allow them to resolve technical issues concerning software infrastructure. They are responsible for supporting computer software integration by troubleshooting problems and providing tips to resolve them. They are also responsible for the installation and maintenance of end-user computer systems and peripheral devices. Some of their duties include:
Diagnosing and resolving issues about hardware and software systems
Communicating with clients on the phone, in-person, or through email to offer technical support
Providing technical documentation for customers and maintaining records of repairs and fixes
Setting up and maintaining computer systems to meet organizational goals
Ensuring the security of network and computer systems
Setting up and managing user accounts
Recommend upgrades to software and hardware systems to ensure functionality and durability
Testing and employment of new applications and systems
Train and guide staff and clients on how to operate hardware and software applications
Network Technician
A Computer Network Technician, also known as a Network Technician, assists with tasks that require managing the network systems within an organization. Network technicians typically oversee and carry out installations, maintenance, upgrades, and repairs for network equipment.
They supervise and maintain the LANs and WANs, internet, intranets, and extranets of a business. They also assist with installing hardware and software for all the systems. Network technicians need to communicate with clients to formulate and employ strategies to ensure all systems and data are secure. They also develop strategies to meet the technical requirements and ultimately meet all organizational goals and objectives. 
Network technicians are required to possess the skills for installing different operating systems and network components. A network technician's responsibilities include but are not limited to:
Troubleshooting computer software and hardware issues and resolving them
Recommending new network technologies to improve the network systems within the company
Communicate and explain technical issues to clients in simple terms and offer potential solutions
Document technical issues and repairs for future reference
Partner with IT supports teams to ensure all network systems and software are up-to-date.
Ensure the security of computer networks from potential cyber threats, regularly updating antivirus software 
Discussing and training employees of the network and computer systems and how to effectively use them
Troubleshooting possible causes and solutions for problems with network systems
Discuss how to use network systems for improving efficiency within the organization
Training employees on how to effectively meet organizational goals and objectives by utilizing computer and network systems to their best ability
With the relevant degrees and certifications under your belt and practical field experience as an IT technician, you should be able to find a great job that matches your personality and skills. 
How To Become an IT Technician