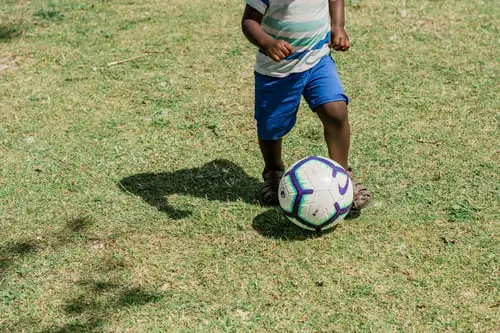 It is the dream of many young Americans to grow up to become NFL players. Football is an integral part of most American families as it has become very popular. Considering the competition to become a professional football player, there is a general and specific set of requirements to become a professional footballer. Let's know How to Become a Football Player in the NFL?
The best way to become an NFL player would be to start young in High School. This will help you gain sufficient exposure and experience before taking it a step ahead and playing college-level football, which is the next step to becoming a pro footballer. College is when the final preparation to become a footballer begins. It would help if you took active efforts to attract the attention of NFL scouts and coaches. This article will give you a detailed process to follow, which would be the best chance you have to find yourself playing at America's top football league.
There are broadly three stages to becoming a football player in the NFL, which are:
High School Preparation
College Preparation
Entering the Draft
High School Preparation
High school is where your journey begins. This will not be possible without joining your school's football team. Being a part of the team gives you the exposure and experience to help you understand and adjust to the competition that exists in your age group. High school football teams begin recruiting players as early as their sophomore year. If your school does not have a football team, it would be advisable to shift to a school with a good team. Besides training for the sport, you must also focus on your studies and getting your high school diploma, which is a minimum requirement to play in the NFL.
Exposure is critical not just for your game development but also for other people to notice you. Coaches at the university level are always on the lookout for players to play for their college team. Universities hold sports camps where you may get the chance to acquaint yourself with the university coach. These camps can function as a good networking opportunity and create a first impression of the kind of player you are. 
Planning well ahead also is crucial. Making a list of the colleges you want to apply to will be helpful to set a goal and work towards it. Involving your coach in the planning process can also benefit you so that the coach can help you out in any way possible. You should make a list for your dream schools, the ones you can really get into, and a list for your backups. Your coach's honesty can help determine where you stand and what you can aim for. Figure out the recruiting process for the school you have applied to.
A highlight reel of your best moments in-game can take you a long way. You can make a compilation of your best in-game moments. The highlight reel should accurately represent your athletic ability. A good camera and a videographer can make a massive difference as the video quality should be good. If you don't have the resources to hire someone, try to invest in a tripod for camera stability.
Applying and registering yourself as an amateur athlete at the NCAA is crucial to your future in the sport. Anyone who wants to play college football competitively must be registered at the NCAA Eligibility center to play at Division I or II school. You can once again request your high school coach to assist you in the process related to any documents or fees you may have to pay. 
By your junior year in High School, you should start contacting coaches at the college level. A cover letter or an email should be sent to them to inform them of your interest in playing for them. This should be assisted with your resume, highlight reel, statistics, academic data, and your current coach's contact information. You can take the extra step by calling the university coach after setting up an appointment over the letter or mail. 
As time goes by, offers shall begin to pile in. Generally, if you are good enough during your senior year, coaches start to display their interest in recruiting you into their team. Decide which offer works out for you the best and go ahead with it after considering the scholarships the college offers or whether the college is a Division I or II school. Aim high and try to get into a division I school as they have a large budget for sports and regularly travel across the country to play. Division II schools have a lesser sports budget and travel only regionally. 
College Preparation
Many players do not receive offers from colleges, but you can still try your luck by being a college walk-on. Try to create a repertoire with the college football coach and convince the coach to give you a shot for the walk-on position. If you are athletically capable and can sustain college life without a scholarship, you can get the walk-on position at the coach's discretion. 
Once you have made it to your college team, you need to build a sustainable schedule to practice every day and improve your game. To make the NFL draft, you need to be in top shape, so a fitness schedule is also essential. Be mindful of overexerting yourself, though. Take your day-offs and rest days periodically to avoid overstraining your body and mind. 
Movement mechanics is something every football player needs to develop. Jumping, running, and direction-changing skills are vital for standing a chance to compete for the draft. Cardio is exceptionally critical for football so work on sprinting and improving your stamina. Activities like kickboxing can also help.
Another crucial physical trait for a sport like football is strength. You must be able to make strong tackles and withstand them too. Strength and endurance training should be your primary focus for this. You should strengthen your core and hit the gym for specific exercises such as squats, bench presses, and deadlifts. Your balance is key to withstanding and avoiding tackles, where aerobic and anaerobic exercise become crucial to maintain balance. Try to figure out the weaknesses in your body and rectify them appropriately. Your coach will be able to help you out with identifying your shortcomings and providing solutions for them.
Entering the Draft
This is the last leg you have to run to fulfill your dream of playing in the NFL. Since experience and exposure count, you must make sure that you have played college football for multiple years. The NFL has a prerequisite which states that there has to be a gap of three years between when the draftee graduated high school and is competing in the draft. The time spent playing college football will build your resume and increase your chance of catching the eyes of NFL coaches. It may be relatively harder to make the draft if you are not a part of a college football team but register for the draft in your senior year of college if you believe you stand a chance. 
The registration for the draft entails that you have to register for the Regional Starting Combines, where your tryouts begin at the regional level. The NFL requests only those players to apply who have the athletic ability to withstand the tryouts. Only 335 players are invited to compete at the National Combine. You will be made to compete in drills such as bench presses, vertical leaps, and 40-yard dashes. Of these 335 players, 250 players make the NFL draft. Upon being selected for the draft, you will undergo a physical examination and a medical examination.
The physical and medical examinations shall intensify as the draft progresses to see where you stand amongst the other draftees. The scouts shall be closely observing the talent in the draft. Throughout the seven draft rounds, football teams shall pick the players they require amongst the draftees. The draft is also your opportunity to network with other teams and negotiate a spot on the team.
Conclusion
Talent, hard work, and capitalizing on opportunities are the most important things to become a football player in the NFL. The competition for the draft is always on the rise, so if you dare to dream of making the draft, you must work on yourself, your body, and your mind to make it to the nation's top league. Be persistent in your schedule and try to take the help of your family and coach to achieve your dreams.
Frequently Asked Questions
When is the best time to start preparing to play for the NFL?
The best time to begin preparing to play in the NFL would be at the beginning of high school. That gives you enough time to get sufficient experience and exposure. 
Can you get into the NFL without playing college football?
Yes, you can get into the NFL without playing college football. However, there is a very slim chance of that happening. Without the networking and the experience, it makes it harder for your talent to be recognized by scouts and coaches. 
How to Become a Football Player in the NFL?