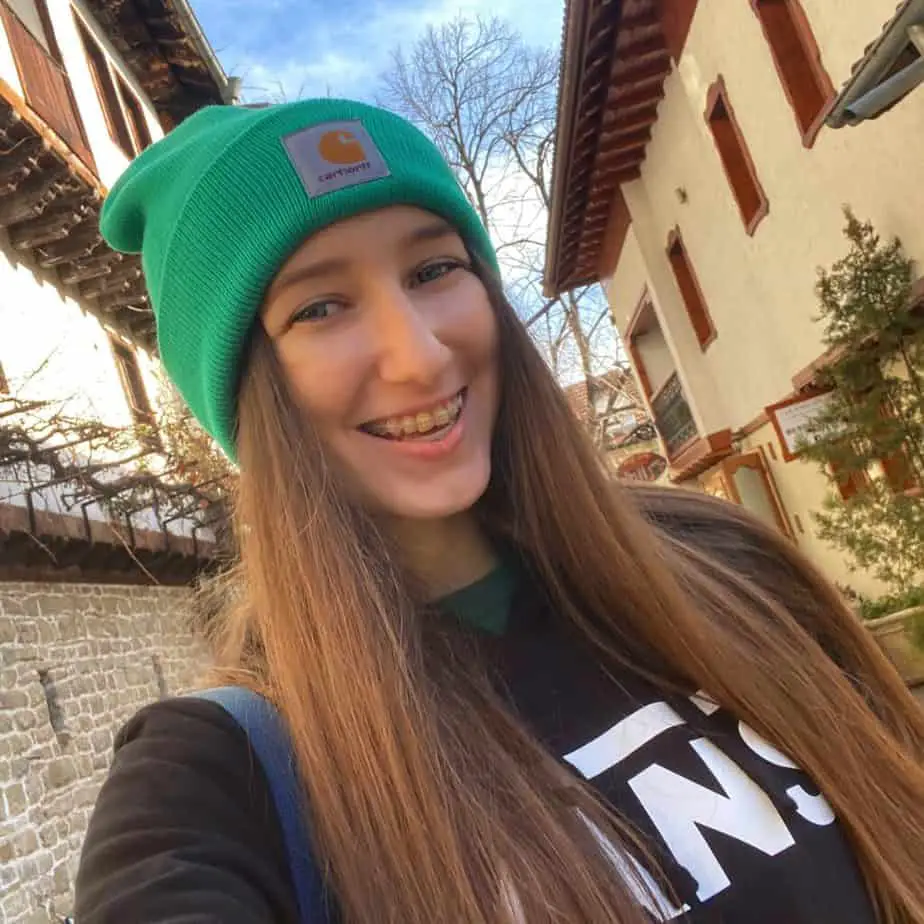 My name is Michaela. I work as an interface and web designer in Bulgaria. My design journey started 4 years ago as a graphic designer and transitioned into web and interface design a year later. 
How I Become A Web Designer?
Why did you choose a career in this field? 
Designers nowadays are like architects of the future. The idea of being involved in a creation of a new product, give shape and life to a business idea is what wakes me up in the morning. I love what design can do for people and the possibility to think about design problems from more than just a one-point perspective. 
What was your first job or nuggets from jobs you had that helped you get to where you are today? 
My career path has many turning points. I started working early in life and changed four professions before I found what I really enjoy doing. I believe that every job I had helped me get to where I am now. However, the biggest turning point was back in 2016 when I was working as a sales agent in an Irish company for tax refunds. As an introvert in a sales position doing more than 30 cold calls, a day was as stressful as it sounds. I couldn't wait for the working day to end so I can get back home and relax. Luckily, one night I listened to my gut feeling and realized everything I do outside of work when I'm in front of laptop designs. I went through my browser history, and it was full of Behance projects, photoshop tutorials, and design articles. I don't know who has said that "Things can change in a heartbeat," but this was the time when things changed for me. 
What interview tips would you give? 
With COVID19, the interviews are now conducted remotely. It's important to prepare and test your interviewing setup in advance. In your first interview, it's good to ask your interviewer questions, showing your interest in the company. Show your interviewer a positive attitude and get on time for the meeting. Always have a backup plan in case your laptop dies or your wi-fi connection gets lost. 
Any advice about CVs? 
Keep your CV updated and clean. Show only relevant information for the position that you are applying for. Small details matter, don't leave your CV untitled. Name it – "CVName_Surname." If you don't have work experience and companies, don't want to hire you full time, approach small local businesses in your town and offer them your services in return for a small compensation and a letter of recommendation. Don't wait for the right circumstances. Create them. 
Can you provide some book recommendations? 
The ultimate starter pack for junior designers: 
Refactoring UI by Adam Wathan 
Land Your Dream Design Job by Dan Shilov 
Solving Product Design Exercises: Questions & Answers by Artiom Dashinsky 
Other great books: 
Design for Real Life by Eric A. Meyer 
Design for Cognitive Biases by David Dylan Thomas 
Cross-Cultural Design by Senongo Akpem 
Design is a Job by Mike Monteiro 
Indistractable: How to Control your Attention and Choose Your Life by Nir Eyal 
Nicely Said: Writing for the Web with Style and Purpose by Nicole Fenton
Advice for someone looking for a job?
Be proactive and seek opportunities. Turn on job notifications on LinkedIn and apply for every job that you like. Don't get discouraged when challenges come your way. Challenges are just opportunities by another name. 
Why do you think you were selected among other candidates? 
I remember the interview I had with my current employer 3 years ago. I applied for the position of web designer and was given a take-home assignment. The hiring manager told me that although they like what I did, they are looking for someone who knows a little bit of HTML/CSS and that they are not sure if I can handle the job. I replied something like this: "I understand, and I can say that my previous employer had similar concerns because I wasn't familiar with CorelDraw when I applied. However, a few months later, my colleagues started to ask me how to do certain things in the software." A genuine smile followed a moment of silence, and the next thing I heard was, "Ok, kiddo, you got the job!". 
In the beginning, it's less likely to get hired for your explicit design skills and more likely to get hired because of your attitude. Sure, we could say a couple of adjectives to illustrate our personal qualities, but simply saying that we are – "Ambitious, Hardworking, Reliable" is not the same as wrapping these qualities in real-life examples. Think about a situation that compliments the personal skill you want to present and share it with your interviewer. 
Lessons from jobs that you couldn't get. 
Use past interviews to reflect on your performance. Adopt a positive mindset and know that what's coming is better than what's gone. Focus on your present and avoid wishful thinking, work with what you have in terms of knowledge and tools and be persistent. Failing at interviews broadens your perspective of what could go wrong and allow you to learn from your mistakes and improve your performance.
Also read How to Get a Job as a UX Designer
How I Become A Web Designer? | Guide & Book Recommendations