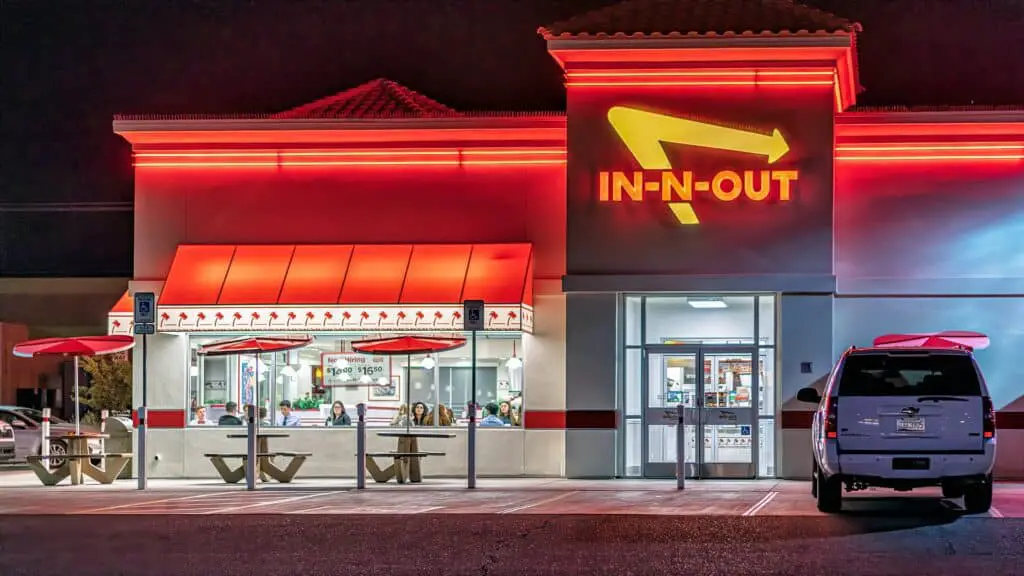 In-N-Out Burgers offer everything you would want in your fast food and more. With its simplistic menu and multiple outlets, the solution to fast food cravings is never out of reach. Many things distinguish this fast-food restaurant chain from other businesses that cater to the same field. Have you ever wondered who came up with the idea of creating this neighborhood-friendly restaurant or who owns in-n-out?
It was Harry and Esther Snyder who dreamt up this restaurant which then turned into a world-renowned franchise. Opened as a single restaurant in Baldwin Park in 1948, the Snyders aimed at "friendly service," quality food, and an open and refreshing environment. Success soon followed, and what began as a single restaurant soon turned into two and had reached 140 outlets by the turn of the century. 
Family Legacy | Who Owns In-N-Out?
Harry and Esther remained true to their vision with which they had opened the first In-N-Out. As they expanded to multiple branches, the Snyders closely monitored every restaurant to ensure that quality was not compromised. Because of this dedication, the expansion, which began with the second restaurant opening, continued well into the second and third generations of the Snyders. 
Because of the Snyder couple's close monitoring and undivided attention, the franchise had expanded to 18 outlets by 1976, the year in which Harry passed away. Instead of the co-founder, Esther, it was their son Rich Snyder who became the company's president in 1976. At only 24 years old, Rich had a daunting task ahead. But he paved through since he had been working at the restaurant from an early age and was familiar with the business. 
Under Rich's leadership and vision, business boomed, and the previously 18 outlets increased to 93 in number. The expansion would have surely continued had Rich not died in a plane crash. The presidency then came to Guy Snyder, Rich's brother. Good food and good service continued, and Guy carried on the family business in the next six years. Under Guy's presidency, the 93 outlets brought in enough business that In-N-Out was opened in about 50 other locations, making the branches total 140. 
However, Guy died of a painkiller overdose in 1999, and the presidency finally fell to Esther Snyder, the original visionary. Even though the company continued to grow, it became obvious that it will be hard for the business to remain in the family. After Esther died in 2006, the business saw the presidency of Mark Taylor, previously the vice-president. He was the first president of the company who was not a member of the Snyder family. But he remained so only for four years until Lynsi Snyder, the only grandchild of Harry and Esther, took over the presidency in 2010. 
Lynsi Martinez became the business owner through trust and gained 50% of the company's ownership when she turned 30. By the time she was 35, she had almost entire control of the company property. Even though the property lies with her, business decisions are taken after consultation with a seven-member executive team. Snyder is just as much a visionary as her father, uncle, and grandparents were and have no plans to franchise or sell this family-made business. Keeping up with her values, she intends to leave the business to her children, keeping it in the family.
Business Expansion
While Harry expanded the restaurant chain near his original restaurant and in neighborhoods nearby, it was Rich's vision that took this franchise to new heights. The first restaurant to be established out of the Los Angeles metropolitan area was the 57th outlet opened in San Diego in 1990. Initially confined to the home ground of Southern California, the restaurant chain expanded to Las Vegas, Nevada, in 1992, under Rich Snyder's presidency. The next year, the first In-N-Out was seen in northern California in Modesto. Much like Harry, Rich, and Guy, Esther continued with the business expansion and opened up outlets in Arizona.  
The outlet in Tuscon, Arizona, was such a huge success that it broke all the previous company records of most burgers sold in a day and subsequently in a week. With this overwhelming response, it was obvious that expansion would continue. Under Taylor's presidency, new outlets were introduced in Utah. This expansion led to Texas and has only grown under Lynsi Snyder's presidency. By 2015, In-N-Out was at 300 restaurant locations and had earned $558 million in its annual sales. With the opening of an outlet in Oregon, it was revealed that the new president had no plans to stop with the opening of new outlets. It was soon announced that Idaho would be the new state welcoming an In-N-Out in its neighborhoods. 
Simplistic Menu with Wide Appeal
Despite the numerous changes in leadership and the many years since the first In-N-Out opened, the restaurant chain menu remains the same and just as simplistic as it was in Harry and Esther's time. It is perhaps because of this menu that the food appeals to a wider audience and offers a sense of stability to their customers when restaurants keep changing their menus to keep up with new trends. 
The In-N-Out menu offers three types of burgers: the hamburger, the cheeseburger, and the Double-Double (an original combination with a double burger and double cheese). Three different varieties of milkshakes are offered even though their burgers are already accompanied with fries and a soda, which can be filled unlimited times by the customer. Moreover, the customers know that their food is fresh as they can see the potatoes cut for their fries in from their eyes. This dual approach builds trust in customers and keeps the employees aware of their surroundings, making them pay close attention to their work. Perhaps because of these practices that refuse to change when everything else is rapidly changing, the customers of In-N-Out Burgers remain loyal to this restaurant chain, making it one of the most successful fast-food restaurant chains in America. 
Popularity
It is a no-brainer that a multimillion-dollar restaurant chain would be popular. But what makes In-N-Out stand out? Is it their menu? Their good quality food? Or their interior design? Or is it their family values? 
Answer: All of the above. 
Most loyal customers to In-N-Out are fans of the food, whereas the others come for the ambiance. Locals at Fisherman's Wharf support their local In-N-Out as open opposition to their capitalist restaurant chains. They attempt to support family-owned businesses to cultivate a culture that encourages family values and a holistic culture in their society. 
With fans from the culinary field such as Gordon Ramsay and Julia Child, who have both admitted to multiple visits to the restaurant simply for the unique and unmatched taste, In-N-Out is not only a favorite of families for home values but also for its good quality food, which does not compromise taste for monetary gain. 
Another reason behind their popularity is their close connection to Christianity which is openly advertised on their packaging. Albeit on their soda cups or their packets of fries, there are Bible citations printed in small print. The practice of printing Bible citations on the packaging started during Rich Snyder's presidency and has continued ever since. This not only puts In-N-Out in a more relatable light but also openly advertises the values by which they do business. 
Best Employers
The family values and the Bible verses are not only for show. In-N-Out is not a business solely focussed on making a profit at the cost of their employees. Ranked #28 by Forbes in America's Best Employers 2019, this family-made business lives up to this title. The business practices of this company are clearly unlike other private capitalist ventures. Their employees are treated as assets and not slaves, shown by the company policies that are employee-centered. In-N-Out pays their employees by their standards, more than the required minimum wage by the state. For example, in California, the employees are paid to start at $14 per hour as of 2019.
If employees are satisfied, it is a default that the customers would come to love the services offered. Making the original vision of offering 'friendly service' ring true, all the outlets of this fast-food restaurant chain are known for their excellent service, delicious food, and supreme quality, which is not compromised even after numerous changes in its leadership. 
Even though the company's presidency underwent significant changes with over six presidents taking this business forward with their own unique vision, the answer to 'Who Owns In-N-Out' remains easy to give. With the strong commitment, the Snyder family has to their business venture, the answer to this question is likely to be the Snyder family, today and in the future, unlikely to change with time and further leadership changes.   
Also read Who Owns AT & T? – Company History & FAQs
Who Owns In-N-Out? | Real Owner of In-N-Out