How can we discuss the automobile industry without discussing Jeep, the brand that revolutionized sports utility vehicles and is now creating a name for itself in the luxury vehicle market? Jeep originated in the United States and today serves customers globally except for a few countries. This marque has its headquarters in Toledo, Ohio. The value of the Jeep is estimated to be approximately $35million. Let's go into detail, when was the Jeep founded, history of the jeep and how it became a recognized automobile brand.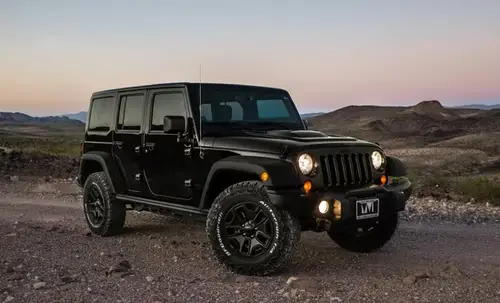 When was Jeep founded?
The theories behind Jeep's origin and ownership have always been a question. Jeep's ownership has changed numerous times, and also the foundation story remains complicated but some facts are undisputed.
Jeep was created on the necessity of the United States Army during World War II. When the United States decided to join the European allies.
During WWII, the United States Army saw a need for a multi-utility vehicle that could be used in any terrain, had a robust frame, and was easy to drive with fewer complications.
A proposal was made to all the United States automakers to deliver vehicles, but with strict time barriers. Only two small automakers responded: American Bantam Car Co., of Butler, Pa., and Willys-Overland, of Toledo, Ohio.
The prototype of the Jeep was designed by American Bantam Car Co. Detroit-based designer Karl Probst was the man behind the prototype of the Jeep which exceeded the expectations of the US Army.
But the United States' Army doubted its ability to deliver the number of vehicles it needed in the given period. So, they contracted Willys-Overland and, later, Ford to build what became the Jeep.
The brand that is now popularly known as Jeep officially came into existence in 1941. In the year, 1943 Willys-Overland got the brand name Jeep registered in itself.
Currently, Jeep is registered under Stellantis, a US-based multinational company.
History Of jeep 
Pre-War history 
The foundation of the jeep was laid when the US army decided to join European alliances and wanted a tough and all-terrain vehicle.
Us automaker American Bantam Car Co., of Butler, came up with the prototype. Karl Probst was the person behind the first Jeep prototype.
 The prototype did impress the United States Army officials, but they doubted the ability of Bantam Car Co. to deliver them the required number of vehicles due to poor finances. 
As a result, it encouraged Willys-Overland and Ford Motor Company to compete for the reconnaissance vehicle contract, this time using Probst's design as a reference and allowing experts from both companies to inspect and measure the Bantam.
All the three companies American Bantam Car, Willys-Overland, and Ford Motor's crafted a vehicle to meet the War specifications.
Willys-Overland characterized the vehicle with the most powerful engine of that time- 60 hp Devil four cylinders. This model was named Willys MB.
 Willys MB became the very first model to come on the road.
 Ford Motor featured their vehicle with flat bonnet and fenders, this design is still recognized as Jeep's signature design. This model crafted by Ford came into the market as Ford GPW.
 The Bantam upgraded its original design and came with an innovative model which was the lightest and most fuel-efficient. 
War Department conducted several tests and the vehicles proved their metal and initially, The United States Army gave the first contract to Willys and then to Ford for the production of the car model drafted by them.
During War 
Jeep became a legend with its incredible features, 4*4 jeep, a steering column-mounted gearbox, low side body cuts, two circular instrument clusters on the dashboard, and a left-side hand brake.
Jeep gained popularity among the soldiers and soon became their favorite because of its characteristics. Jeep vehicles were also given the nickname of 'General Purpose Vehicle' by soldiers because of their significant ability, design, and engine to run anywhere and everywhere. These automobiles served every purpose from ambulances to sawmilling vehicles. 
These vehicles took the Allies to Berlin, Guadalcanal, Iwo Jima, and, eventually, the devastating Japanese mainland coasts.
Even some theories state that the name Jeep was also associated with General Purpose-GP.
By the end of WWII, it was believed that roughly 640,000 vehicles were on the road, with up to 18% of them being registered under the US Army. Nearly a third of all Jeep manufacturing was sent to the British Army and the Soviet Red Army as part of the war effort.
General Dwight D. Eisenhower even stated that the Jeep was one of the six most significant vehicles in helping the United States win the war.
Post War Period
The post-war period was full of different phases for Jeep.
Following World War, automakers from France and Japan started producing Jeep's replicas. After efforts of war proved to be beneficial for the Jeep, the surplus of the jeep that US Army had come into the market and the army left vehicles all over the world, which of course became a free sample for civilians. 
As Jeep's market took some height, in 1953, Willys decided to roll out a new series, the Civilian Jeep (CJ) series. And in 1945 came in the very first car under the brand name 'Jeep'. The first model under the brand name 'Jeep' was CJ-2A. CJ-2A was looked not far from the basic model but had modified headlights, taillights, and seats.
Willys kept experimenting with the basic design by adding some modifications. In 1949 came up CJ-3A followed by CJ-3B and subsequent model for the Civilian Jeep.
1944–1945 CJ-2 – pre-production units
1945–1949 CJ-2A
1949–1953 CJ-3A
1953–1968 CJ-3B
1954–1983 CJ-5
1955–1975 CJ-6
1964–1967 CJ-5A/CJ-6A Tuxedo Park
1976–1986 CJ-7
1981–1985 CJ-8 Scrambler
1981–1985 CJ-10
CJ-5 became the longest-running Jeep. CJ-7 was the last car built with original Jeep DNA.
Jeepneys also became very popular, after the war as many Jeeps were left all over the world, the Philippines converted those Jeeps into taxis or buses but stretched the rear 'tub' of the vehicle making it compatible with more passengers.
This was not it, Jeep wanted to do something innovative, and decided to come with a car that came run on both land and underwater and crafted CJ-V35/U. On February 1, a special contract N8ss-2660 was approved for producing 1,000 units of CJ-V35/U. However, these Jeeps didn't stand on the expectations of the US Marine Corps.
The post-war phase for Jeep was again a complicated one as it marked changes in owner
Ownerships of Jeep
The biggest and most complicated thing in the history of Jeep has been its ownership status. Several times ownership of Jeep has changed. Each owner has to face subsequent failure and the 'Jeep Curse' continued. 
 After the War, Willy didn't just want to focus on passenger cars and so they shifted their focus to Station Wagons, Jeep Trucks, and Jeepster. Jeep's truck and wagon and Jeepster did gain market but didn't stand upon the expectations of the Willys.
Willys attempted to re-enter the passenger car market in 1952 with the Willys Aero but failed. Kaiser Motors purchased Willys in 1953 as a result of this. Kaiser called the company Willys Motors before renaming it Kaiser-Jeep in 1963.
In 1955 Kaiser Frazer decided to drop Willy Aera and its passenger cars to continue Jeep exclusively. This move did not go in favor of the company and gradually started making a loss.
In 1970, American Motors Corporation (AMC) took over Kaiser Motors for $70 million. AMC adopted a productive approach to rebuilding Jeep's passenger car market by sharing components, advertising in local as well as international markets, and increasing producing capacities. AMC even divided the subsidiaries for commercials, military vehicles, and delivery. 
 In 1976, AMC produced CJ-7 and became the first-ever passenger car to cross 100,000 units sold globally.
After spotting a potential opportunity in Jeep, another well-known automaker, Renault, began investing in AMC in 1979. Soon, Renault grabbed the European dealership and started selling the Jeep.
Under the ownership of AMC, Jeep came with its first SUV, XJ Cherokee. In 1985, global sales hit a massive record of 200,000 units.
The year 1986 marked a transition year for the Jeep market as well as Renault. Renault started to suffer from a financial crisis and Jeep started a new line of Wrangler cars.
Chrysler Corporation was interested in buying Jeep and assets of AMC, with Renault facing crisis, 1987 Chrysler Corporation bought AMC. Jeep which was in hand for small automakers for more than 40 years was now in hands of one of the world's biggest automakers.
 Although, Chrysler acquired other assets of AMC but continued only Jeep.
1988, saw another transition in Jeep's ownership, Chrysler merged with Daimler-Benz and came to be recognized as Daimler Chrysler.
Daimler Chrysler's major stock share was acquired by a private firm in 2007. Till 2014, Chrysler and Jeep remained part of the 'Chrysler Group LLC' and then was absorbed by 'Fiat Chrysler Automobile'.
Now the ownership of Jeep is with Stellantis and the headquarters remain to be in Toledo, Ohio.
This remains a fact that any company that owned Jeep had to go through some crisis and brands like AMC, Willys and Kaiser don't exist today and even Fiat has to sub-divide its company into several subsidiaries to continue Jeep.
 People refer to this as 'Jeep Curse'.
To reach the global market, it licensed many manufacturers across the world. Mahindra and Mitsubishi were among the top manufacturers.
Ownership Chronology
1944–1953: Willys-Overland
1953–1964: Kaiser Jeep (calling themselves "Willys Motors")
1964–1970: Kaiser Jeep
1970–1987: AMC (w/ Renault controlling production in 1986)
1987–1998: Chrysler Corporation
1998–2007: DaimlerChrysler AG
2007–2009: Chrysler LLC
2009–2013: Chrysler Group LLC – Fiat Group Automobiles
2014–2021: Fiat Chrysler Automobiles2021–present: Stellantis
Current And Future models.
Jeep's journey can be described as a car built for war to a car built for luxury.
 Jeep has been famous for its off-roader and continues its legacy with modern time off-roader- Wrangler.
 The very first Wrangler that ran on the road was in 1986.
The jeep came up with a variety of vehicles, SUVs, trucks, Jeepster, wagons, off-roaders, and also passenger cars. Jeep eve produced Jeep DJ (Dispatcher Jeep) and Fleet van.
Jeep even came up with an innovative invention that can run underwater but that didn't prove to be successful.
'Jeep Commander' is the most recent on-road vehicle by Jeep. Launched in August 2021 in Brazil. It is a crossover SUV. The very first 'Jeep Commander' was introduced in 2006. It is the second-generation Compass.
Another recent Jeep vehicle is GLADIATOR (JT), a pickup with phenomenal power and hauling and towing capacity. GLADIATOR (JT) can be considered best in its category challenging all the pickup trucks with its incredible features and strength.
The 'Jeep Wagoneer', a full-size SUV made in North America, is a recent Jeep model that will be unveiled soon. The vehicle is yet to be launched. It is said that this model will be available by the beginning of 2022. The very first Wagoneer was introduced in 1963. 
Some of the most recent and demanded models of jeep include 'Jeep Grand Cherokee SRT', 'Jeep Renegade', 'Jeep Wrangler', 'Jeep Grand Cherokee Summit Platinum 3.0 CRD', 'jeep Wrangler Unlimited', 'Jeep Compass' and 'Jeep Patriot'.
Conclusion
Although marque Jeep went through many phases, be it changes in ownerships or market transition phases but at present, Jeep has a global market and recognized brand name in the automobile industry.
 Be it trucks or passenger cars, Jeep has it all. Even today, when we talk about Off-Road Vehicle, Jeep is the first vehicle brand to be suggested.
Jeep has also made a significant mark in luxury vehicles but has lately stopped producing pick-up vans, roadsters, and other pick-up vehicles. Jeep cars come with different prices, capabilities, and sizes.
Jeep vehicle ranges from $22,280 to $2 million. Price may vary according to the features and size.
Frequently Asked Questions.
Question1: Who is the manufacturer of Jeep in India?
Answer1: In India, Jeep was manufactured by Mahindra under the ownership of Willys Overland. But as the ownership changed Mahindra lost its license. Mahindra started producing its Jeep-like vehicle-Thar.
 Now, in India Jeep is manufactured in Ranjangaon, a town in Pune at a facility jointly owned by Tata Motors Ltd and Fiat India. 'Jeep Compass' and 'Jeep Wrangler' are the two most popular vehicles among Indians.
Question2: Which is the most expensive and cheapest Jeep model.
Answer2: Jeep vehicles come in different sizes and with different features. The price of a jeep vehicle is completely dependent on its size and features. 
 The cheapest Jeep vehicle currently is 'Jeep compass' costly at around $22,280. Jeep Compass is a compact crossover SUV, powered with 4 cylinders engine.
 Whereas, the most expensive Jeep is 'Jeep Hurricane' costing around $ 2 million. This vehicle is a beast, made of lightweight carbon fiber, powered with an 8-cylinder HEMI engine. The car has no roof and side door and has a capacity of 2 people, with a maximum speed of 250km/hr.
Question3: What is Jeep Curse?
Answer3: Jeep's origin has ownership has begun complicated from the very beginning. Jeep has changed ownership several times and it is believed that every owner of Jeep has faced some other crisis after registering Jeep under their company. From Willys to Fiat Chrysler each owner has gone through a major crisis. The previous owner of Jeep- Willys, American Motors Corporation (AMC), and Kaiser Motors don't even exist anymore.
 The current owner, Fiat Chrysler Automobiles also had to make a lot of arrangements to Jeep under their acquisition.
 Every Jeep owner was cursed after the acquisition of the Jeep Brand and this came to be known as 'Jeep Curse'.
Question4: What were the reasons that Jeep gained market after the war, even though there were no particular marketing strategies adopted.
Answer4: It took no time for Willys' Jeep to become soldiers famous and soon was started to be used by each branch of the US Army.
 Jeep gained market in the post-war period even after no particular marketing strategies were adopted.
 The reason behind the success of Jeep was: World War II left a surplus of Jeep vehicles across the world, available to civilians as free samples. The US Army had a surplus of Jeep, so they marketed out the surplus which increased Jeep's capacity in the market. The Philippines came out with an innovative idea of converting the Jeep into buses by stretching out its tub, which also became quite popular.
Question5: The current owner of Jeep, Stellantis is the merger of which two companies and who heads Stellantis.
Answer5: Stellantis is America based automobile multinational corporation, based on a 50-50 cross-border merger between Fiat Chrysler Automobiles, an Italian-American multinational company, and the PSA Group, a French conglomerate. The company came into existence on 16th January 2021.
This company is headed by Exor N.V. (14.40%), Peugeot Invest (7.19%), Bpifrance (6.18%), and Dongfeng Motor Corporation (4.5%).
Question6: When and where was Jeep Compass introduced?
Answer6: The first-generation Jeep Compass debuted in 2007, and the second-generation Jeep compass debuted in 2018 in Brazil.
When was the Jeep founded? History of the Jeep.