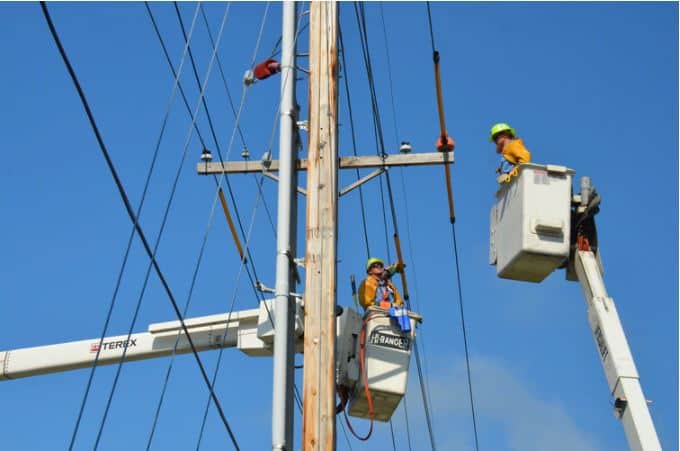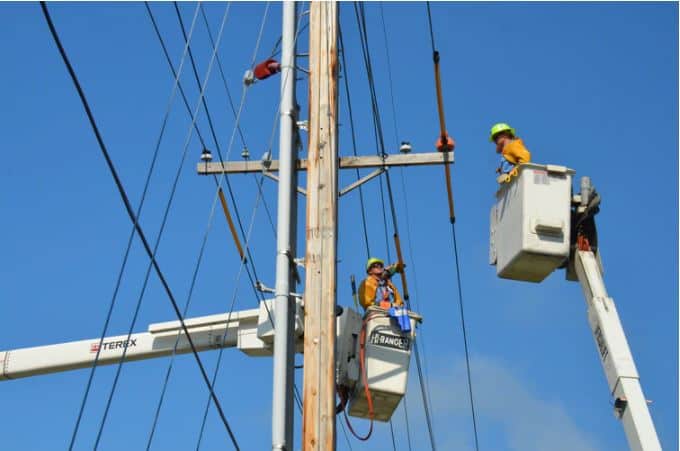 Who is a Lineman?
Lineman job description includes setup, maintain and repair intricate systems of power lines, cable television, telephone cables, and fiber optic cables that produce and supply services to clients. Despite similar responsibilities, line workers specialize their skills per the sector in which they are involved. Electric power and telecommunication are the two big industries that employ the highest number of lineworkers in the United States.
Electrical Power Lineman: 
Electrical power linemen characteristically install, repair, and maintain electricity infrastructure that varies in current such as the high voltage lines used to transmit electricity over long distances to the lower current distribution lines that supply electricity to clients. Herein, workers responsible for the interstate power grids work in crews that traverse large areas to repair transmission lines and towers. And those who maintain distribution lines are responsible for maintaining and repairing transmission equipment such as voltage regulators, switches, and transformers and are employed by local utilities. 
Telecommunication Lineman:
In the telecommunication sector, the specialization of line workers is by the services and responsibilities one undertakes. For instance, cables used to supply over long distances are different from those that supply the same over short distances in electric, telecommunication, and internet sectors. Therefore, a lineman operating electric metallic cables is unskilled to repair fiber optic cables made from glass and transmit signals using light. A fiber optic line worker is specialized in skills and equipped to splice, terminate, and handle the equipment required to examine, test, troubleshoot the optics and the networking systems. 
Line installers: As the name suggests, they are linemen who setup new jobs by developing the infrastructure that will supply the service. Hence their responsibilities range from erecting poles, towers, digging underground tunnels that are to be used to hoist the cables and wires. Consequently, the line installers are often adept in operating a wide range of construction machines such as earthmovers, diggers, and cranes equipped to dig holes and hoist poles into position. Once the supportive infrastructure is in place, they install the cables. 
Line Repairers:  They undertake both maintenances and installation duties when they replace worn out and obsolete equipment. They monitor the infrastructure in place using remote monitoring, onsite inspections, and outage reports from clients. The workers utilize specialized equipment to identify the cause of the system failure and repair it. They are adept in operating specialized equipment such as bucket trucks to raise them onto elevated supply infrastructure such as poles.  
Work Environment
Their work is physically demanding given the heavy lifting, working at great heights, in confined spaces. They also drive long distances in utility vehicles and work for long hours to keep the services flowing. 
Given they work outdoors, they encounter challenging weather conditions such as snow, severe heat, and rain. Above all, linemen are categorized as first responders during disasters and emergencies to inspect, identify and repair any damages on the service supply lines securely to restore vital services such as electricity and communication networks.
These working conditions expose line workers to hazards that require them to adhere to health and safety measures to avert possible dangers. These measures include adorning insulated protective gear and equipment when linemen are installing and conducting repairs. They also undergo health and safety training regularly and are encouraged to establish a strong teamwork culture.
Artificial intelligence has emerged as a health and safety measure to protect lineworkers from danger by deploying robots into sections that are deemed dangerous for humans. A binary solution that guarantees the safety of workers but also allows for the efficient running of electricity.
Furthermore, despite having regular work schedules, some workers report for duty on weekends and holidays, in emergencies, workers may work for long hours over several days until normalcy. Furthermore, despite having regular work schedules, some workers report for duty on weekends and holidays, in emergencies, workers may work for long hours over several days until normalcy.  
Lineman Job Requirements
Companies require a minimum of a high school diploma or its equivalent for an entry-level apprenticeship. Once accepted, the trainees undertake both classrooms and on the job training for three to four years. Upon successful completion, the trainees graduate to the journey-level and are considered qualified workers who can take up more responsibilities without supervision. Workers also qualify through two-year degree programs to receive skills in electricity, telecommunications, and fiber optics. Additionally, line workers may attain professional licenses, certifications, and registrations though they are not mandatory. For instance, the BICSI certificates installers and repairers from the Electrical Training Alliance and The Fiber Optic Association (FOA) offer two-level certificates for telecommunication installers and repairers.  
Important Qualities
Color Awareness:  Lineworkers should distinguish between colors as the electric wires and cables are color-coded. 
Analytical Skills: Possess Sound diagnostic, problem-solving, organizational, and analytical skills.
Technical Skills. Well-versed in undertaking repairs and using appropriate tools on intricate electricity and telecommunications infrastructure to undertake repairs.
Physical Endurance: Given the considerable workload, line workers should withstand working for long hours, at great heights, in confined spaces with heavy tools and equipment.
Physical strength: Line installers and repairers must be strong enough to lift heavy tools, cables, and equipment regularly.
Flexibility: A team player able to work in a stressful and fast-moving environment.
Lineman Salary
How much do lineman make?
The pay scale between line workers in the electrical and telecommunication industries in the United States is different as the former earning more. Additionally, the wages differ across States because of factors, years of professional experience, education qualifications, skills set, and certification. 
According to the U.S Bureau of Labor Statistics, the median annual wage for electric power workers was $72.520 in May 2019, with the lowest 10% earning less than $38,810 while the highest 10% earned over $103,500. California had the highest-paid line workers with an annual mean wage of $97,300.
Over the same period, the national median annual wage for a telecommunication worker $68,880, the lowest 10% earning less than $32,590, and the highest-earning 10% earning over $87,580. The State of New Jersey had the paid workers with an annual mean wage of $87,550.