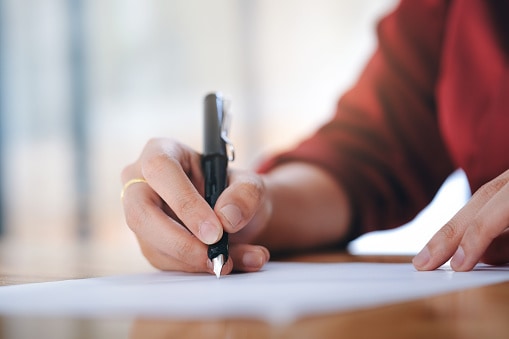 Proof of Residency Letter (Templates and Examples): An official testimony declaring that person is currently living within State.
The proof of residency letter is an important document that you would need to register for visas, schools, and state or national programs. Another term for it is the affidavit of residence, a sworn document by someone certifying he resides at a particular location. 
The Department of Motor Vehicles often needs proof of residency letters when you apply for a street parking or driver's license in your State. Your employer or landlord often writes it with additional information such as IRS Form W-4 for employees and a lease agreement if you are a tenant. These serve as additional evidence that you reside in such a location.
To write a proof of residency letter, you need to provide your name, address, how long you've lived in that area, and sign a legally binding oath on the accuracy of the information provided. Furthermore, you would need a landlord or renowned personality in any industry to append their signature on the document. 
Types of Proof of Residency Letter
Notably, proof of residency letters comprises of different types. Each type will depend on the situation you want to use it. Furthermore, a family member, landlord, or employer can append their signature on your letter. Let's look at a few proofs of residency letters you would need in the United States.
Employer – You needed proof of residency letter when you got a new job. You need to verify you have been working in a particular area in a State. Most times, you would need this kind of letter in a job or employment situation.


Department of Motor Vehicles – To get a new driver's license, you need to prove residence as an applicant. This is to ascertain you are a resident of such a State.


Notary – Under a penalty of perjury, you would need a sworn statement that the person has been living at the address provided. With this, you need to sign the document in the presence of a popular public figure.


Landlord – Your roommate or landlord may provide evidence that you live on their premises for a specific period. In other words, the landlord is vouching that you are a tenant in his or her apartment.


Family member – it is common for parents and guidance to claim their child or ward lives in their house.


School – You would need a proof of residency letter to certify you live present or have lived in a particular state. Furthermore, when applying for in-state tuition in a university, high school, or junior high, the proof of residency gives you an edge as it shows you are a resident of such a State.
How to Prove Residency of a Particular Place?
To prove residency depends on the person collecting the document because you can have many personal testimonies and third-party documents. However, it would also depend on the residency type you want to prove. For instance, for the Motor Vehicles department, you need to verify that you currently live in the States, unlike those applying for in-state tuition, to ascertain they have previously lived in such a State.
Note that each State has its laws. Therefore, it is essential to find out if that is suitable in your situation.
Writing a Proof of Residency Letter
If you are a resident or writing on behalf of someone, you are the author of the letter. The letter acts as an official testimony that you declare that person is currently living within the stated State. It acts as a recommendation; you can sign the letter and attach yourself as the author through a sworn statement. Although proof of residency letter isn't needed, it can act like a piece of evidence or cover letter to prove your residency. Additionally, it has contact information peradventure clarification is needed.
Attach relevant Evidence
It is not enough to write a proof of residency letter; you need to support your letter with verifiable proof that the individual lives there. You would need an updated document such as driver's license, bank statement, voter registration card, real estate deed, health insurance card, paycheck or paystub, cell phone bill, vehicle registration, mortgage statement, utility bill, or residential lease agreement.
For evidence sake, you only need to provide two of these documents bearing the same name. that would certify that the author is genuine and trustworthy.
Submit the letter with supporting document
The last step is to submit both the letter and supporting documents to the government agency or body requesting proof. Once accepted, the authority will return your letter and documents to the resident. With this, you have proven yourself to be a resident of such locality or State.
Template of a Proof of Residency Letter
At times, it is hard to come up with a good proof of residency letter. This section will provide a template that would enable you to write your proof of residency letter. All you need to do is fill the necessary portion of the letter and customize it as yours.
Affidavit of Residence
Name 
Street 
Zip Code
Date
To Whom This May Concern,
I (Name) formally accept residing at the street address of (insert full address, including State) since (the exact date, including the month), 20 (complete year).
I have attached the following documents for your consideration (mention the documents).
Sincerely, 
(Name and Signature)
Witness Acknowledgement
I, as a witness to the claims mentioned above made by (the author or person proving residency) and acknowledge their residency status.
First Witness Signature (signature here) Date (Date of signature)
Name (Witness name)
Second Witness Signature (signature here) Date (Date of signature)
Name (Witness name)
Notary Acknowledgment 
State of (Name of State)
County (County name)
On (Date), before me, (name of person proving residency), appeared (name of person proving residency) who verified to me based on acceptable proof to be the person whose name is written on the within the instrument and accepted to me that he executed the same in his authorized capacity and that by his signature the person acted, implemented the instrument.
I confirm under PENALTY OF PERJURY under the laws in the State of (name of State) that the previous paragraph is accurate and truthful.
Signature
Print Name
Also read Warehouse Skills for Resume & Examples
Proof of Residency Letter Free (Templates and Examples)