The camera rolls and you hear the clicking of boots, the scent of success, confidence, and achievements lingers into the air, every mesmerized eye making a way for the person to pass by. A single glance from the person, and you feel powerful yourself, all looking for the attention, but only best seeking their attention. Learn more about the leaders in movies.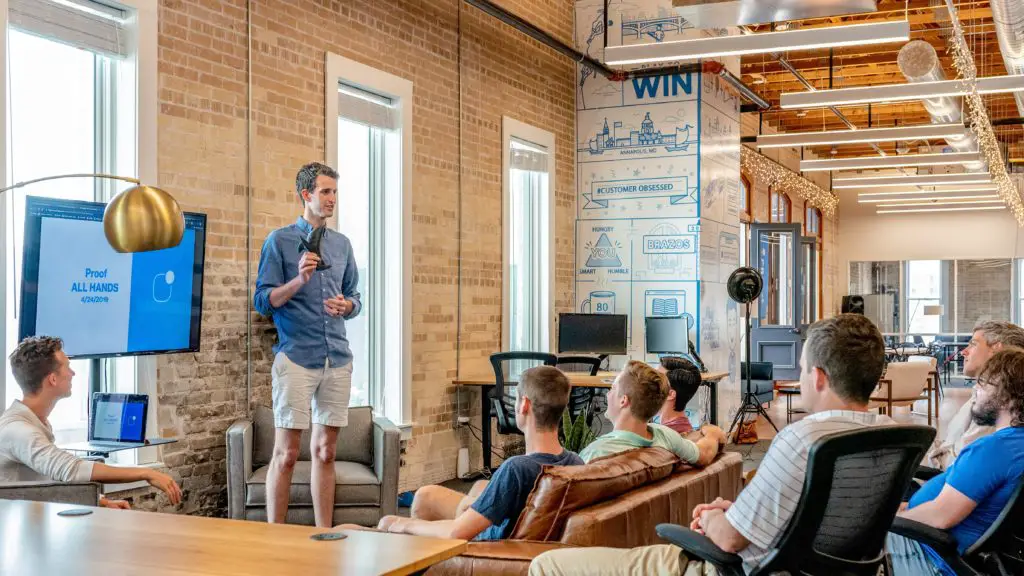 Who did you imagine in the above caricature? We surely won't be able to name them, but let me guess the right word for them in your mind – Leader. 
Leaders are the essence of every movie, and they are as important in a movie as in real life. The character of a leader is strong, charismatic, and swoons every person off their feet. A great personality that makes people follow them, step on their feet, and be a leader themselves. Leaders irrespective of their role in a movie have the power to enchant the audience. Be it fictional or real-life characters all have the power to give a message to the audience. Leaders make people believe in their powers and put their best forward in every situation. 
Leaders in movies inspire people, ensuring that they receive the power of the role and make changes for themselves. They inspire them to strive, be perfect, and use the motivation to do something big in their life. They are the perfect epitome of inspiration for others. 
If you love watching such a leader in movies and inspire yourself to keep your dopamine going, we have a  list of the best leaders of all time from different movies that will inspire you to the core with their amazing skills. 
What do leaders in movies teach leaders in real-life?
When we think about a leader we often pick certain qualities that suit them the best. They are anything but perfect, and we all aspire to inculcate such skills or qualities for us. The list of leaders in movies is also based on different leadership qualities. Let us see what qualities you can expect and learn from the listed leaders.
Humility is all about being humble, understanding the one you lead through their shoes, and this quality can surely pull a leader of everyone's dream. Often, leaders get tempted to be those knights in shining armor with hundreds of followers, but what real leaders understand is those followers are gained through being humble, understanding people, and leading them for their good. A leader must work for others first, then focus on their needs. 
Resilience is when leaders understand it is not going to be spring every day, and they need to roll up their sleeves and get into the dirt to make the best of every day. The quality makes a leader admirable as they focus on solutions to problems, work when times are not favorable, and strive to make the best out of every situation they face. Resilience brings with it several qualities like positivity, stability, and humanity. 
Vision directly influences the leader's ability to perceive things. A good leader always has their vision ready, and it is the vision that sells the leader first than any attitude. Vision acts as the key for leaders to make future decisions, this not only makes them anticipate the risks and errors in business but also envision solutions that can help businesses in the long run. Vision begins along with its commitment, loyalty, and helping nature. 
Delegation is a skill that asks the leader to step on the backfoot and let another handle the work. It is about distributing or assigning work to subordinates, teaching them how to achieve a goal, how to work towards success, and watching the entire plan from the executive eye. A leader must have the quality of delegation, where they are ready to assign the duties to others, trust others, and keep the people working them on a stature that can help them to achieve success. Great leaders know the importance of delegation, and they know how to work effectively with a team and make them shine. To give the right credits, and not fear about others overtaking. 
Confidence is inevitable for a leader. It is the confidence of the leader that stands out in the crowd and tells others the influence and the power of the person. Great leaders are confident in their work, they are confident in the team they lead, their projects, and the decisions they make. Aspiring leaders should work hard to inculcate confidence in themselves, the quality will take them very far in the game. It will help leaders to face problems face to face, making sure they follow their heart's desire without fear. 
Influence is created when people start believing in what a leader does. Influence is when people desire to be like a leader they see, and everything comes with the right attitude. Influence can be successfully obtained, when leaders stand out with the ability to emotionally attack the team, deliver proper expectations, and give a fair share of hard work to obtain effective results. 
Reel-Life leaders
Aragorn Elessar
Movie: Lord of Rings
A leader of humanity, filled with empathy is Aragorn Elessar. Elessar in the movie is a great leader that works on the back foot to help others and brings out ventures that can support the character he protects throughout the journey. He protects Fordo, with all his might and never leaves him behind at any difficult times. He also spends time to understand the schemes and apply them, which consisted of him, yet he keeps running on the grounds for ages to save someone precious to him and these teach leaders not one but many qualities. 
The character is a perfect example for leaders to be empathetic towards their staff, to respect people who work for them, to stay on the backfoot and support others. Herald the victory of others, and strive through their pain. It is great for businesses, where a leader always aims for the best for people around. Another quality that the character teaches is staying focused and motivated, through all the hardships of life. There is going to be competition, you are gonna fail, but what keeps you going is an important reason to rise. 
Tony Stark 
Movie: Iron Man, Avengers 
Adaptability and never giving up are the two attitudes Tony Stark teaches every leader out there. In the movie, Tony Stark always looks forward to improving his pursuit and bringing changes that can benefit him more than the last. It is seen when he designs 42 suits for himself, and every time the newer version is better than the previous. He also teaches all the leaders the quality of being open to change and facing advancements as blessings. 
Iron man the character teaches every leader out there to embrace change, and make a nemesis that encourages you to grow, as well as help you in adverse conditions. It teaches us to be down to earth and always look for opportunities wherein changes can bring more opportunities for all the people. A perfect example of a leader with needs and aspirations is Tony Stark.
Whether you are working for a business or leading a team, the qualities Tony Stark teaches can never leave us behind the gap of being a perfect leader. 
Indiana Jones
Movie: Indiana Jones
A hero with witty humor and calculated moves is all we need to see a perfect adventure that never fails. Irrespective of all the hardships faced by the character in different ventures of his adventure, one thing that the character never fails to achieve is success. Be it any task, any problem, or any hindrance, the character is all ready to bash the heads of the enemies, paving a path to the destination. 
Indiana Jones, the leader, is the perfect character that teaches real-life aspiring leaders to be ready for challenges. He inspired people to be ready with solutions, how? By planning and understanding what they are putting themselves in. The character teaches the leaders perfectly that it is necessary to understand things before you dive into the situation. It will help you see risks, and come up with solutions for the same, thus making the path toward success a tad bit brighter. It teaches leaders to take calculated risks, that is to understand the risks they will face. In the end, his humor teaches us to be grounded, welcoming people with empathy. 
James T Kirk
Movie: Star Trek
The leader with a 369 perspective and an attitude to follow his heart is James T Kirk. The character is a famous human star fleet officer who has seen several hardships throughout his life to rise to the top. The character saw his father's death, starved, worked with trainers, and gave life to the people who helped him. The character is a perfect blend of leaders who rise from the wits of his mind and never forget the essence of where he came from. The character thinks from an overall perspective and keeps suggestions from his colleagues at a closer distance. 
The character teaches a lot to real-life leaders. It tells them that hardships are inevitable, and during your course to rise to the best you will face situations wherein you might lose yourself, but what you need to understand is never giving up on life and falling over to your emotions. Each day brings new opportunities, making the best of it is a leader's responsibility. Apart from this, it also teaches aspiring leaders to understand perspectives. Often in businesses, it is the people on the back foot who see a wider perspective, so ensure to keep people who can provide you with a wonderful perspective by your side. They will help you in making decisions, however, do not forget to listen to your heart and thoughts. As James Kirk says " you think, or you sink".
Jason Bourne
Movie: The Bourne Identity
The impromptu leader with amazing reflects is Jason Brune. The character is all about working on his reflexes and making a point without caring about the consequences. Though it might seem contradictory to a leader's role, sometimes reflex is all it needs to take the first step for success. The character manages to overcome several difficulties through reflex; he ensures to make the job a daily habit to ensure that the work is quick and in essence at his fingertips when in need. He sees challenges as sports and ensures to keep himself focused throughout the process. 
The character in quick glimpse teaches aspiring leaders to be sharp thinkers, and practice their skills daily. The character inspires leaders to use their reflexes to put a business or product out in the market. The reflex will help them in making decisions and facing challenges openly. The character also indirectly teaches leaders to be persistent with their skills, and practice them in every nook of their life. It helps them to effectively understand aspects of business situations, and work on them like they are some high school sports tournaments. 
Real-life leaders
Queen Elizabeth
Movie: The crown
The charismatic leader facing the entire regime is Queen Elizabeth II. The Queen believes in approaching the power through a level-headed negotiation with different people. She brings forward her points with poise and makes an effort to listen to people before making decisions. She is filled with humility, and self-awareness, and understands the need to create healthy debates. The leadership qualities she follows are exceptions and it subtly tells every leader to be calm rather than assertive in making decisions. 
Queen Elizabeth II teaches leaders to be humble, self-aware, and understand the depths of situations they are calling for. It involves the ability to make decisions, understand perspectives, and be level-headed when making important decisions. She inspired leaders to be influential rather than being assertive towards others, this helps them to be ambitious, and keep all the people closest to them. 
Katherine Globe
Movie: Hidden Figures
An inspirational leader who does not face ever evil irrespective of race and color is Katherine Globe. Based on real-life events, the movie Hidden figure talks about the struggle of women, and colored women in their regime to take technical roles in well-known organizations. The movie is about the hardships of Black Women in NASA, and how she does not heed to any evil actions thrown her way and does her best in developing the trajectory for Apollo. The characters depict inspiration and talk against injustice in any form. It is well showcased through several scenes where she fights against color norms and faces people in the very same place. 
The character from the movie as well as real-life teaches leaders to be strong, inspirational, and seek justice in every action. It inspires leaders to be influential, making sure to take action for every unjust action without fearing the consequence. She inspired leaders to be focused on their goals, and not divert from them when someone underestimates their power to do the work. The leadership Katherine teaches is all about inspiration, and transformation. 
William Wallace
Movie: Braveheart
William Wallace was a Scottish soldier whose life was depicted in the movie Braveheart. As the name suggests it is all about bravery and overcoming fear. The character is all about winning wars through intelligence, practical arguments, and vigilance. The character is a great inspiration for leaders who are Bravehearts and do not fear taking risks during any situation. 
The character is a perfect depiction of bravery, and it holds a huge place as it inspires aspiring leaders to be brave in their decisions. It is all about facing fears irrespective of how huge the enemy is and what powers they hold in a war. Apart from that, the character inspires the leaders to make decisions based on a wider spectrum, and fight together to do a big cause. It also inspires leaders to take fierce decisions, and put thoughts behind the process. 
Christopher Gardner
Movie: The pursuit of Happiness
A strategic leader with the pursuit to achieve all he desires is Christopher Gardner. The character depicted by Christopher is of a father convincing his son about the pursuit of life, and how every person should listen to their hearts first. The Pursuit of Happyness is a movie that talks about happiness, and the strong will to acquire desires through hard work. It tells how important it is to understand our desires and work on them, to not listen to others' opinions, and to stay strong to achieve our goals. The movie is a great inspiration for leaders to motivate them to earn their desire irrespective of people's opinions. 
Leaders often face problems wherein they are looked down upon, or underestimated by people, and the character in the story is a great inspiration for them to understand nothing matters more than their desires. The character also puts forward a point which says, " do not limit your beliefs, because I said so", the line perfectly depicts how leaders should not fall prey to pseudo beliefs. They should rather strive hard and broaden their perspective of different aspects of life. 
Principal Joe Clary
Movie: Lean On Me
Lean On Me is a movie that revolves around underachieving students, and a principal working toward uplifting the students to ensure that the school does not close down due to government decisions. The entire film revolves around the decisions taken by the principal Joe Clary to uplift the students of the school. He works with all the students to ensure that every potential in the school is supported, and students do not fall under bad influence. The entire film strongly depicts the leadership skills of Joe Clary and tells how he handles the situation with grace. 
The character is a huge inspiration for leaders to be inspirational in their work. It tells them that it is ok to fall under adverse circumstances, and rather than crying or cursing over the situation leaders should make an effort to come up with solutions that will help them to pull themselves out of the situation. Also, in the movie the character works towards uplifting students and working towards their benefits, similarly, a leader should ensure to uplift the people they work with and devise plans that can benefit all the staff or people working with them. 
Conclusion 
Whether it be leaders in movies or leaders in real-life, all are meant to inspire many people on their way. Leaders are not born with inherent qualities, they build the qualities over time, ensuring to polish every skill to perfection, and this is what makes them perfect in the eyes of the people. The struggles behind becoming a leader are huge, but what will push aspiring leaders towards becoming great leaders is motivation. 
To motivate you throughout the journey to become a great leader, we have brought you a list of great leaders like Tony Stark, Queen Elizabeth, Joe Clay, and many more. Go through the personalities of both fictional and real-life leaders to understand your strengths. 
Leaders In Movies – Know More