Dunkin Donuts LLC, more commonly known as Dunkin', is a coffee and doughnut company, founded by William Rosenberg in Quincy, Massachusetts, in 1950. This American multinational company is also a fast-food joint and has widespread delivery services. Headquartered in Canton, Massachusetts, United States, Dunkin's current CEO is David Hoffman from 2018. Inspire Brands and Dunkin Brands are considered to be their parent organizations. Dunkin' now has more than 12,200 franchised outlets in over 45 countries. In this article we will know about Dunkin Donuts Employee Benefits.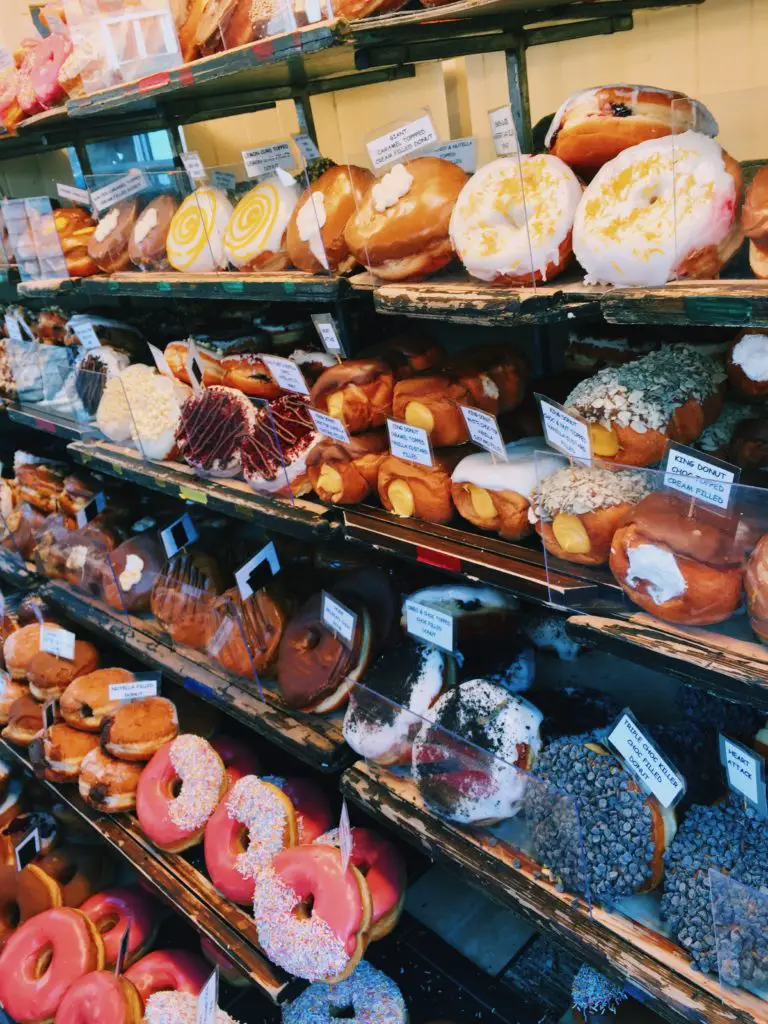 Each Dunkin' eatery is independently owned and functioned by a franchisee – a self-regulating owner only accountable for running their day-to-day procedures and making decisions on their own, including choices about employment. Each outlet decides the salary of the staff members and employee benefits, which usually varies from store to store. 
Openings, too, will vary at each outlet. If you apply, whatever information you include in your application, will be seen and dealt with by the owner of the store you have applied to, after checking vacancies. Even after you are hired, everything regarding your job will have to do with the owner of that outlet. Dunkin' franchisees are constantly in want of reliable, outgoing, team-oriented people who can keep up with the pace all Dunkin' stores are known for.
Employee Benefits At Dunkin'-
The biggest benefit, if it can be included in this list, is the wage system; that is, the salary of the staff members at every outlet. Even though the rate differs from franchisee to franchisee, below given is an average estimate of Dunkin' employees-
Sought After Roles:      
Crew Member – $10.95 per hour
District Manager- $68,632 per year
Assistant General Manager- $12.79 per hour
Management:
Shift Leader- $11.42 per hour
General Manager- $14.06 per hour
Assistant Manager- $12.69 per hour
Food Preparation:
Baker- $11.42 per hour
Barista- $10.73 per hour
Restaurant Manager- $16.00 per hour
Retail:
Cashier- $11.41 per hour
Customer Service Associate- $10.56 per hour
Store Manager- $15.36 per hour
Other Benefits Given To Dunkin' Employees:
The benefits offered to employees at Dunkin' include- Health Insurance, Paid Time-Off, Life Insurance, Dental Insurance, Disability Insurance, Employee Discount, Flexible Work Schedule, Vision Insurance, Retirement Plan, Tuition Reimbursement, Monthly Bonus, and Yearly Bonus. All of the following benefits will and do vary from location to location, and from one store to the other. Certain benefits offered will differ as per the job position you are in. 
Insurance– Insurance Policies at Dunkin' include Health Insurance, Life Insurance, Dental Insurance, Vision Insurance, and Disability Insurance. Most of these insurances remain valid as long as one maintains their position as a full-time employee. But even the basic insurance plans offered by Dunkin to its employees are not cost-effective and end up being heavy on the pocket. Dunkin' provides company-paid life insurance to all its full-time employees. The Dental and Vision insurance for employees comes with a company contribution.
Flexible Work Schedule– Dunkin' is very adjustive and offers flexible schedules for its employees to help them balance their work-life and leisure. Each shift at any Dunkin' goes on for 5-8 hours at the most. The morning shift starts at 4:30 a.m. and ends at noon. The afternoon shift begins after this, followed by the night shift, which ends at around 2 or 3 a.m. Anyone who works 40 hours a week at Dunkin' is considered a full-time employee. Employees can choose which day they want to work which shift, and this selection can change every day. Dunkin' offers flexible working hours for students in high school and college. The work-life balance ratio maintained at Dunkin' is believed to be 3:1.
Paid Time-Off – At Dunkin', paid time-off includes vacation days, sick leaves, and personal days-off; the amount of which depends on different outlets and locations. Most Dunkin' employees have reported that they do not get their paid sick leaves to reset each year. It is relatively easy to ask for PTO's at Dunkin'. Most employees are not offered a floating holiday, and most of the time, PTO's not used are not paid out. Dunkin' offers around 10-20 paid vacation days per year, 6-10 paid sick days, and 6-10 paid personal time-offs. Again, these numbers will vary from one store to the other. 
Tuition Reimbursement– To avail of this benefit, each employee needs to communicate their willingness for tuition reimbursement with their store's human resource department, and show identification proofs in the high school or university they are studying in. The average tuition reimbursement for undergraduate courses is around $5,250 and around $10,500 for postgraduate courses. At Dunkin', corporate employees of Dunkin' Brands are eligible for tuition reimbursement of up to $5,000 annually only after six months of service.  
Monthly/Yearly Bonus- Dunkin' pays around $2,049 annually as employee bonuses. Any employee who works overtime, that is, 60+hours, gets two days off that month. Dunkin' also pays overtime to any employee who works more than 40 hours a week. Given below is the list of approximate amounts paid as bonuses to Dunkin' employees:
General Manager of an Establishment- $3,000 per year
Restaurant Manager- $2,000 per year
Cashier- $200 per year
Store Manager- $2,000 per year
Crew Leader- $50 per month
Operations Manager- $7,000 per year
Retail Store Manager- $600 per year
Employee Discounts– It is a myth that Dunkin employees get to have any food/beverage item for free, whenever they feel like it. Staff members have to pay for everything they get, with a 10% discount on all items. Qualified Dunkin' employees are eligible for free lunch and snacks, but not every staff member falls under this category. Some locations allow their staff members to get any food or any beverage for themselves while they are working; when they are off-duty, they get a 30% discount on all items. Since the minimum hiring age at Dunkin Donuts is 16, all employees above age 16, in some locations are allowed to have donuts and coffee, unlimited, in employee cups only. There are usually no breaks if you are under 18.
Health Benefits Offered At Dunkin'– Dunkin promotes a healthy lifestyle and a fit work regime. It has healthy options for their employees to opt from for their lunches or snacks, on-site gyms (only some locations), and fitness classes for the staff members. It includes:
Fitness and Nutrition health charts for employees
Seminars and events to talk about the importance of fitness
Health evaluations and full body check-ups, including biometric screening
Certified, recognized fitness coach
Education Opportunities
Other Benefits Include- 
Early leaves every Friday of the year.
Any coffee, hot or iced, tea, bakery items, confectionery along with ice creams and fresh fruit available all day long at their Massachusetts Headquarters. 
Employee discounts of 20% on their packaged coffee, Dunkin K-Cups, and other beverages.
A casual dress code once in a while, unless any event requires you to wear formal clothing for the day.
Traditional retirement plans 401(k) with company match
28 days paid-time-off in the first year
Conclusion:
Dunkin' is relatively cooperative and supportive while offering benefits to its employees. But there are a sufficient number of clauses that come with each benefit.
Frequently Asked Questions-
Does Dunkin' pay weekly or biweekly? Does Dunkin pay through direct deposit?
Dunkin' pays its employees and staff biweekly, that is, every two weeks. For some locations, payday is Friday, while for some other locations, payday is Tuesday. Direct Deposit is in fact, an option for payment. Dunkin' can even get you paper checks if you prefer that mode of payment. They also pay you in cash, if you decide against cheques.
Can you transfer from one store to another, on your own wish? Do you need the experience to work at Dunkin'?
You can choose to transfer from one location to another location of Dunkin', only if the other store has a vacancy for the position you are in. As for the experience, you do not need the experience to work at Dunkin', for entry-level jobs. For other job positions, remember to check the job description for requirements.
What is the minimum wage at Dunkin'? What is the minimum age requirement to work at Dunkin'?
The average salary of a crew member at Dunkin' is $14 per hour. The minimum wage is approximately around $9 or $10 per hour. The minimum age requirement to be eligible for working at Dunkin' is 16. This attracts more high school and college students, along with the scholarship perks offered by Dunkin' Brands.
What to wear to work at Dunkin'? Does Dunkin' provide uniforms?
On the day of orientation, it is advisable to wear blue jeans and a white polo t-shirt, along with black shoes. You will eventually be provided with Dunkin Donuts uniforms which include an apron, a shirt, and a hat. Slip-resistant shoes will not be provided by the company, you will need to purchase those, along with your own white shirt and khaki pants. Dunkin Donuts does not, as a matter of fact, allow employees to have colored or dyed hair. Dunkin' takes their employee dress code pretty seriously; they do not appreciate if any of their employees turn up in hoodies or ripped jeans.
The Dunkin Donuts Employee Benefits – Benefits And More