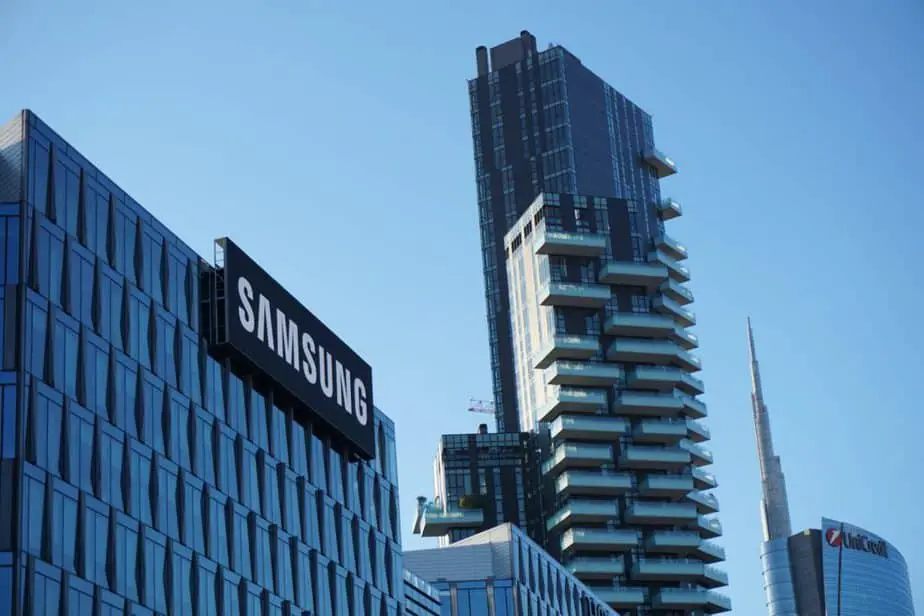 INTRODUCTION 
Samsung was one of those brands that come to our mind whenever we come across buying phones or other home-based accessories worldwide. Not only do they provide us numerous products with different features in the world but also give us reasonable prices for the product we want. Here, let's know about Samsung SWOT Analysis.
Apart from Apple, it is Samsung that is used by most of the people living in American society for daily use. In this article, we are going to talk about the SWOT analysis and competitors associated with Samsung. 
SAMSUNG: THE BIG BRAND 
Currently, Samsung Electronics, Limited is the world's second-largest technological business, producing digital devices. It is a South Korean corporate organization. Samsung has also been named the number one consumer electronics business on the planet, and it is known for its revolutionary breakthroughs in computer media.
The firm is well-known for producing telecommunications, technology, domestic appliances, and transistors.
It began as an emulation product category and evolved into an internationally recognized innovator in technology innovation. The technology industry is now the world's biggest maker of smartphones and mobile phones. It now sells over a hundred various types and models of goods. It has active branches in about 79 countries.
Samsung was founded in 1938 by Lee Byung-Chul. It began as a trading firm before evolving into electronics manufacturing in the late 1960s. As of December 2019, it employed around 287,439 people.
SWOT ANALYSIS 
Samsung's SWOT analysis shows the business strengths as well as areas where it might improve. It also discusses the threats that the company may face as well as the different opportunities that the brand has in the worldwide market. For the brand to maintain its protracted edge over its competitors, it must examine and solve the numerous problems indicated in Samsung's SWOT analysis. Let us now look at Samsung's SWOT analysis.
STRENGTHS 
1. Samsung's Research and development team 
Samsung has an exceptional R&D department that culminates in the most extensive technology platform of any technology company. To be successful in the technological sector, development is required. The more a firm commits to research & innovation, the more likely it is to advance. 
Samsung has around 34 R&D facilities around the entire globe, and it spends more money on them. Samsung's R&D spending has a significant link with the gross revenue progress and expansion into future product segments. The brand's investment in R&D has contributed to the development of numerous new items throughout the years.
2. Excessive product preferences.
Samsung has a large number of items in its technology platform, and it provides a diverse selection of applications to its consumers. In exchange, the revenue it generates is fairly consistent. When the revenue of one commodity declines, the selling of another commodity may grow.
3. Environmentally Friendly Technologies
Using environmentally sustainable technologies, Samsung has improved its image and reputation. It was ranked ninth among the Top 30 Technical and Telecommunications firms on the EPA's 2016 Green Energy Partner list. For five years in a row, it has also earned the Environmental Protection Agency's (EPA) yearly Energy STAR Affiliate of the Year Awards Ceremony. This success is just not shared through other firms, which boosts Samsung's attractiveness across all business areas.
4. Electrical and Electronic components Production Expertise
The brand's primary strength stems from the development and manufacturing of semiconductors and electrical markets. This key strength is excellent, as seen by the major techniques used by the company in the manufacture of their completed merchandise. 
It may also be observed in the massive use of the services by consumers. Given that major technology firms employ Samsung electrical components in their separate completed products, their dominance is significant.
5. Firm Foothold in Asian Countries
Samsung has a substantial presence in Asian countries, notably in India and China. Both India's and China's economic sectors are expanding rapidly. Therefore Samsung has taken full advantage of the chance to motivate employees in these nations. Samsung already has a strong and long-standing partnership with several shops in the United States and Europe. 
These nations provide a consistent sales outlet for the brand and its products. In the Netherland, Samsung controls more than 40% of the mobile market. Samsung Malaysia Electronics took home the top prize at the 2015 Putra Business Honors. It will help to establish a good image in Malaysia.
6. Outstanding Architecture and Designing Capabilities
To date, it has built a solid reputation for providing high-quality items at affordable prices. Samsung has impressive advanced research skills. It is a significant strength for the business since they have a fantastic and unique design. For smartphones and tablets, Samsung was able to incorporate several of the features from both Google's and Apple's Android operating systems. Every year, the firm is renowned for releasing new creative models that keep the industry moving.
WEAKNESSES 
1. Android operating system.
Samsung's smartphones run Google's open-source Android software. Many users regard Android as a second-rate system when contrasted to Apple's iOS. It is all just people's experience of Apple iOS being more functional and classy than Android OS.
It is, in reality, a significant vulnerability for the business that may have a significant impact on the revenue. Numerous flaws exist in Samsung's Android platform. Even though they have worked hard to improve the Android, this still falls short of expectations.
2. Reliance on low-cost devices
Low-end unit sales account for a sizable percentage of Samsung's income. Current revelations have had a bigger influence upon the sector than that on the high-end smartphone industry that contributed to Samsung's fall from 71 million smartphone shipments and 19.1 percent market dominance in Q1 2019 to 55 million smartphone penetrations and 18.5 percent market dominance in Q1 2020.  
It constantly maintains a low-profit business. This industry is crowded with rivals. As a result, in today's competitive marketplace, companies need to provide items at a low price.
3. Product breakdowns 
Any device that endangers consumers' lives erodes confidence and belief in the firm. Samsung has released some defective goods to the marketplace, including a bursting Samsung Galaxy A20e and a malfunctioning bendable phone. 
Samsung was severely ridiculed for the manufacture of the Galaxy S7, which exploded in popularity just a few days after its release. The firm was told to surrender all S7 goods, incurring significant losses. As a result, and its brand was harmed.
4. Significant Reliance on the US States 
It is estimated that the business sold over 70% of its handsets in the US area. Despite the industry's growth in Asia and diversification of capabilities, the brand remains reliant on US markets. The US business is volatile, and any downturn would threaten Samsung's income and endanger its operating assets. 
As a result, Samsung should invest in Asian and European markets to maintain long-term viability and avoid potential failures if the US economy falters. It is a significant drawback for the company.
OPPORTUNITIES 
1. The 5G Technology
As the globe transitions to 5G, Samsung has the resources and understanding to benefit from this possibility. The business is already in extensive trade talks with EU providers about supplying 5G and 6G network infrastructure. Samsung is ranked high on the UK's list of prospective 5G suppliers.
2. Strategic alliances with application developers
These Dynamic research analyses strategic collaborations with software companies as a potential source of income growth for Samsung, taking into account the industry's research, production, and manufacturing infrastructure. Exclusive collaborations with computer programmers, for instance, can give additional capabilities to make the group's consumer devices more affordable
3. Proposition for Triple Protection
Samsung is ready to unveil the Triple Protection Proposal, a central air conditioning item that combines cutting-edge technology with immaculate craftsmanship. The program is aimed towards a specific client base to guarantee optimum consumer loyalty.
4. Diversity leads to economic prosperity.
Diversification is a chance to expand the firm by embracing other sectors or companies; however, taking advantage of those opportunities has dangers that might impair the industry's semiconductors and consumer devices companies. The environmental factors in this component of the Dynamic study indicated the preferable economic conditions inside which Samsung may expand its profits, share price, and general competitive edge.
5. Introduce Novel Products
The smartphone industry is volatile, with the most recent trends falling out of vogue in an instant. Samsung can achieve tremendous development by setting the standard with outstanding and creative goods such as foldable phones. 
If Samsung goes online like Amazon.com, it will have additional chances. Internet access would enhance the brand's revenues and provide more rewards. Consumer devices would see a surge in demand as the emerging working class grows. Adopting modern technology to improve products can assist the bottom line.
THREATS 
1. Legal stipulations and litigation
Legal limitations and litigation are some other exterior obstacles that might hinder the company's primary growth, particularly in important mobile communications economies like the United States and European Countries Union, wherein Apple as well as other rivals are currently promoting legal methods. 
The risks highlighted in this Pestle investigation continue to be a danger to Samsung, necessitating solutions to reduce their impacts on the project and retain the edge over its competitors.
2. Enhanced Competition
Competition from competitors, particularly those in consumer technology, cell phone goods, and computer areas, has achieved an all-time level. Whether this is Redmi, Apple, or Huawei, all of the technical opponents are ambushing and surpassing one another in their quest of becoming the finest mainstream technology. This simply adds to Samsung's financial and competitive pressures. Intense pricing competitiveness in the mobile industry may reduce Samsung smartphone profits.
3. Ineffective Marketing Plan
Samsung has strong research, innovation, and manufacturing capabilities, but it struggles and also has lost track of advertising. To preserve its share in the market, the product's marketing methods would need to be revamped. This must be addressed, or else the brand will suffer a marketing danger if its competitors surpass it. The market is competitive, and failing items can be a problem for the firm.
4. Patent Infringement Disputes
Samsung has been embroiled in some issues that have jeopardized its company. Apple launched a complaint against Samsung for copyright violations that resulted in a seven-year legal fight before concluding. However, the firm was punished when a jury determined that Samsung had copied Apple and was ordered to pay $1.049 billion in economic damage. This litigation harmed the image of the business as well as its sales.
COMPETITORS 
There is no question that Samsung is the industry leader in Phones. The introduction of Android Phones has been a boon to Samsung. Samsung has embraced the Google Android OS, producing some stunning devices that have grabbed the globe by storm.
Samsung is among the most popular Phone models. There are three: the Samsung Note range, the Samsung Galaxy sequence, and the Galaxy Edge series. Samsung and Apple were the two firms that supplanted Nokia as the Smartphone's dominant player.
1. APPLE 
When it comes to professional cell phones, Apple's iPhone is without a dispute the number one rival to Samsung. Nearly every single year, three cell phones are unavoidably released. The First will be an iPhone, the second will be a Samsung Note, and the third might be a Galaxy Note or Galaxy tab edge. The iPhone became one of the first smartphones to include multi-touch capabilities.
Although many people adore the iPhone, Samsung used Google Android to introduce numerous features of its own, including some hardware. The Apple vs. Samsung argument is never-ending. What began as a supplier development has evolved into one of the bitterest rivalries in history. They have both sued and mitigated other copyright violations. A released Samsung strategy paper from 2014 indicated that the primary objective was to outperform Apple. It may have been successful in the mobile phone industry, but Apple remains the revenue leader.
2. XIAOMI 
Xiaomi was the fourth-largest smartphone manufacturer in 2015. Xiaomi is a privately held business based in China. Xiaomi's greatest advantage is the Asian population, which it can easily cover, particularly India and China, two of the most populous countries. Xiaomi is the third-largest rival to Samsung due to its distribution and manufacturing capabilities.
Xiaomi and Samsung both have established their market in India as well as the US and want to grow more and compete with Apple globally. They release their phones every month in these countries with major updates and features to win the Indian market. 
3. MICROSOFT 
People were expecting Microsoft to be a significant role in any situation where it enters. However, this is not the scenario in the Smartphone industry, where Microsoft lags well behind Samsung rivals. Microsoft's system software is the cause for its lack of commercial adoption. People either prefer Android or IOS. 
Nobody, meanwhile, is operating Windows 10 on a Mobile, which appears to be a Computer program disguised as a mobile application. But we will never anticipate Microsoft to provide devices with Google or Apple applications. As a result, it is doubtful that Microsoft will get to the level of a Samsung contender.
4. LG 
Both based in the same city, the struggle between two of South Korea's largest IT behemoths is not only for dominance in the domestic market but also in the world arena. It is a competition that erupted into crackdowns in 2013 when LG charged Samsung with snooping on it. Samsung and LG have been embroiled in patent infringement battles over OLED technology. There is little doubt that Samsung leads in total earnings and smartphone sales, while LG leads in domestic appliances.
5. SONY
The Sony Xperia range was a refreshing change of pace for the business following the demise of Sony Ericsson – the collaboration of Sony and Ericsson to manufacture and sell handsets. Sony Xperia shook the industry when it released smartphones that were completely waterproof and might survive being dropped in a pool. 
With the smartphone industry being as it is, companies quickly followed suit, and several manufacturers promoted their waterproof phones. Nonetheless, Sony had the first edge, and it captured the attention of a large number of customers. Sony Xperia range and other Sony smartphones are still popular among customers.
Some other companies that are great contenders to Samsung are:
HTC 
One plus
Oppo
Vivo 
Motorola 
HP 
Intel
Google Pixel 
I-ball
Nokia 
Panasonic 
Whirlpool   
CONCLUSION 
The SWOT analysis of Samsung discussed in the article has underlined the brand's key strengths, which stem itself from brand equity, originality in its specific goods, and major investment in R&D, powerful global presence, and diverse application deployment in its goods. Its distinct qualities, which are implemented into its business strategy, set it distinctive from the rest of the technological companies. Happy Reading! 
Samsung SWOT Analysis- And its Competitors