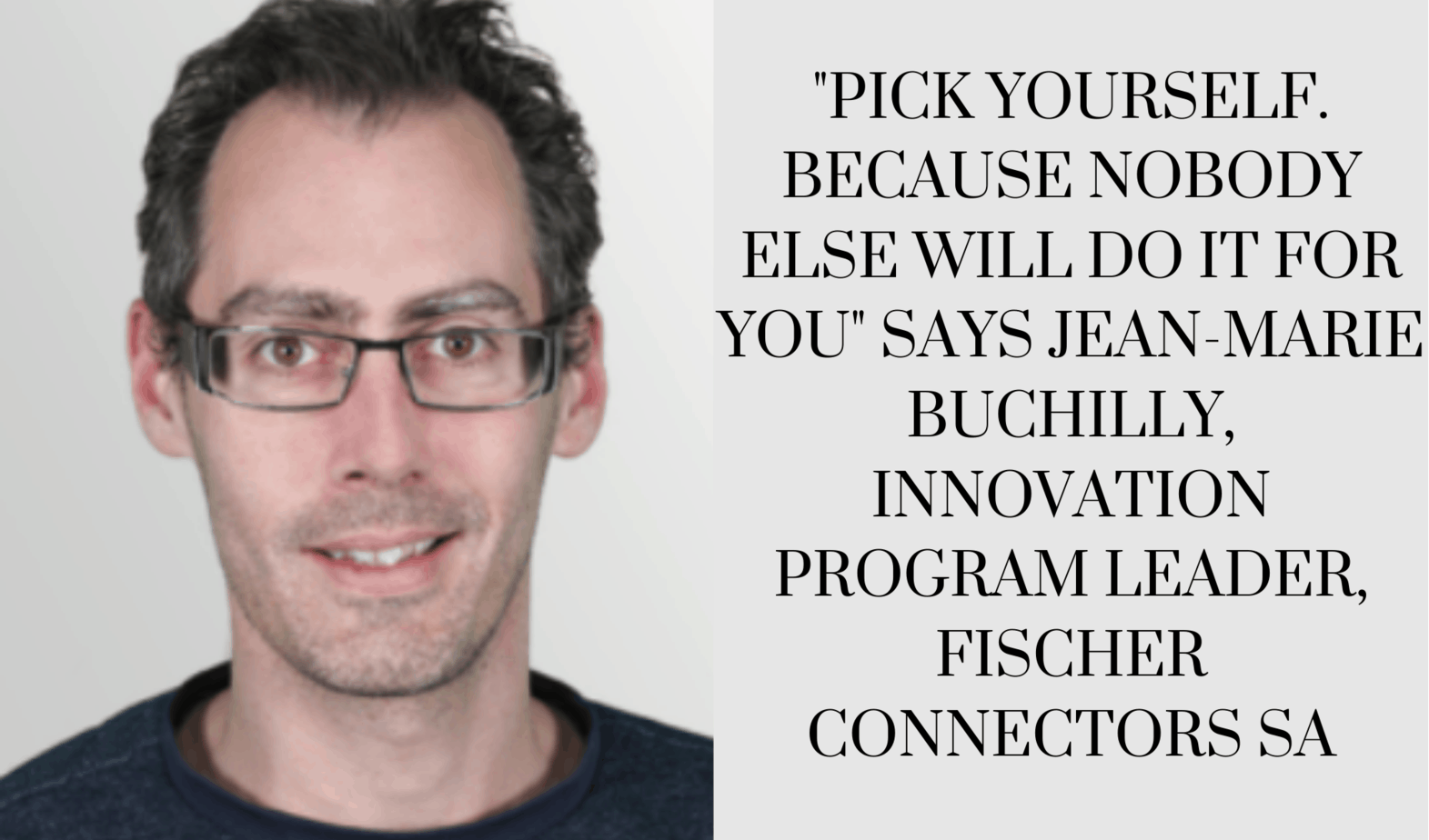 Jean-Marie Buchilly, Innovation Program Leader, Fischer Connectors SA
Before telling you my story, I want to share one thing with you: I am a big fan of Seth Godin.
Seth is the person who inspired me day after day through his blog and his books.
One of his most powerful message can be summarized in two words: Pick Yourself.
We will come back to this later.
I am 40 years old and I am right now doing the job of my dreams as Innovation Program Leader in a Swiss company that designs and produces electrical connectors.
My career doesn't have too many steps until now and the most important ones are not directly related to my daily job as you will note.
My background is an engineering one, as I graduated in Microengineering at the Swiss Federal Institute of Technology (EPFL) seventeen years ago. Since then, I worked five years as an Application Engineer in a start-up. In the frame of this job, I had the opportunity to travel a lot. This for sure contributed opening my mind as I was immersed in different cultures, as South Korea and USA. I mean, I was sent to places you would never go for vacation and these were hard but great experiences. I learned a lot about people and cultures.
Then I joined my actual company twelve years ago as a Project Leader (or in Project Manager job if you prefer). Despite the fact I had no official background in project management, I was pretty confident I could do the job as my EPFL best takeaways were a capacity to adapt, learn and bring an holistic view on the table. The main challenge, again, was a human one as my role was to lead a group of people in order to achieve our common goal: developing new products. I very soon realized that "our common goal" was only mine, as most of my teammates had a daily job that was directly related to the daily business (produce thousands of parts a day and deliver them to our actual customers). I had no direct and official reporting relationship with the people in my team, so I had to develop multiple ways to convince them to help me achieving our (my) goal. I learned what it means to "lead without authority". I assume it was my first real field contact with leadership. Since then, this word became central in my career and in my life.
After five years of project management, I had the chance to reach the Graal. I became a Manager. In fact, I took the position of New Product Development Manager.
I had a team of five people at the very beginning, all of them were designers, engineers and project managers. Then, the team grew continuously to reach a more than ten people group.
Becoming a manager did not change the game for me. I learned the most difficult part of the job when leading without authority as a project manager, so leading with authority was much easier. Excepted I did not change my way to lead, because I realized my main objective was to inspire and empower my people. And authority is of no use in this purpose.
I had more responsibility. The responsibility to help this group bringing their best work day after day and make change happen.
The same year than I became NPD Manager, my daughter is born and I am not sure about it, but there is a chance she contributed to frame the way I see the world since then.
Beside my professional life, another very important activity for me is wine. I am a wine enthusiast for more than fifteen years now. I am an autodidact as I read many books on the topic and tasted hundreds of wines from everywhere in the world (and everywhere in the world too, as for example, in Myanmar where there was only two wineries at the time I visited).
In 2013, I decided I wanted to bring more of myself in this activity. Learning and tasting was not enough. I wanted to share this passion with others. This I why I created The Wine Explorers. Every month, I organized a tasting session around an original topic in which people could discover wines they would never imagine that existed. By the way, my goal was to make these sessions affordable for everybody, so I tried to make the prices as low as possible and I get rid of the official (and very annoying) wine vocabulary.
This was fun and asked me a lot of work to organize. Unfortunately, only few people were coming. Those who were coming were totally excited, but it was really hard to reach my potential customers and make it viral. Do not forget I am an engineer with no background in Sales, Marketing and SEO at this time. I was clearly struggling and this lead to one of the major decision of my life.
I subscribed to altMBA (by Seth Godin) and attended the January 2016 session (it was the third one).
As Seth Godin mentioned in his teaser, altMBA is not a course, it is a change agent.
These 4 weeks were the most intense in my life as I was working at my daily job during the day and on my altMBA projects during nights and weekends. Not much time for sleeping. Not much time for my family (my wife, as usual, was a great support).
It was a sprint and an emotional rollercoaster. I discovered I was able of so much more than what I was doing until now.
altMBA works like this. There are 100 people for each session, most of them coming from the US (70% to 80%), the other ones from Europe and Australia. We work in teams of 4-5 people. The teams change every week and we have three projects to deliver each week at midnight (on Tuesday, Thursday and Sunday). The goal is to ship (on time).
It's a safe place where you can be yourself, contribute and bring who you are in a group of people from different culture, background and worldviews.
altMBA is the best investment I did for myself ever and at the end of the sprint, it was really hard to come back to the "real life".
I did it in order to acquire some skills in order to improve The Wine Explorers and I realized that it could be much more powerful than this. It could in fact change my whole life, starting with my professional one.
The problem is that I was absolutely not knowing how I could do this in my actual position. We were in February 2016.
At the end of 2016, I was ready to look for a new job when a change of CEO occured in my organization. The new one was less than 30 years old and a lot of energy and ambitions for the company were emanating from him.
One day, I seized the opportunity to share with him my beliefs about innovation and, as a result, he challenged me to define a way to bring participative innovation to life for the whole group (the organization has its HQ in Switzerland and we have subsidiaries all over the world).
I considered his request as a great opportunity to have more impact and I spent my whole Christmas vacation thinking about the best way to make it happen. I was not at all knowing what to do and how to do it, but I was convinced about two things.
The first one is that it was a great opportunity to exploit my altMBA background and share it with others.
The second one is that I could not do it alone. I needed a team.
The first day of 2017, I gathered my team and asked them if they wanted to join me and contribute. They were all highly motivated. So we started.
During the next nine months, the initial group (6 people) grew to nearly 40 people from Switzerland, USA, Germany, UK and France. All of them were volunteers. All of them wanted to make change happen. It was a great occasion for me to share about altMBA and together we could frame a participative innovation flow exploiting Design Thinking, MVPs and Business Model Canvas among others. We decided to brand it "Blue Lab", in reference to the Blue Ocean Strategy.
No need to tell you that I needed all the skills I learned during my career (and even some I did not have, which is the most interesting part) to lead this group and allow us to achieve our goal.
At the beginning of October 2017, it was the Go Live.
And here we come to my last move (until now). The most logical and predictable of all. At the beginning of 2018, I had the chance to be promoted to a position that had never existed in my organization: Innovation Program Leader (I try to avoid the term "manager" as much as I can).
I am in charge of leading research and innovation for my company. In this purpose, I created a small team with two other people and our goal is to explore the way the company can reimagine itself in a far and near future. By the way, we also explore the way such a group can be efficient and provide very high added value to the organization.
As a complementary mission, I set myself the goal of reading and sharing 1 book per week during the whole year. I post my actionable takeaways on my Medium and LinkedIn pages.
Reading has always been very important in my life and it became even more involving right after altMBA when, together with a small group, we created The Books Experience, the unofficial book club for the altMBA alumni community. We read a new book and share our actionable takeaways each other week.
If I would have to recommend some, I would go for the ones below, as they are life-changing:
By the way, watching TEDx (Simon Sinek is a must!) and subscribing to Seth Godin's blog and podcast can be a very powerful idea too.
As a conclusion, I have no real advice for those who are looking for a new job, excepted the three points below.
First, consider that this new job could be more like a calling, connecting who you are and what you believe with your professional activity.
Second, it could happen in your actual company.
And third, it should allow you to bring your whole and best self at work.
I believe there will be more and more opportunities for people who are rebels, movement starters and leaders. Being a manager is not enough to face such a fast changing world. People do not need to be managed and told what to do, they need to be led and inspired.
When starting something, it's always hard to know where this will lead us (consider my decision to take altMBA course for a personal purpose and the way it had a real impact on my professional life). That is the way innovation and change occurs.
So, pick yourself, be curious, start something, fail, learn, ship it, and make change happen.
"Pick Yourself. Because nobody else will do it for you" says Jean-Marie Buchilly, Innovation Program Leader, Fischer Connectors SA