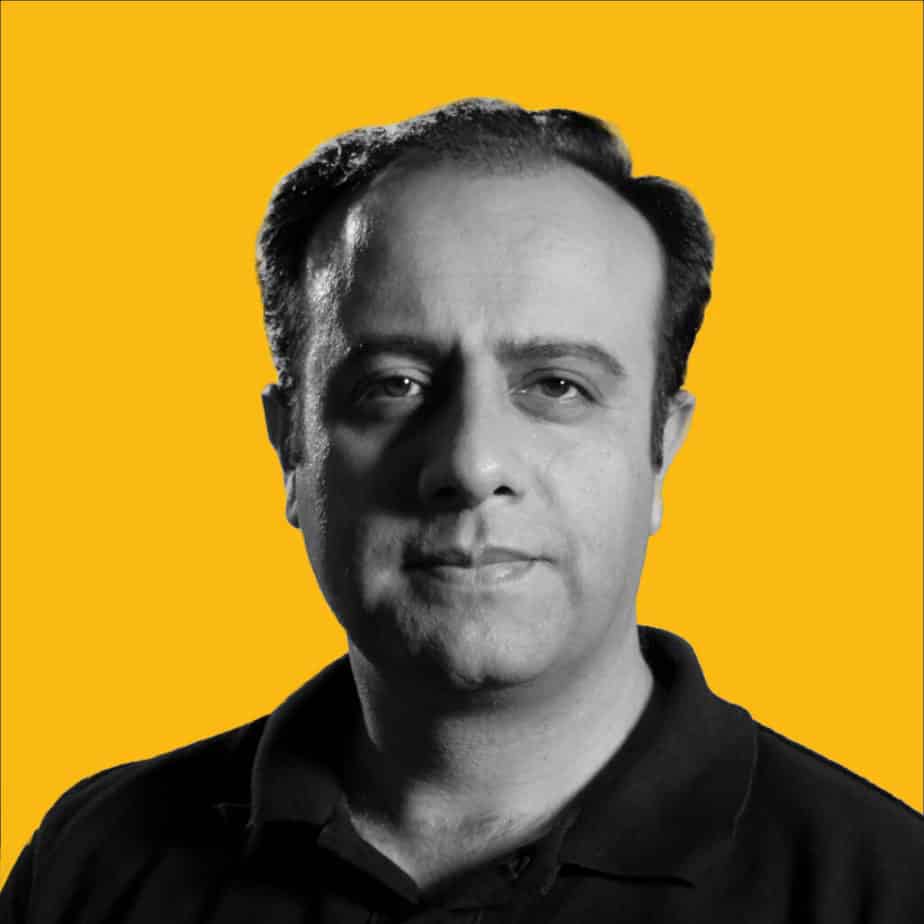 AKHTER RASOOL – Professional Design Consultant
With 15 years of experience as a professional design consultant, I provide comprehensive professional design services for print and web. My expertise is in logo design, brand identity, and illustrations. With over 1000 designs, I have designed magazine layouts for national as well as international magazines. Born in one of the most beautiful places on earth, Kashmir, my understanding of colors and designs comes from the beautiful snow-capped mountains and lakes I grew around with. My Bachelor's degree in fine arts (BFA) from the University of Kashmir helped me diversify my imagination that now reflects my work. The state of Jammu and Kashmir appreciated my work in the year 2004.
How was your University time?
Studying at the university was my dream, and that came true when my name figured on the merit list. It's essentially an opportunity to explore the subject I'm really fascinated by interestingly and dynamically, and I won't have the opportunity to do this again unless I pursue my studies. So I joined the university and test the different classes of my course, go to the extra workshops put on by experts and use readily available rich learning devices. I like my university because it puts me in touch with so many new people, and I capitalize on it as much as possible. There is only one rule to become more innovative, i.e., to learn from each other and exchange experiences. It will make me a more rounded person and empower me with the skills required to interact with all sorts of people in the outside world.
University is also a perfect opportunity to learn more about myself and my interests. Likes and dislikes are part of my life, and there is practically nothing I can't try with such a variety of opportunities available there. Maybe I realize I'm a genius artist but horrible to keep my drawings clean! Beyond university, I'm more prepared for the world where bigger life decisions happen. My big lifestyle change took place at university to juggle research with new studies. It is an effective way to de-stress, unwind and relax as well. Still, many students underestimate the various pressures and stresses they may face during their time at university. Still, I handle these pressures in a very effective manner, and more importantly, I take care of myself during the whole period.
Why did you choose a career in this field?
I have to express myself in this creative field, and for this, I have the requisite skills and knowledge to create personal and imaginative work. I have grasped creative mechanisms. I'm able to interpret and think, overcome challenges and connect visually. I am independently working and making my own discoveries creatively and artistically by exploring hypotheses, other artists' work, and different materials and techniques. I'm adventurous, imaginative, and passionate about shaping and deciding the visual world around me.
What was your first job or nuggets from jobs you had that helped you to get to where you are today?
Like every other designer, I began my career passionately, with such naive enthusiasm…My degrees are in Graphic Design. My career in Graphic Design has been dedicated to the past 15 years of my life, and still, I'm not tired from tirelessly working 12-hour-days and weekends. I had a revelation. I still draw and think about various subjects in my dreams. As a graphic designer, taking the first step into the big world can be daunting. Still, armed with my qualifications and design portfolio, my hard work pays off immediately after graduating from the university.
Luckily, I started my career at the same university I learned the ethics of graphics. My first job was to design a logo for the multimedia department where I was hired. It was quite challenging because I have high expectation whatever I design that should get recognition. Not only does a perfect, competent logo design have the strength to express what I stand for, but it will make a strong first impression as well and will allow standing out from the competition. And thanks to Almighty, the departmental committee embraced the logo with absolute dedication.
How did you prepare for the interview?
I adopted different ways to prepare myself for the interview like:
Self Assessment: First of all, I know about my own preferences, talents, beliefs, and individual characteristics as they relate to the role I'm applying for. I must first know myself well to make a good impression on a prospective employer.

I do homework on myself as the interactions that have influenced me both as a person and as a job applicant.
Knowing about my strongest attributes, I began conversations with parents, colleagues, relatives, career advisors, and faculty members.
Self-awareness encourages me to better articulate who I am and bring the company to a prospective employer.



Know the Employer:

Collected information on the history, priorities, and culture of the organization to facilitate more productive contact with the company
Gathered more information on the company's priorities and current initiatives, perform a web search, and visited the company's website and social media sites
Meeting the alumni who work at the company for inputs about its culture.



Preparation of Questions:

Reviewing readily available information and brainstorm a list of questions to ask during the interview, bear in mind the objectives and anticipated results of the interview
Developed purposeful and intelligent questions from the information I have learned both about the role and the company



Interview Practicing:

Straightforward answers and showed enthusiasm for the job
Friends and family members have helped a lot to address common and possible questions that might occur in the interview
Rehearsing answers to some typical interview questions and polishing my presentation in front of a mirror
Exercising to maintain body language and direct eye contact with my mates
Can you provide some book recommendations?
Books are not only my companions. They are my associates who always accompanied me wherever I go. Reading books intelligently is what the book aims to help its readers. Spotting the most relevant words the author uses is one of the key principles for reading something. Discussions about books have two important layers: First, it contributes to the discussion on the significance of long-form linear reading in contemporary society.  Secondly, the debate gives us a deeper understanding of books' traditionally contingent existence and reading phenomena in human society.     
The recommendation list which I suggest to my fellow readers is:
Josef Albers's Interaction of Color
Logo Modernism
TASCHEN publication
American Trademarks
Things are changing very fast in the industry; how do you keep yourself updated. Please list techniques or newsletters, podcasts, events, etc. Any advice about CVs?
One of the most positive themes is that technology is rising and growing, which means easy access to the arts. Technology is seen in some instances as a way to enhance marketing and networking. Still, many respondents acknowledged its potential to make bigger and deepen the experience of the audience. In their relationship to digital technologies, creative disciplines and activities have multiple dimensions. Due to technology, there are art forms that exist (digital arts practices and film, video) and art forms influenced by technology (new distribution means for music, e-books in publishing, live performing arts).
Technology can bring more audiences to art by three ways:
Assist in bringing audiences to performances and artworks by matching art to people looking for it.
Providing a platform to create art and carry on dialogue and
Debates around communities of interest and giving organizations tools to listen to the public and build arts awareness.
Articulate what you have done and take advantage of the opportunity to explain your experiences in research and teaching. Do more than just list them.
Advice for someone looking for a job?
Do remember once for all that career developments have three principal stages. These include:
Who am I?
Where am I going?
How do I get there?
Any person who has completed the first two phases will be prepared to take the final step more carefully. Getting started may be the toughest part, but the results will be worth the expenditure of one's time. When one enters into finding a job, one may expect many feelings, including anxiety, stress, and fear. That person may also experience a sense of optimism and excitement because finding a job is a complex and multifaceted project. It involves many variables in the decision-making process, including one's skills, values, interests, salary requirements, benefits, location, advancement, responsibilities, and corporate culture. Essentially it should be a successfully executed marketing campaign.
Get Professional Assistance
Conduct a Complete Self-Assessment
Explore Your Options
Develop Your Resume and Cover Letter
Develop Your Interview Skills
Send Thank You Letters, Be Patient, and Follow-up
Evaluate Job Offers
Why do you think you were selected among other candidates?
I believe I am the best fit for the job because I have the courage, enthusiasm, and experience they are looking for. I also have a proven track record of going above and beyond my usual job description when the opportunity arises. I have the ability to handle everything. Even though I am a recent University graduate from the University of Kashmir, I still believe I have the experience and work ethic to be a true asset. From my college days, I worked as an illustrator in some local and national news organizations. While there, I had to work as part of a team to contribute story ideas and work independently. I sought out stories and scheduled interviews with numerous professionals.
Lessons from jobs that you couldn't get.
Joining the workforce can be as instructive as it would be potentially terrifying for the first time. When we're fairly young, most of us get work, and it's not easy to shake the realization that we're going to spend most of our lives responding directly to someone other than ourselves. Our first jobs will remain with us, no matter how ridiculous they are; they will teach us lessons that we will never learn elsewhere, and to some degree, shape the person that we will become later in our professional lives.
Knowing how to communicate effectively and being personable is going to be the hardest part of the job.
We will make mistakes, don't fear them because walk on eggshells all day to stop them is not a way to live.
It's important to learn to make the most of a boring life; you'll need to find your own ways to change things from time to time and inject a bit of variety into your working hours.
Find your workplace strengths and the skills you offer that others can't make yourself truly valuable.
Also read My Story From Studying Motion Graphics to Becoming an Illustrator and Graphic Designer
How I Became A Professional Design Consultant?