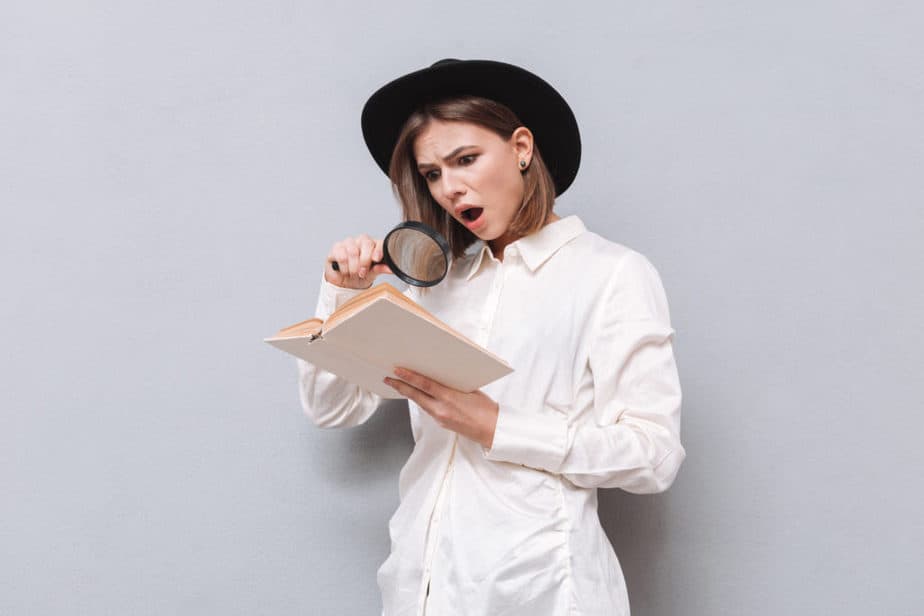 Isn't the word "Investigation" exciting as well as intimidating at the same time? Yes indeed. The Investigative jobs are very rewarding, confidential, respected, fascinating, and exciting in all aspects.
In our childhood days, we all must have played as an investigator or a spy. Didn't we?
Investigation usually refers to research performed, inquiries, and examinations conducted on a particular subject or case. It serves a special purpose. An objective of an investigator is to conduct a survey and present facts from the history to explain or present them to an organization or a party.
Investigative jobs differ in their types and field of work. 
Anyone who is intellectually sharp, quick thinker, smart in their academic and have a good approach to practical problems are usually considered for the role as an investigative officer.
Investigators can work both independently and for an organization. Some can choose to work for the government, some can apply in police departments, and some show their interest in working with private agencies. 
Let us get to know the type of jobs and careers one can pursue to work as an investigating officer. 
Types of Investigative Jobs
Now when does an organization require an investigative agency? 
Any organization/government/institution that requires an investigative procedure to be done is when they need to analyze something, where a survey has to be conducted to check for the correct results. The investigation is most probably needed in criminal cases, theft, or in cases of suspects. 
 You might want to get in-depth with the career options as well. They are plenty of investigative jobs you can get into, some of the types are as follows:
Statistician Jobs – ($56,297): 
The profession of a Statistician has a huge demand in today's technical era. They are not only paid well and high but also have several perks and benefits.
If you are one of those who have great sets of analytical skills, problem-solving ability, into data studies, research, good hands-on technical skills, then this is something you should have a look at. 
To pursue a career in Statistics, you need to have skills in mathematics along with a master's degree in statistics or preferably mathematics. 
This comes under investigative career or jobs because it's involved in analysis, data-driven sources, and subject-related specializations as well. For example, you can also be a statistician who is proficient in their preferable subjects like biology, economics, computer sciences, etc.
Their job as an investigating statistical analyst is highly in demand and requires a lot of hard work and attention to detail. They are well aware of true data and false data. When there is a case of corruption or manipulation of some data, statisticians are the ones you should call in. 
You can also pursue data science, which is now the vision of a technical world. Where there is data, there is a statistician or a data scientist behind the wonder.
This is a brilliant career one can pursue as it's a rewarding job, where you can have the ability to excel through your skills. They are paid an average salary of $56297.
Private Investigators – ($17.87 per hour):
Private Investigators are investigators that work for the government, public issues, private organizations, and some investigation agencies as well.
To pursue a career as a private investigator, you need to have a bachelor's or master's degree in criminal studies or law and justice-related fields. 
To train under an organization involved in the investigation, you can join military or police forces. These are the best options to start in an investigation branch. 
After you have had an adequate amount of training, you will need to have licensure. Having licensure can depend on state or country guidelines. 
The job as a private investigator is a very high earning profession, but with high standards comes responsibilities and talent. Make use of both throughout your career to succeed. 
Few skills one must need to become a private investigator are:
Good communication skills
Analytical skills
Excellent decision making
Soft skills
Manipulative personality
Good psychological skills
Private Investigators are paid on an hourly basis as well as a monthly basis. It mostly depends on the type of work they do and the organization they work for. 
Therefore, if you are someone with these amazing skills and interested in pursuing a career as an investigator or private detective, go ahead, this is your cup of tea. 
Economists – ($1,07,352):
Do not get confused mate! We are still on the same topic – Investigative careers, yes.
Economists are considered to have investigative skills such as surveying and analysis of data, stock researches, financial statements, excellent with numbers, etc.
You can also choose a career path based on your master's degree in a specific field, but what can help you pave your way towards being a successful economist would be to pursue a master's in finance, or sectors that offer plenty of opportunities in your career ahead.
Once you have completed your education in a certain field and not economics, still then you have a chance to switch careers in order to pursue Economist as a profession.
This career makes a lot of money and is widely expected to have its poles in stock markets as well as in-state or country economic policies. 
You will be engaged in data involving economics, finances, banking sectors, etc.
Economists have wonderful careers and exciting experiences. They are the ones who predict reports of stock markets. They have a huge demand in today's emerging world.
Economists have careers in accountancy, banking, finances, business, public sectors, and many more. So if you choose to land on this profile, you are going to get lucky with many opportunities. 
This career gets you a job that can help you enhance your skills, and encourage you to grow as an economic investigator.
Medical Researchers – ($1,03,481):
If you are someone who likes to get into research as well as medicine, and you are invested in saving the lives of others, then this is the best career for you. The profession of a Medical Researcher is involved in studies and researches concerning medical issues, for example, diseases, treatments, medicines, etc.
Medical Researchers are nothing but scientists who work for the betterment of human health. 
You are a doctor but more like a scientist indulged in the survey, analysis of reports, conducting medical experiences, studying life sciences, and many other practical solutions that look forward to providing solutions to upcoming problems in medical science.  
If you are interested in a career as a Medical Researcher, you need to have an educational background in biological subjects with its specializations. You could specialize in genetics, pathology, neurology, immunological fields, etc. You can go for research and development by opting Ph.D. and write your thesis, journals, and even books. The work involves a deep understanding and investigation of medical sciences and fields related to them. From its history to its treatment is investigated. 
They hold the potential to provide a change in the medical field and the lives of people.
Medical Researchers are one of the most highly paid professions. It requires concentration, dedication, and a lot of hard work to grow professionally in this career. If you are interested in this field, you are going to enjoy the exciting finding and experiences as you go ahead.
Investigative Journalism – ($1,07,000):
A career as a journalist is much more an 'on-field type and a challenging job. It offers you high pay, various opportunities, and benefits throughout your career. 
On top of being a journalist, if you wish to pursue your career further as an investigative journalist, it is a much respectable choice of yours. 
Investigative journalists are the ones who work in the field, in extreme conditions, with all the challenging situations. Yes, it is their preference, but the amount of work they do indulge in is quite of high standards, which might be risky at times too. 
They deal with extracting exclusive information, conduct research, investigate to have proofs of cases, etc.  Be it locally, state-wise, or country matters, these journalists have it all the way through. 
The skills you would need is: being creative, have a voice, fluency in your local language and international language (English), comfortable working in the front line, confident, personality to grab attention through words and voice, attention to details, good manipulative skills, communication skills, adaptability, ability to work in extreme conditions, accept work responsibilities and much more. 
Well, many of these skills are mandatory for you to have to crucial to pursue a career as an investigating officer, as you will need to "Stand out in the crowd". 
If we talk about what educational background you should be from let us see the options: 
As journalism focuses on Social media, Social affairs, Social studies, Economics, or everything going on in the world – socially, politically, economically, and scientifically. Therefore, you must choose Arts, English, and subjects related to Sociology for your bachelors and master in journalism, to have basic background knowledge of the field you are going to pursue. The next step would be to practice and learn in an organization, to gain adequate experience through your organizational skills.
Hence, this is a great opportunity to have a career build in Investigative Journalism. 
These journalists have strong potential as they involve in the process to work on cases related to unjust practices, criminal histories, illegal cases, national and international issues, terrorism, etc. 
They work hard to present to the nation and public about the work they have done, and present proof and help the law and society as well. They work for channels, news publications, and many more. Investigative journalists have a vast scope in this field and they are paid a handsome salary along with insurance, perks, and benefits.
Their work mostly comprises media industries, editorials, print media, etc. 
Crime Scène Investigator – ($63,000): 
The investigators working in this field are mostly related to Crime Scenes. 
Their work revolves around the roles and responsibilities essential in a crime scene. For example, extracting pieces of evidence from the crime scene, searching documents, discovering and preserving the events taking place on a crime scene.
Doesn't this sound the best of all the investigator jobs we have discovered yet?
Sounds pretty exciting to me!
Crime Scene Investigators are working civilians specialized in forensic sciences or basic science. And many Crime Scene Investigators are also employed by government officials or law enforcement of the state. 
They play a very crucial and important role in a Crime scene, as they are required to present in the court during the trials and court testimonies. 
Being a part of Investigations, they examine every minute detail and present it in the form of documents, evidence, and proof regarding the criminal case. They have to make a detailed diagram of the crime scene, process with photo pieces of evidence, label and keep those pieces with security. 
As being in charge of securing and preserving everything related to the crime scene, these examiners have to make sure proof and physical evidence aren't tampered with or contaminated by any means. This for sure is a big responsibility and a very important part of their work.
It is a challenging career where every second of your work is important and you need to have good knowledge in your specialized field. 
The qualifications you would need are a bachelor's and master's degree in forensic sciences, biology, Chemistry, Computer Science, and Technology. These subjects could be one of your specializations in forensic science. 
After qualifying for these basic degrees you can always choose to have a preferred experience in Law enforcement, legal studies, and judiciary. 
You need to have several certifications and state licensure to ensure further opportunities and career scopes. 
Along with challenges, this field requires a strong tolerance to many things, for example, blood, or the kind of scene they have to face at certain times.
Few essential skills you must have to walk down this road as a Crime Scene Examiner or an Investigatory Officer are:  Critical thinking, Decision making, Knowledgeable, focused, confident, responsible, not bother of the environment but pays strong attain to details, Good problem-solving abilities, and Capable of leadership. 
As we are discussing investigatory careers, there are more sub-divisions of these careers. Let us have an overview of a few of them so that, you can also take a look at your preferences and interests. 
Offender Profiling or Criminal Profiling – ($48,806):
Offender profiling also known as Criminal Profiling is a profession where they work on strategies, and psychology used by law enforcement organizations. This comes under criminal investigation. The purpose of these strategies is to identify the suspect and everything related to the story a crime scene suggests. It works on the suspect or the criminal minds to understand their pattern and profiling, which led to the crime.
As we have heard of multiple crimes taking place in a row, so criminal profiling helps to understand the pattern and its related strategies. A crime that mostly involves rapes, or sexual tortures tends to have a similar pattern and their psychological events are studies and explored through criminal profiling. It helps in identifying the criminal and predicting its next events. 
This profession has its own challenges and plays a crucial role as well in criminal investigation. Their qualifications are not based on their work, as this duty requires critical thinking and excellent strategic skills. One cannot decide who is better based on their experiences or work as this work depends on the kind of cases and might differ as well in their psychological and analytical skills.
Several factors are required in criminal profiling, and good teamwork can make this an exceptional profession. 
They are paid high and provided with several opportunities throughout their career. One can always enhance their skills and learn through their experiences because the human mind is diverse and understanding it can take many lives in studying one.
Forensic Investigators – ($1,38,500):
We have talked of crime scene investigators and their field of work, duties, and responsibilities. While, Forensic Investigators work on the findings of crime scene investigators, by doing analysis and studying of physical evidence, stains of blood, minute details, and documentation in laboratories.
Forensic Investigators are scientists who work in their specializations, contributing to the investigation process. They are also engaged in law enforcement of state and need to engage in legal practices. 
Forensic Investigators play several roles and be in touch with the Police forces involved in the Investigation process. 
They take DNA samples and proceed with the results, they study handwritten pieces of evidence found in the crime scene, they attend the crime scene in some cases, they also retrieve data from computers, phones, or other devices, which could help play an important role in the investigation. 
Skills required to pursue a career as a Forensic Investigator are Good interpersonal skills, Patience, Time management, Attention to detail, Information Technology, Data Analytics, Decision making, Communication Skills, and Teamwork. 
This profession involves high-level jobs, duties, and responsibilities along with working under extreme pressure and situations. It is challenging as well as interesting as you get to explore several fields and work on exciting cases. 
FBI Agents – ($1,46,114):
FBI stands for Federal Bureau of Investigation. FBI agents are the people who uphold the constitution and work for the protection of the law and order of America and its citizen providing them with all kinds of security and solve crimes through their investigation process.
Their main motive is to fight all sorts of crimes, drug trafficking, and terrorism cases. They investigate the cases and try to prevent crimes in the nation as far as possible. They are specialized and trained in various aspects and courses.
In order to become an FBI agent, you must require some basic eligibility criteria which are: 
Completing your bachelor's, master's degree, or Ph.D. in any of the specializations you prefer of your interest, and if you know a foreign language, it will be counted as one of your skills, which can help the organizations in many ways.
FBI is an organization that expects the physical and mental fitness of an individual along with educational skills and knowledge. They offer work involving field duty and traveling most of their time. 
You must be Sincere and responsible in your work. 
The FBI is an operational and Intelligence job that is paid high, as the amount of risk and challenges they face are critical. Their only goal is to reduce the crime rates in all aspects and manners. They work to protect their nation and this job requires potential and skill.
So, if you are confident enough and hardworking as an individual, you can contribute to your nation in several ways. You can become whatever you want to be possessing the required skills and educational qualifications.  
These were a few of the career guide one needs to know in the Investigatory field. An investigation is involved in every sector, every nation, and everywhere. Wherever there is a crime, mishappenings, there needs to be an investigating team of officers working in various fields and solving the case.
Therefore this is a highly respected, rewarded, and challenging career. GO FOR IT!
Investigative jobs: Complete Guide