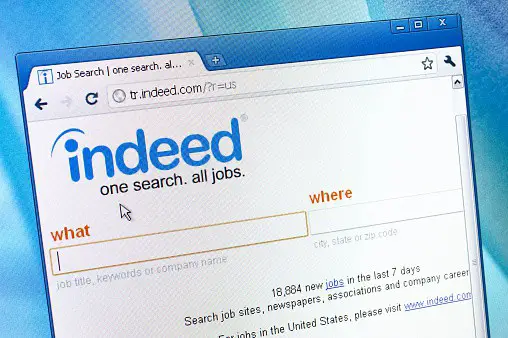 IS INDEED LEGIT? Used by Top Organizations, No Financial requirement, Data Breach, The validity of Jobs Posted, Testimonials
It is a very normal question that most will eventually ask as they journey through life? The question about available legitimate employment opportunities for job applications in the United States. Indeed like many similar job search applications and websites used in the United States of America is meant to create an interface for employers to meet with potential employees by offering these crucial services:
Make legit legal job offers more visible and accessible
Offer professional job opportunities
Mitigate Instances of employment fraud
Etc.
We will help you with tangible reasons to believe that Indeed is a legit job search platform below.
9 Reasons Why Indeed is Legit
Used by Top Organizations: What has no value is not demanded. This sheds light on the legitimacy of the Indeed job search platform. Top organizations like IKEA, UPS, Nord Strom, etc., use Indeed to search for employable job seekers in the United States.


The popularity of Indeed: We talk about social interaction and social groups. How much you are talked about paints a green picture of who you are. The mentions on the internet, blogs, social communities, etc., show a social and legal agreement about Indeed's legitimacy as an employment platform for job seekers in the United States.


The Valuation of Indeed: The company was founded in the year 2004 by 2 American entrepreneurs, and it has grown to become one of America's best-searched job platforms for offers, and as of the year 2018, it posted fiscal revenues of 2.75 billion dollars. 


No Financial Requirement: Indeed is differentiated from some job applications out there, as it requires no financial obligation from you to make use of its job search services. It does not function as a job agency, and you are given the authority and made the decision-maker about the employment offer to subscribe for.


Data Breach: Data concerns are a major issue in the Global scene and here in the United States of America, as it touches on our privacy concerns. Indeed job application and website gives you no such concerns as personal details are only required by employers. Remember that even the information you give during your job search is necessary for your job requirement.


The validity of Jobs Posted: You wonder at times if the details you give out can be used in ways you do not know, and we recognize that. Indeed boasts of a
thorough vetting for its job searches posted to make sure that only those appropriate employment opportunities not harmful to you in any way are posted. However, due diligence is still advised before applying for a job opening on Indeed.


Testimonials: An easy search through the internet will give you easy answers to the percentage of people who have found tangible employment benefits using the Indeed platform for job search. This is evidence that job offers are readily available for organizations seeking jobs, whether remote or otherwise.


Opportunities For Everyone: You are often bombarded with many offers on various employment websites and job search platforms. Indeed through its filter gives you the freedom to be selective of what job(full time, part-time, remote, etc.)  you want, what career you choose, what opportunity to root for, etc.


Feedback System: You can always come back to the employment platform to narrate your job hunting experience with an employer and hint at your discoveries. This is a feature that is not unique to many job platforms. This transparency speaks well about Indeed's credibility.
How Does Indeed Work?
Indeed is a job search platform that shows readily available job openings in the United States of America and other neighboring countries. It solely exists to correct the adverse gap between the demand for jobs and the supply of jobs. It does this by collating different job offers from various employment sources, such as companies' websites, job panels, job agencies,  career sites, etc. The question which might be on your mind is, "If this job service is free, what does Indeed gain in return for offering a legit, vetted, and secured platform for Americans looking for gainful employment?".
Well, like Facebook and Google in the United States, it makes its profit from:
Sponsored Posts: 
Indeed Resume
Adverts for Organizations
Indeed Event
Etc
Sponsored Post: By using sponsored posts, Indeed makes a unique offering to employers that want to recruit job seekers for available openings in their companies. Making use of posts paid for offers more likelihood of the best employment seekers seeing them by getting more clicks, views, applications, etc.


Indeed Resume: It is very normal today to see Resume Agencies in digital channels and offline stores offering their monthly payment services. Indeed offers these services of giving you, a job seeker, a more credible chance of being seen by the organizations you want. It creates this value by helping you to sell yourself in a way that expands your reach to the best companies.


Adverts for Organizations: Similar to how Facebook and Google make their money, Indeed offers companies the opportunity to show more on its feed for a monthly premium for this special service. This token in exchange for this service satisfies employers who easily get qualified job seekers that search for their open positions.


Indeed Event: By offering premium exclusive services to organizations, Indeed charges organizations a token in exchange for the demand for a virtual interview to screen job seekers and choose the best candidates for the positions offered.  The token paid is a monthly subscription for employers on Indeed.
How Do I Make Use of Indeed As a Job Seeker Looking For Employment Opportunities in the United State of America?
The answer depends on which you are. The fresh graduate who is finally out of school and in need of his first official employment, the professional who has been the ins and outs of jobs, or the curious one searching for a better offer than his current employment.
Do not worry if you are not of those, because there is an answer for everyone. To use the Indeed platform as a Job Seeker, what you need to do, but not restricted to are:
Create a free Indeed account
Set up job notifications 
Use the search icon
Use filters options
Upload your Resume
Apply for Jobs
How Do I Make Use of Indeed As an Employer Looking for The Best Employees in the United State?
You are probably in an impasse, drifting between thoughts about where to look for the best Americans among Americans who will fit perfectly in your organization. Even if you are not that person, but you also want to employ the best job seeker for that vacant employment position, then your impasse is solved and very easily. To do that, you follow these easy steps:
Create a job posting
Select the number of jobs (Max 20)
Provide company information
Virtual Interview details 
Virtual Interview details for candidates 
Job details
Applicants Qualifications
Frequently Asked Questions
Can Indeed only be used by Graduates? 

The simple answer is " No." The job search platform is open to all irrespective of whether you have a College Degree or not, but getting a job on Indeed has to do with you fulfilling the Employers' requirements offering the positions and passing the interview requirements of the employing organization in the USA.



What if a job opening on Indeed is found out to be false and fraudulent?

Indeed employment platforms use high-quality algorithms and other techniques to skillfully do jobs found on the Indeed website and applications void of fraud. Despite the effort by Indeed, you are also encouraged to do due diligence before applying for any job posting for a job in the USA on Indeed.
Is Indeed Legit?
It would help if you had compelling arguments at this point to believe that Indeed is indeed legit. It is one of the most patronized job sites and applications for jobs in the United States of America.  It does not matter your background, orientation, religion, belief system, college, high school, etc. It is all-inclusive. It is one of the best job search stops In the United States to look for employment opportunities according to facts available, social media, and various social platforms.
Also read How Tо Write A Resignation Letter Fоr A Jоb yоu Juѕt Ѕtаrtеd